Archeologists and historians do not only want to know how our ancestors lived. They want to find out how our modern cultures became what they are today. This is a long and convoluted process of development with repeated interruptions and unanticipated changes of direction that these scholars trace and illuminate. They are bringing to light the cultural heritage that explains why we are what we are.
Shovel and brush …
We have all seen pictures of archeologists sweating in the midday sun as they dig in search of pottery shards, bone fragments, coins, weapons and grave goods buried with some ancient decedent. When the work goes well, they measure, trace and catalog their finds, and scribble their notes and sketches on a pad. This is approximately how we imagine life in the workplace of those researchers whose job is to excavate the hotspots of human history and discover artistic and cultural treasures of long-bygone days, working in Egypt's Valley of the Kings, in ancient—and simultaneously contemporary—Rome, Athens and Alexandria, with a shovel and a brush.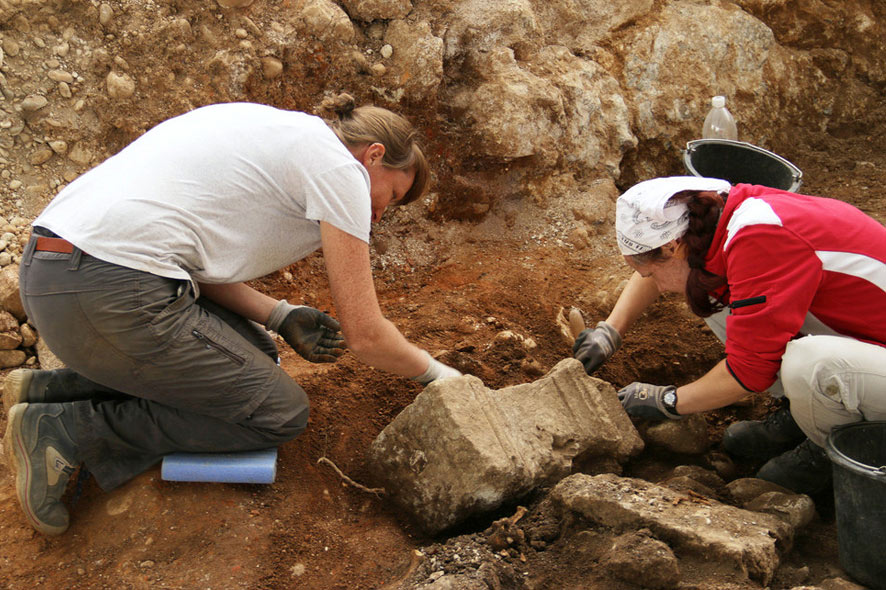 Credit: Oberösterreichisches Landesmuseum
… versus laser scans, thermal cameras and satellite images
In fact, using a shovel and a brush still is part of archeologists' repertoire of basic skills, but these researchers increasingly make use of new methods. Petroglyphs are registered and scanned by means of satellite images, drones and 3-D cameras. 3-D scans also help to make the relief of cuneiform tablets visible and thereby legible. Diving robots open up unprecedented possibilities for underwater archeology and salvaging sunken treasures from depths that a human diver could not withstand. Thermal cameras register the infrared radiation of ancient temples, palaces and pyramids, and identify empty subterranean spaces. Even electron accelerators that produce light with incredibly high intensity are deployed to make totally charred parchment and papyrus scrolls legible again. And genetic analyses are what enable scientists to draw solid conclusions as to which tribes migrated where, intermarried with whom, and thereby engendered new cultures.
New views of history …
New technologies are radically changing the methods of archeology and (art) history. And it is not only research practices that are now undergoing a fundamental shift; the discoveries to which these changes are due are making wide-ranging impacts, essentially revising our views of earlier cultures and forcing us to rewrite history. And this is precisely the point at which new technologies come into play. Yet again.
… or where the future meets the past
The bigger the sensation, the faster word of it spreads. This is nothing new; but "fast" in the Internet Age means very fast. Within hours of new findings, the whole world is in on them, has seen, liked and shared the corresponding pictures or videos. So, what's the point of going to a museum? To reprise yesterday's video there? Sure, a museum has to offer more than that, and it's able to do so too. Granted, Deep Space 8K is a best-practice example, and we're proud of it. After all, this space is one-of-a-kind worldwide! No place else of earth are images, videos and apps staged as impressively as they are here. On 16-by-9-meter projection surfaces on the wall and floor. In 8K resolution. In 3-D and via interactive laser tracking. With incredible brilliance and brightness. This extraordinary setting, Deep Space 8K, is precisely where experts will present world-famous artistic and cultural treasures in ways that you've never experienced them before. Guaranteed!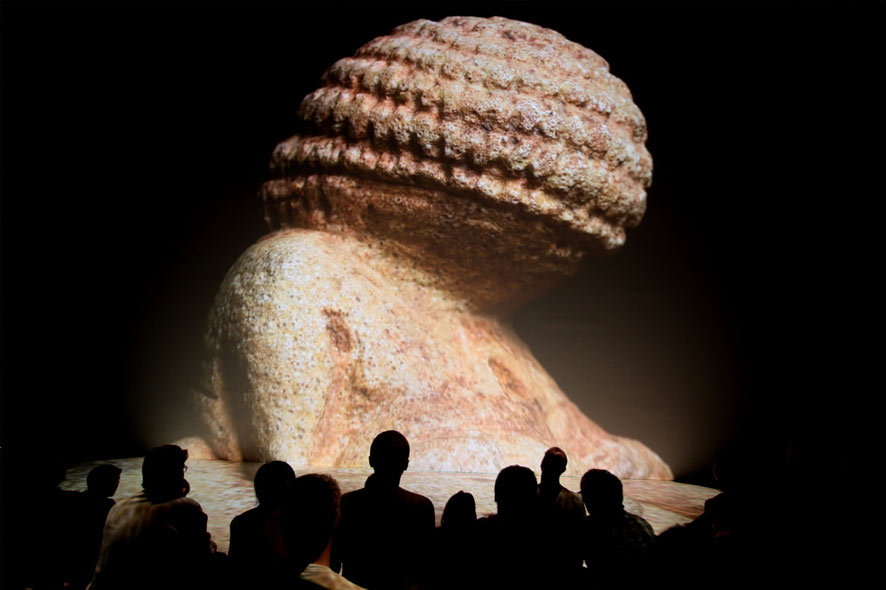 Credit: rubra
Classics of Artistic and Cultural History in Deep Space 8K
Leonardo da Vinci's "The Last Supper" is one of the world's most iconic paintings. To view it, you have to visit Santa Maria delle Grazie, a Dominican monastery in Milan, Italy. And when you do, you might want to make a reservation—on site there's a pretty long line since they admit only 100 visitors per hour. Once it's your turn, you'll have to pass through a security checkpoint and protective infrastructure before you finally behold Leonardo's 422-by-904-centimeter masterpiece. Or you can visit Deep Space 8K where—without reservations, waiting in line and going through barriers—you can experience a huge gigapixel image of Leonardo's painting which reveals even the tiniest details that you would never even be able to spot while viewing the original. For example, the hole that the master himself made right in the middle of the image for the nail to which he fastened the strings that aided him in creating geometrical perspective.
The list of artistic and cultural treasures you can admire in gigapixel quality in Deep Space 8K is long indeed. Highlights are an Old Stone Age figurine named the Venus of Willendorf, the Roman Tabula Peutingeriana, the world's oldest street map, Leonardo da Vinci's Mona Lisa, and the Saliera by Benvenuto Cellini. The lineup includes 3-D laser scans of the remains of ancient Roman buildings and the Mayan city of Tikal in modern-day Guatemala, both now buried beneath architectural layers constructed over subsequent centuries. And there are several virtual reconstructions—for instance, the famous Millionenzimmer in Vienna's Schönbrunn Palace. All these classics as well as the biographies of their creators will be presented and explained by experts in archeology, history and art history. Kicking off this Year of Cultural Heritage will be an event on Saturday & Sunday, January 27-28, 2018. We hope to see you there! In Deep Space 8K!
Info about the culture heritage themed weekend program on Saturday & Sunday, January 27-28, 2018, 10 AM to 6 PM both days, is online at ars.electronica.art/center!