Since May 2019, everything is new at the Ars Electronica Center! The museum is no longer just a telescope looking into the future – it's also a compass that guides you through the human created systems of the 21st century.
The new topics range from artificial intelligence and neurobionics, autonomous systems and robotics, to gene and biotechnology, to the far-reaching global changes of our time. The central question is always about what these exciting and challenging, but often unsettling, developments mean for us all.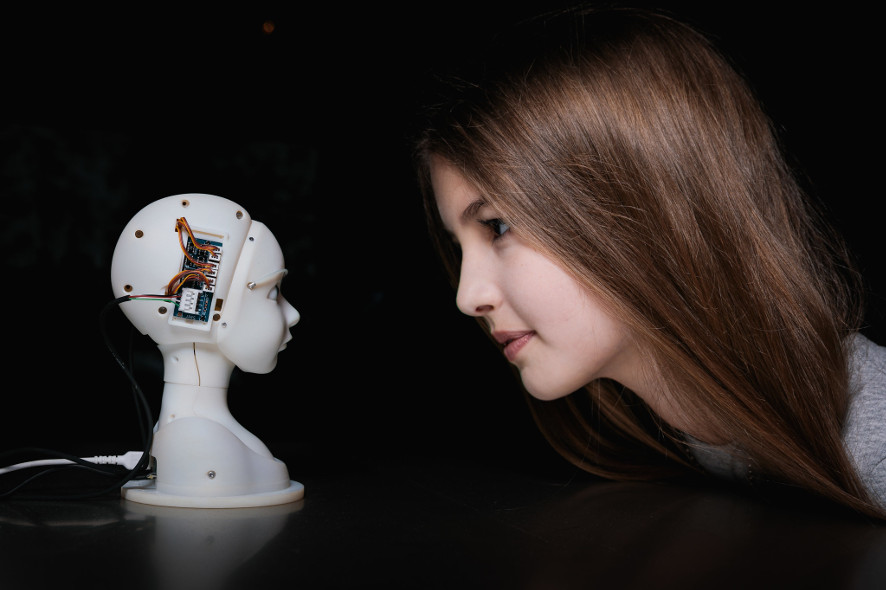 SEER: Simulative Emotional Expression Robot / Takayuki Todo (JP), Credit: vog.photo
However, it's not just new exhibitions awaiting you at the Ars Electronica Center – the Deep Space Program is also offering a wide variety of projects this year that make full use of the technology in Deep Space 8K.
From three-dimensional pyramids you can walk in, to gigapixel images of drawings by Leonardo da Vinci, a livestream to Japan in 8K resolution, or fascinating live concerts with matching visualizations – this year's Deep Space program is more varied than ever!
We talked to Michaela Obermayer and Melinda File, our two project leaders for the Deep Space Program, about why no visitor to the Festival should pass up Deep Space.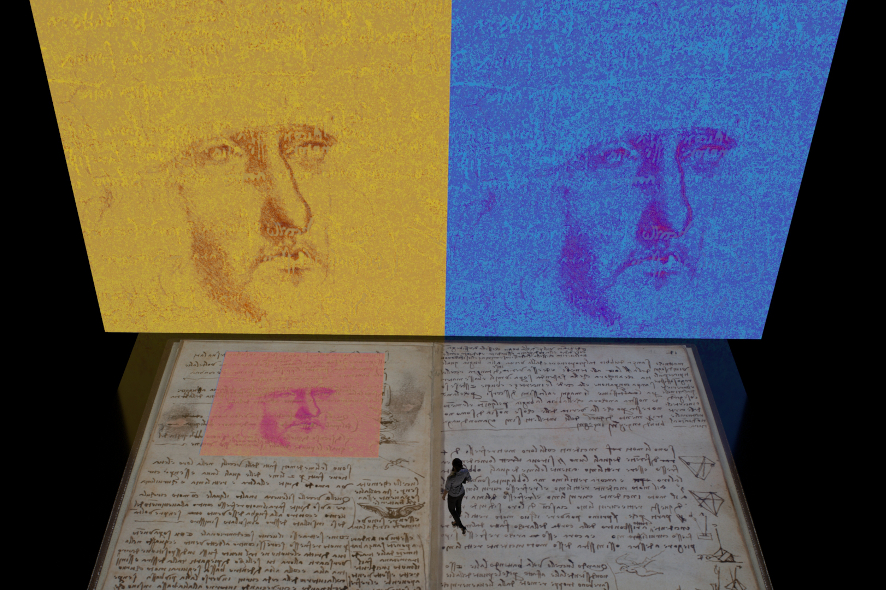 LSF-500-Project /Franz Fischnaller (IT), Credit: MiBAC – Musei Reali – Biblioteca Reale
What are the highlights of this year's Deep Space Festival Program?
Michaela Obermayer: The most noteworthy things this year are the world premieres we are celebrating: works and projects that have never been presented in this form anywhere else. For example, we put particular emphasis on cultural treasures, with Franz Fischnaller showing us high-resolution photos of Leonardo da Vinci's wonderful drawings, including his famous self-portrait. These drawings are kept in the Biblioteca Reale in Turin and are now being shown for the first time in larger-than-life size with zoom function on our 16-by-9-meter projection surface in Deep Space. A virtual, interactive 3D tour through Santa Maria delle Grazie in Milan, where you can admire Leonardo's famous "Last Supper," is another thing Franz Fischnaller has in store.
From the popular BBC documentary series "Invisible Cities," we'll be presenting a 3D laser scan of the Pyramid of Cheops in Giza. Visitors can walk into the only surviving ancient wonder of the world and take a tour through the steep, narrow passageways into the various burial chambers with our guests from the BBC providing expert commentary. Definitely an experience you shouldn't miss!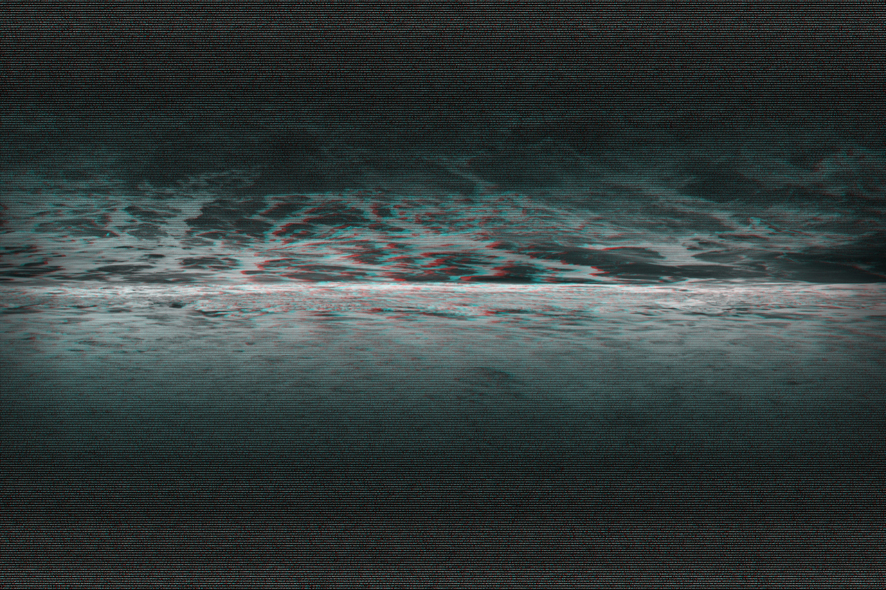 NOLANDX/Ulf Langheinrich (DE), Credit: Ulf Langheinrich
Melinda File: Exactly, this project was developed in collaboration with our Ars Electronica Futurelab,  which was also able to bring in strong cooperative partners through the EU research project "Immersify." In addition to the BBC, the Japanese public television station NHK will also be there with an absolute world premiere: a livestream from Japan to Linz in gorgeous 8K resolution!
Another highlight will be "NOLANDX". A lavishly produced audiovisual work. The artist, Ulf Langheinrich, is a pioneer of media art and was already a "featured artist" at the Ars Electronica Festival back in 2005. This year he is presenting a 3D video for the Festival about 20 minutes long, for which he filmed ocean waves and distorted them with various effects. A wonderful work of art.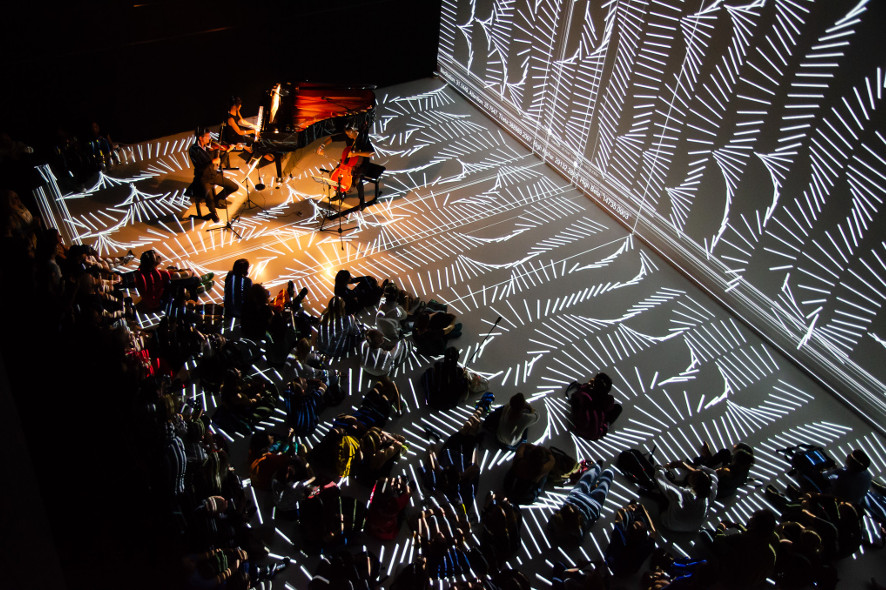 "SAY_SUPERSTRINGS" / dastrio (KR/DE), OUCHHH (TR) (Ars Electronica Festival 2018), Credit: vog.photo
This year there are some brilliant live performances on the Deep Space Program…
Michaela Obermayer: Exactly! For us, the focus on the Friday and Saturday of the Festival is on live concerts paired with large-scale projections. We have two very special pianists on the program, who are playing on a concert grand piano in Deep Space. One is Suyang Kim, who was here last year as well. This year she is working with young students from the University of Art and Design Linz who have developed visuals especially for Deep Space that are audio-reactive. Suyang will be playing works by Aram Khachaturian, among others, such as the famous saber dance. But she'll also be playing some pieces together with Dieter Stemmer.
The second pianist is Kaoru Tashiro, who is from Japan but lives in Belgium right now. She is playing contemporary works. The visuals will be directed by OUCHHH, a group of artists from Turkey, who were also part of last year's Deep Space Festival Program.
Another great item on the music program is "Che Si Puo Fare". A performance by Monika Vlad and Johanna Falkinger, where Monica Vlad is responsible for the audiovisual aspects. She generates sounds and visuals live on stage. In a big contrast to that, Johanna Falkinger will interpret arias. Classical arias from the Baroque period. That's a really neat combination, when that modern audiovisual art meets the Baroque era.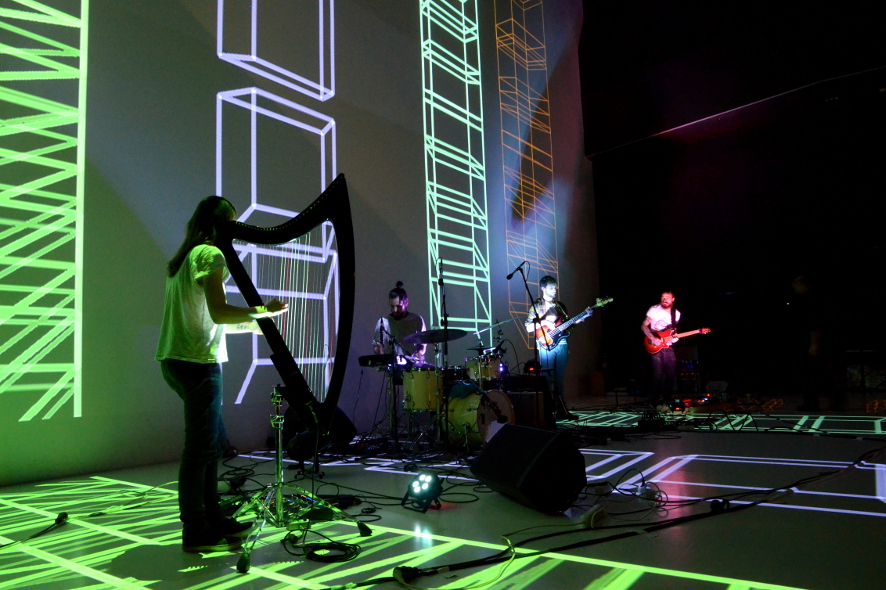 384/Valentina Cinquini (IT), Andrea Ummarino (IT), Federico Perinelli (IT), Raphael Schuster (AT), derkleinstePrinz (ES), Credit: Magdalena Sick-Leitner
Melinda File: They go better together than you might think! It's a really exciting combination.
On Sunday evening, there is another very special performance by the artist group "384": a live concert with a harp. "384" consists of four musicians who study in Linz at the Bruckner University. The visuals for that come from a Spanish artist named "The Littlest Prince". "384" have also performed before at Sofar Sounds in Deep Space.
Deep Quiz/Andrea Aschauer (AT), Jeremiah Diephuis (US), Jürgen Hagler (AT), Wolfgang Hochleitner (AT), Georgi Kostov (BG), Gabriel Mittermair (AT), Credit: Andrea Aschauer, Jeremiah Diephuis, Jürgen Hagler, Wolfgang Hochleitner, Georgi Kostov, Gabriel Mittermair
It seems like there are some old acquaintances showing up again this year…
Michaela Obermayer: Yes! Good old acquaintances of course include our partners from the FH Hagenberg with Jeremiah Diephuis. This year they're showing two different projects: "Liquidus" – a laser tracking project where the physical characteristics of the different liquids are simulated. You walk over the projection surface of Deep Space through different liquids and then they react to the visitors. The second project is "Deep Quiz". You get a quiz question and the possible answers are projected in the space. You decide on an answer by standing on the relevant projection just like the game show "1, 2 oder 3". The questions will be about 40 years of Ars Electronica. So, here you can demonstrate your knowledge about Ars Electronica.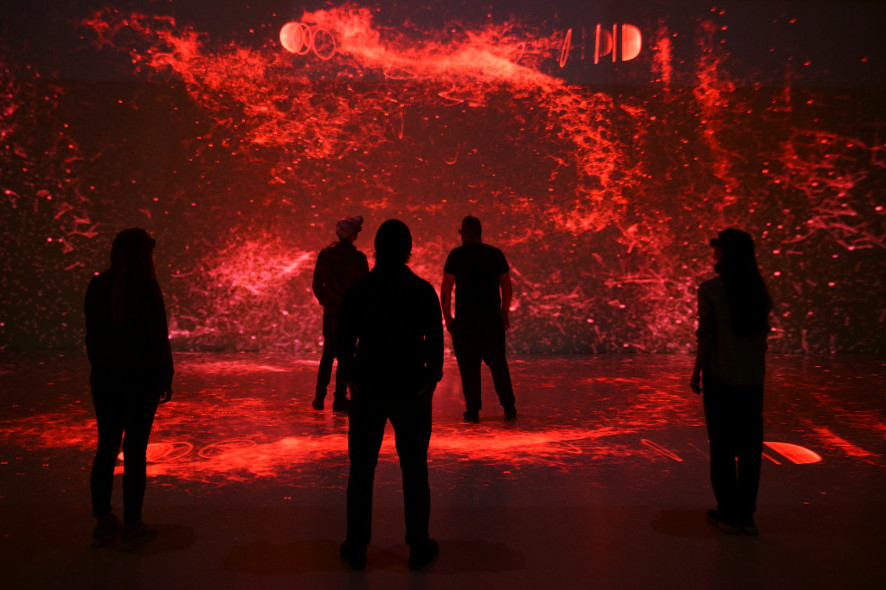 Singing Sand 2.0 / Tadej Droljc (SI), Credit: Robert Bauernhansl
Another old acquaintance is Tadej Droljc. An artist who was accepted into the Futurelab's Immersify program. He is presenting the work "Singing Sand 2.0" which is a further development of his work shown at last year's Deep Space Festival Program. An artistic video where it seems as if the individual grains of sand all produce their own sound. It's a great work which totally draws you into its realm of sound.
Melinda File: Further acquaintances who will be there this year are Mark Chavez, Ina Conradi and Bianka Hofmann, who have teamed up with Robert Kastner in the ArtSci collective Quantum Travelers and are showing Quantum Logos. This is a visualization of quantum physical phenomena. It looks like a huge mandala that is transformed in real time. It also works with laser tracking and reacts to the audience.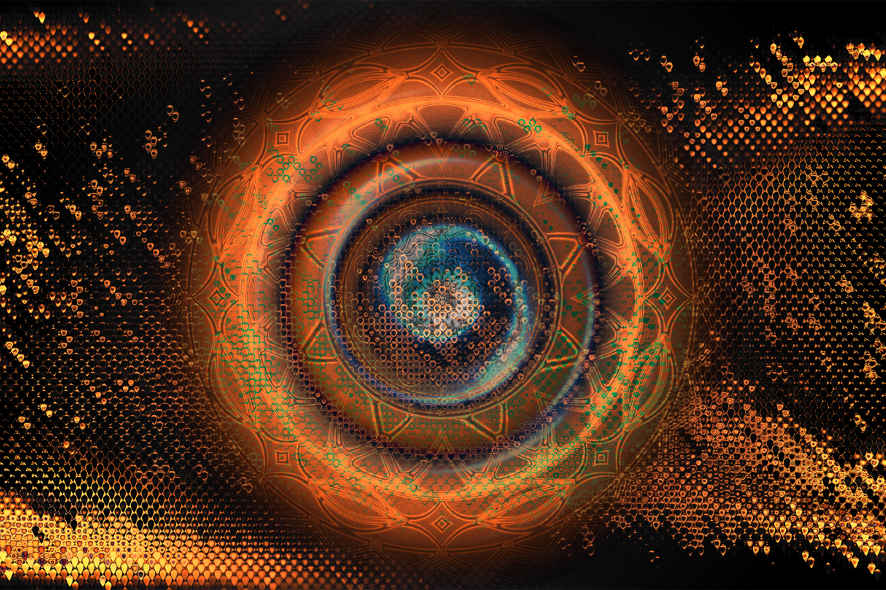 Quantum Logos/Mark Chavez (US), Ina Conradi (SG), Tate Chavez (US), Bianka Hofmann (DE), Bob Kastner (AU), Credit: Mark Chavez
This year, Virgil Widrich and Martin Reinhart are also with us; they were at the Ars Electronica Festival back in 1998. At that time, they presented the film "tx-transform." In 2019, they are showing the project "tx-reverse 360°" – a 360° video using slitscan recording technology. We've seen it in Star Trek, when the Enterprise flies away at warp speed and the ship lengthens. That used to be done in an analog way. Martin Reinhart has developed an algorithm that can apply this effect digitally and that what's shown in this video. A special mode was even created for Deep Space, so that the 360° Video can be operated live.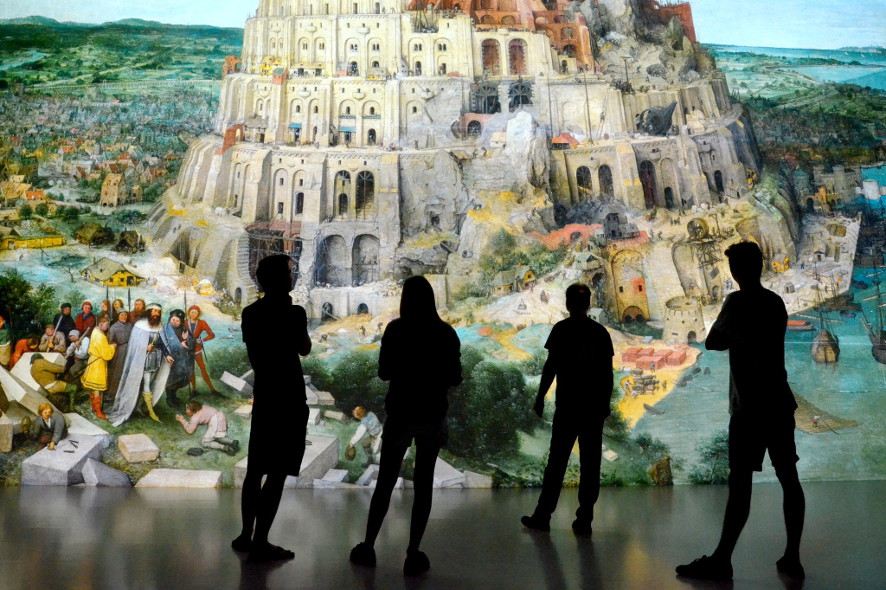 The Tower of Babel / Pieter Bruegel, Credit: Magdalena Sick-Leitner
Michaela Obermayer: We're also showing a cultural treat, which is back this year after its great success in October of last year. It's the presentation by Frederik Temmermans from Flanders about Pieter Bruegel the elder. He'll offer us completely new insights into the work of this famous painter, who had already had an impressive, extremely wide-ranging exhibition last winter at the Kunsthistorisches Museum in Vienna for the 450th anniversary of his death.
And of course, part of the Animation Festival will take place in Deep Space again this year, where a lot of artistic works await our visitors once again. And the VH Award will play a part in Deep Space again. Three very beautiful works by Korean artists will be shown here.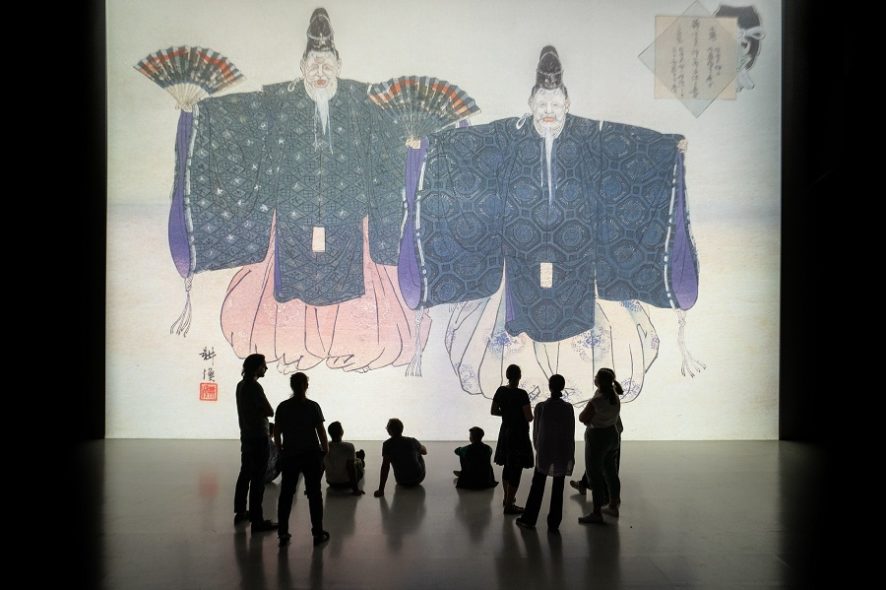 Illustration: Noh Sanbaso painting from National Diet Library Credit: Robert Bauernhansl
What is the most elaborate project in Deep Space this year?
Michaela Obermayer: Elaborate in the sense of requiring some development of hardware and software, that would be the Immersify 8K Livestream that we already mentioned. Streaming is something most people do, but in 8K quality it's really exceptional.
Melinda File: The projects with the most elaborate production process were definitely the projects by Franz Fischnaller and "NOLANDX" by Ulf Langheinrich. The artists have been working on those for many months. In the case of the first one, especially because we had to get the rights to photograph Leonardo da Vinci's drawings and then show them. It's also only available in Deep Space. You can't take any photos and you have to register for the presentation. It'll be an absolute highlight!
What are your personal highlights?
Michaela Obermayer: A project I've been looking forward to for a long time is the cooperation between our Futurelab and the BBC. The chance to virtually walk into the Great Pyramid of Giza. That's a childhood dream. I've never been to Giza and this way I get the chance to experience it up close.
Melinda File: What I'm personally looking forward to is "Che Si Puo Fare." Last week we had a test and I was totally fascinated. I'm a big opera fan. But I don't want to commit to a particular project. I'm looking forward to all the projects. This year's Deep Space Festival Program is amazingly varied!
The Deep Space 8K at the Ars Electronica Center will be open during the Ars Electronica Festival from September 5-9, 2019, from Thursday to Saturday from 10 AM to 8 PM, on Sunday from 10 AM to midnight and on Monday from 10 AM to 6 PM.
To learn more about Ars Electronica, follow us on Facebook, Twitter, Instagram et al., subscribe to our newsletter, and check us out online at https://ars.electronica.art/news/en/.