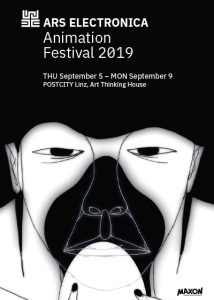 As every year, Ars Electronica Animation Festival is a condensed best-of of current productions in digital filmmaking, selected from the entries of this year's Prix Ars Electronica, the international competition for cyber arts in the computer animation category. Trends of the last few years are continuing with further growth in AI-related themes, VR productions, installative works, large scale mappings, and interactive elements.
This year there have been 835 entries in total. In two pre-jury rounds, first by Christine Schöpf, Juergen Hagler, and Nana Thurner, then in an online rating by the jurors Alex Verhaest, Ina Conradi, Birgitta Hosea, Ferdi Alici, and Nobuaki Doi, the count has been reduced to the more manageable number of 165 productions, considering the three days of deliberation. These also form the foundation for the programs of this year's Ars Electronica Animation Festival.
Additionally, there are guest screenings by Anifilm Třeboň, Digital Media — Hagenberg Campus, Animationsinstitut of the Film Academy Baden-Württemberg, ISCA (International Students Creative Award) and Japan Media Arts Festival. Young filmmakers will be presented in the Young Animations category. A studio feature from Platige Image shows animated short movies from the last 20 years. All in all, the program provides an interesting insight into current international productions of digital filmmaking.
Program