Das STARTS-Pilotprojekt Re-FREAM startet diese Session mit einer Keynote, in der unsere Einstellung zu der Kleidung, die wir tragen, hinterfragt wird und wie wir die Systeme und Bedingungen ihrer Herstellung überdenken können. Im Anschluss an die Keynote präsentieren drei KünstlerInnenteams die Ergebnisse und Prototypen, die in ihren Residencies im Rahmen von Re-FREAM realisiert wurden.
Keynote
"Uncomfortable Clothes" ist eine Gesprächsreihe über die komplexen Dimensionen von Mode, Technologien und Kleidung und deren Beschaffenheit, die mit dieser Partnerveranstaltung am Ars Electronica Festivals beginnt.
Moderation: Christiane Luible-Bär (AT)
Speakers: Nina Wenhart (AT), Giulia Tomasello (IT), Fabio Molinas (IT), Michael Wieser (AT), Viktor Weichselbaumer (AT)
Video
Projekt Credits
Re-FREAM Co-Creation Teams:
The co-creation team around the Yokais (AT), consistent of the Re-FREAM technologist partners Haratech, Profactor and EMPA,  developed a prototype for a one-stop-shop robot based manufacturing system for fashion.
Co-Creation Team:
Michael Wieser (Yokai Studios), Viktor Weichselbaumer (Yokai Studios), Sebastian Zambal (Profactor), Guillaume Clement (Haratech)
Giulia Tomasello (Alma), Tommaso Busolo (Alma), Fraunhofer IZM
Fabio Molinas (LEBIU), Carmina Ferri (Care Applications), Belen Hinojosa (Care Applications)
Biography
Alma is a wearable biosensor designed to monitor vaginal fluids. We strive to support and educate women* about their intimate health through technology.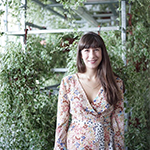 Giulia Tomasello (IT) is a designer committed to women's healthcare and its innovation, combining biotechnology and interactive wearables. Winner of Re-FREAM, STARTS Prize and WORTH Partnership, awarded from EU Horizon 2020, for her projects Alma, Future Flora and Rethinking the Bra. Giulia offers a new deeper knowledge of women's wellbeing, developing innovative tools in the intersection between medical and social sciences. Coded Bodies is her teaching platform designed to learn basics of soft wearables and an exploration of biological textiles. Tomasello is currently a visiting lecturer at Politecnico di Milano. And the last prize she won is the World Omosiroi Japanese Award, achieved this year for her multidisciplinary work.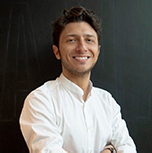 Fabio Molinas (IT) is a multi-awarded Industrial Designer from Sardinia. His career has been developed between Italy, Spain and Portugal. Now a days he work in Madrid in Innovation projects related to product, Interior and strategy design. His passion is to find new ways of using materials, concepts and products giving a twist of their normal uses, finding always a solution in line with the current industrial background. He considers himself a transdisciplinary designer, his most significant works range from the use of energy from household appliances to providing digital tools of innovation for the footwear industry in Europe.
Michael Wieser (AT) (Design & Product Development) is a trained cable car technician that got an BA in the studies of Fashion & Technology. By working in the fashion industry like e.g. Puma S.E. and Atacac, Michael knows the fashion industry and has built a strong network of professionals across Europe. By being among the two founders of Yokai Studios, Michael helped to shape its vision and is responsible for design, pattern construction and implementing fashion relevant expertise into machine development.
Viktor Weichselbaumer (AT) (Robotics & Software Development) is trained in electronics and has a BA in time based and interactive Media Arts. After working for five years in the tech industry he began his studies, where he also has been assistant of the department. He is familiar with various 3D-Software and developed VR as well as AR installations. As Co-Founder of Yokai Studios he works mainly on the implementation of software for the use with KUKA Robots.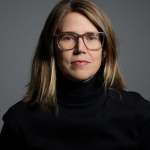 Christiane Luible is co-director of the Fashion & Technology institute at the University of Art and Design Linz. Her scientific work focuses on practice-oriented design research for the fashion industry, digital 3D design and the virtual simulation of fashion, as well as on the effects of digital media and tools on the fashion design process. From 2008 to 2013 Christiane Luible-Bär was head of the Design Fashion course at HEAD Geneva. From 2001 to 2008 she was a researcher at the MIRALab of the University of Geneva and worked on groundbreaking European research projects such as E-Tailor, Leapfrog or Haptex.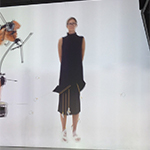 Nina Wenhart is a media art historian and assistant professor at the Fashion & Technology department at the University of Art and Design Linz. Her research focuses on and orbits around critical reflections of technologies at the intersections of art, fashion, and archiving.