In dieser Diskussion sprengen wir die binäre Trennung von Mensch und Maschine im Prozess des Musikmachens, untersuchen Möglichkeiten, wie KI-Systeme dazu beitragen könnten, dass mehr Menschen bezahlt werden, anstatt verdrängt zu werden, und diskutieren die Notwendigkeit, dass KünstlerInnen im Prozess der Entwicklung von KI-Tools teilhaben.
Project Credits / Acknowledgements
Sónar+D comissioned this content exclusively for ARS Electronica
Biographies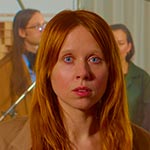 Holly Herndon
Holly Herndon operates at the edges of electronic and avant-garde pop and emerges with a dynamic and disruptive canon of her own. On her most recent full-length album PROTO, Herndon fronts and conducts an electronic pop choir comprised of both human and A.I. voices over a musical palette that encompasses everything from synths to Sacred Harp stylings. CNN noted that Herndon is "shaping the future of A.I.," and she has demonstrated this nexus of technological evolution and musical catharsis with elevated performances at The Barbican (London), Volksbühne (Berlin), Sónar (Barcelona), Unsound (Krakow), and Club 2 Club (Milan). The sounds synthesized on PROTO by Herndon, her A.I. "baby" Spawn, and the vocal ensemble combine elements from Herndon's dynamic and idiosyncratic personal journey: the timeless folk traditions of her childhood experiences in church-going East Tennessee (particularly the prismatic layered practice of Sacred Harp singing), the avant-garde music she explored while at Mills College, and the radical club culture of Berlin, all enhanced by her recent PhD composition studies at Stanford University, researching machine learning and music.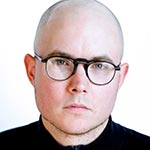 Mathew Dryhurst
Mathew Dryhurst is an artist and researcher based in Berlin Germany. His research focuses on technical and ethical protocols. He makes music and creates art with Holly Herndon, and their albums 'PROTO' and 'Platform' (4AD) have provoked international critical acclaim. He teaches at NYU's Clive Davis Institute of Recorded Music, Strelka Institute and European Graduate School. He previously served as Director of Programming at Gray Area in San Francisco. Most recently, Dryhurst co-founded the podcast series Interdependence alongside Holly Herndon.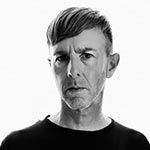 Richie Hawtin
Richie Hawtin is a genuine original. His critical acclaim spans the creative realm of the fine art community to the technological vanguard. Meanwhile, as a performing artist, he is constantly pushing conceptual frontiers, moving things forward, welcoming as many as he can to ideas and experiences that would have seemed pure science fiction when he began his career. Hawtin is British-born and Canadian-raised. He is the business mind behind Plus8 and MINUS Records, nurturing a plethora of talent from Speedy J in the early 90s to Gaiser in the 2010s. And, of course, he is Plastikman, perhaps that most of all, electronic musician par excellence, maintaining an underground agenda of avant-garde electronica over six albums (and two compilations). He returned spectacularly to the live circuit in 2010 with his Plastikman 1.5 incarnation which held its own among the new EDM generation of Skrillex, Deadmau5, etc, stars to whom Hawtin is both old guard ambassador and hero.