For over fifty years, Hershman Leeson's practice mines the intersections of technology and the self. She is known for her groundbreaking contributions to media art from Artificial Intelligence to DNA programming, often anticipating the impact of technological developments in society.
In this lecture, she will give an overview of her work, particularly related to cyborgs, from 1966's Breathing Machines, to 2018's Antibody and 2020's Gravity's End.
"Imagine a world in which there is a blurring between the soul and the chip, a world in which artificially implanted DNA is genetically bred to create an enlightened and self-replicating intelligent machine, which perhaps uses a human body as a vehicle for mobility." Lynn Hershman Leeson (2000)
The talk will bring together a selection of Hershman Leeson's work in drawing, sculpture, video, and photography, along with interactive and net-based works, focusing on themes of transmutation, identity construction, and the evolution of the cyborg. *Roberta* (1972-79), PhantomLimb (1985–88) and Cyborg (1996–2006), as well as Infinity Engine (2014-present), a recent large-scale project, a multimedia installation based on a genetics laboratory that explores the effects of genetic engineering in society that trace the ever-intertwined relationship between the technological and the corporeal to illuminate the political and social consequences of scientific advances on our most intimate selves and biological lives.
Biography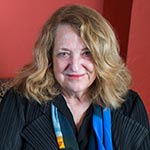 Lynn Hershman (US)
Lynn Hershman Leeson, b. 1941, Cleveland, lives and works in San Francisco and New York. Exhibitions include Lynn Hershman Leeson: Twisted (The New Museum, NY, opening 2021), Civic Radar (Karlsruhe, 2014), and solo exhibitions in Madrid (2019), Berlin (2018), Basel (2018), San Francisco Museum of Modern Art (2013), and Manchester (2007). Her 6 feature films include Teknolust (Sloan Writer Director Award), !Women Art Revolution (Best Art Film Award), and Strange Culture (Humanitarian Award) and she has received numerous other awards. She has permanent exhibits in Museum of Modern Art, NY, MOMA SF, ZKM, Tate Modern, Walker Art Center, and numerous private collections. The New York Times listed Civic Radar as "Best Art Book 2016" and Lynn Hershman Leeson: Antibodies as "Best Art Book 2019".