As part of the STARTS initiative, the STARTS Prize awards the most pioneering results and collaborations in the field of creativity and innovation at the intersection of science, technology and the arts. The STARTS Prize Forum 2020 presents the people behind the projects, their approaches and perspectives, their methods and the outstanding projects that resulted from these interdisciplinary collaborations. Olga Kisseleva (RU), winner of this year's Grand Prize for Innovative Collaboration, and Andrea Ling (CA), winner of the Grand Prize for Artistic Exploration, give insight into their practice.
Andrea Ling, winner of this year's Grand Prize for Artistic Exploration, introduces her winning project "Design by Decay, Decay by Design", a series of artifacts that exhibit designed decay developed for the 2019 Ginkgo Bioworks Creative Residency on how to design a world without waste and talks about her artistic and creative process.
Speaker: Andrea Ling (CA)
Video
Biography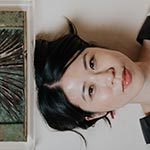 Andrea Ling (CA) is an architect and installation artist who works at the intersection of art, fabrication technologies, and biological sciences. Her most recent work focuses on how the critical application of biologically and computationally mediated design processes can move society away from exploitative systems of production to regenerative ones. She was the 2019 Ginkgo Bioworks creative resident exploring how to design the decay of artifacts in order to access material circularity. Andrea is a founding partner of designGUILD, a Toronto-based art collective and a former project lead for Philip Beesley Architect where she worked on a series of international immersive kinetic installations and textiles for Iris van Herpen. She is also a former research assistant and designer for the Mediated Matter Group, at the MIT Media Lab, where she and her teammates won Dezeen's 2019 project of the year with their research project, Aguahoja I, which will be shown in 2020 at the MoMA and 2021 at SFMOMA. Andrea has a MS from the MIT Media Lab and a M.Arch. from the University of Waterloo with a background in human physiology from the University of Alberta.