Together with you and other artists and experts we willl talk about space, art and the climate crisis. Let's exchange ideas and get inspired over a cup of tea or coffee. Meet us at the Space Café in the create your World Open Kitchen!
Artists and Experts: Sarah Jane Pell (https://www.sarahjanepell.com), Hagen Betzwieser (www.haganbetzwieser.de), Aigerim Kozhakhmetova, Raikhan Kushekova, Max Gruber and Paul Höller of the TU Vienna Space Team (www.spaceteam.at)
Time & Place: Friday, 06.09, 4 PM / Open Kitchen, Create Your World
In addition to this event, the following two spaceEU activities will take place at this year's Ars Electronica Festival.
spaceEU Exhibition: Step into Space
spaceEU Activity: space4youth Blue Moon Special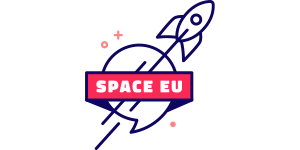 spaceEU project has received funding from the European Union´s Horizon 2020 Framework Programme for Research and Innovation under grant agreement No. 821832.