Recently I have been actively developing the concept of "passive instruments." I understand passive instruments to be different multimedia objects that do not require management so much as co-existence with them. last breath is an example of such an instrument.
Operating principle: the exhaled air (its pressure and flow rate) activates the generative process, which depends on the exhalation parameters and is managed by the air movement in the organ. The object does not require any special playing technique, although any change in the breathing is directly dependent on playing dynamics and also on all the other parameters used to generate the sonic flow.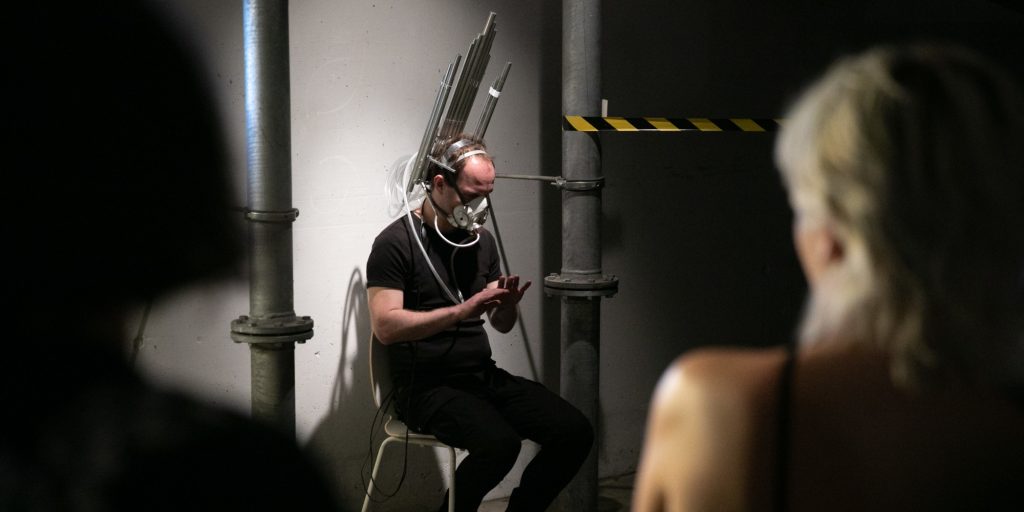 I consider this object to constitute a deathbed mask – a ritual instrument of dying that can be played with when I no longer have any strength to use any other instrument. And the final representation of the object was formed on this basis: sterile cyber-gothic, new rituals, the organs that support the functioning of the organ.
Website:
Biography:
Dmitry Morozov aka ::vtol:: (RU) (b.1986, Moscow) is a transdisciplinary artist and researcher. He focuses on contemporary media arts including sound, robotics and installation, placing special emphasis on the link between emergent systems and new kinds of technological synthesis.
http://www.vtol.cc/