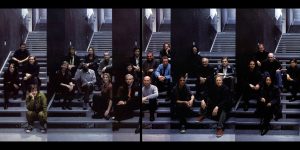 .NET
Derrick de Kerckhove (CA)
Director of the McLuhan Institute of Culture and Technology at the University of Toronto. His works on the effects of communication-media on the human nervous system include "Brainframes" and "The Alphabet and the Brain".
Lisa Goldman (US)
President, Construct. Before cofounding Construct in August 1995, Lisa was director of the Interactive Media Festival, an international competition held in June 1994 and June 1995 in Los Angeles. The Festival revolved a round an exhibition reflecting the wide spectrum of disciplines and industries exploring interactive media. In addition to the gallery, there were live performances by the Blue Man Group and the Merce Cunningham Dance Company. From 1988 until the launch of the Festival in 1992, Lisa worked at Cunningham Communication, Inc., a top-rated high technology marketing firm in Palo Alto, California. She holds a degree in Fine Arts from Rice University in Houston, Texas and also studied at the Universite de Paris IV, Sorbonne.
Joichi Ito (JP)
Developer and producer in the areas of virtual reality and multimedia. Japan correspondent for Mondo 2000, Wired and others. Numerous publications, particularly on networks.
Declan McCullagh (US)
Is the chief Washington correspondent for Wired News and lives and works in Washington DC. An award-winning journalist, his articles have appeared in publications from Playboy magazine to the Los Angeles Times. McCullagh moderates "politech", a discussion list looking broadly at politics and technology, and the Association for Computing Machinery's Y2KRISKS forum. He has written the Y2K entry for Microsoft's Encarta encyclopedia, and has contributed to Time cover stories on topics such as Y2K and privacy.
Marleen Stikker (NL)
Marleen Stikker is co-founder and director of the Society for Old and New Media (1994). Having a background in philosophy she became director of the Summerfestival Amsterdam and initiated several media projects. ln 1993 she founded De Digitale Stad (DDS), the first Digital City on the Internet. She was the "digital mayor" unti1 1996. Recently she co-founded Net4.nl, a net-based public broadcast organisation. She was involved in setting up of the European Cultural Backbone, a network of innovative media-cultural institutions in Europe in March 1999.
INTERACTIVE ART
Brian Blau (US)
recently joined Silicon Graphics as the Graphics API Evangelist for Fahrenheit and OpenGL API's. Before joining SGI Brian was cofounder and Vice President at Intervista Software, an Internet startup building VRML and 3D web technologies and products. There he served in many roles, including software developer and manager of day-to-day engineering operations. Brian also worked at Autodesk Multimedia and the Institute for Simulation and Training, where he worked on desktop visual simulation systems and networked virtual realities. Brian also actively volunteers for SIGGRAPH. In 1996 he co-produced the acclaimed Digital Bayou interactive exhibition and he is currentIy producing the 1999 Computer Animation Festival and Electronic Theater
Machiko Kusahara (JP)
studied mathematics and history of science at Tokyo's International Christian University and is an Associate Professor of Media Art at the Faculty of Arts, Tokyo Institute of Polytechnics. She has been teaching computer graphics theory and media since 1986 and has published several books on computer graphics and A-Life. Her recent research has been centered around the transition of the nature of artistic creativity in interactive art, especially in relation to the concept of networking and A-Life.
Hans-Peter Schwarz (DE)
studied visual communication at the University for Applied Science in Bielefeld, finishing 1973 as a qualified designer. 1982 doctorate summa cum laude for the title Dr. phil. from the Philipps-Universität. 1983-1990 curator at the Deutsches Architekturmuseum. 1990-91 project director for the conception of a new museum for the history of the modern age in Frankfurt/Main. Since 1982 lecturer at the Universities of Marburg, Trier and Frankfurt, the University for Applied Science in Darmstadt and the State School of Design/Karlsruhe. Since 1992 director of the Media Museum at the ZKM Center for Art and Media in Karlsruhe. Since 1994 chair for the history of art at the State School of Design/Karlsruhe (HfG). Since 1997 external project director for the thematic area of the EXPO 2000.
Paul Sermon (GB)
born 1966. Studied at The University of Wales, with Professor Roy Ascott BA Hon's. Fine Art degree. Post-graduate MFA degree at The University of Reading, England, from Oct 1989 to June 1991. Awarded the Prix Ars Electronica "Golden Nica", in the category of interactive art, for the hyper media installation Think about the People now (1991). Artist in Residence at the Center for Arts and Mediatechnology (ZKM) in Karlsruhe (1993). Received the "Sparkey" award from the Interactive Media Festival in Los Angeles, for the telematic video installation Telematic Dreaming (1994). Currently living in Berlin, working as Associate Professor for telepresence and telematic media in the department of media arts at the Academy of Graphic and Book Arts in Leipzig. Exhibited works in Great Britain, France, Austria, Belgium, Finland, Germany, Holland, Canada, USA and Japan.
Jon Snoddy (US)
joined GameWorks in March 1996 as Vice President, Design from the Walt Disney Co. In 1993, Snoddy founded the Walt Disney Virtual Reality Studio which is currently producing the Aladdin Virtual Reality ride. He also led the conceptual development and design ofthe ride system for the wildly popular Indiana Jones attraction. Prior to joining Disney, Snoddy was with Lucasfilm's THX division where he was instrumental in transitioning the THX sound system from an industry studio mix product to a worldwide consumer product. He began his career as a technical director working for National Public Radio in Washington with the program "All Things Considered." Snoddy has degrees in journalism and electronics from the University of South Carolina. </dd
COMPUTER ANIMATION / VISUAL EFFECTS
Maurice Benayoun (FR)
born in 1957, founded Z.A. Production in 1987, which emphasizes special effects and is particularly concerned with the potential of the digital image and interactivity. He has taught at the Universite 1 (Panthéon Sorbonne) since 1984· Since 1996 he is Artiste Invité at the École Nationale Suérieure des Beaux Arts, Paris. Since 1994 he has been particularly interested in the development of VR installations and interactive Internet applications.
Ines Hardtke (CA)
is Head of Digital lmaging in the ACI east and Animation/Jeunesse Studios at the National Film Board of Canada in Montreal. She obtained a M.Math (Computer Science-Computer Graphics Lab) from the University of Waterloo in Waterloo, Ontario. She has been Computer Animation Festival Chair at SIGGRAPH 98.
Robert Legato (US)
graduated from Brooks Institute of Photography with a Bachelor of Arts Degree in Cinematography. After freelance supervising and directing for various commercial companies, he turned to television production, serving as alternating Visual Effects Supervisor for the TV series The Twilight Zone. He earned two Emmy Awards for Visual Effects for his work on Paramount's Star Trek: The Next Generation and Deep Space Nine in the varying roles of Visual Effects Supervisor/Producer. In 1993 Rob joined Digital Domain, where he has worked as Visual Effects Supervisor/Second Unit Directür für Neil Jordan's Interview With the Vampire and as Visual Effects Supervisor on Apollo 13 and James Cameron's Titanic. He was nominated for the Academy Award in Visual Effects for Apollo 73 and won the Visual Effects Academy Award for his work on Titanic. He also received the British Academy Award (BAFTA) for Apollo 73 and was nominated for the same award for his efforts on Titanic. Rob is currently Creative Director and Senior Visual Effects Supervisor at Digital Domain
Barbara Robertson (US)
has been the West Coast Senior Editor for Computer Graphics World since 1985 and in that capacity has written many award-winning articles on computer animation, visual effects, and graphics technology as she watched the evolution of computer graphics art and technology. Prior to this work, she was the Editor and Researcher for the Whole Earth Software Catalog, West Coast Bureau Chief for Popular Computing, and West Coast Editor for Byte Magazine.
DIGITAL MUSICS
Kodwo Eshun (GB)
At 17, Kodwo Eshun won an Open Scholarship to read Law at University College, Oxford. After 8 days he switched to Literary Theory, magazine journalism and running clubs. He is not a cultural critic or cultural commentator so much as a concept engineer, an imaginist at the millennium's end writing on electronic music, science fiction, technoculture, architecture, design, post war movies and post war art for I-D, The Wire, The Face, Arena, Süddeutsche Zeitung, Die Zeit, Melody Maker, The Times and The Guardian. He has published in The Celluloid Jukebox, the British Film Institute's critical anthology on the soundtrack and is the youngest writer in Jon Savage and Hanif Kureishi's The Faber Book of Pop.
Naut Humon (US)
conducts, curates and performs his and outside works for Sound Traffic Control, an omniphonic orchestral "dub dashboard" network which remorphs sonic spatial objects from live instrumentalists, audio sculptures, and multiple DJ/VJ configurations for the RECOMBINANT diffusion jockey summits. He also operates as producer and creative director of the Asphodel/Sombient labels from San Francisco to New York.
Jim O'Rourke (US)
is out of Chicago and involved in many areas simultaneously. As a producer he has worked with Stereolab, Faust, Smog, John Fahey, the High Llamas, and Tony Conrad. He has made remixes for Tortoise, Autechre, Oval, The Sea and Cake, and the Jesus Lizard, as an improviser has played and recorded with Henry Kaiser, Derek Bailey, Mats Gustafsson, Gunter Muller, Eddie Prevost, and Evan Parker, run 3 record labels (distemper, dexter's cigar, and moikai) which have issued recordings by Arnold Dreyblatt, Folke Rabe, Merzbow, Derek Bailey, Phill Niblock, and Rafael Toral. He has collaborated with mego, sonic youth, and also is a musician for the Merce Cunningham Dance Company. His own records have ranged from electronic/musique concret to americana. He is currently producing and occasionally performing with his powerbook.
Robin Rimbaud (GB)
With his work as Scanner, Robin Rimbaud implicates himself in processes of surveillance, engendering access to both technology and language and the power games of voyeurism. Dubbed a "telephone terrorist", Rimbaud is a techno-data pirate whose scavenging of the electronic communications highways provides the raw materials for his aural collages of electronic music and 'found' conversations. Musician, writer, media critic, cultural engineer, and host of the monthly digital club the Electronic Lounge at the ICA since 1994, he is currently at work on a variety of projects. Scanner – A fearless exponent of ambient electronic soundscapes, Scanner is widely recognised as one of the most exciting artist-producers working in instrumental music. His compositions are absorbing, multi-layered soundscapes that twist state-of-the-art technology in gloriously unconventional ways. He has collaborated and spoken at conferences with Brian Laswell, Brian Eno, Peter Gabriel , Björk, Derek Jarman and Neville Brot.
Laetitia Sonami (FR)
born 1957. She studied with Joel Chadabe at the Electronic Music Studio in Albany, NY, and with Robert Ashley and David Behrman at the Center for Contemporary Music, Mills College, CA, where she received her MFA in composition in 1980. She has since been developing her own electronic musical instruments for live performance. She lives in Oakland, California.
U19 / CYBERGENERATION
Sirikit M. Amann (AT)
studied political science, theater arts and economics in Austria, Germany and the USA. Since 1987 she has worked for the ÖKS – Austrian Culture Service – where she is responsible for the concept development and implementation of multimedia projects in schools. Austrian Culture Service school projects: 1994 "Computer and Games" and 1995 "Speed" (both at the Ars Electronica Festival).
AGENT etoy.ZAI
is one of the founding members of etoy and has been regarded as the general manager of the etoy. CORPORATION (www.etoy.com) since 1996. Between 1994 and 1999, operating under the codename AGENT etoy.MATT AKA e07, he was head of a number of etoy.PRODUCTIONS and etoy.MEDIA-HACKS, such as the kidnapping of over 1.5 million Internet users in 1996 under the codename "The Digital Hijack" (Golden Nica Prix Ars Electronica 1996) or the spectacular promotion stunt in 1998, "Protected By etoy", with which the etoy.CORPORATION officially took over the security of the Museum of Modern Art in San Francisco and created unbounded confusion. etoy.ZAI is also responsible for the etoy.CORPORATE IDENTITY and the operation "leaving reality behind". The private data for AGENT e07 from 1975 to 1992 will be held in confidence until 2035 by the etoy.CORPORATION!
Norman Filz (AT)
has worked for six years for Austria's biggest youth and music magazine, the RENNBAHN EXPRESS, as a film journalist and is also head of the counseling section for young people there. In addition, Filz works as a musician and freelance writer; his most recent publication was a book of advice about love for young people.
Markus Riebe (AT)
born 1955, studied at the University for Artistic and Industrial Design in Linz. Art productions from the series "digital/analog", "D/A-Wandler" and "territorien" have been shown at Siggraph ArtShow/Chicago 91, TISEA/Sidney, ComputerArt/BRD and in individual exhibitions. He has written on museum pedagogy for the Kunsthistorisches Museum, Vienna, Künstlerhaus Vienna, the Upper Austrian Landesgalerie and others. In the school supervisory council of Upper Austria he is responsible for the art education program for the province of Upper Austria.
Stefan Sagmeister (AT)
graduated from the College of Applied Art in Vienna and then studied at Pratt Institute in New York with a Fulbright scholarship. He worked as Creative Director for Leo Burnett in Hong Kong and M&Co. in New York, after which he opened his own studio Sagmeister Inc. in New York. He has created CD packaging and graphics for the Rolling Stones, David Byrne, Lou Reed, Aerosmith and Pat Metheny.