Austrian Standards celebrates 100-year anniversary – Finalization of the exhibition and opening ceremony
Austrian Standards, the service centre for norms and standards and their development, celebrates its 100th anniversary in 2020. To mark the occasion, the first part of the exhibition was opened at the beginning of the year. Now Ars Electronica Solutions has completed the exhibition and expanded it with three additional installations that continue the design language developed specifically for Austrian Standards. At the ASI 100th anniversary celebration, Dr. Margarete Schramböck, Federal Minister for Digitization and Economic Location, was pleasantly present and congratulated Ars Electronica Solutions on the successful interactive exhibition.
Water Pool
Hygiene, quality, environment – these terms are at the top of the list when it comes to dealing with water standards. A using UV light self-cleaning water pool offers a truly fluid interaction experience. Content projected onto the water surface immerses visitors in the world of water hygiene. But be careful, don't let the fish nibble at you!
Interactive Wall Print
A city full of norms can be explored on the ground floor – using a comprehensive illustration around the themes of Smart City, Future Mobility and Sustainable Living, which invites playful exploration of the future challenges of standardization in urban space. The analogue city motif can be brought to life digitally by visitors. The illustrations react to touch and tell entertaining stories.
Interactive Display Case
Please touch! What is forbidden in the museum is expressly desired in this showcase. Get in touch with the building on Heinestraße – simply swiping and the miniature model from the 3D printer starts moving. The different perspectives of the building provide insights into the standardization processes and allow visitors to browse through standards texts. Behind it, a digital twin of the Austrian Standards Institute emerges from a stream of standard particles.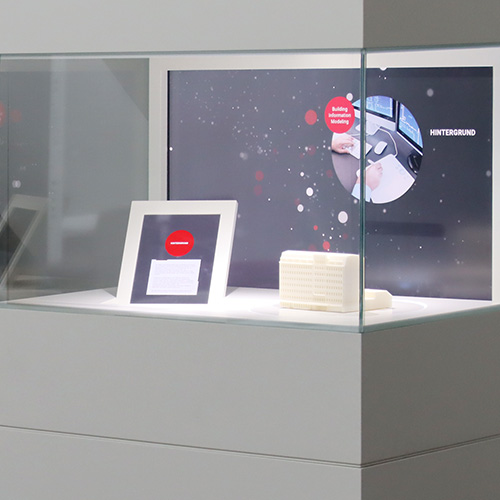 You can read more about the opening ceremony here in the press release.
PROJECT CREDITS
Team Solutions:
Ina Badics, Stefan Dorn, Harald Moser, Patrick Müller, My Trinh Müller-Gardiner, Andreas Pramböck,
Robert Pibernig, Dominik Trichlin, Markus Wipplinger
External:
Garamantis GmbH, PeakImpact, Tischlerei Niedermayr
Foto Credits:
APA Fotoservice – Krisztian Juhasz, Markus Wipplinger