Austria makes Sense
@ World Exposition "Expo 2020 Dubai"

Originally, Expo 2020 Dubai – the first in an Arab country – was scheduled to start on October 20, 2020 under the motto "Connecting Minds, Creating the Future". However, the COVID-19 pandemic caused a postponement. From October 1, 2021 to March 31, 2022, the Expo will now bring visitors from all over the world to Dubai. With the slogan "Austria makes sense", the Austrian pavilion will focus on contemplation as a strategy and offer deceleration and tranquility in a hectic environment, but using contemporary media art and the latest digital technologies preferred by innovative Austrian companies. Ars Electronica Solutions, in collaboration with querkraft, bleed and büro wien, is responsible for designing the experience spaces.
In order to bring the concept surrounding the Austria Pavilion closer to the interested public until the Expo opens, a mobile multimedia interior design work of art (pixel tower) will be used. Various cubes are combined to form a tower and equipped with prints, screens and haptic exhibits. This work of art will be an integral part of the so-called iLab in the Austrian Pavilion. The iLab is dedicated to Austria's innovative strength.
The pixel tower will be accessible at the Ars Electronica Center until the end of October 2020.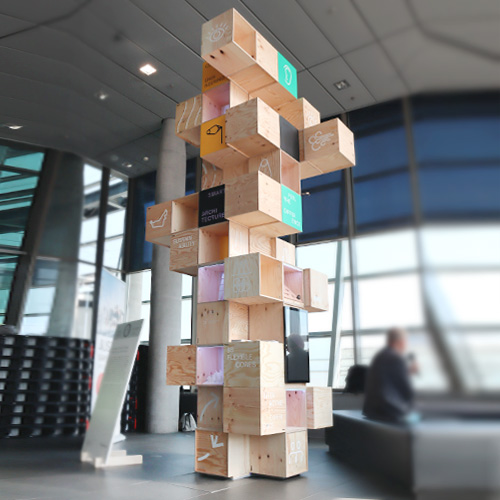 PROJECT CREDITS
Ars Electronica Solutions, Bleed, büro wien – inszenierte kommunikation marketing gmbh, querkraft architekten zt gmbh, powered by: Federal Ministry for Digital and Economic Affairs, Austrian Economic Chambers
Foto Credits:
Michaela Fragner, My Trinh Müller-Gardiner