Redesign of Sacher Eck & Confiserie
Sacher is steeped in tradition—the hotel's rich ambience makes eyes light up, and a world-famous Original Sacher Torte makes mouths water! In conjunction with a tasteful update of their Viennese flagship location, Sacher brought in Ars Electronica Solutions to enhance this historic landmark with some modern features. Installations showcasing visually stunning imagery now offer state-of-the-art modes of exploring this time-honored institution.
In Sacher Eck, a monitor integrated into the architecture provides insights into the in-house Manufaktur and a close-up look at the individual steps that go into the creation of an Original Sacher Torte.
Four exterior showcases at the corner of Philharmoniker Straße and Kärntner Straße take a state-of-the-art approach to window dressing. A mixture of artistically executed paper cut-outs, tortes and LED panels on various levels depict some of Old World Vienna's iconic sights of amidst an impressive visual backdrop.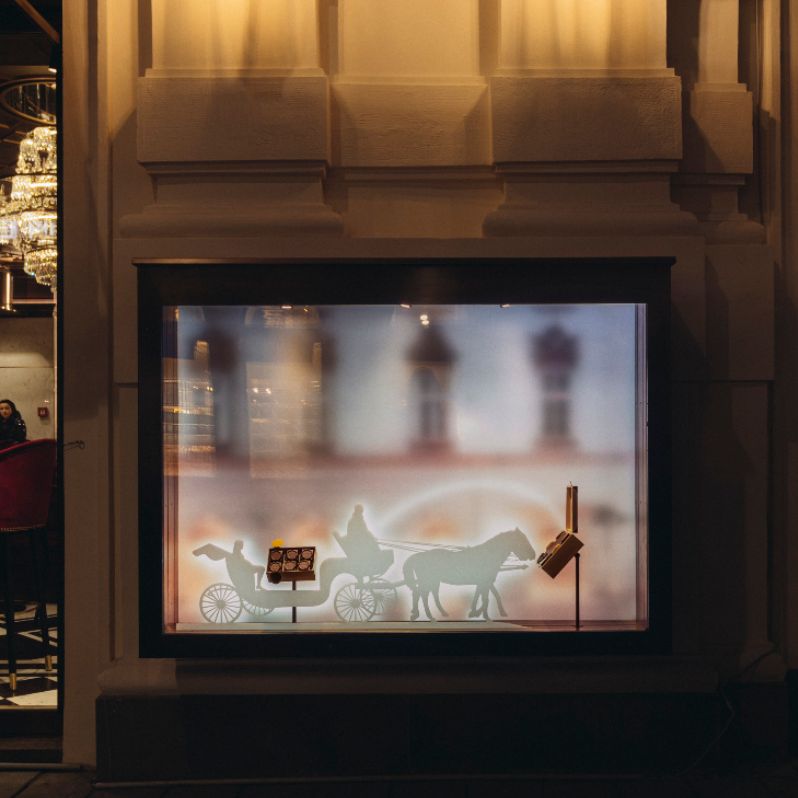 Painstaking work went into the execution of the highlight installation: the diorama. A scale-model of the Sacher building was crafted out of paper with extraordinary attention to detail to form the backdrop of a panoply of animated scenes conveying a feeling of the inner life of a grand European hotel over the years. A glass of champagne on the terrace, children playing in a magnificent suite, a heartwarming Christmas Eve with gifts aplenty, a comprehensive look at all the steps that go into the creation of torte in the Manufaktur—in this magical edifice, there are countless stories to discover!
Blog #1: Papercraft und Animation
Blog #2: Tradition meets Innovation
Project Credits: Stefan Dorn, Barbara Hinterleitner, Michael Mondria, Harald Moser, Patrick Müller, My Trinh Müller-Gardiner, Andreas Pramböck, Gerald Priewasser-Höller, Markus Wipplinger
External: Benjamin Krux Reprap, Garamantis; Paper Work by Daniela Leitner & Sandra Reichl
Foto Credit: Florian Voggeneder