SPEKTR Z–Sensor Polygon for Electromagnetism, Communication, Technology, Research and Sensing ist ein hybrides mobiles Labor, das seinen Betrieb im Juli 2022 während der verheerenden Brände im Karst, dem größten natürlichen Brand in der jüngeren Geschichte Sloweniens, aufnahm. Das Labor ist ein Hybridlabor, das aus Modulen und Geräten für die Fernerkundung sowie Systemen für den Empfang und die Verarbeitung von Sensordaten besteht. Ein spezieller Bereich des Labors ist der öffentlichen Präsentation von Aktivitäten und der Zusammenarbeit mit Künstler*innen insbesondere im Bereich Tactical Media Art, der Kreativ- und High-Tech-Industrie sowie Forschungseinrichtungen und staatlichen Institutionen gewidmet.
Die Arbeit Oculos Super Ignes Vigilantes Volavimus verwendet die Common Data Processing and Display Unit (CDPDU), eine Datenanzeige- und -verarbeitungsarchitektur, die auf offenen Hardware- und Softwarestandards basiert, die im Rahmen der Arctic Perspective Initiative entwickelt wurden. Die Arbeit präsentiert verschiedene Datenebenen, die vom Labor während der Brände im Karst gesammelt wurden, und ermöglicht es den Besucher*innen, diese Datenebenen frei zu navigieren und zu manipulieren.
Credits
Production: Projekt Atol Institute within the konS ≡ Platform for Contemporary Investigative Art Partners 2022: C-ASTRAL, Institute for Forest Management of Slovenia, Slovenian Armed Forces, GOZDIS – Forestry Institute of Slovenia IOS – Institute for Ecology and Sensors, Civil Defense Corps of Slovenia, Triglav National Park, Center of Excellence SPACE-SI, ZRC SAZU – Remote sensing section
Phase 1 of the project was conducted by the SPEKTR Z collaborators: Matej Bone, Dr. Urša Kanjir, Boštjan Košiček, Matej Kravanja, Dr. Martin Lamut, Dr. Aleksandra Lobnik, Bogdan Magajna, Miha Mayer, Jernej Moderc, Dr. Leon Pavlovič, Marko Peljhan, Dr. Tomaž Rodič, Dr. Mitja Skudnik, Samo Stopar, Ana Urbas, Uroš Veber as well as multiple members of the 1st and 72nd Brigade of the Slovenian Armed Forces and 15th Air Force Squadron including members of the 154th JTAC company and 107th Air base communications and air traffic control group.) Production of the work is supported by the Republic of Slovenia (MK) and Republic & the European Regional Development Fund of the EU
Special support: C-ASTRAL
This project is presented in the context of the More-than-Planet project co-funded by the Creative Europe Programme of the European Union.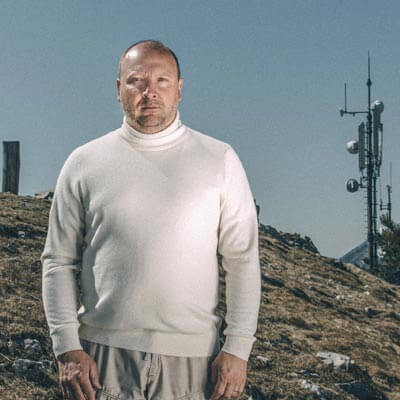 Spektr Z (SI)
SPEKTR Z (Sensor Polygon for Electromagnetism, Communication, Technology, Research and Sensing) ist ein Polygon für künstlerische Forschung, initiiert von dem Konzeptkünstler und Forscher Marko Peljhan, der für seine Arbeit zahlreiche Preise erhielt, darunter den UNESCO digital media award und den ersten Preis des Prešern-Fonds für intermediale Kunst in Slowenien. 2001 erhielt er zusammen mit Carsten Nicolai die Goldene Nica beim Prix Ars Electronica für ihre gemeinsame Arbeit Polar und war 2007 der Ars Electronica featured artist. Im Jahr 2019 vertrat er Slowenien auf der 57. Biennale von Venedig, sein Programm ISOLABS wurde als eine der mehrjährigen Veranstaltungen im Rahmen des Programms Kulturhauptstadt Europas GO2025 Nova Gorica-Gorizia ausgewählt. Er war auch einer der Hauptakteur*innen bei Entwicklung und Start des ersten slowenischen Mikrosatelliten NEMO-HD, der 2020 mit einer Ariane Vega-Trägerrakete ins All geschossen wurde. Im Funkspektrum agiert er als S54MX.