Total Conversion ist ein Vorschlag, eine Frage und eine Methode in einem. Die 2-Kanal-Videoinstallation gibt keine Antwort auf die Fragen, die sie stellt, sondern setzt eine offene Methode des In-der-Welt-Seins in Gang. Im Zentrum der sich überschneidenden Erzählungen des Films steht die Frage nach dem menschlichen Körper und wie er eine stetige Zufuhr von Teilen dieser Welt braucht, um sein eigenes Leben zu erhalten. Wird der Körper zu dem, was er isst? Oder löst der Körper die Welt vollständig eine eigene materielle Struktur auf, wie einige europäische Wissenschaftler des neunzehnten Jahrhunderts glaubten und es im zwanzigsten Jahrhundert zum gesunden Menschenverstand machten?
Die Installation macht die Inkorporation zu einem Thema mit physiologischen, psychologischen, spirituellen, literarischen und wissenschaftlichen Dimensionen. Es geht gleichzeitig um Metamorphose und Verfall, Eucharistie und Epigenetik, Philosophie der Materie und imperiale Eroberung, Industrialisierung und Vernichtung.
Credits
Diese Arbeit wurde im Rahmen des European Media Art Platform residency program at IMPAKT [Centre for Media Culture] mit Unterstützung des Programms Creative Europe Culture der Europäischen Union realisiert. Unterstützt von der Queen Mary University of London, der University of Southampton, South-West and Wales Doctoral Training Partnership.
This project is funded and presented in the context of the EMAP project co-funded by the Creative Europe Programme of the European Union.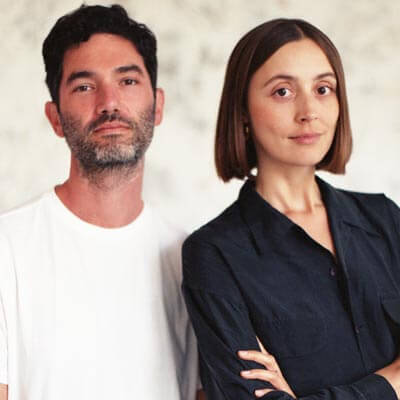 Sasha Litvintseva (GB), Beny Wagner (DE/US)
Sasha Litvintseva und Beny Wagner sind Künstlerin, Filmemacherin und Schriftsteller*in. Seit 2018 arbeiten sie gemeinsam an Bewegtbildern, Installationen, Texten und Vorträgen. Ihre gemeinsamen Arbeiten wurden weltweit präsentiert, unter anderem auf der Berlinale, den Filmfestivals Rotterdam, CPH:DOX, Courtisane, EXiS Seoul, CAC Vilnius, Los Angeles Filmforum, Museum of the Moving Image NY, Transmediale, Sonic Acts, Berlin Atonal, Impakt Festival, Wroclaw Media Art Biennale, der Baltic Triennial und der Seoul Mediacity Biennale.