TX-2: MOONSHADOW ist ein Experiment in spekulativer Satellitenkonstruktion und nicht-menschlicher Raumfahrt. Seine Existenz zeigt, dass Weltraummissionen im Gegensatz zu zeitgenössischen kommerziellen, militärischen und expansionistischen Vorhaben für queere, postkoloniale Zukünfte konstruiert werden können. Bestehend aus einem handgefertigten Sonnensegel, einem speziell angefertigten 6U CubeSat bedeckt mit schützenden Sigillen, um trans und queere Freude zu wecken, sowie einem skulpturalen "Meteoriten", der hybride Strukturen mit Komponenten von Flechten und Menschen enthält, greift TX-2: MOONSHADOW auf die Geschichte der Sehnsucht nach außerirdischen Begegnungen von Transgenderpersonen zurück und zeigt Möglichkeiten für nicht-menschliche Erfahrungen des Weltraums auf.
Credits
The project was the outcome of a fellowship co-commissioned by Art Hub Copenhagen within the framework of Repairing The Present. Repairing The Present is co-funded by the STARTS program of the European Union. Expert Fabrication Assistance: Giorgia Piffaretti. 3D Modeling and Industrial Design: Felipe Rebolledo. Spacecraft Fabrication Space: Georg Rasmussen, CLICK/Kulturværftet, Helsingør, Denmark.
Presented with the kind support of Creative Industries Fund NL.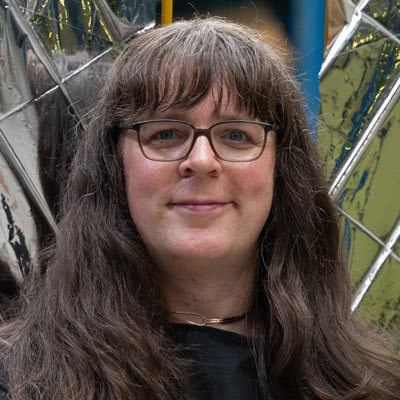 Adriana Knouf (US)
Adriana Knouf, PhD (NL/US) arbeitet als Künstlerin, Autorin und Xenologin und konzentriert sich auf Themen wie Wet Media, Space Art sowie queere und trans Zukünfte. Adriana Knouf stellt ihre künstlerische Forschung regelmäßig in der ganzen Welt und darüber hinaus vor. Ihre Arbeiten wurden mit dem Award of Distinction beim Prix Ars Electronica (2021), einer Honorary Mention beim Innovative Research Award der Science Fiction Research Association ausgezeichnet, außerdem war sie Preisträgerin bei The Lake's Works for Radio #4 (2020).