In Hollywood blockbusters like "Spiderman," "The Hunger Games" and "The Martian," in visualizations for documentaries by the BBC and the Discovery Channel, in ad spots in print, on TV or online, and, of course, in computer gaming: MAXON has been making a series of major impacts throughout the course of its 30-year company history. But its biggest hit has been in the field of graphic software: Cinema 4D. In cooperation with MAXON, this year's Ars Electronica Animation Festival (September 8-12, 2016 in Linz) is presenting a state-of-the-art selection of motion picture artistry in its most multifaceted forms. As always, this will be one of the absolute highlights of the 2016 Ars Electronica Festival. We had a chance to chat with Andres Hildebrandt, Vice Director Marketing & Education at MAXON Computer, about trends in the field of 3-D computer animation, and how the software developer endeavors to pick up on visual trends.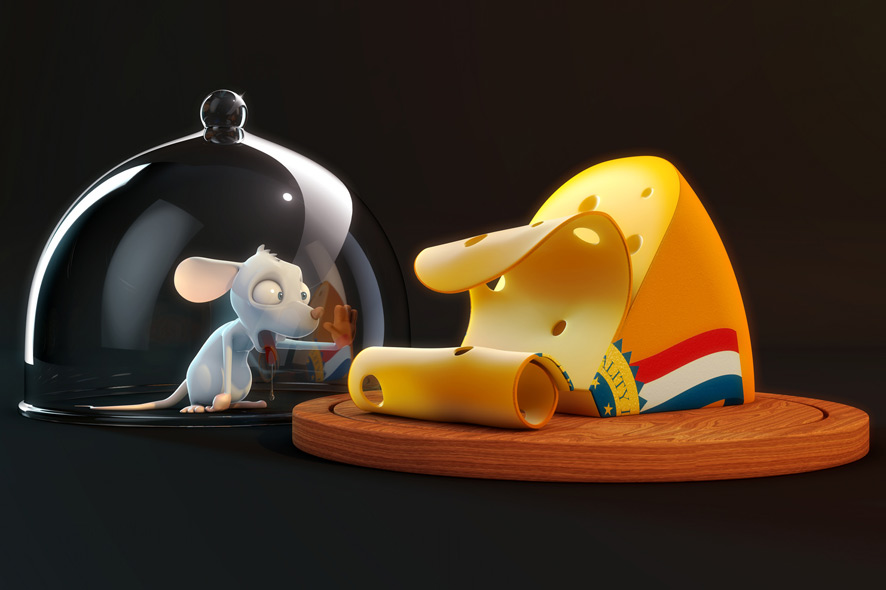 Chesse, Credit: King Coma
How do you account for people's ongoing love affair with 3-D animation?
Andres Hildebrandt: I think that 3-D animation has solidly established itself as a means of expression in numerous disciplines and thus expanded the range of options available to artists. I wouldn't necessarily speak in terms of enthusiasm; it's simply that digital effects—including 3-D animation—have become an integral, indispensible part of the world of media. Maybe you could say that CGI [computer-generated imagery] is the paint box of the digital domain, an instrument that's contributing to visually deactivating the boundary between reality and fiction. Plus, the tools are getting increasingly intuitive, so that more and more people now have access to 3-D. Previously, only engineers and highly qualified experts with lots of experience and costly high-end hardware could achieve presentable results, whereas today, all you need is a standard, commercially-available computer to get started in 3-D animation. This wide availability and the software's high level of development have led to considerably more impressive works.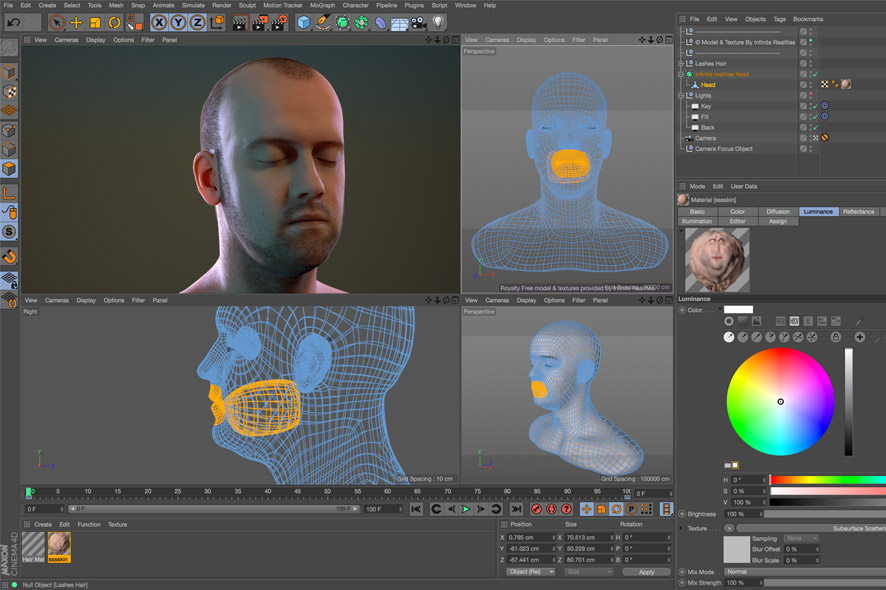 The workspace of the Cinema 4D software. Credit: MAXON
23 years ago, MAXON released Version 1.0 of Cinema 4D for the Amiga. You're currently working on Version 18. In the year 2016, does your software still contain elements that already existed in 1993?
Andres Hildebrandt: Definitely. The basics of 3-D animation were developed then, or even earlier, and they're still valid today. Many of the algorithms we use and the data structures of our software originated at this time, and all that we've done since then has been to refine and expand them. We're permanently building upon these "ur-insights" so that a significant part of our work consists of making the software more user-friendly, more flexible and more intuitive. You could say that a large portion of the work on 3-D software today is more evolutionary than revolutionary.
"Temps Mort / Idle Times" by Alex Verhaest (BE) won the 2015 Golden Nica in the Prix Ars Electronica's Computer Animation / Film / VFX category. What do you think of it?
Andres Hildebrandt: Unfortunately, I didn't have an opportunity to experience the installation live; I was only able to see a recording. But I really like the work! For me, it's a remarkable bridge establishing a link among digital technology, interactivity and the work of the Renaissance masters. You get a feeling as if you could interact with the figures in paintings by Botticelli or Michelangelo. Great cinema!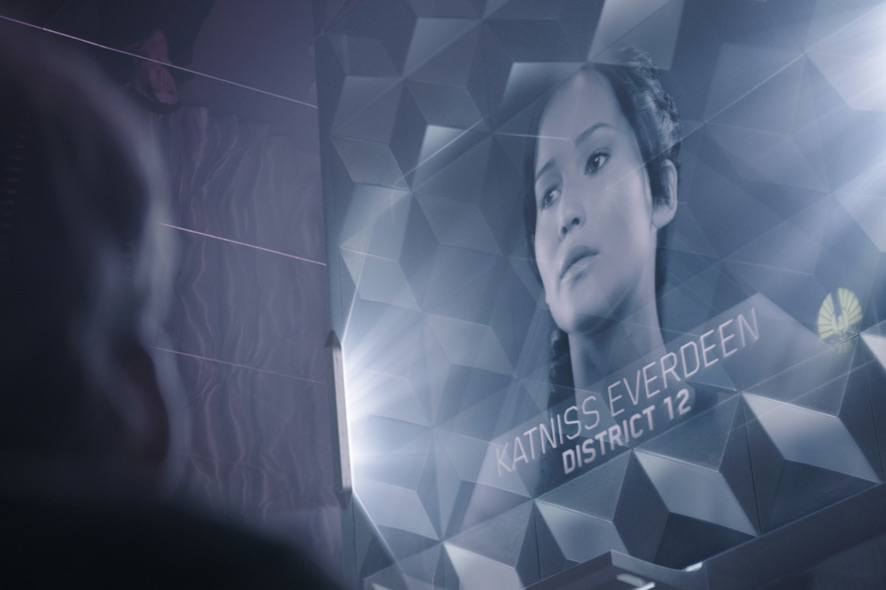 A Cinema 4D visualization of "The Hunger Games: Mockingjay – Part 2", Credit: Cantina Creative / Lionsgate
As one of the leading developers of 3-D software, it's obviously important to keep up-to-date. What trends are emerging now and will be making their presence felt in the near future in the animation field?
Andres Hildebrandt: I find that it's a risky undertaking to make prognoses in this respect, since a phenomenon that I experience on almost a daily basis entails creative people utilizing the features of our software for purposes other than those for which they were designed, and thereby coming up with incredible new results—stuff that we'd never even conceived in the process of developing that particular function. Needless to say, we follow all of these emerging developments with keen interest and we consider how we can tweak our products accordingly. Hot topics at present are, to be sure, augmented and virtual reality, so we're making very intensive efforts in these areas. But some of the things that are going on in the field of 3-D printing are beyond spectacular! The beautiful thing about our industry is that you're constantly being surprised. Sometimes, all of a sudden, new areas of application just seem to pop up out of nowhere!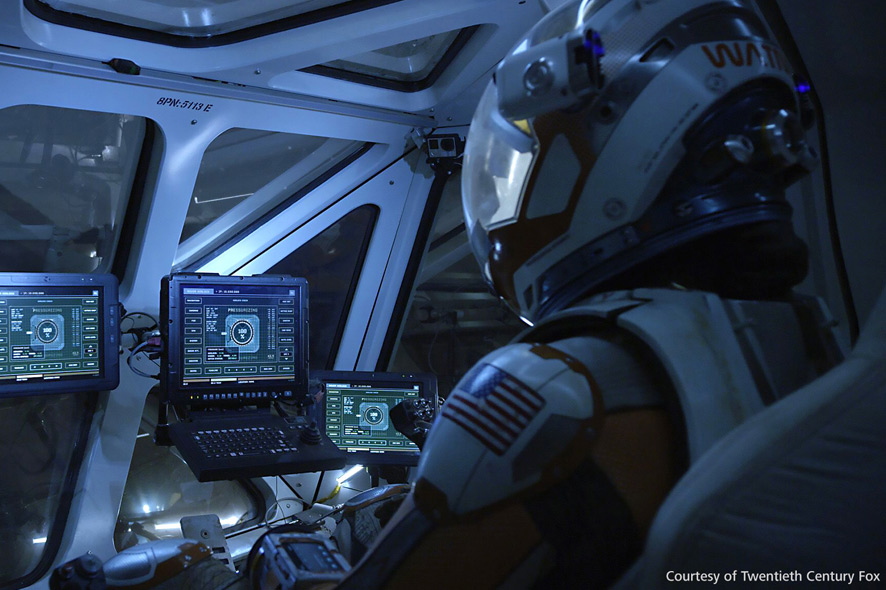 Screen design of "The Martian", realized with Cinema 4D, Credit: Territory Studios / Twentieth Century Fox
Despite the fact that animation software already provides an amazing assortment of options, it nevertheless has to undergo a constant process of development. In which direction are MAXON's R&D efforts proceeding? Which of your users' wishes are at the top of your to-do list?
Andres Hildebrandt: We serve a wide array of clients—for instance, architects, product designers, artists, VFX artists, motion designers and medical professionals. Our mission is to make all of these people's jobs easier and to help them translate their creativity into images in ways that are fast and uncomplicated. User-friendliness and utmost reliability are our watchwords in the development of our software. Which specific functions we add depends to a great extent upon what our customers call for as well as on general trends in 3-D visualization. That's why we remain in constant touch with our users—at trade shows and conferences, as well as by means of surveys and via the feedback tools integrated into our software that provide indications about what users want and how our tools can be improved.
Why is MAXON interested in collaborating with Ars Electronica and in supporting the Ars Electronica Animation Festival?
Andres Hildebrandt: There are several reasons. For one thing, we have the feeling that 3-D animation in art still does not enjoy the status it deserves. Most people are aware of the highly talented artists whose mind-blowing animated sequences we enjoy on movie screens, but the game designers whose work enthralls millions of people and the visualization specialists who enable you to take a virtual walking tour of your home before the construction work even commences are often perceived as mere contractors or vendors—and by no means does that do justice to their role. Maybe it's comparable to my parents' attitude towards comics: colorful little pictures but surely not art! Today, these colorful little pictures are hanging in museums and the people who draw them—for example, Enki Bilal and Moebius—have attained the status of rock stars.
"In our opinion, Ars Electronica is the right podium from which to work on overcoming these prejudices against 3-D artists."Andres Hildebrandt, MAXON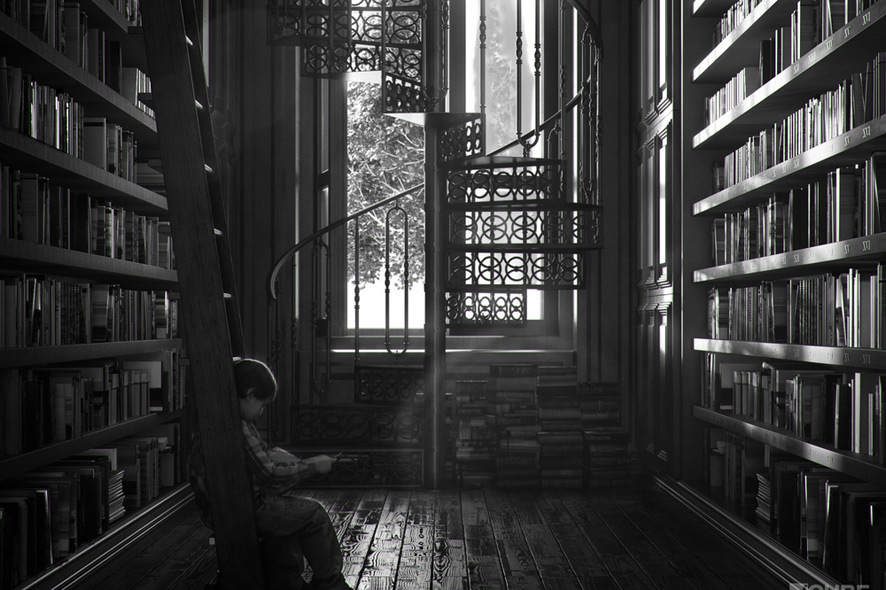 Hominum Historia, Credit: Thomas Vournazos
But we're getting involved for selfish reasons too. Electronic art—at least in our naïve conception of it—is, to a considerable extent, free of the restrictions to which our industry is subject. Giving free rein to creativity engenders visual trends that feed back on commercial applications, and the often-progressive deployment of our tools frequently takes us to the outer limits of technical feasibility. This forces us to rethink the way things are and to improve them. It's the driving force behind the development of our tools. This is a hotbed of digital progress, so to speak. We're hoping to meet & greet people like this at the 2016 Ars Electronica Festival, to get promising new forms of impetus for the innovative development of our software and, perhaps, even to convince some people to consider using 3-D animation as a means of expression in their creative process—ideally, of course, in the form of one of our own products!
NOTE: On May 10, 2016, this year's Prix Ars Electronica prizewinners will be announced at a press conference as well as here on the Ars Electronica Blog. The most outstanding works submitted for prize consideration in the Computer Animation / Film / VFX category will be screened at the Ars Electronica Animation Festival that will take place during the 2016 Ars Electronica Festival September 8-12, 2016 in Linz.