"People will be able to see that we're not just pretty faces – we can also sing," is how band leader Jack Power sums up Sergeant Steel's upcoming performance on October 25, 2018 in Deep Space. This unplugged concert is a chance for the six-man Austrian hard rock band to show what they can do, with audiovisual attractions to boot. After all, the equipment at Deep Space 8K is there to be used. Since the band has been around for exactly 10 years and that deserves to be commemorated, the occasion includes the Best-of vinyl release: a piece of Sergeant Steel to take home.
We talked to band leader Jack Power to find out how Sergeant Steel got started, what the concert at Deep Space 8K has in store for the audience, and where the band is headed in the future.
Sergeant Steel is celebrating its tenth anniversary. How did it all begin?
Jack Power: Sergeant Steel split off from the previous band, Blood Stained: it was drummer Cosy Coxx, singer Phil VanderKill and me, Jack Power. We used to play pretty wild heavy metal. But eventually we were getting too old for it and that kind of music doesn't appeal to many girls, so we thought we should switch to hard rock. So we sold our soul to the devil for Sergeant Steel in a motel at an intersection somewhere in Needles, a podunk town in America. But I think Beelzebub didn't really deliver: We're pretty old now and losing our hair, and only the more solidly built girls are beating down our door. Justin Bieber obviously made a better deal, Wanda might be in the same boat as us.
A lot has happened since then – you've played with bands like Deep Purple or The Darkness and now you're Austria's number one hard rock band. That's what we're celebrating in Deep Space – what can we expect?
Jack Power: Yes, and don't forget we also shared a stage with The Sweet and the Hollywood Vampires (Alice Cooper, Johnny Depp, Joe Perry etc.). You can expect a top-of-the-line Sergeant Steel show: Rocking music, shiny costumes, handsome (but old) men. In other words, everything you need for a successful evening. We'll also present our Best Of Sergeant Steel vinyl album, which has some special treats on it. And you'll get visual stimulus in video form.
You're playing unplugged in Deep Space. What does that mean for a hard rock band like you?
Jack Power: Well, I'm actually a big fan of unplugged music and I think it has its own special flair. The music is more minimalist, it seems like we are rock stars you could touch (though you're only allowed to listen and look!). It's especially nice because when you play unplugged, the vocal mix has a chance to really shine. And I like that – great melodies and so on. Then people will see that we're not just pretty faces – we can also sing.
How did you decide on Deep Space? And have you played in a venue like that before?
Jack Power: No, we've never played this kind of venue and we're really looking forward to it. I just hope we don't get so excited (giant video animations!!!) that we forget to play. How did we decide on the venue? It's all about who you know, and after we slept our way to the top of AEC, they said we could play – before we try to sleep even higher up! That was true courtesy! Thank you!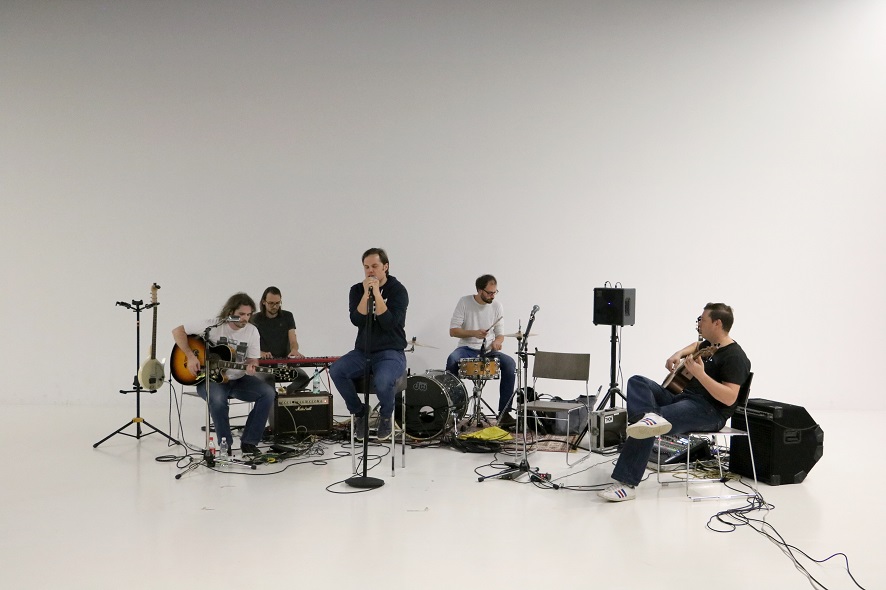 Sergeant Steel at the rehearsal at Deep Space 8K. Credit: Magdalena Sick-Leitner
And now a standard final question: what do you expect from the next 10 years?
Jack Power: Since we're big fans of standard dances, we also like standard questions. We all know simplicity is the ultimate sophistication! So, in the near future we want to record another album, we have more than enough song material. But it's not so easy to do everything under one umbrella anymore. Phil has a side gig training as a forklift driver with mindfulness exercises. Chuck is building a biodegradable Swedish sauna from recycled waste oil. Ben is doing an apprenticeship as an odor optimizer for horn-rimmed glasses. Ronny is trying his hand at being an international competitive drinker. Cosy is training as a kindergarten cop (which is a challenge after all his time in the slammer) and I'm building my second career as an esoteric-psychotherapeutic ventriloquist with seeing-eye dog assistance. So you see – it's anything but dull.
But it would also be nice if we could support some of the big bands like Kiss, Aerosmith or DJ Bobo again in the near future. To all the bookers out there: you can book us now (no extra charge for weekends)! We have so much fun playing live. And we're going to keep fighting for a world with rock 'n' roll, including animal welfare (for dust mites too) and world peace!
Jack Power was born under his real name. Then he took the world by storm – with heavy metal and hard rock. Now he also does world music and loves to produce music. He loves cats and other animals, studied the humanities with moderate success, sometimes also works in marketing, and is a life coach and survival trainer. His favorite drink is cocoa, even though he shouldn't drink too much because it makes him fat. He has a passion for hair extensions, incense sticks, and fat children (as long as they're not too loud). Jack Power currently lives in Stroheim, which is gradually becoming the center of the universe!
The Deep Space LIVE: Sergeant Steel show takes place on October 25, 2018 at 19:00 in Deep Space 8K at the Ars Electronica Center. See here for more information.
To learn more about Ars Electronica, follow us on Facebook, Twitter, Instagram et al., subscribe to our newsletter, and check us out online at https://ars.electronica.art/news/en/.