His transdisciplinary approach combines videogames with composed introspection and neurofeedback. During his artist residency in the Ars Electronica Futurelab, Roel Heremans worked together with his team and members of the lab on a project dealing with neural rights and the ethical framework conditions for innovations in our society. Collaborations like this serve not only artists and researchers from all over the world as a starting point for the development of new scientific questions and artistic approaches but also the laboratory and its partner companies. At the Ars Electronica festival, the outcome of this year's fertile artist residency was presented – The NeuroRight Arcades. 
To let people discover and feel their own needs for neural rights, Roel Heremans has developed five interactive installations. Wearing BCI (brain-computer interfaces) headphones in front of custom-built arcade machines, users were guided through an aesthetic experience that made their mental state transparent and malleable in real time. Visceral bodily responses made them aware of arousing demands and established a new awareness of the necessity for neural rights, such as mental privacy, personal identity, freedom of will, equal access to mental augmentation, and protection from algorithmic bias. With The NeuroRight Arcades the artist aims to prepare humanity for a time when neuro-wearables and BCIs will be ubiquitous. Roel Heremans joined us to discuss the ethical foundation of a future society at the intersection of video games and neurotechnology.
Roel, you were Artist in Residence at the Ars Electronica Futurelab this year. What was your original goal for this time here in Linz? How did you use this opportunity to develop your artistic idea and what did you want to make people aware of with The NeuroRight Arcades?
I envisioned creating a series of elegant objects full of inviting contradictions, that engages the participant to use their own mental constructions together with the latest BCI-wearable, while playing a compelling audiovisual game about the ethical future of BCIs.
Because they are such an abstract thing to imagine, these speculative ethical rules, I knew that the work in itself had to be simple enough and explainable in a few sentences. There are 5 NeuroRights so I made 5 NeuroRight Arcades that help you imagine what it would mean to live in future without ethical rights connected to neurotechnology.
What are "NeuroRights" and what do they have to do with the transformation of our society, which will soon live in a reality where neuro-wearables and brain-computer interfaces will be ubiquitous?
Most people know the Universal Declaration of Human Rights. In recent years a lot of countries are talking about Digital Rights. Now there is a proposition for The NeuroRights, to have an ethical framework ready before neurotechnology is more evolved and available any time and everywhere.
These five NeuroRights are the Right for Mental Privacy, Personal Identity, Free Will, Equal Access to Mental Augmentation and Protection against Algorithmic Bias.
I am not per se advocating or blindly defending these rights, I personally look at them from a critical point of view. However, I believe this topic is of utmost importance for the future of humanity and thus I am using this framework to raise philosophical and ethical questions about our time to come involving neurotechnology, while a BCI is reading your brainwaves.
With BCI headphones on their ears, festival visitors by The NeuroRight Arcades were guided through an aesthetic experience. This was meant to make their mental state transparent and malleable in real time. What did they experience and how did people react? What feedback did you get? – In short, did the concept pass this stress test?
Each installation takes around six to seven minutes and works in the same way: There is a voice that greats you and shows you your brainwaves are being read live. After that, the voice asks you to close your eyes and to remember or imagine something very personal. When the voice asks you to open your eyes again, you see that your brainwaves were captured in an abstract symbol that represents your mental construction. You are being asked to give some input with the joystick. This process is repeated with a contrasting mental construction and symbol. After that, you are asked an ethical question that has to do with the things you just imagined, and it connects your personal experience to a possible future involving neurotechnology. When the experience ends, you can scan a QR-code and download an aesthetical representation of your own personal experience.
The reactions were quite positive, there were even visitors that came back several days in a row to make sure they did all 5 of the installations. There was worldwide interest from curators, and I am quite certain these interactive installations with live neurofeedback will see some new places in their time.
How did the collaboration with the lab team enhance you and your artistic approach and what are your plans for the future?
From the moment I landed in Linz, I had the feeling that everybody of the Futurelab was in line with what I wanted the end result to become. Especially contributions by Hideaki Ogawa, Johannes Pöll, Nicolas Naveau, Matthew Gardiner, Anna Oelsch, Yoko Shimizu, Peter Freudling, Susanne Kiesenhofer, Erwin Reitböck, Alexandre Bizri and Manuel Dobusch felt golden.
I started with a lot of ideas and the whole process was actually about simplifying and abstracting. The meetings and feedback I got during the process were wonderful. The work in the Futurelab brought me so much and I hope to return in the coming years. I am also certain I am going to keep on working with BCI's and have potentially a new collaboration with Unicorn in Linz coming up. The NeuroRight Arcades will be shown next on KIKK Festival in Namur, Belgium from 27/10 to 30/10. We are also in conversations with other ArtScience festivals and institutions in and outside of Europe to show it in the near future.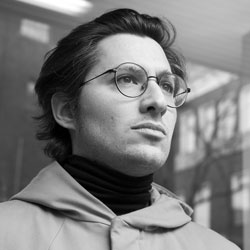 Roel Heremans (BE) is a transdisciplinary artist working with sound, composed introspection & neurofeedback. In most of his works he composes fragments of audio that trigger the imagination of visitors in order to create immersive group experiences. As a result, the visitors simultaneously become actors, witnesses, performers and reenactors of mental and physical processes of thought and movement, where collective performances encounter individual reactions and vice versa. By activating people in this way, Heremans generates a simulation of the contemporary world, one in which every individual is part of their own self-mirroring bubble, one in which the visitor, with their experience, remains the artist's only metaphorical canvas. His varied practice, all deriving from these immersive group experiences, also includes video and works on paper.
This project is funded by the Flemish Ministry of Culture, Youth and Media.