Ungewissheit ist überall. Sie ist das, was wir erleben, wenn wir dem Unbekannten gegenüberstehen, aber auch, wenn wir versuchen, mit dem Unsichtbaren zu kommunizieren oder zu verhandeln. Sie zeigt sich auch im künstlerischen Prozess, während ein Projekt entsteht. Pei-Ying Lins Reise erforscht diesen Aspekt, indem sie den Entstehungsprozess ihres Projekts Proposal of Collaboration with the Viral Entities (dt.: Vorschlag zur Zusammenarbeit mit den viralen Entitäten) offenlegt. Die Reise beginnt mit einer Einführung in das Projekt, die mit den verwendeten Schlüsselwörtern und Skizzen die Elemente bezeichnet, die den Kern des Projekts ausmachen; dann folgt ein Kontaktimprovisationstanz, der von einem Monolog begleitet wird, inspiriert von Viren, unserer Gesellschaft, ihren Interaktionen sowie ihrer Kommunikation und auf den die Tänzerin Hsin Yu Chang mit körperlichen Bewegungen antwortet. Der letzte Teil zeigt einen Dialog zwischen Pei-Ying Lin und ihrer wissenschaftlichen Mitarbeiterin Miranda de Graaf, der erörtert, wie wir in den Geist von Viren eindringen können, sowie einen Diskurs mit Prof. Robert Zwijnenberg, einem Philosophen aus Kunst und Wissenschaft, der über Künstler in dieser Zeit der Unsicherheit diskutiert. Pei-Ying Lin schafft eine Reihe von Inspirationen, die die Ästhetik ihres Bestrebens mit viralen Entitäten zu kommunizieren und sie zu verstehen demonstriert sowie unseren mentalen Prozess, der beim Verständnisaufbau von Unsicherheit entsteht.
| | |
| --- | --- |
| Wed, 09.09.2020, 11:15 – 11:40 | Ars Electronica Selection Channel |
| Thu, 10.09.2020, 05:00 – 05:25 | Ars Electronica Gardens Channel |
Video
Projekt Credits
These video commissions are co-funded by the European Commission's DG CONNECT, in the framework of the Horizon 2020 programme of the European Union under the S+T+ARTS initiatives Regional STARTS Centers.
Biografie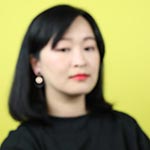 Pei-Ying Lin is from Taiwan and based in the Netherlands. She focuses on exploring science and human society through artistic methods, and she is particularly interested in building a common discussion ground for different cultural perspectives regarding elements that constructs our individual perception of the world. Recently she has been focusing on manipulating the boundary of invisible/visible, living/non-living and finding ways to build tools and methods that facilitate such explorations.