(Linz, 2.10.2023) Wie sehen neue Formen einer menschenzentrierten, sicheren, inklusiven und lohnenden Interaktion in digitalen Räumen aus? Wie sollen zukünftige Social Hybrid Spaces (SHS) gestaltet sein, die von Menschen und Avataren geteilt werden und wie können wir diese Räume Wirklichkeit werden lassen? Das europäische Forschungs- und Innovationsprojekt SHARESPACE beforscht Fragen wie diese und schreibt nun eine Künstler*innen-Residency am Ars Electronica Futurelab aus. Die Teilnahme am Open Call ist kostenlos und bis einschließlich 19. November 2023 möglich.
Kunstperformance im Deep Space 8K
Adressiert werden etablierte Medienkünstler*innen, die ein eigenes künstlerisches Konzept mithilfe des ersten Prototyps der SHARESPACE-Technologie im Deep Space 8K des Ars Electronica Center Linz umsetzen möchten. Ziel ist es, eine hybride und interaktive Multi-User-Kunstperformance zu schaffen, die die körperliche Interaktion zwischen Menschen und Avataren nutzt. Das Team des Ars Electronica Futurelab übernimmt die Koordination des Open Calls und unterstützt bei der Realisierung des Projekts. Die Ergebnisse sollen während des Ars Electronica Festivals 2024 (4. bis 8. September 2024) präsentiert werden. Für die Produktion erhalten die Künstler*innen 15.000 Euro. Alle Details zum Open Call sind hier angeführt: https://sharespace.eu/open-call-for-artists/.
Europaweites Forschungsnetzwerk
SHARESPACE ist ein großes europäischen Forschungs- und Innovationsprojekt, das von 14 renommierten Partnerinstitutionen vorangetrieben wird: German Research Centre for Artificial Intelligence (DE), Alcatel-Lucent Enterprise (FR), Ars Electronica Futurelab (AT), CRdC Nuove Tecnologie per le Attività Produttive Scarl (IT), Cyens Center of Excellence (CY), De Montfort University (UK), Golaem S.A. (FR), Hospital Vall d'Hebron (ES), Institut national de recherce en sciences et technologies du numérique (FR), Lightspace Technologies SIA (LV), Ricoh Europe (JP), Universitat Jaume I De Castellon (ES), University Medical Center Hamburg-Eppendorf (DE) und University of Montpellier (FR).
This project has received funding from the European Union's Horizon 2020 research and innovation programme under grant agreement No 10192889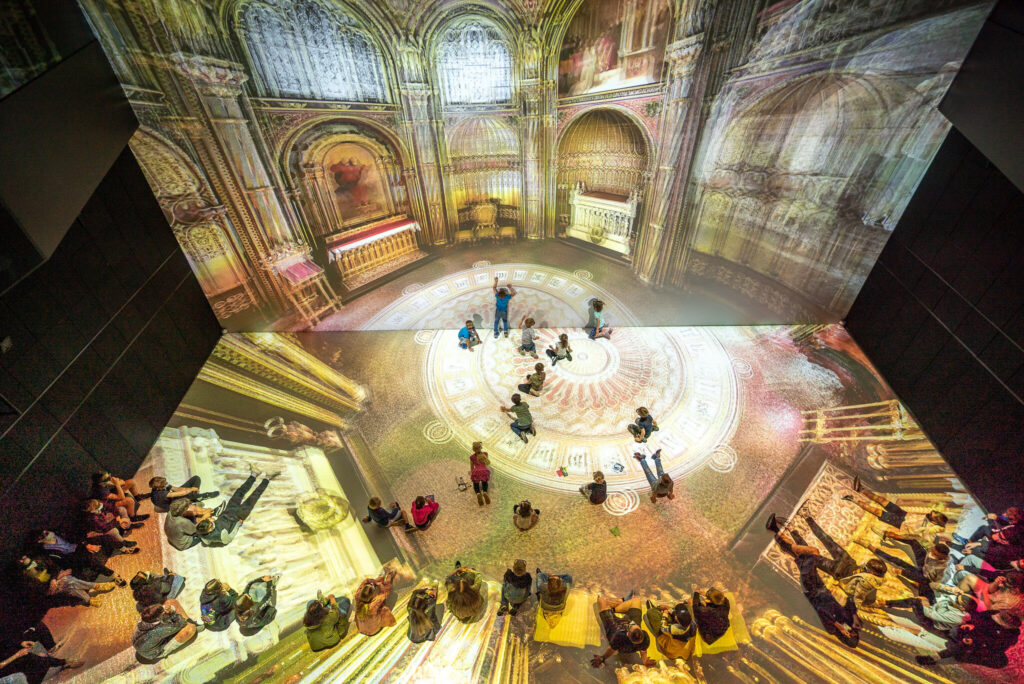 Immersify / Poznan Supercomputing and Networking Center (PL), Spin Digital Video Technologies GmbH (DE), Ars Electronica Futurelab (AT), Marché du Film – Festival de Cannes (FR), Visualization Center C (SE)
Credit: Robert Bauernhansl