As part of the plant becomes a machine becomes a plant project of Vrije Universiteit Amsterdam, Gerrit Rietveld Academy, Waag Society, V2_the lab for unstable media and Zone2Source, Christiaan Zwanikken started an experiment to grow a variety of red-leaved basil plants under hyper-gravitational conditions. Hypergravity is able to stimulate plants at a cellular level and changes the physiology in interesting ways.
Zwanikken tried to imagine how the plants would grow into maturity in a centrifuge over a longer period of time (at least four to five months). Intrigued by the idea of a possible sculptural outcome that would be shaped by the continuous growth of plants in a fast-spinning disk, he decided to build a prototype and find out. In V2_Lab Zwanikken carried out live-streamed experiments investigating the influence on plant behavior. These so-called 3×3 sessions are programs especially well-suited for artscience as they emphasize the role of research for these kind of works.
How to connect to plants? Zwanikken initially focused on the effects of music on plant growth but eventually became fascinated by how the plant Codariocalyx motorius, also known as Desmodium gyrans, behaves in response to music. This tropical Asian shrub, whose other names include telegraph plant, dancing plant and semaphore plant, is one of a few plants capable of rapid movement; others include Mimosa pudica and the Venus flytrap.
Not only did Zwanikken's dancing plants move in direct response to the music he exposed them to, they even seemed to have a strong genre preference: jazz. The edition of 3×3 shown here invites the online audience to accompany Zwanikken on the next step of his study of these eccentric plants' love of jazz.
The renowned American saxophone player Zane Massey performed live in the presence of several dancing plants. Small cameras allow the online audience to closely observe the plants' behavior as they and Massey interact through music. After the 3×3 installment at V2_, the installation traveled to Rijksmuseum Twenthe for the solo exhibition Sheer Seeds and Monochrome Instability where the plants will continue to grow and shape it into its final result over another four months.
Video
img="https://ars.electronica.art/newdigitaldeal/files/2021/07/Amsterdam_VU_gallery_photo_2_credits_V2.jpg"]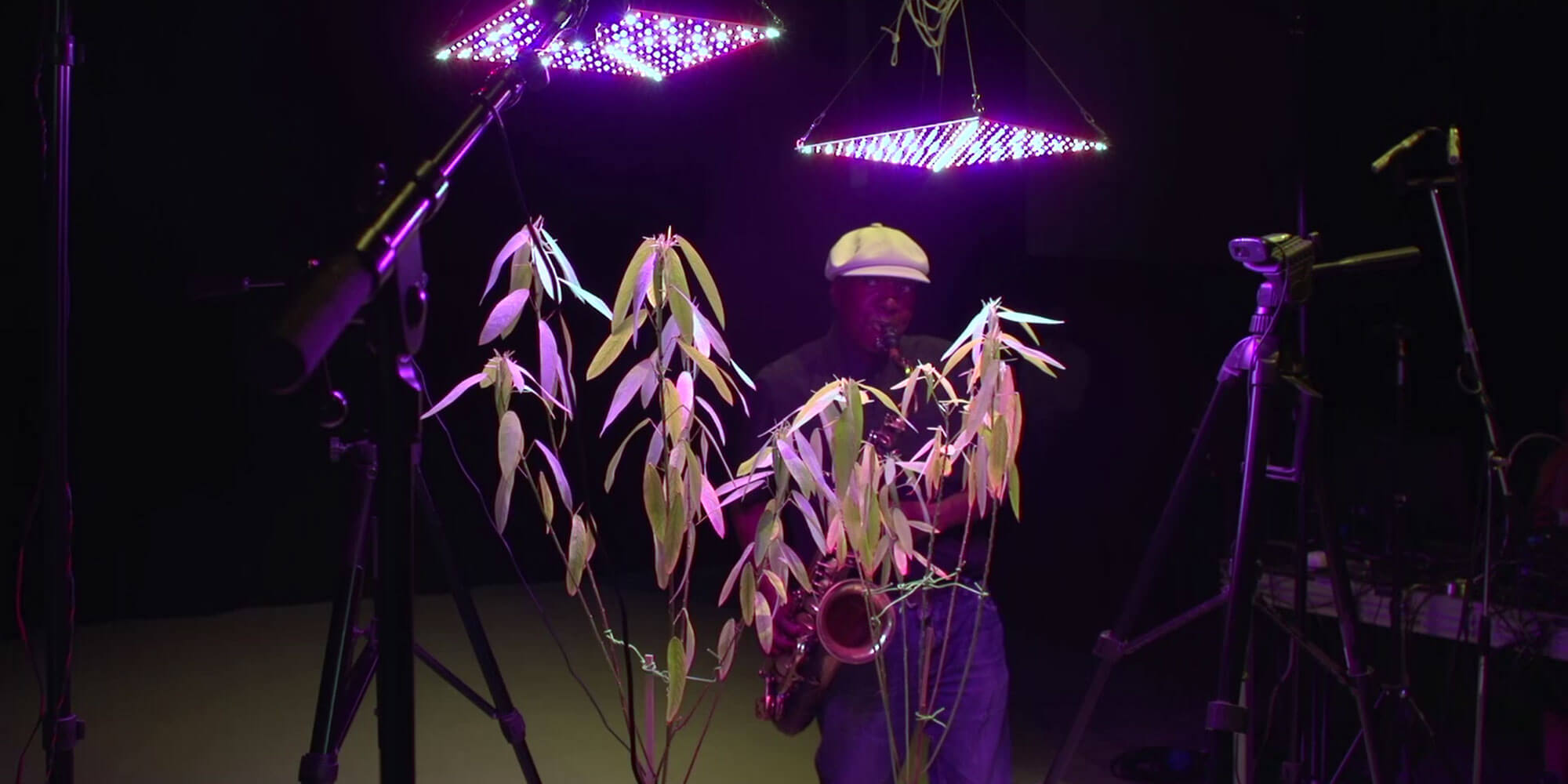 Christiaan Zwanikken (NL): Dutch artist Christiaan Zwanikken (1967) has received international recognition through his kinetic and mechanical sculptures, sound works, performative and responsive installations. Using a variety of sculptural media, robotics, biology, micro-controllers, and sound,— his work is both an artistic and technological experiment in which innovation and invention play an important role. Zwanikken is currently employed as researcher at Vrije Universiteit Amsterdam, at Hybrid Forms Laboratory.
Credits
Artists: Christiaan Zwanikken (NL), V2_Lab for the Unstable Media, Rotterdam Smart Hybrid Forms funded by NWO, the Dutch Science Foundation