Expanded Animation 2021
Artist Position I
Imge Özbilge (TR), Sine Özbilge (TR) , Matthias Winckelmann (DE)
Fri Sep 10, 2021, 4:15 pm
- 5:00 pm
All times are given in Central European Summer Time (CEST / UTC +2).
Imge Özbilge (TR), Sine Özbilge (TR)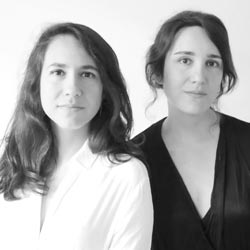 The sister directors duo Imge Özbilge and Sine Özbilge work together as each other's mirrors. They experiment with the medium of animation, the 16:9 screen, digital installation art and the use of mixed media, exploring new connotations and stylistic forms. When writing concepts, Sine focuses on psychological matters and the subconscious, while Imge reflects on the surreality of society. The directors duo have collaborated on the award-winning short film Camouflage (world premiere – Cannes Film Festival 2017) and #21xoxo (world premiere – BFI Film Festival 2019) and are currently working on their latest short 'The Curator.'
---
17:00 – 17:45
Matthias Winckelmann (DE)
Matthias Winckelmann is a creative director and digital artist, currently based in Berlin, Germany. He is former creative director and managing partner of the creative ensemble foam Studio Berlin and former head of 3D of the internationally acclaimed design & branding studio ManvsMachine London. Since 2020, he has been working as an independent director and designer for leading brands around the world. His artistic research explores an innovative approach to the use of real-time CGI and design systems that utilize AI, data and interactivity. Actively engaged in the global design community, Matthias has given lectures and presentations around the world on creativity and technology.
---