How does a tool actually come into being? Do we already have the exact idea of it at the beginning or is it rather a trial and error, a step-by-step approach to a tool that perhaps already leads to the next step or even the next tool? Or can the new tool perhaps be used for other purposes, or in combination with others? Technology has inspired us as a platform for art, technology, and society for over 40 years – over four decades in which major changes have taken place in all three of our subject areas.
The year 2022 was not just another year in this historic series. We have tested, experimented, created new things, changed existing things, been inspired by others, taken up and discarded many ideas, collaborated with partners, discussed and listened, told about ourselves, told about others, supported, received help, worked together. Whether at home in Linz, Austria, in Berlin, Dubai or other parts of the world – with international artists and scientists, and with cooperation partners and clients such as Wacom Inc, Siemens Healthineers, ZEISS, Nikkei Inc, BMW, Cisco or Rosenbauer.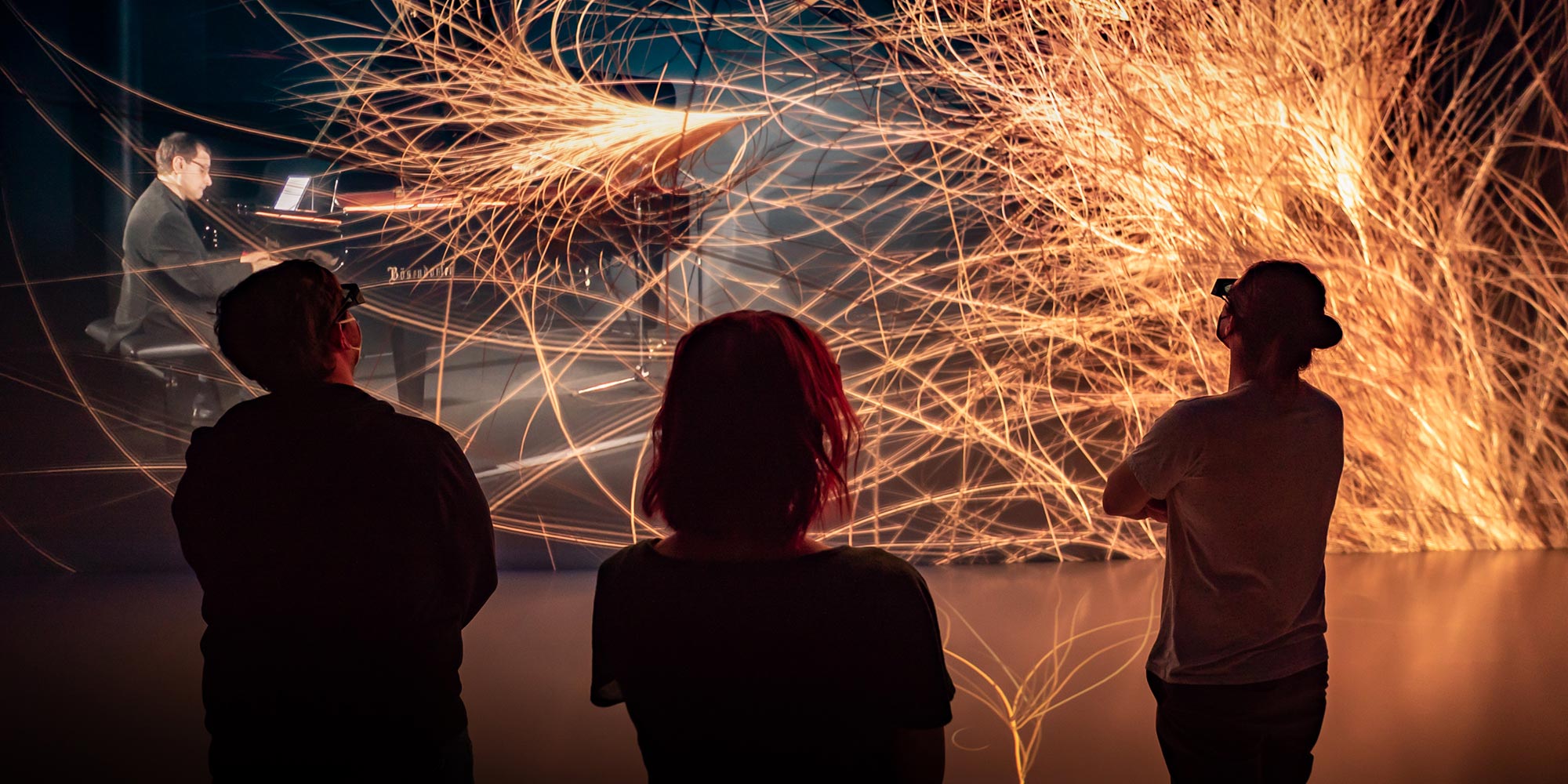 We experiment with technology – trying out new things and combining them creatively
The wing of the grand piano is open. Several cables protrude from the keyboard instrument, bundle together on the floor to form a cable harness, and finally meet in a mixing console a little distance away. It has become quiet in the room, the audience is eagerly waiting for the beginning. The pianist enters the stage and even before he sits down, the piano begins to play by itself. Only a few bars later, he also starts playing with his hands. The encounter between technology and humans develops into an inspiring musical concert. On one side: artificial intelligence, which needs data material to be able to compose a piece of music, and a controller, which drives the analog piano. On the other side sits Ali Nikrang, an artist and researcher at the Ars Electronica Futurelab. He's behind the idea of "Sounding Letters"-a project he and his team presented in the Ars Electronica Center's Deep Space 8K.
The Petri dish is open. And here, too, the room has gone quiet-or rather, the Ars Electronica Center's in-house laboratory has. The researcher is examining and analyzing the microorganisms that have grown over several days into a fascinating landscape. They were previously exposed to musical data and now form the basis of a piece of music generated by artificial intelligence. Researcher and artist Yoko Shimizu is behind the "SonoSynthesis" project, a joint creative effort between humans and technology. She, too, is part of the team at the Ars Electronica Futurelab that is taking a closer look at the subject of this "co-creation".
Back in the silent room with the piano, in Deep Space 8K. This time, pianist Maki Namekawa has taken her seat at the instrument, and this time it's she who's wired. She's wearing the headset developed by Ars Electronica Futurelab in collaboration with device manufacturer Wacom Inc. that can measure brain waves and body signals in real time and transmit them to a program. From the human data, in the broadest sense from her feelings and thoughts, "Life Ink" thus creates a three-dimensional painting from a new kind of "ink" – as if by magic while she can concentrate fully on her piano playing.
We develop technology – creating new tools and working with them
We are still in Deep Space 8K, flipping from the musical page to the chapter on medicine, more specifically the human body. Technology has helped us understand ourselves better. Thanks to the long-term research project "Virtual Anatomy," developed by AArs Electronica Futurelab in collaboration with Siemens Healthineers and JKU Linz, it's now possible to get realistic insights into the inside of us humans.
This is where cinematic rendering from the entertainment industry and imaging techniques from the medical field come together to create a completely new understanding beyond conventional anatomy books. In three-dimensional images, the many layers from skeleton to organs can be viewed – appealingly visually prepared, three-dimensional and in life size. It is not without reason that this project was recently awarded the "Best Emerging Technology of the Year" of the renowned E&T Innovation Awards.
The multi-year research project "CoBot Studio", in which the LIT Robopsychology Lab at JKU Linz, Ars Electronica Futurelab and five other partners are participating, provides an insight into the use of new tools. Here, too, Deep Space 8K plays an important role as a research environment. The interaction and communication between humans and robots will be tested. Thanks to augmented reality, the test subjects are immersed in a virtual underwater world in which they try to remove plastic waste together with a real robot. Are simple gestures such as raising one's hand enough to signal "stop"? Who gets out of the way of whom when working together? The robot or the human? And how can technology be an aid here, or does it just get in the way at the end of the day?
The "Deep Space 8K" projection room developed by the Ars Electronica Futurelab at the Ars Electronica Center in Linz, with its 16-by-9-meter wall and floor projections in 8K resolution, has been undergoing constant further development ever since its inception. This was also the case in 2022, when, under the motto "Deep Space EVOLUTION," new laser projectors replaced the previous technology, a new visitor tracking system was introduced and, at the same time, the most powerful graphics cards currently available were installed.
We tell stories with technology – sharing stories and imparting knowledge
But the Ars Electronica Futurelab is not only contributing the technology for Deep Space 8K, which was upgraded in 2022. The Laboratory and Atelier for Future Designs is also involved in the matching audiovisual content, interactive programs and 3D applications that are used every day in the Ars Electronica Center and on special theme weekends.
For example, the animations in "Welcome to Planet B" bring the topic of the climate crisis into focus for visitors. This allows them to vividly understand the effects that today's measures against greenhouse gas emissions will have in the future.
The fact that our Earth is a special planet that needs to be protected is a realization that will hopefully be felt at the latest during space travel with the new Uniview 3.0 from ZEISS. In 2022, this popular presentation format has also received a visual update in Deep Space 8K. The planets of our solar system, distant galaxies and visualizations such as that of the Earth's mighty protective shield are now much sharper and more immersive thanks to laser projections in 3D.
The Ars Electronica Festival in September in particular is always an enriching moment for this piece of technology, when artists and scientists bring themselves, their work and content to Linz and present it to festival visitors at events in Deep Space 8K. For example, the Ars Electronica Futurelab collaborated with the Innovation Lab of the Japanese company Nikkei Inc. on the "Dataspace" project to collect data on the global impact of the Russian war against Ukraine and process it visually and in 3-D for Deep Space 8K.
The festival is not only the highlight of an Ars Electronica year, it is also the best opportunity to experience and explore current projects and thematic fields from the in-house research and development lab for yourself. In 2022, Futurelab Day once again offered an inspiring mix of workshops, tours, presentations, lectures and discussions. This personal exchange of ideas, being inspired by others and working not only alone but also together on projects once again shows how technology can be further developed.
Another example of this discourse on technology was the Transformation Lounge at the 2022 Ars Electronica Festival, where participants in the "Mobility of the Future" workshop, sociologist Bernhard Böhm and the Ars Electronica Futurelab joined forces with automobile manufacturer BMW and the Supersense experimental lab to discuss forms of mobility for a sustainable future.
An exchange of knowledge between companies, organizations and research institutions took place at Gigabit Academy 22, which was organized by the Austrian Federal Ministry of Finance & the Austrian Research Promotion Agency. The Ars Electronica Futurelab provided insight into swarm technology during lectures and workshops and showed how ground robots and drones work together during presentations in the studio.
The international IT company Cisco wanted to find out more about how people work together in the digitally networked world. It collected anonymized data from its more than 100,000 employees who used the WebEx communication software developed by Cisco and handed it over to the Ars Electronica Futurelab. The result is called "WebEXPRESSION" and is musically accompanied by composer Rupert Huber and a visually appealing data visualization of digital collaboration that takes place every day in different countries, languages and time zones around the globe.
But firefighting technology manufacturer Rosenbauer also wanted to tell stories about its technologies, and turned to Ars Electronica Solutions to put them in the spotlight together with Garamantis at "Interschutz," the world's leading international trade show for firefighting, rescue, civil protection and safety. Water is not only a central element in fire extinguishing: In order to give visitors an understanding of the process of brewing beer and the history of Linzer Bier (Linz beer), Brau Union Österreich commissioned Ars Electronica Solutions to implement interactive installations. Since then, these have been used during tours of the brewery in the former tobacco factory in Linz.
From Linz to Dubai. Because here, too, there's a story to tell – this time not just about a company, but even about an entire country. For the EXPO in Dubai, which ended in 2022 due to the pandemic, Ars Electronica Solutions, together with querkraft, bleed and büro wien, realized several interactive experience rooms in meter-high clay cones in the Austria Pavilion on behalf of the Austrian Chamber of Commerce.
Another time, another place, another story. Peter Janssen, collector and museum founder, decided to share his collection and enthusiasm for Japanese culture and the history of the samurai with the public and likewise turned to Ars Electronica Solutions. The result is the Samurai Museum in Berlin, which reopened in 2022 and since then has been using playful elements to bring the bygone era to life for visitors and make it tangible in the truest sense of the word.
But let's look from the past back to the future. Which topics, which technologies will keep us busy in the coming years? In which direction will the world turn and do we have the appropriate tools for it? How will we use technology, which ones will we still invent? Can artificial intelligence actually save us in the process? And what is it anyway? The last question in particular could be answered not only by a visit to the "Understanding AI" exhibition at the Ars Electronica Center. The stations developed by the Ars Electronica Futurelab have meanwhile found their way into other museums as well – such as the Deutsches Museum in Bonn, Germany, in the "Mission AI" exhibition.
How things will develop with tools such as artificial intelligence, how humans and machines will confront or interact with each other, what progress but also regress we will make in living together with technology and how art can stand by us or even pave the way – we are just as curious about these answers as all those who have been with us for many years or have only just met us. Next year we will continue to experiment, develop and tell stories with technology.
If you'd like to join us or even participate, you're welcome to follow us on our social media channels like Mastodon, Facebook, Instagram, Twitter, LinkedIn or YouTube, subscribe to our newsletter or visit us at the Ars Electronica Center and at the Ars Electronica Festival in September.