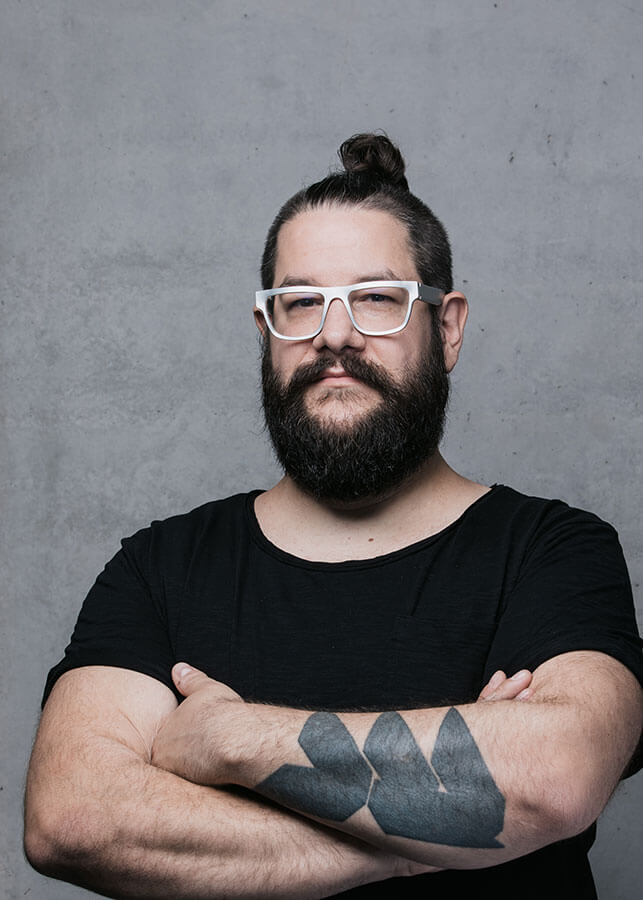 "Platforms don't look like how they work and don't work like how they look."
by Benjamin H Bratton, The Stack: On Software and Sovereignty
Biografie
Johannes Pöll ist seit 2017 Forscher und Künstler im Ars Electronica Futurelab. Bereits 10 Jahre zuvor tritt er als Computational Noise Musiker auf dem Interferenz-, Elevate- und natürlich auch dem Ars Electronica Festival auf.
Von gerechneter Musik hin zu generativer Animation verschlägt es den Multimedia-Künstler 2013 nach Berlin. Bei onformative sucht er Inspiration und Erfahrung an den Schnittstellen von Naturwissenschaft, Kunst und Technologie.
Neben seiner Tätigkeit als Lead Designer am Ars Electronica Futurelab forscht Johannes an zeitbasierten, ästhetischen Prozessen räumlicher Kunst und versucht diese als Erklärungsmodelle komplexer Vorgänge zu verorten. Seine spärliche Freizeit verbringt der okkulte Grafiker auf seinem Skateboard oder programmiert das Blastbeat Signal Processing seiner Post Post Black Metal Band Galtür.
Zusätzliche Information
Workshops
Workshop @ HOK Studios, Linz / September 2016
do not fear – Creative Coding (Processing & live Shader coding)
Workshop @ Ars Electronica Festival 2015, Expanded Animation Symposium / September 2015
Realtime Alchemy: Smoke, Mirrors & Brute Force
Vorträge
Talk @ Gamestage 2015 / Unity Days 2015 / Tabakfabrik Linz / October 2015
Shenenigans with Unity3d or how i stopped worrying and learned to love realtime graphics.
Talk @ Ars Electronica Festival 2015, Expanded Animation Symposium / September 2015
Realtime Alchemy: Smoke, Mirrors & Brute Force
Performances & Arbeiten
Iron Flowers Alpha / Installation @ HOK Studios, Linz / December 2016
Ars Electronica Festival 2016 Trailer Artist / Animation @ Ars Electronica Festival, Linz / September 2016
Landscapetranslations II / Installation @ HOK Studios, Linz / März – April 2016
Landscapetranslations I / Installation @ HOK Studios, Linz / Oktober 2015
Ignite @ Fluctuations – generative essences in Austrian audiovisual works – a status quo
kuratiert von Woeishi Lean & Leonhard Lass @ MAK Wien / April 2015
Ars Electronica Festival 2014 Trailer Artist / Animation @ Ars Electronica Festival, Linz / September 2014
Beyond @ Ece Gözen FW1314 / Installation @ Mercedes Benz Fashion Week, Istanbul / März 2013
Sonic Death Monkey AV Performance @ Ars Electronica Festival 2009, Linz / September 2009
Monstamash AV Performance @ Elevate Festival 2008, Graz / November 2008
Metadrain D.M. AV Performance @ Ars Electronica Festival 2007, Linz / September 2007
Metadrain D.M. AV Performance @ WUK Interferenz Planet Mu 100, Wien / Juni 2006
Ioshii AV Performance @ STWST Interferenz Festival, Linz / Februar 2006