Art Thinking umschreibt die Idee, dass künstlerische Ansätze und kreatives Denken angewandt werden können, um Strategien zur Lösung realer gesellschaftlicher Herausforderungen zu entwickeln. Vier ExpertInnen auf diesem Gebiet tauschen ihre unterschiedlichen Perspektiven aus und beleuchten das Potenzial des künstlerischen Denkens, einen anderen Zugang zu Ideenfindungs- und Innovationsprozessen zu fördern.
Speakers: Camille Baker (CA/UK), Alejandro Martín (ES), Jurij Krpan (Si), Veronika Liebl (AT)
Biographies
Camille Baker (CA/UK) is an interdisciplinary artist, curator and researcher with a background in digital and electronic art and design, working across creative digital disciplines. Baker's digital media practices and experience includes making, teaching, and curating, with a background in wearable technology and e-textiles, mobile media art and performance,VR/AR/Mixed Reality, the body and technology in performance, digital art curating, video art, new media art, alternative music, interactive installation, and emerging technologies research and education.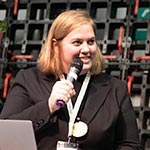 Veronika Liebl (AT) is currently Director of European Cooperation, Organization and Finance at the department Festival/Prix/Exhibitions of Ars Electronica. She studied economic and business science at Johannes Kepler University in Linz (graduated in 2010) with study visits at Harvard University (US) and Université de Fribourg (CH) and has an interdisciplinary background in non-profit and innovation management. Since 2011 she is in charge of cultural management and European project development at Ars Electronica Linz and serves as a member for the Linz' city culture council and the Content Innovation Council of the Frankfurt Book Fair's program ARTS+. She is working for 9 years for Ars Electronica and is mainly engaged in programming and producing collaborative programs with partners from arts, science and industry and facilitates, in this framework, programs for artistic productions at Ars Electronica, in particular residency programs. She leads Ars Electronica's European collaboration projects in the field of culture, research & education and developed, launched as well as executed in this position – together with her team – numerous EU projects such as the STARTS Prize or the European ARTificial Intelligence Lab.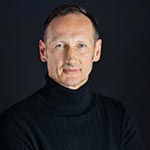 Jurij Krpan (SI) conceived the Kapelica Gallery In the year 1995, at the initiative of the Student Organisation of the University of Ljubljana – Gallery for Contemporary Investigative Arts, which he has been running since. As a senior curator and selector he has contribuited to domestic and international festivals, the biggest international productions to date being the organization and artistic management of the Slovenian pavilion at the 50th Venice Bienale in 2003 and the conceptual gallery Cosinus BRX at the European Commission building in Brussels and the 5.th trienial of Contemporary Investigative Arts 2006 at Museum of Modern Art – Ljubljana. In September 2008 he curated the presentation of the Gallery Kapelica in the Featured Art Scene section of Ars Electronica in Linz, and in 2009 the survey of 80 years of avantgarde art in Slovenia. In 2014 he co-curate the Designing Life section for Biennial of product design in Ljubljana and co-curate the slovenian pavilion at Venice biennial for architecture. He was a juror at Prix Ars Electronica for the Hybrid Arts category in the year 2010, '13, '15, '16 and 2017. Since 2017 he is working on the sy stemic solutions for bringing artistic ideatons into the process of innovation for more sustainable, safe, inclusive and ethical future. Jurij Krpan lectures about the artistic profile of the Kapelica Gallery in Slovenia as well as abroad.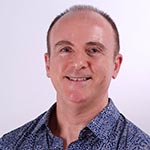 Alejandro Martín (ES) is Head of Innovation and EU projects at Espronceda, Institute of Art and Culture. He is a contemporary art curator, art collector, artist, chemical engineer and international business professional. He has been cooperating with Espronceda, Institute of Art and Culture, since 2015 as curator and strategic advisor for international development and cooperation with key Art Institutions and Universities. Developing programs and projects about interdisciplinarity of Arts, Science, Technology and Entrepreneurship: Act Utopia Lab and IMMENSIVA. He is representing Espronceda in the project MindSpaces, STARTS Lighthouse pilot, and soon in the project AI4Future funded by the Creative Europe program".