As interdisciplinary collaboration emerges as a vital linchpin in an increasingly interconnected world, the role of Creative Producer is coming to the fore. We appear across industries and sectors, and can broadly be identified by a common commitment to collaborative process, relationship building, and creative problem solving. For many, having self-defined and developed our practice independently, we are now looking for community and collective professional identity. 22 creative producers across 10 countries and 4 continents will gather to critically reflect on our role and the impact it has on the New Digital Deal, and co-author a manifesto for Creative Producing.
During the festival session Lizzie Crouch and Nicholas Medvescek will bring together the creative producer cohort to reflect on their experiences during the six week program and discuss how, through greater definition of the role, approaches and values, and the establishment of a community we aim to have greater impact as Creative Producers.
Moderation: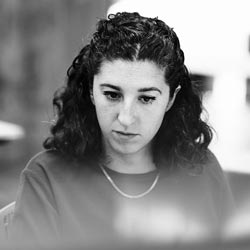 Lizzie Crouch (GB): Lizzie Crouch is a creative producer specialising in interdisciplinary working. She has applied a creative producing approach to work across a range of large and small organisations, cultural contexts, disciplines and sectors. Among other roles, Lizzie worked as the Senior Coordinator of Engagement for SensiLab, Monash University, produced art-science seasons for the Science Gallery network (MOUTHY, London and BLOOD, Melbourne), and most recently worked as a Creative Producer for Superflux.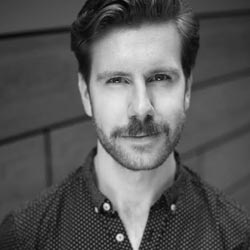 Nicholas Medvesck (US): Nicholas Medvesck is a creative producer working across divergent disciplines to upend paradigms and inspire new connections. He has served as the co-director of the MIT Hacking Arts festival and recently held the title of Director of Projects at A R E A Gallery in Boston. He is currently part of the Harvard Art Lab community of artists and researchers, and consults on art-thinking practice for innovation. His projects have been covered in Take Magazine, The Boston Globe, and The New Yorker.
Artist Cohort:
Kavita Gonsalves (AU): Kavita Gonsalves just wants to have fun. She combines art, design, communities, technology and participatory processes to collaboratively produce guerilla placemaking projects: Multicoloured Dreams (FIN), the Bake Collective (IND), Chatty Bench Project (AUS) and TransHuman Saunter (AUS). She is a SI Young Connector of the Future 2014 Fellow. In her doctoral research at QUT Design Lab, she researches how marginalised communities can use creative technologies to engage in radical placemaking.
Christiana Kazakou (GB): Christiana Kazakou is the LASER Program Lead, LEONARDO/ISAST. She is also a researcher, curator, producer & artist. Her research with i-DAT, currently funded by the UK Arts & Humanities Research Council, explores transdisciplinary curatorial models and spatial trajectories within the art & science discourse. Following her MA Art & Science (Central Saint Martins, London) she worked for diverse organisations and groups whose work span the spectrum of the arts, sciences, technology and society.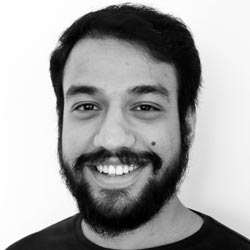 Ravin Raori (GB): Ravin Raori is an Interdisciplinary Artist and Creative Practitioner. He has a background in Architecture and Design for Performance and Interaction. As a Creative Producer, his practice aims to construct transformative spatial and narrative experiences by integrating the disciplines of Architecture, Visual Art, Interactive Media Art, Film, Robotics, Interaction Design and Creative Technology. His work has been exhibited at the Venice Architecture Biennale, the Tate Britain and Ars Electronica.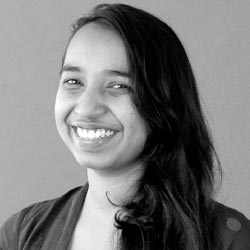 Madhushree Kamak (IN): Madhushree Kamak is a maverick scientist, illustrator and experience designer who is the Programme Manager at Science Gallery Bengaluru. At the gallery she works on designing engaging interactive experiences at the interface of Science and Culture. While Madhushree completed her first Master's degree in Biological Sciences her second Masters is in Information Design. She has been part of curating and organising digital and physical art-science exhibitions and several public engagement programmes.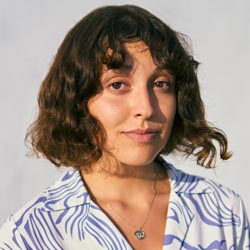 Ana Prendes (Gijón, Spain; based in London): Ana Prendes works at the intersection of art, science and technology, in writing, production and communication. Currently, she is Assistant Curator and Communications Producer at Arts at CERN. She has also worked as Project Assistant at Science Gallery International and Young Producer at Science Gallery London. Her writings have appeared in TANK Magazine, MAAT Museum Lisbon, CLOT Magazine, CERN and more.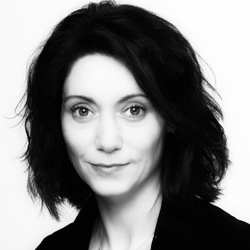 Zeynep Birsel (NL): Zeynep Birsel received her BA in English Language and Literature from Istanbul University and her MA in Mass Communications from California State University. Her 20-year career as a professional involved innovation management and commercial development in early-stage technology startups and science-based incubators. Currently she is working on her PhD at Erasmus University researching art-science-technology collaborations while part-time teaching along with her volunteer engagements in the art-science domain.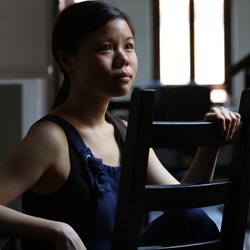 Cui Yin Mok (SG): Cui Yin Mok is an in(ter)dependent arts producer and facilitator, interested in the intersections between art, anthropology, and social action.She is constantly exploring ways to create the conditions to make good art happen, better. Her experience spans dance, music, theatre, contemporary performance, visual arts, literary arts, socially-engaged projects, experimental works, and festival management. She is currently working on the Arts x Tech Lab by National Arts Council Singapore. http://tsuei.co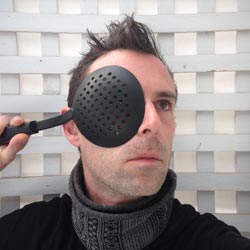 Matt Gingold (AU): Matt Gingold is a collaborative and experimental artist with a fuzzy practice that weaves together performance, audiovisual design, interactivity and machine learning. He is currently in residence at SymbioticA, where he is researching the role of creative production in transdisciplinary practice. Generously supported by the Australia Councils' Artists with Disabilities Mentorship Initiative, this involves thinking critically about histories of science and technology, the ethics of artificial intelligence, (non)human complexity, mental health, madness and creativity.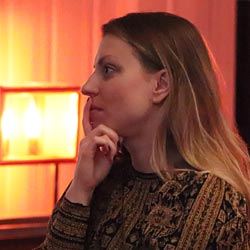 Ilona Puskas (HU, she/her): Ilona Puskas works in Social Activation and Experimentation at EIT Climate-KIC. She is a cultural programmer with a keen eye for irregulars and dormant rebels. She has operated in a variety of contexts from public policy to exponential technology, striving for positive impact. She is a devoted advocate for the revised role of the curator in facilitating sustainability, and solidarity in curatorial praxis.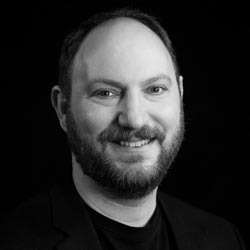 Justin Berry (US): Justin Berry is an artist, curator, and educator whose work explores the boundaries between the virtual and the real. He is a Critic at the Yale School of Art and Core Faculty at the Yale Center for Collaborative Arts and Media. His work has been exhibited internationally in various venues, with work currently on view at the Fotomuseum Winterthur as part of the show "How to Win at Photography". Issues of Artforum, Art Review, Frieze, and others have included features on his work.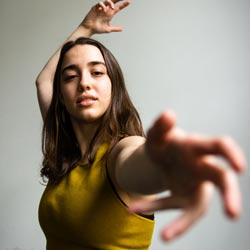 Allison Costa (US): Allison Costa is a dancer, creative technologist, and multi-media artist based in New York City. Her interdisciplinary practice is process-focused and collaborative, as it embraces tenets of emergent strategy, glitch feminism, and the risk/recovery practice of improvisation. Allison graduated with a double major in Dance and Computer Science from Barnard College of Columbia University and is currently working as Post-Baccalaureate Fellow at Barnard's Movement Lab, a dance/tech space.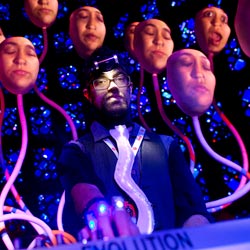 Mark Bolotin (AU): Mark Bolotin is an award-winning multimedia artist, inventor and futurist, as well as the artistic director of Synarcade Audio-Visuals (www.synarcade.com.au) and co-founder of the renown New York art technology company Hyphen Hub (www.hyphenhub.com). Bolotin has created and presented large-scale interactive multimedia work across the world including at the Sydney Opera House, New York Hall of Science, Museum of Modern Art (Zagreb), 3LD New York, TEDxSydney, Burning Man and SXSW.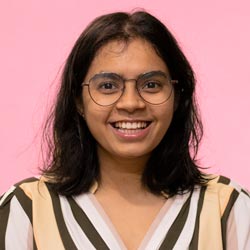 Komal Jain (IN): Komal Jain is a spatial and experience designer. She explores spatial relations, game strategies and its applications to design digital and analogous learning experiences that are at the intersection of art, science and culture. As a designer at the Science Gallery Bengaluru, she is involved in the design processes of the SGB Building Complex, exhibitions and programmes. She is currently working on her Creating Heroines Grant funded by the British Council.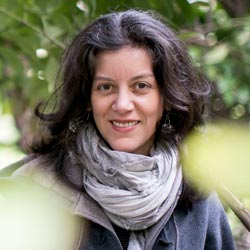 Viviana Quea Acosta (AT): Viviana Quea Acosta is a Peruvian visual artist and creative producer living in Vienna working mainly in the fields of performing arts and on projects related to memory, cultural heritage and identity. The core of her job lies in the intersection of anthropology, arts management, visual arts and technology. She is co-founder of Cultura Espiral, a digital platform that helps artists and creative projects in strategic planning, and part of Intandem Lab, a New York based creative collective of performing arts.
Ilya Szilak (US): Ilya Szilak is a Peabody Futures of Media award winning writer, director, and artist. www.illyaszilak.com Shaped by her experience as a physician, her art explores mortality, embodiment, identity, and belief in an increasingly virtual world. Her artistic partner is interactive designer Cyril Tsiboulski (Cloudred). Recently, they have focused on creating virtual installations in VRChat Queerskins: Home (2020) and IN MY OWN SKIN, that premiered at CPH: DOX in 2021. She is an alumna of Ars Electronica Future Innovators Summit (2018).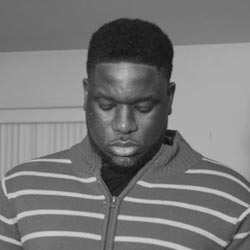 Kofi Oduro (CA, @Illestpreacha): Kofi Oduro is a Creative Coder & Experience Enhancer, who merges an array of mediums to provide unique experiences that promote discussion, reflection, and interaction. With over 10 years of performance, event production and audiovisual output globally, he takes inspiration from creative endeavors that are not normally seen together to create a harmonic experience for audience and users alike.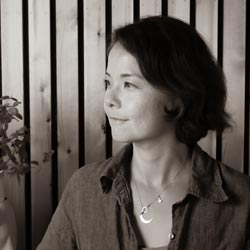 Kazz Morohashi (GB): Kazz Morohashi is an illustrator, designer and creative producer working in the area of informal learning and learning design. Her work centers around creating spaces for insightful conversations, such as in museums. Her design work has been recognised through awards both nationally and internationally, and showcased at events including the London Design Festival. www.kazzmorohashi.com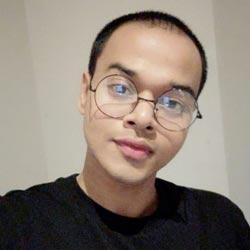 Hyash Tanmoy (IN): In the midway of measuring pitfalls and menaces, Hyash Tanmoy looks for meditative resilience through moving images and undefined art forms. Their practice is an endangered combination of silhouettes that traverses from hieroglyphs to Python. At the intersection of undiagnosed panic attacks and personal traumas, they are searching for a language of translation and reciprocation to make the experience inclusive of everyone in the show- the archive is under construction (mentally and physically).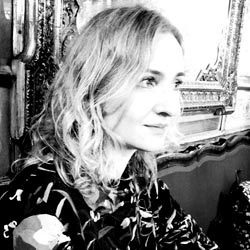 Maria Kuzmina (RU): Maria Kuzmina is an interdisciplinary curator, creative producer and international lawyer based in Moscow. She engages in projects relating to technological mediation, speculative and sustainable design, alternative economic models, and post-Soviet discourse. She also helps artists in case legal issues become a subject of their practice. Currently Maria studies Media and Technology Art at Rodchenko Art School in Moscow and works at the State Tretyakov Gallery on contemporary art projects.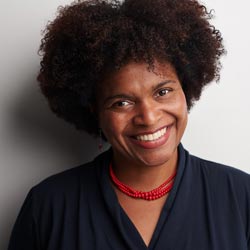 Robin Reid (US): Robin Reid is a creative producer specializing in Integrated Experience Design based in Brooklyn, NY. She has spent over 20 years leading award-winning media and immersive experiences. She believes that the most engaging experiences are ones where their development intentionally listens for and incorporates varied voices, not just the loudest ones. Her management style ensures she upholds a creative process that allows pathways for diverse viewpoints, resulting in high-quality, impactful output.