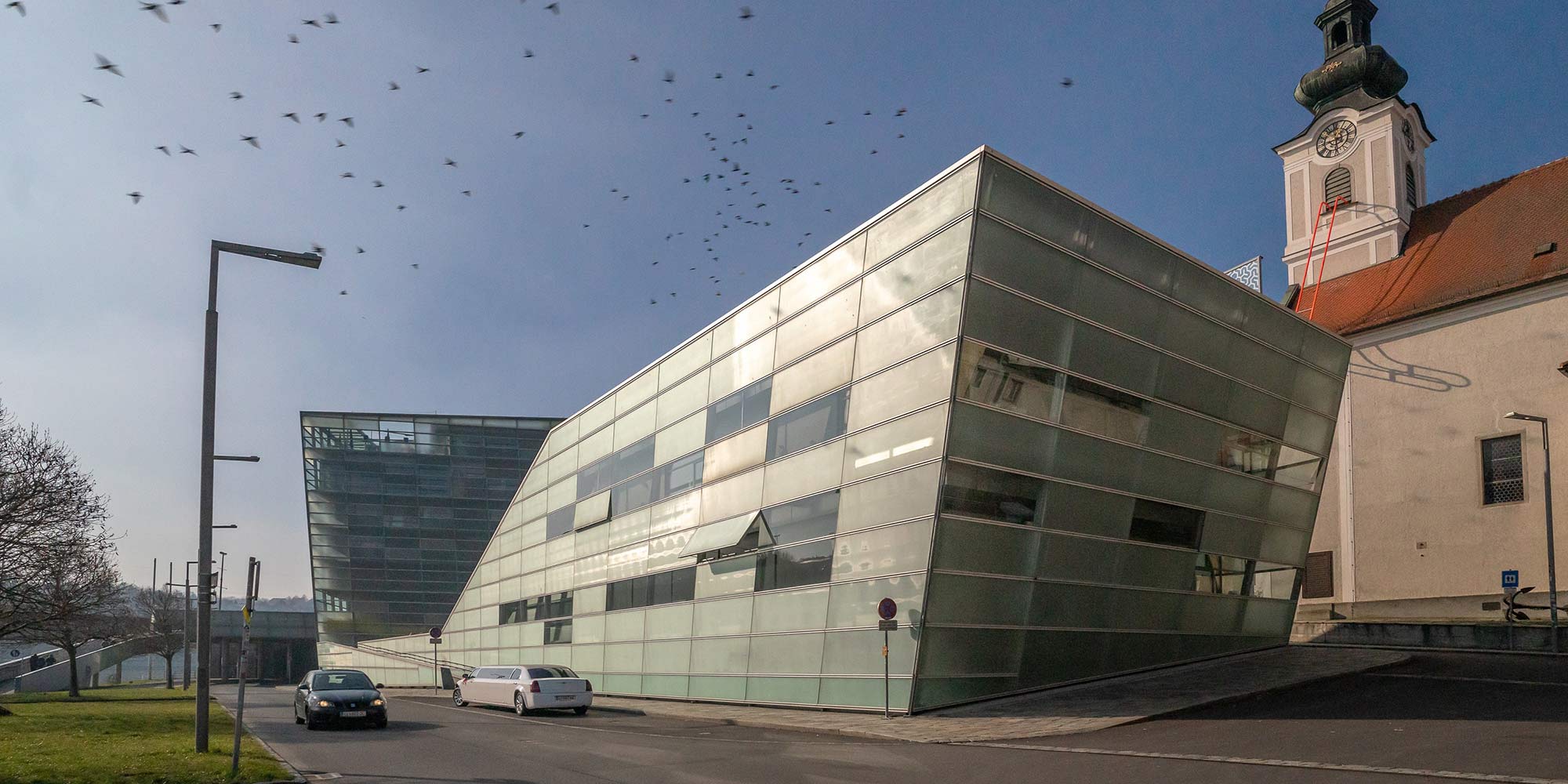 January 2020
We're starting 2020 with extremely positive figures: more than 190,000 visitors came to the Ars Electronica Center last year. With some 110,000 visits alone, the Ars Electronica Festival had an unprecedented response from the public. Other areas such as Ars Electronica Export, with its exhibitions in Beijing, Seoul, Moscow and Shenzhen, are also doing better than ever.
Art, technology and society, this constellation is well and truly starry-eyed. Our video clip produced at this time for the 2020 Ars Electronica Festival is dunked in a giant glass of anticipation.
Full speed ahead is the motto of the Artificial Intelligence Theme Weeks at the Ars Electronica Center, which accompany the major exhibition "Understanding AI" into the New Year. With lectures, presentations and workshops, we'll approach self-driving cars, music composed by AI algorithms and neural networks and show our visitors how artificial intelligence works and what such systems can and cannot do. Also on our Ars Electronica Blog, we explain how, for example, MuseNet can be used to compose a piece of music in the style of Mozart, how to turn a remote-controlled car into a mini self-driving car, and we explain several terms that come up immediately when you look a little deeper into artificial intelligence.
For the younger generation, the Ars Electronica Center is an exciting place for trial and error and discovery. While new stations contributed by the OTELO Open Technology Lab are tried out in the Kids Research Lab, young technology enthusiasts and their teams try to build and program the most skillful robot in the FIRST LEGO League.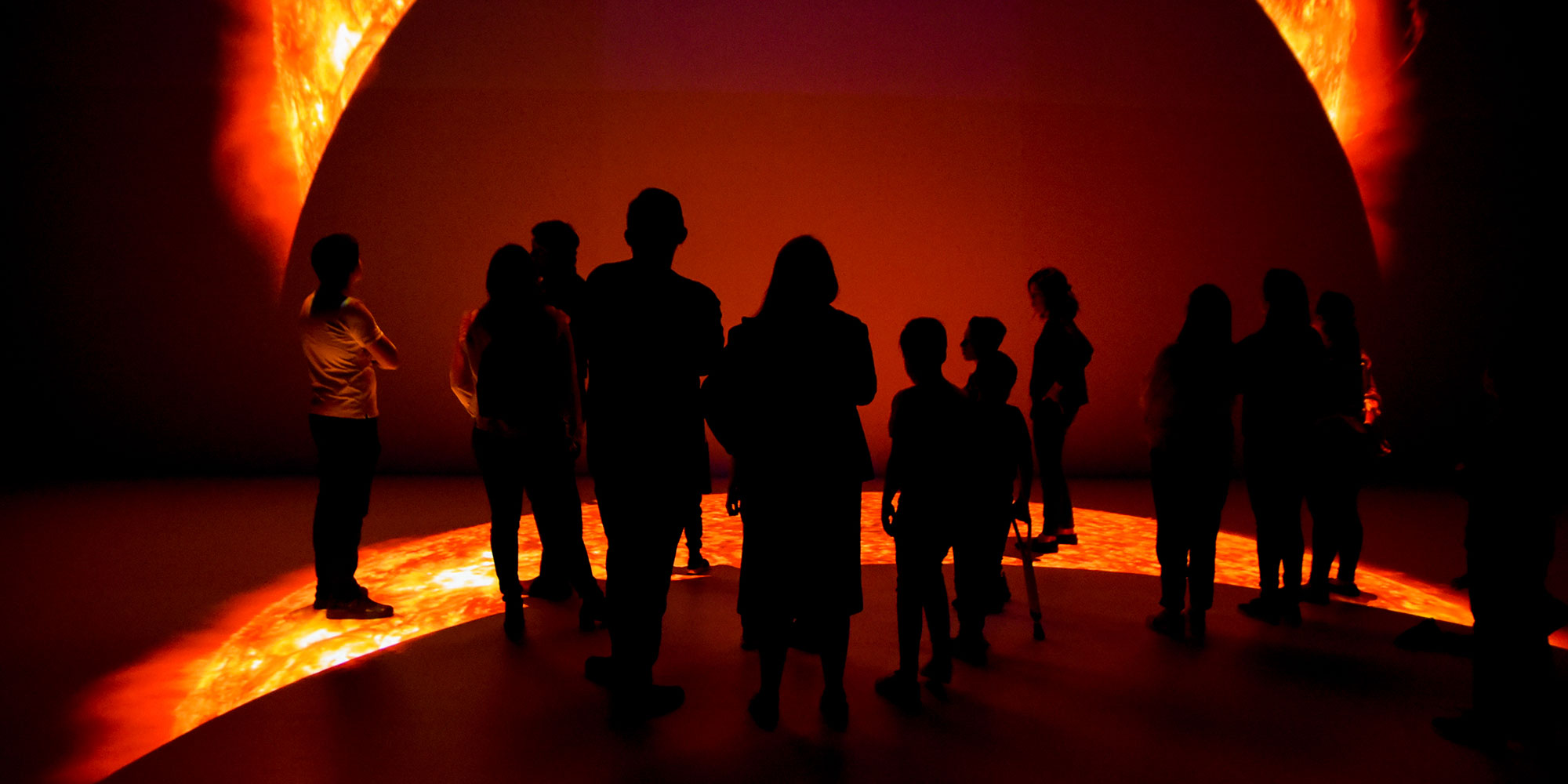 The eight projectors of the Deep Space 8K are once again performing their services and transforming the large room in the Ars Electronica Center into fantastic visual worlds, equipped with impressive projects by media artists. But it's not just in Linz, Austria, that the Deep Space 8K is enjoying great popularity – on behalf of the Sinaloa Science Center, Ars Electronica Solutions has now brought the Deep Space 8K to Mexico as well. The "Cubo Negro," the black cube, is the highlight of the newly renovated Science Center in Culican.
And like every year, the first month is traditionally the starting signal for a big call to all the media artists of the world. This year's Prix Ars Electronica 2020, the world's longest-running media art competition, is open to entries in a variety of categories: computer animation, digital community projects, interactive artworks and contributions from young creatives and young professionals under the age of 19 from Austria.
The winners will not only receive a Golden Nica and prize money of up to 10,000 euros, but also a prominent appearance at the upcoming Ars Electronica Festival. This time, more than 3,200 projects will reach us by the submission deadline. If you're not yet familiar with the Prix Ars Electronica universe, you're invited to check out the story on the Ars Electronica Blog.
At the same time, a second competition is being organized by Ars Electronica, Bozar and Waag on behalf of the European Commission – the STARTS Prize. Scientists, technologists, artists as well as institutions, labs or companies can submit their innovative collaborations and projects and, among other things, win 20,000 euros in prize money.
"The intersection of science, technology and art can cover a very wide range of disciplines. To name just a few examples: Human Computer Interaction, Machine Learning, Biotechnology, Art & Research, Environmental Engineering, Materials Research, Smart Cities, Citizen Participation and Empowerment, Robotics, Quantum Technology and many more."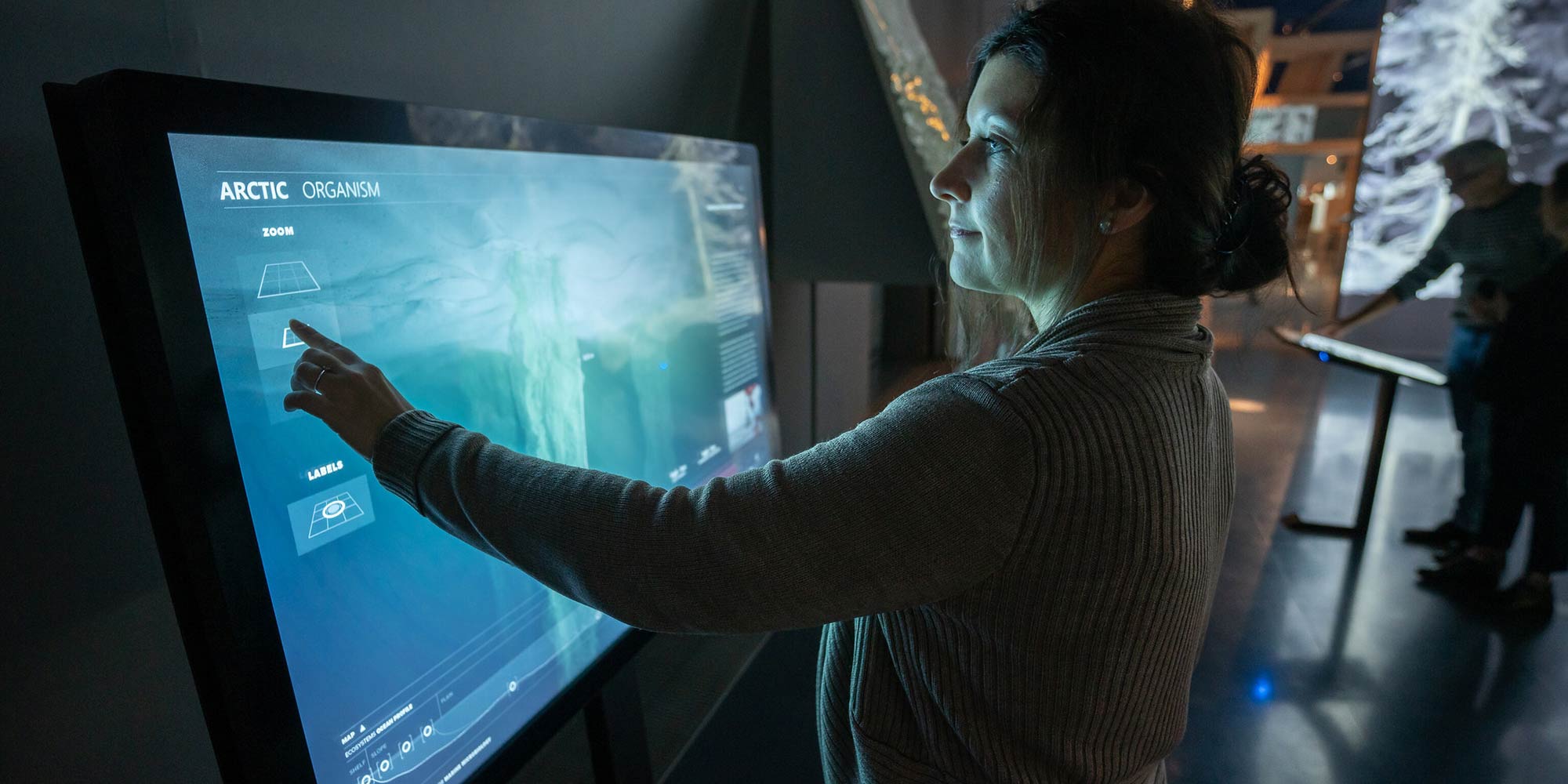 February 2020
A new month, a next thematic focus at the Ars Electronica Center. It's about a topic that affects all of humanity here on the Blue Planet, scientific findings increasingly point to the fact that comprehensive action can no longer be postponed, and that we can only succeed in all of this if we leave familiar paths behind and reorient ourselves. No, it's not about the pandemic (yet), it's about climate change: global temperature rise, glacier melt, rising sea levels, shrinking ice sheets and extreme weather conditions – the exhibition "Global Shift" is meant to be an eye-opener, a camera on the Earth to which we can screw on various lenses. (Incidentally, the "Global Shift – The World in Transition" exhibition in Vorarlberg, Austria, developed by Ars Electronica Solutions and adapted jointly with the Cultural Department of the Provincial Capital of Bregenz, was awarded the Climate Protection Prize of the Vorarlberger Nachrichten in 2020).
In the meantime, colleagues at the Ars Electronica Futurelab are working on a project that they've been on now for several years together with the Japanese telecommunications company NTT. After the successful Spaxels, quadrocopters equipped with LEDs that draw luminous sculptures in the sky in formation flights, this time it's robots equipped with hexagonal screens and traveling in a swarm that are bringing the fascination of luminous movement back to the very ground where the first Spaxels took to the skies in 2012.
And suddenly there it is. We come into contact with the social effects of the spreading pandemic for the first time at the "outposts" of Ars Electronica, more precisely at the "School of the Future Festival" in Tokyo Midtown. Actually, we expected a quite usual pulsating hustle and bustle here in this building complex, but the number of visitors is manageable and we meet more and more a measure that will soon not seem as unfamiliar to us Europeans as before: The mouth and nose protection.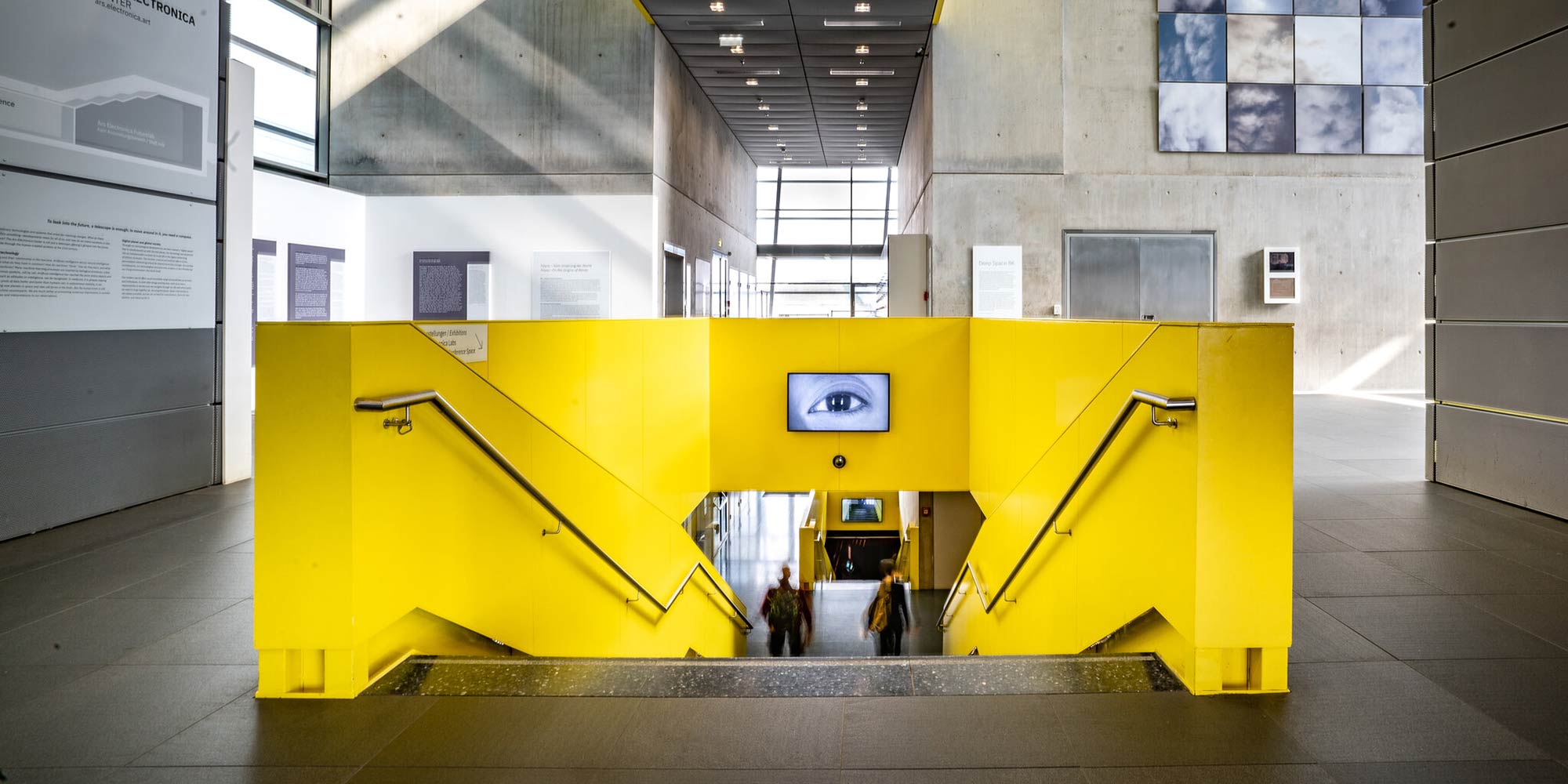 March 2020
While a week ago it was still uncertain whether our employees would be able to travel to other countries on business, in the meantime the number of people in Austria who have contracted Covid-19 has risen so high that the Austrian authorities have decided to take measures against further spread. While initially only indoor events were restricted to a maximum of 100 people, the entire country is entering a lockdown that will last for several weeks starting Friday the 13th. The Ars Electronica Center closes its doors and presses "pause."
At this time, the entire world population is facing a fog of uncertainty; all paths to success pointing to the future are no longer visible. No one can say how and, above all, when we'll be able to extricate ourselves from this predicament. Ars Electronica is sending a large part of its team into short-time work in order to maintain jobs and secure its economic existence. The majority of our remaining colleagues are retiring to their own homes – the so callds "home officses" – so that they can continue to turn the wheels from there. What a privilege, really.
"Because we have a very broad spectrum of activities, the crisis has so far had a very different impact on the individual divisions of our company. While we currently still have a very good employment situation in the Ars Electronica Futurelab and Ars Electronica Solutions, the opposite is true in the Ars Electronica Center following the official museum closure on March 13. The amount of economic damage that Ars Electronica will suffer as a result of the current crisis cannot yet be estimated. But it will be considerable."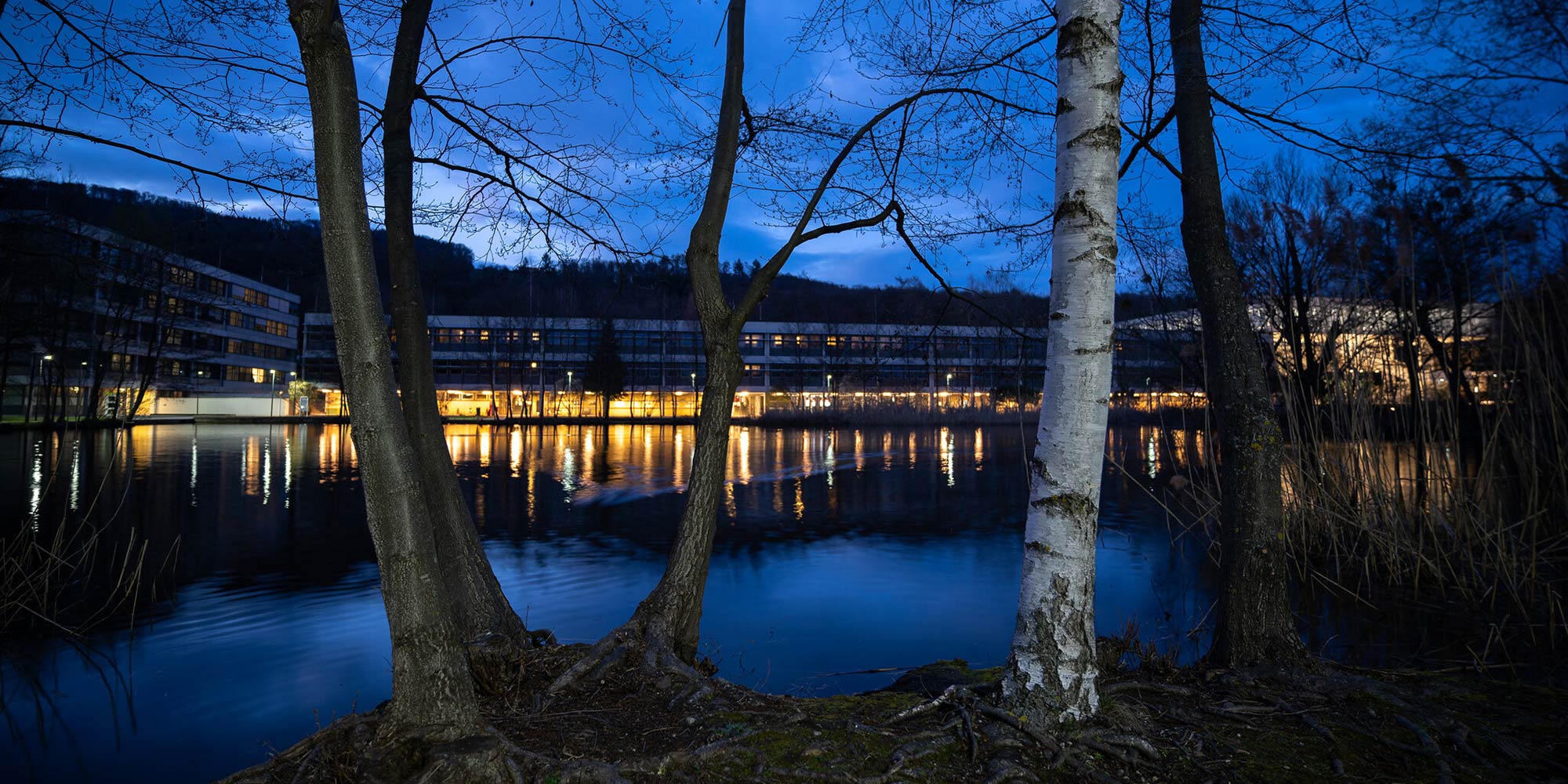 An empty museum, no cultural events, no pupils in the "Museum of the Future" (last year there were over 30,000!), neither international visitors nor local audiences. Wherever possible, the era of digital collaboration is beginning – from living room to living room. Those who want to look the other person in the eye will look into the webcam instead. A visit to the Keplers Garden's on the campus of Johannes Kepler University, the location of the Ars Electronica Festival planned for 2020 in September, presents the same picture: no people far and wide. Only a few ducks are swimming on the pond.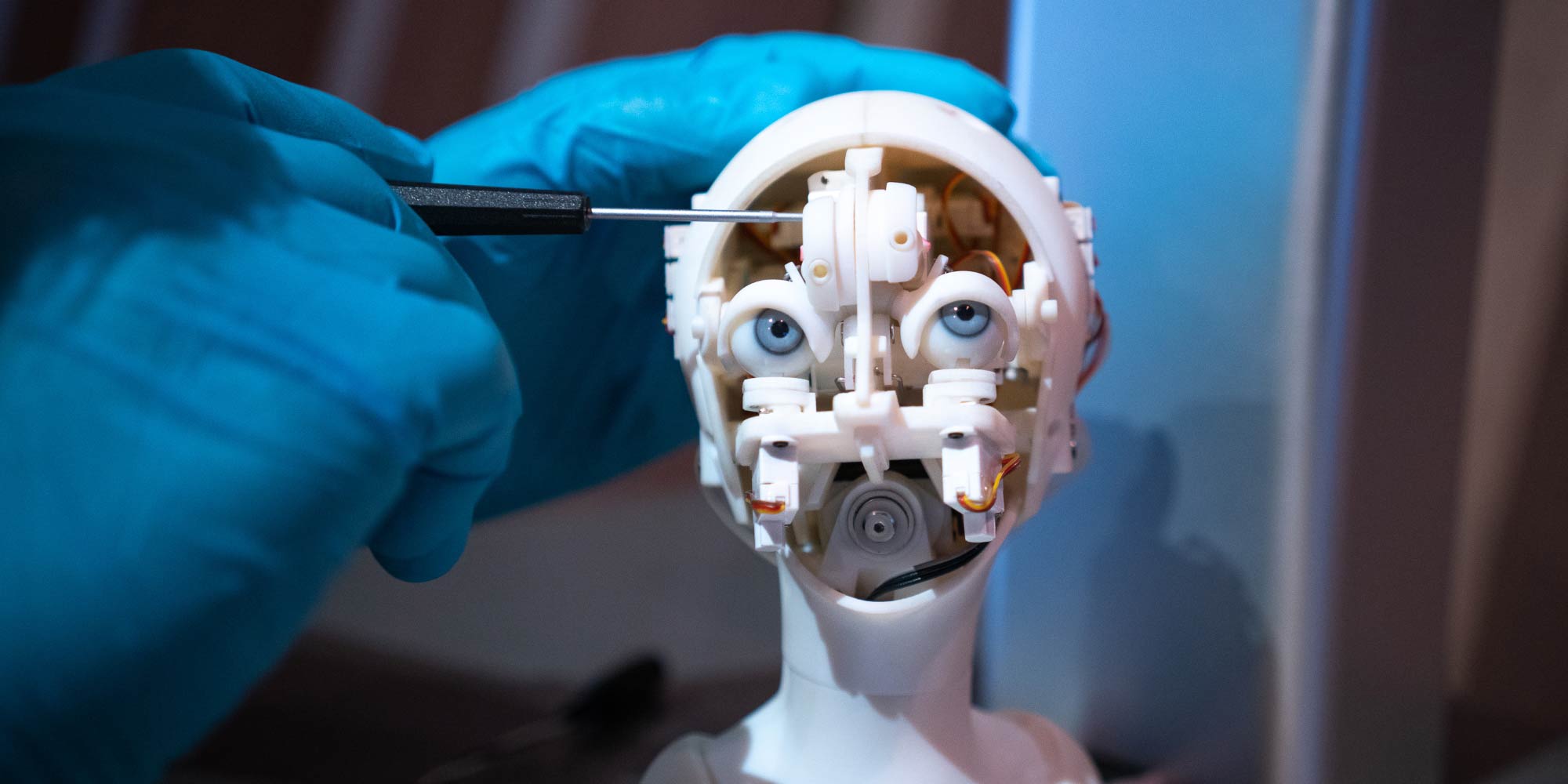 April 2020
The Ars Electronica Center will remain closed in April. Closing days feel like weeks, the hair grows longer. You try to find the positive in everyday work. Thomas Schwarz, Infotrainer, is one of the few who are physically working at the Ars Electronica Center during these weeks:
"It is now easier to take a closer look at some things in peace and quiet. On the other hand, I really miss the exchange with colleagues, visitors from all over the world, the hustle and bustle that usually prevails here and the varied daily work routine in general."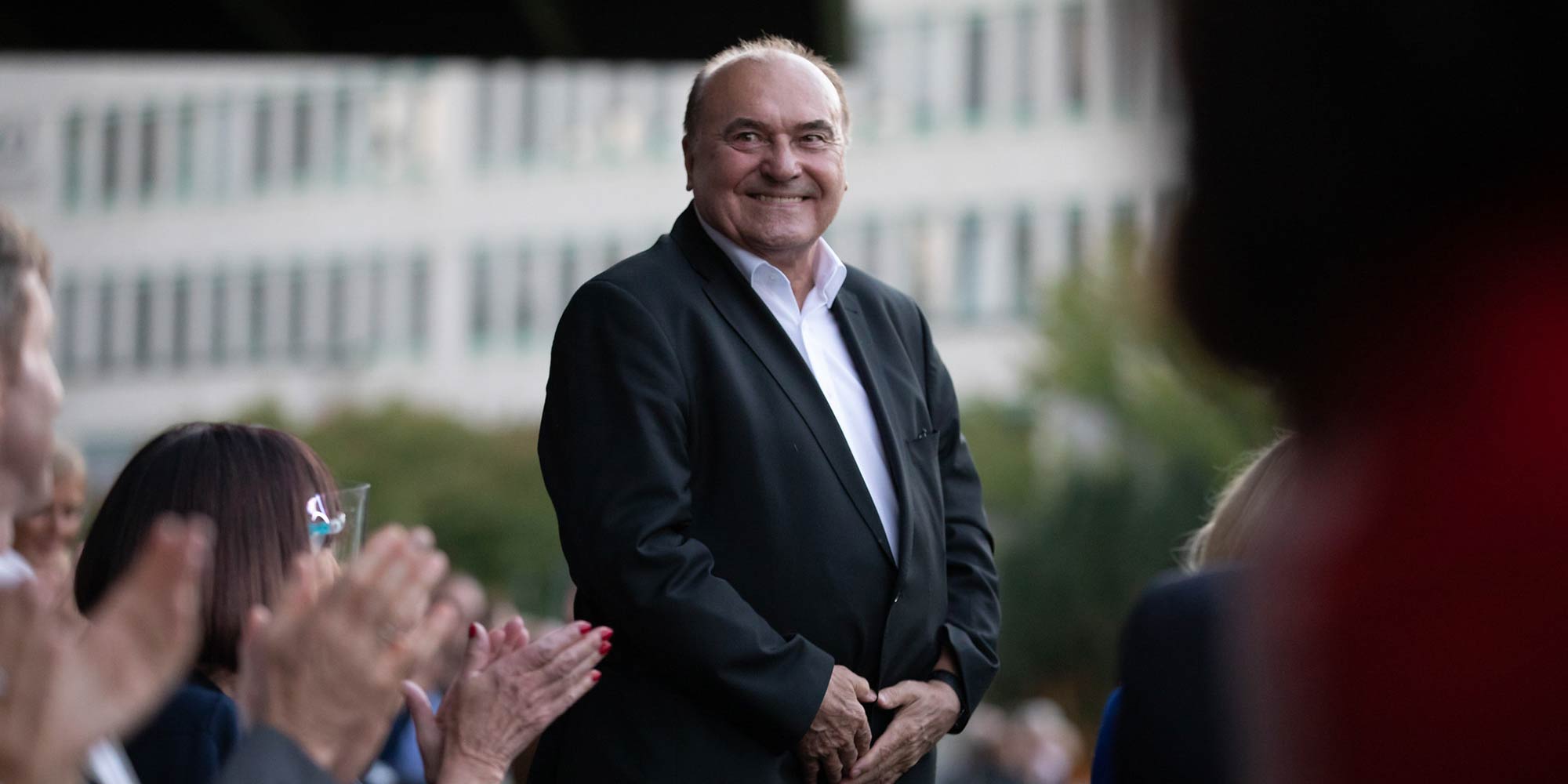 The celebration planned for Hannes Leopoldseder, one of the founders of Ars Electronica who first organized a festival for art, technology and society in Linz in 1979, is also being moved to the digital realm. On the occasion of his 80th birthday, we look back on four decades of digital change on the Ars Electronica Blog with excerpts of his texts and historical photos.
What a digital transformation is taking place right now! Ars Electronica is coming out of its brief state of shock and taking the reins in its own hands again. We're back with interesting blog stories about artificial intelligence (e.g. How AI, Big Data and Machine Learning can be used against the corona virus) and a future podcast from local radio station LifeRadio in German language. Events like the Ambassadors Day for teachers, which showcases offerings for pupils of all ages, have quickly moved to the digital space.
But digitization is not a makeshift substitute program for face-to-face conversation or the sudden Corona rain. Digitization is not a bad-weather program. And now is not the time to get sentimental and send out wishes for the better times of yesteryear. Right now, the future is booming.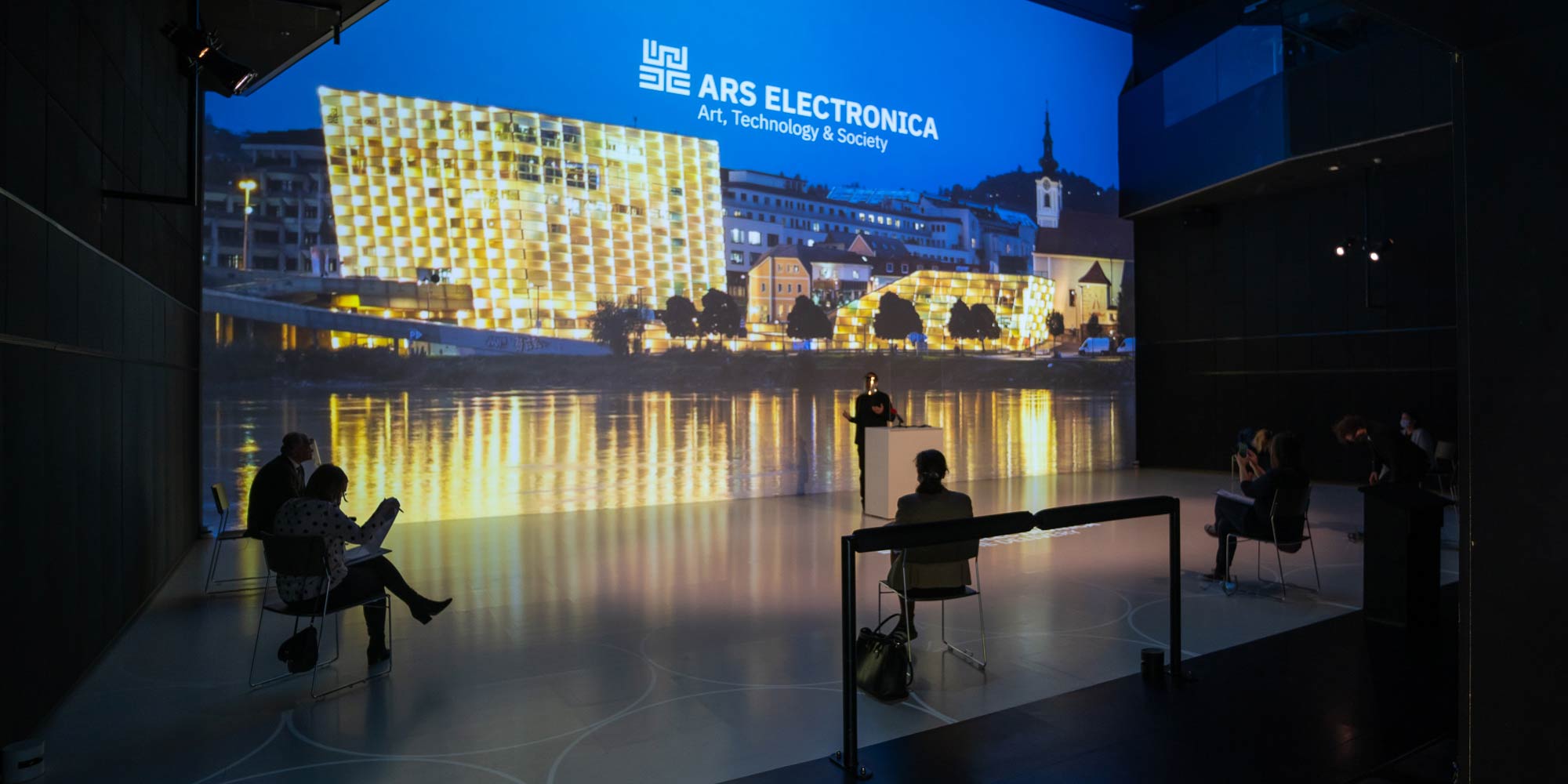 In the background, a team from Ars Electronica is working on a new project that will be presented to the public a short time later, in early May 2020. It's a ray of hope for a time that will still bring a great many hardships and restrictions. Even a press conference is being considered again after the many weeks of lockdown. That gives hope.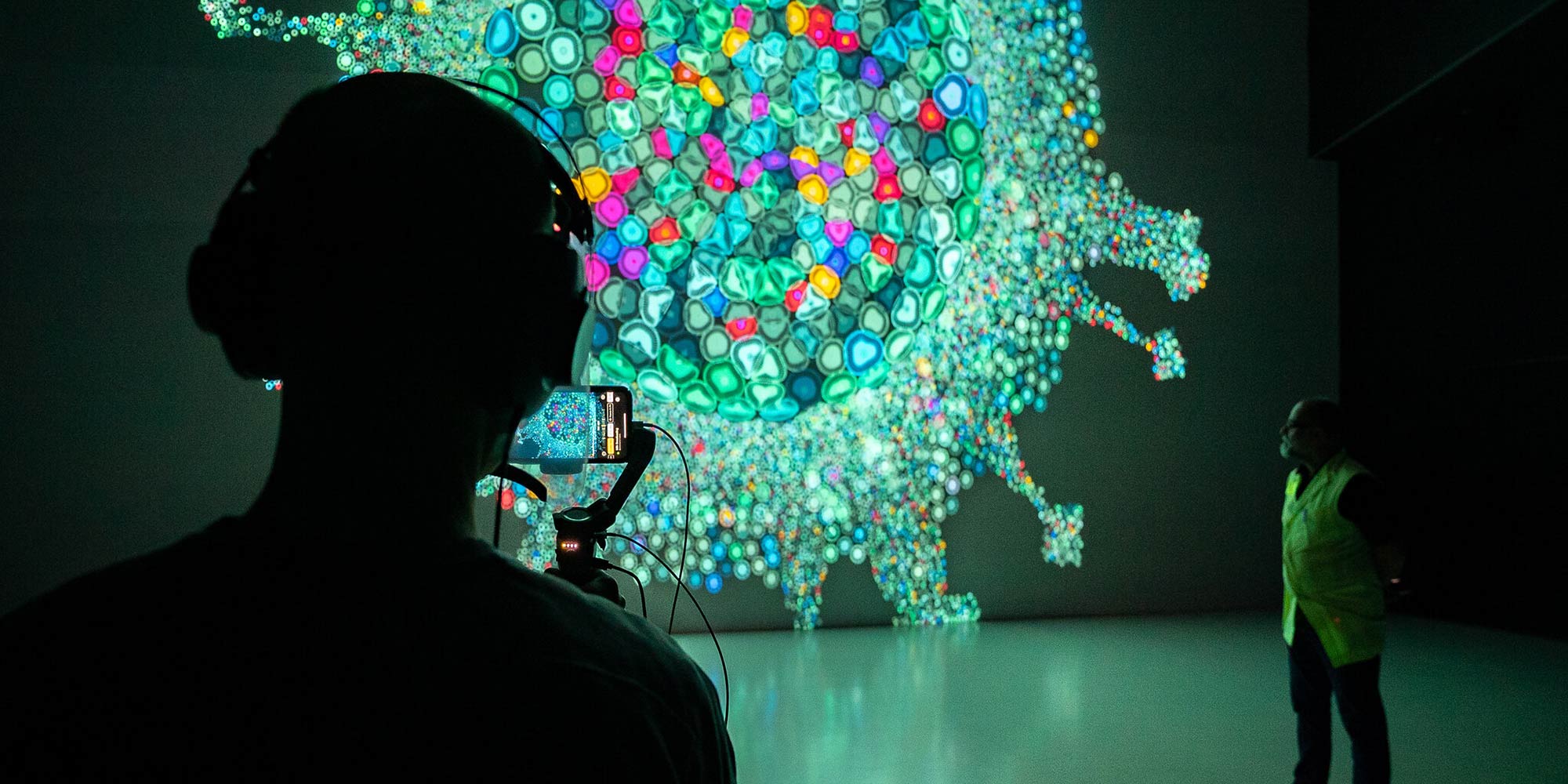 May 2020
Nature seems to be visibly indifferent to the pandemic – not only in Linz but also in many other places around the world, the spring sun is beaming down from a blue sky. At least that's what you see on dozens of webcam images of the people who have gathered individually in their living rooms and workplaces to participate in the jury weekend of the Prix Ars Electronica 2020. Each individual portrait image fits into an unprecedented mosaic of the international exchange of opinions.
From Los Angeles to Seoul, experts in their field exchange ideas to jointly select the Golden Nicas of media art. Each and every one of them works in their own time zone, whether shortly before sunrise, at midday or deep in the night. Actually, they would all have come to Linz – for the first time in the history of the Prix Ars Electronica, that hasn't been possible since 1987.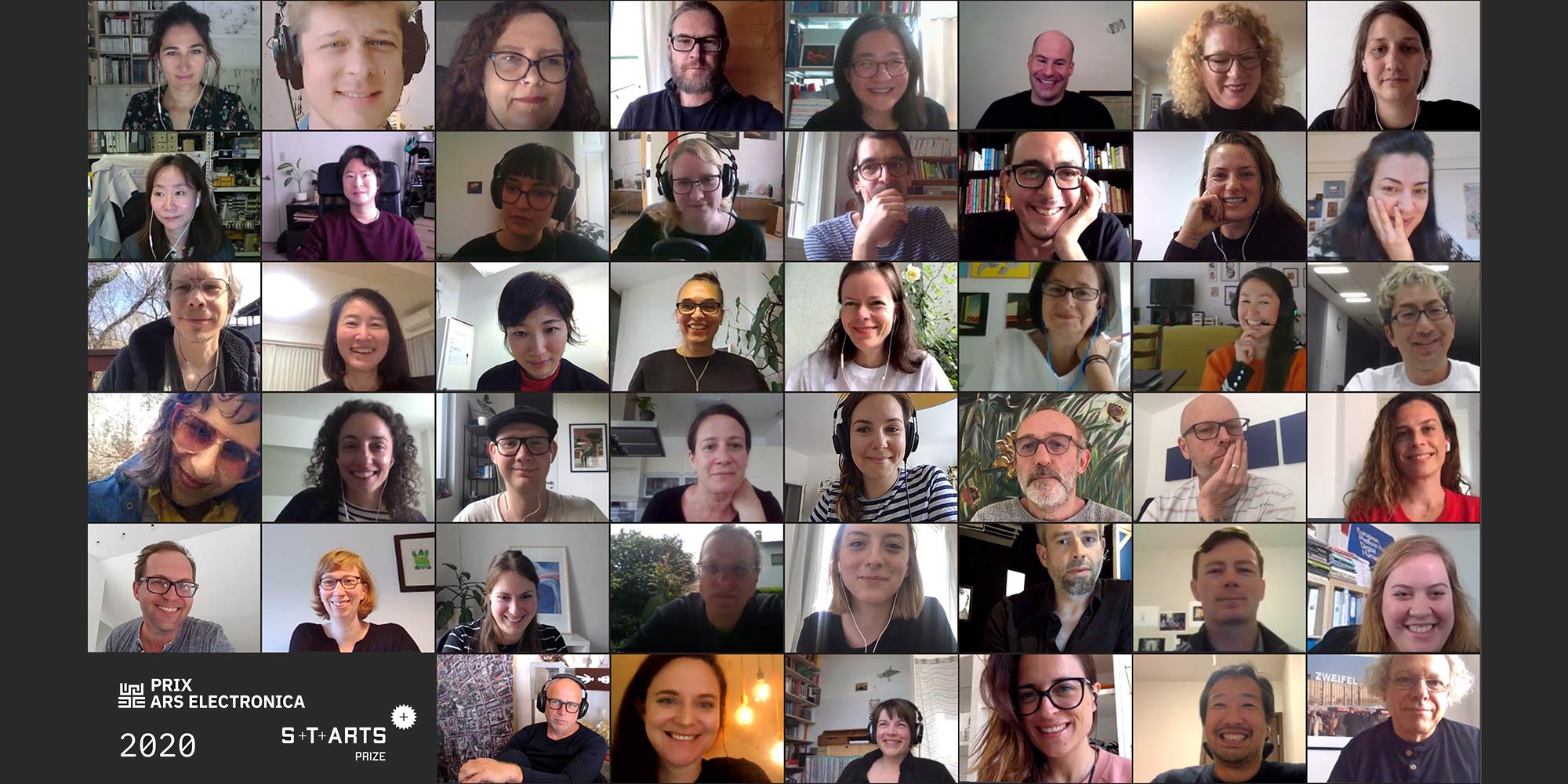 "At the beginning, I didn't realize how many changes it would take here. We need to drastically rethink the jury session while keeping the quality in this form of online communication. As I said, because of the different time zones, the actual discussions are much shorter than before. Keeping the balance of that is a big challenge."
The jurors from the categories Computer Animation, Interactive Art+, Digital Communities, u19 – create your world and the STARTS Prize are mastering this digital encounter with its tight schedule with ease. (Review Prix Jury, Review STARTS Jury). In a few weeks the winners will be presented, but first they have to be informed themselves.
With Ars Electronica Home Delivery, the still-closed Ars Electronica Center is transformed into a broadcast studio-from the very beginning, it's not meant to be a replacement program, but an additional offering from Ars Electronica.
The advantage of being able to draw on a knowledgeable and flexible team – with a willingness to discover and learn new things – clearly benefits the "Ars Electronica Home Delivery" project and demonstrates here in particular how quickly Ars Electronica can respond to change.
In just a short time, a new digital "delivery service" has emerged that, with its weekly program, wants to be more than just a TV station as we know it from the 20th century. Just like in the museum itself, listening, discussing, involving and interacting with the viewers is part of the program from the very beginning. And all of this live, just like a visit to a museum on site.
With a concert by Linz-based piano duo Maki Namekawa and Dennis Russell Davies, Ars Electronica Home Delivery will kick off its first live program on May 1, 2020-directly from the "Piano Room" of the "AIxMusic" exhibition at the Ars Electronica Center. "Ma Mère L'Oye" for piano four hands by Maurice Ravel will be heard, with Cori O'Lan contributing the real-time visualizations. It is to be the first concert in a whole series of live performances.
After an initial test phase, the program is picking up full steam – most of the live broadcasts have since been available to watch individually on YouTube or in our playlists (check out our YouTube channel!).
In addition to the two musicians, popular speakers from the "Deep Space LIVE" series will also be on board: While astrophotographer Dietmar Hager navigates new paths through the vastness of the universe each time, neuroscientist Manuela Macedonia will share interesting facts about the functioning of the human brain during her Science Talks in German language.
https://www.youtube.com/watch?v=MyDonkDHZZ4
Human Universe
https://www.youtube.com/watch?v=r_14SUy9lnI
Workshop Future Matters
https://www.youtube.com/watch?v=gBcsS4iJ3dI
Inside Futurelab: Immersify – The Great Pyramid in 3D
But our experts – our infotrainers – have also acquired a fair amount of knowledge that they'll be sharing at Ars Electronica Home Delivery: Whether it's an impressive foray through our Milky Way or the human universe, workshops from the Ars Electronica Labs on novel materials, or a tour through the inner chamber system of the Cheops pyramid.
https://www.youtube.com/watch?v=afPjMnW76bY
Matthew Gardiner
https://www.youtube.com/watch?v=bHbc-cko4sY
Yoko Shimizu
In addition, a number of artists from the Ars Electronica Futurelab take the time to introduce their work and projects to us in more detail. Oribotics expert Matthew Gardiner, for example, who explains the connection between origami and robotics in greater detail during a live link to Australia, and BioArt expert Yoko Shimizu, who discusses her work with photosynthesis during her ScienceTalk in the Ars Electronica Center's BioLab.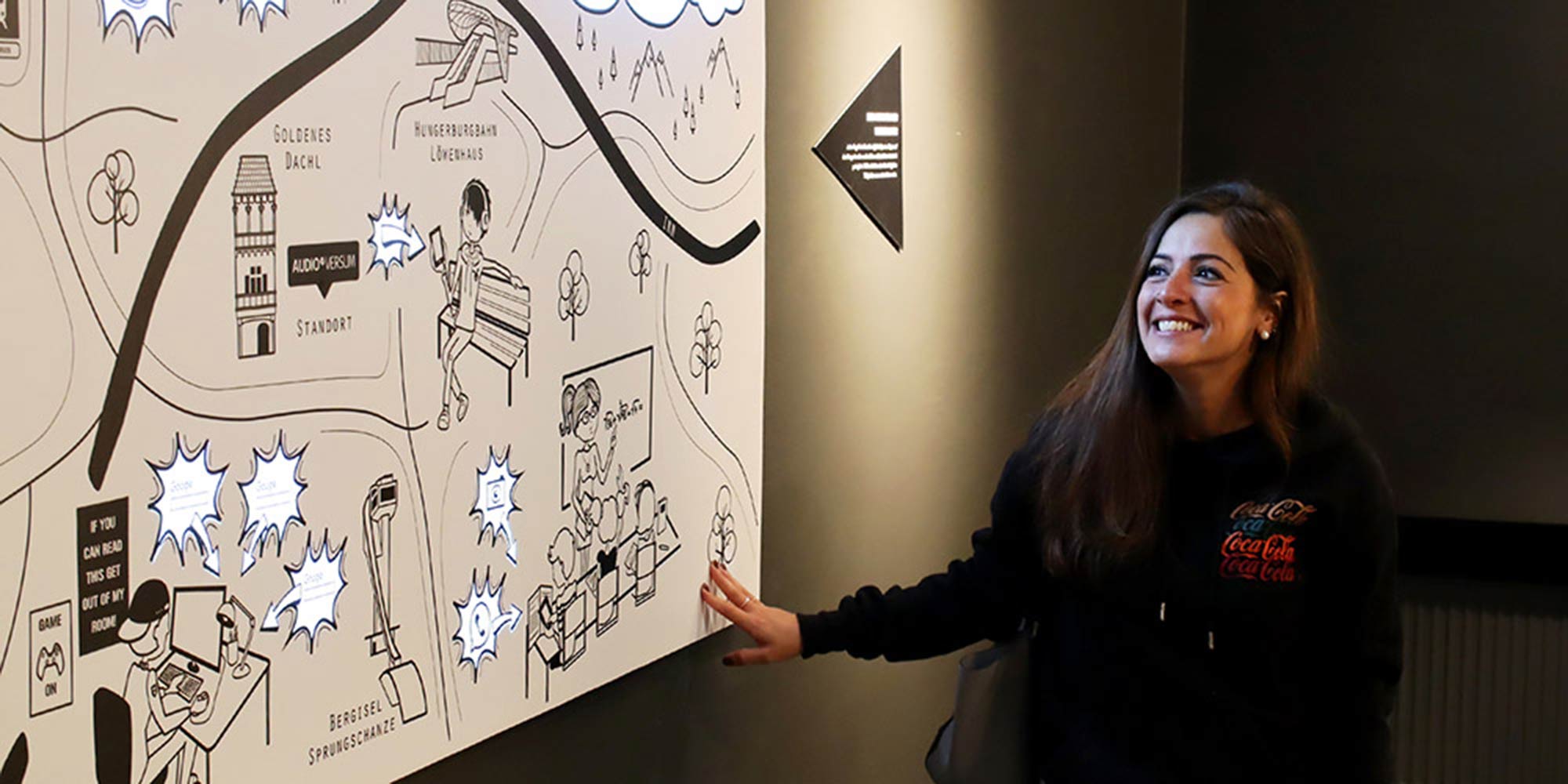 In the meantime, after a long pause for breath caused by Covid 19, the first steps towards opening up the cultural sector are beginning to emerge, and the special exhibition "Out of Control" at the Audioversum Innsbruck, designed by Ars Electroncia Solutions, is also admitting its first visitors again.
It's the time when Ars Electronica becomes the target of massive cyberattacks and gradually finds its way back to the web thanks to internal system operation experts and external services. Being more active in the digital world also means being more vulnerable. Being offline for even a few hours, while a large part of communication is increasingly shifting to the web, hurts.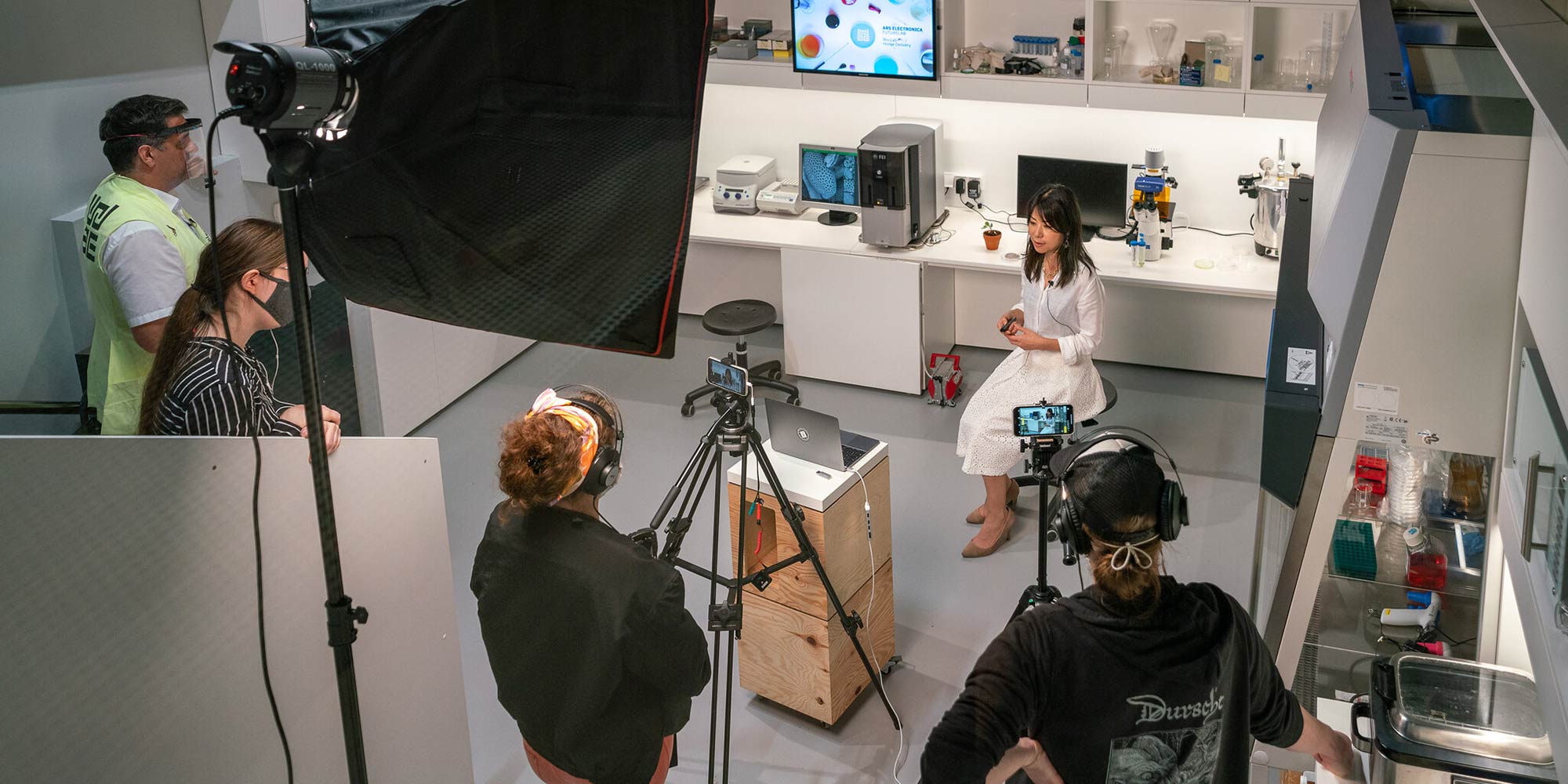 June 2020
But back to the opening steps. These make it possible, albeit with mouth and nose protection, Plexiglas, distance rules and other safety measures, to physically get a little closer again in the real world.
At this month's first press conference, the winners of the STARTS PRIZE 2020 will be announced. The "STARTS PRIZE '20 – Grand Prize Artistic Exploration" goes to Canadian architect and installation artist Andrea Ling, who with "Design by Decay, Decay by Design" thinks of a waste product that is tolerable for nature even as she creates it.
Russian artist Olga Kisseleva is awarded the "STARTS Prize '20 Grand Prize – Innovative Collaboration" for "EDEN – Ethics – Durability – Ecology – Nature", where she deals with the communication activity of trees and the revival of extinct plant species. Both artists can look forward to a STARTS Trophy from the European Commission and 20,000 euros each – the jury is satisfied with its choice.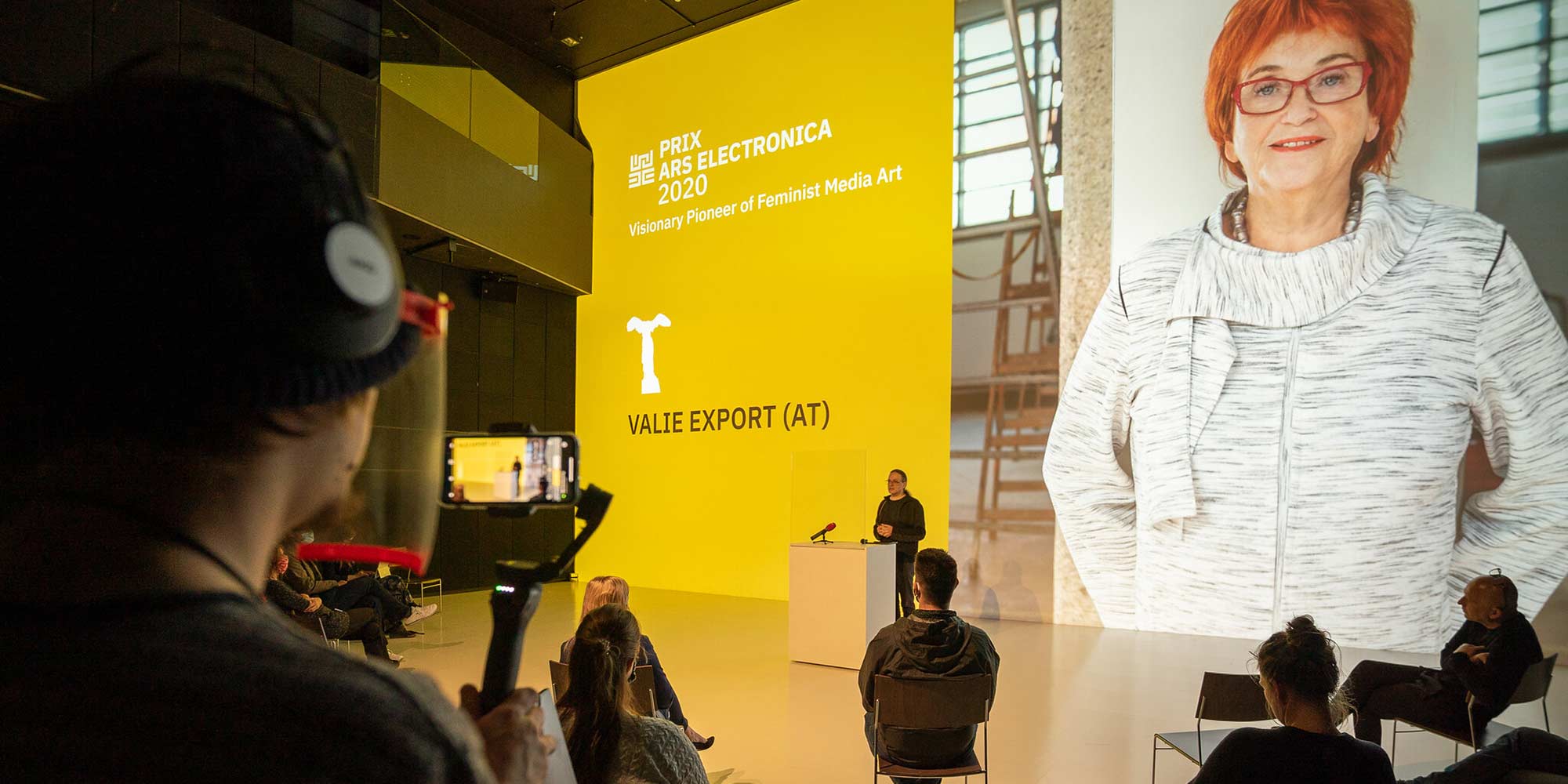 A few days later, it's time to raise the curtain on the winners of the Golden Nicas, the Prix Ars Electronica 2020, selected by an international jury from a total of 3,209 submissions from 90 countries. In 2020, the Golden Nica in the "Digital Communities" category will go to Hong Kong's protest movement. The Golden Nica in the "Interactive Art +" category will be awarded to Los Angeles-based artist Lauren Lee McCarthy, but the top prize in the "Computer Animation" category will also go to a Los Angeles-based artist – Miwa Matreyek.
VALIE EXPORT is honored for her artistic-feminist life's work as a "Visionary Pioneer of Feminist Media Art" with a Golden Nica. And Lisa Rass, Franziska Gallé, Jona Lingitz and Anna Fachbach, all students of the HTBLVA-Graz Ortweinschule in Austria, can look forward to the Golden Nica in the category "u19 – create your world".
On this occasion, Christine Schöpf, who has been at Ars Electronica's side since 1979 and has been instrumental in conceiving and organizing the Prix Ars Electronica since 1987, will once again step up to the microphone and bid farewell to her official posts with "40 Years Are Enough."
Ars Electronica Home Delivery isn't taking a summer break and switching into hybrid mode. The Covid 19 loosening ordinance brings back to the Ars Electronica Center's Thursday night series "Deep Space LIVE" at least a first part of its audience for the time being. The events will not only be broadcast online, but can be attended by up to 30 people on site.
Home Delivery continues to deliver a diverse mix of art, technology and society free of charge throughout the summer-and is also trying out other formats. At the piano recitals with Maki Namekawa and Dennis Russell Davies, such musical greats as Philip Glass and Laurie Anderson now join us live in the piano room of the Ars Electronica Center.
https://www.youtube.com/watch?v=11QeMAweQrM
Laurie Anderson
https://www.youtube.com/watch?v=R8z86kpf7Dw
Voynich Manuscript
https://www.youtube.com/watch?v=iSfACK43TfM
GPT-2 in Italian language
https://www.youtube.com/watch?v=gaxtAlhLwQs
Beat the Clock Open Sound Studio
In Deep Space 8K we zoom into the mysterious details of the Voynich Manuscript. Our info trainers offer German and English as well as other languages such as Arabic and Italian and explain, for example, how artificial intelligence generates legible texts using GPT-2. And the "Open Soundstudio" opens its doors to musicians and sound artists, who try to compose a track or beat within ten minutes at "Beat the Clock".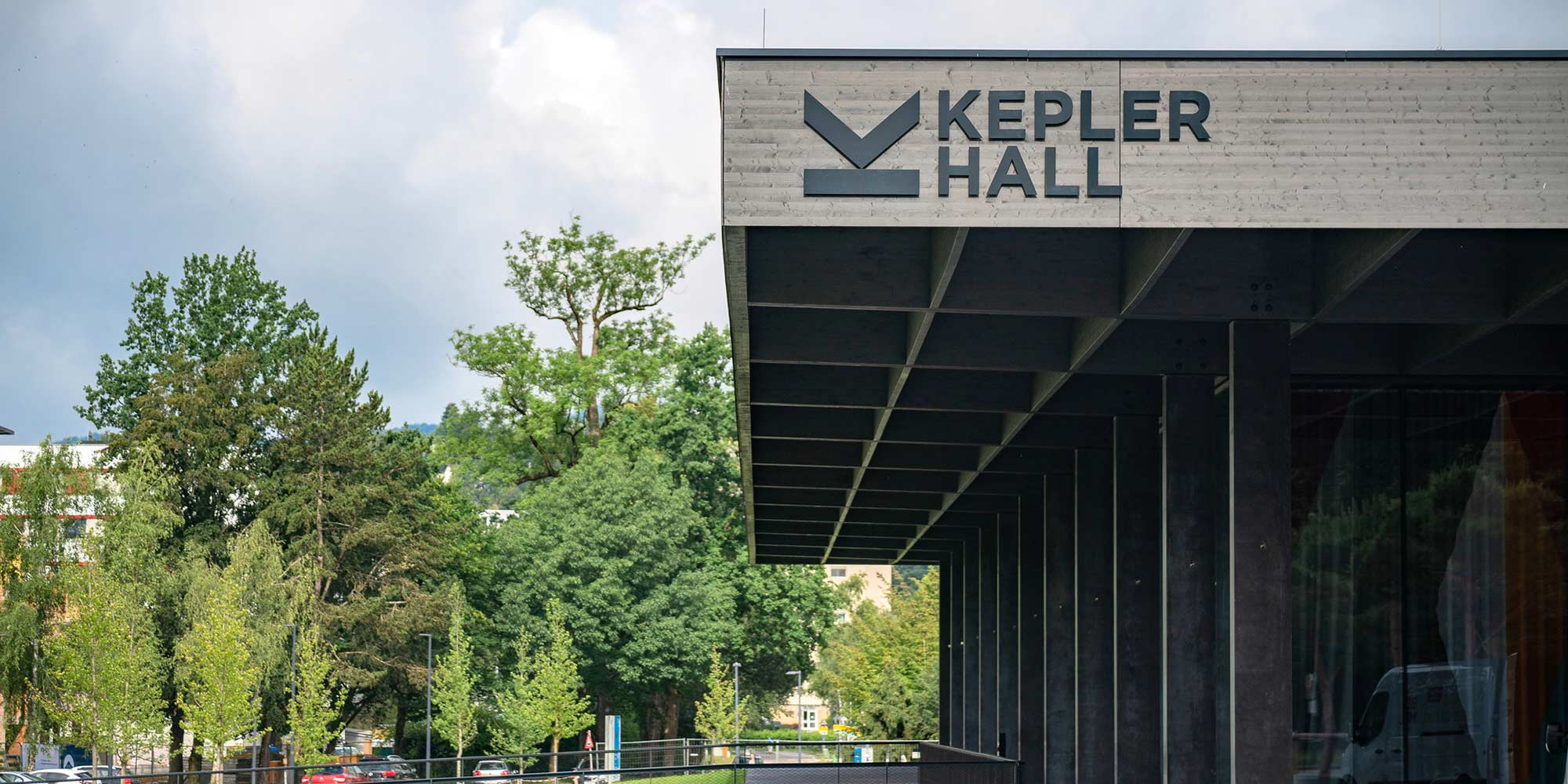 July 2020
At the beginning of July (!), the decision is made that there will be an Ars Electronica Festival in September, despite or precisely because of the Corona crisis. The starting signal is given at a press conference. Gerfried Stocker, Ars Electronica's Artistic Director, presents the theme of "Kepler's Gardens" and the many partner institutions that have agreed to participate with their own commitment. It is the first hybrid festival of its kind and will take place not only in Linz (in a smaller form than usual) at the new location, the Johannes Kepler University campus in Linz, but also locally at 120 locations around the world and with numerous (live) offerings on the Web.
https://www.youtube.com/watch?v=yfggXfU0aHI
"We do not want to and cannot accept that this pandemic compels us to simply suspend everything that constitutes our pluralistic society. Precisely because we are in the midst of this crisis, and precisely because all the stand-offs and sanitization measures are sensible and necessary, we must not simply stay at home, but actively and creatively set about trying out new forms of dialogue and exchange."
Let's go! Let's organize the Ars Electronica Festival 2020 together!
A brief sigh of relief goes through the Ars Electronica Center in the meantime, as it is once again possible to offer guided tours for up to 10 people that can be booked in advance. A small offshoot of the vacation program for children and young people will also be offered during the summer months. Visitors in the museum! When was the last time that happened?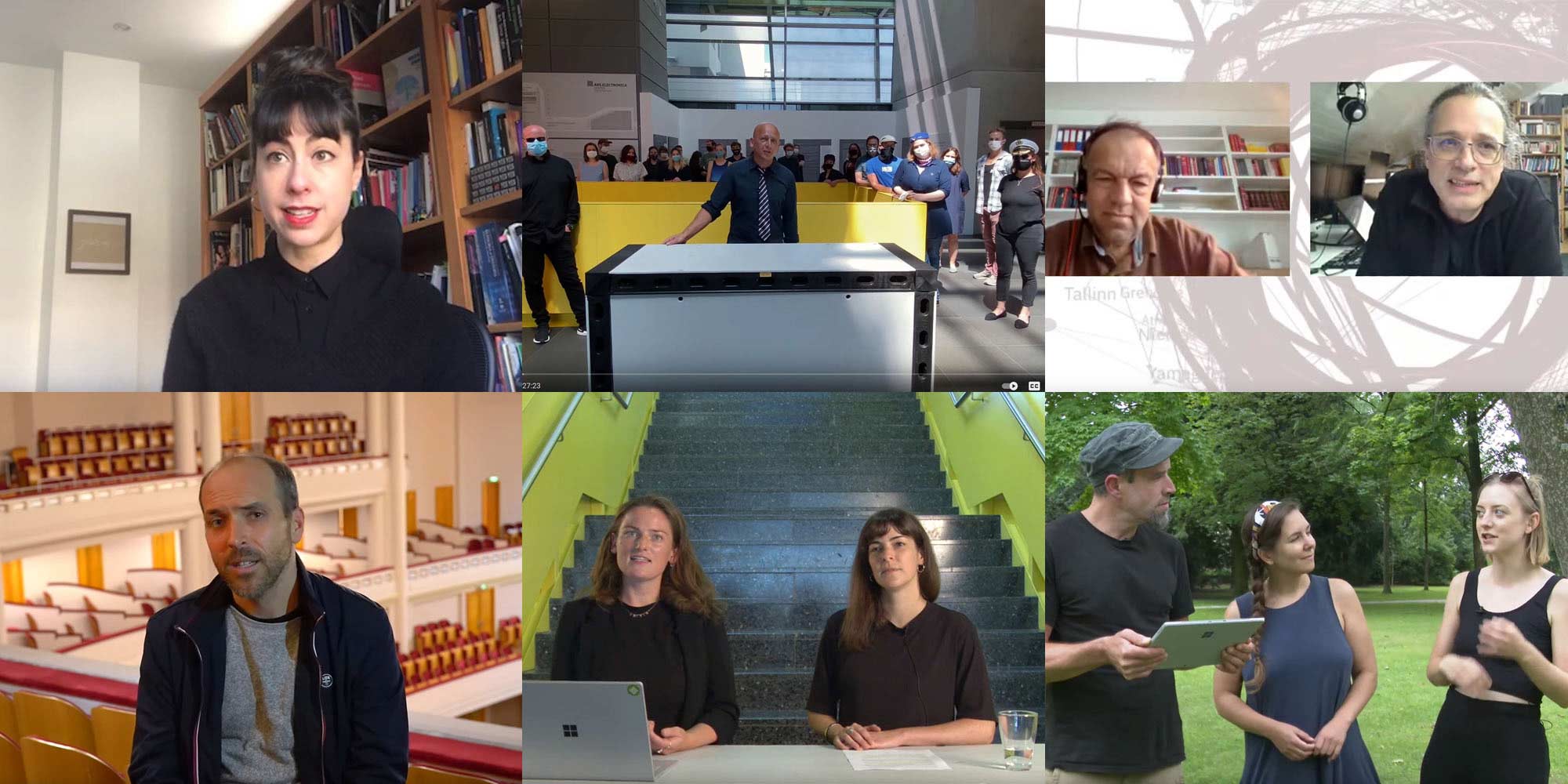 August 2020
While the festival team has been in the midst of intensive preparations for this major new challenge from the very beginning, Ars Electronica Home Delivery is presenting more and more details about the upcoming hybrid media art festival week by week in "Inside Festival. Here, not only the team around festival director Martin Honzik will have their say, but also representatives from all the "Ars Electronica Gardens" that will be participating in the Ars Electronica Festival with their own program items.
This is sometimes no easy feat, after all budget and staff cuts in the cultural sector all over the world, the extremely short editorial deadline, new workflows and then the different time zones don't exactly make it easy to realize a festival of this dimension. Spoiler: We made it after all!
Further editions: 1, 2, 3, 4, 5, 6, 7, 8, 9, 10, 11, 12, 13.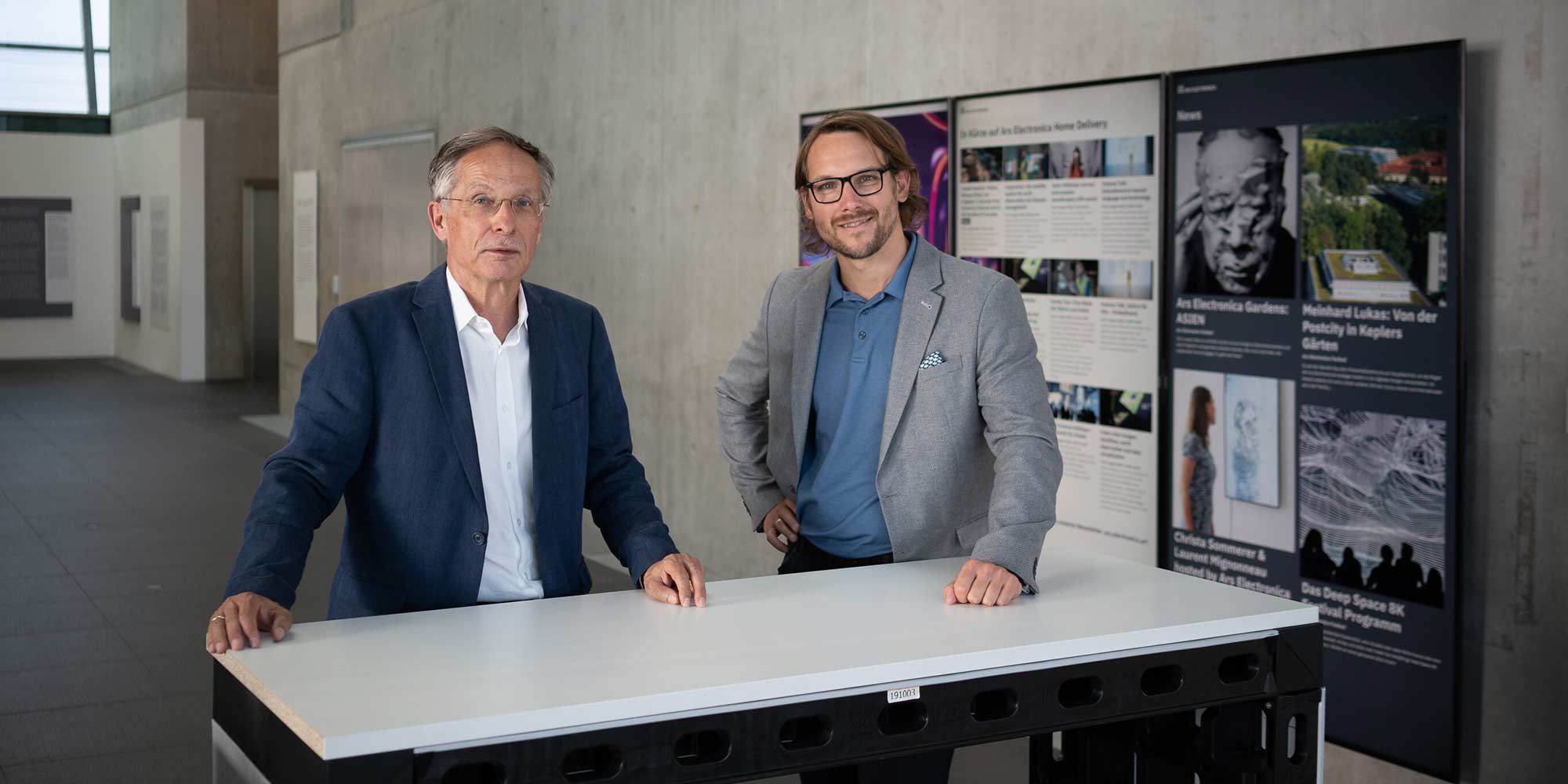 The Ars Electronica locomotive is roaring at full speed toward the Ars Electronica Festival, the highlight of every Ars Electronica year. But before the time comes, there is an unsurprising change of course in the executive level. Commercial director Diethard Schwarzmair, who has been in charge for almost 12 years, has made a significant contribution to the Linz-based platform for art, technology and society and has brought it to where it is today. The manager is now retiring and handing over to Markus Jandl, previously Head of Corporate Finance and authorized signatory of Ars Electronica Linz GmbH & Co KG, who together with Gerfried Stocker, Artistic Director, will now set Ars Electronica's roadmap for the coming years.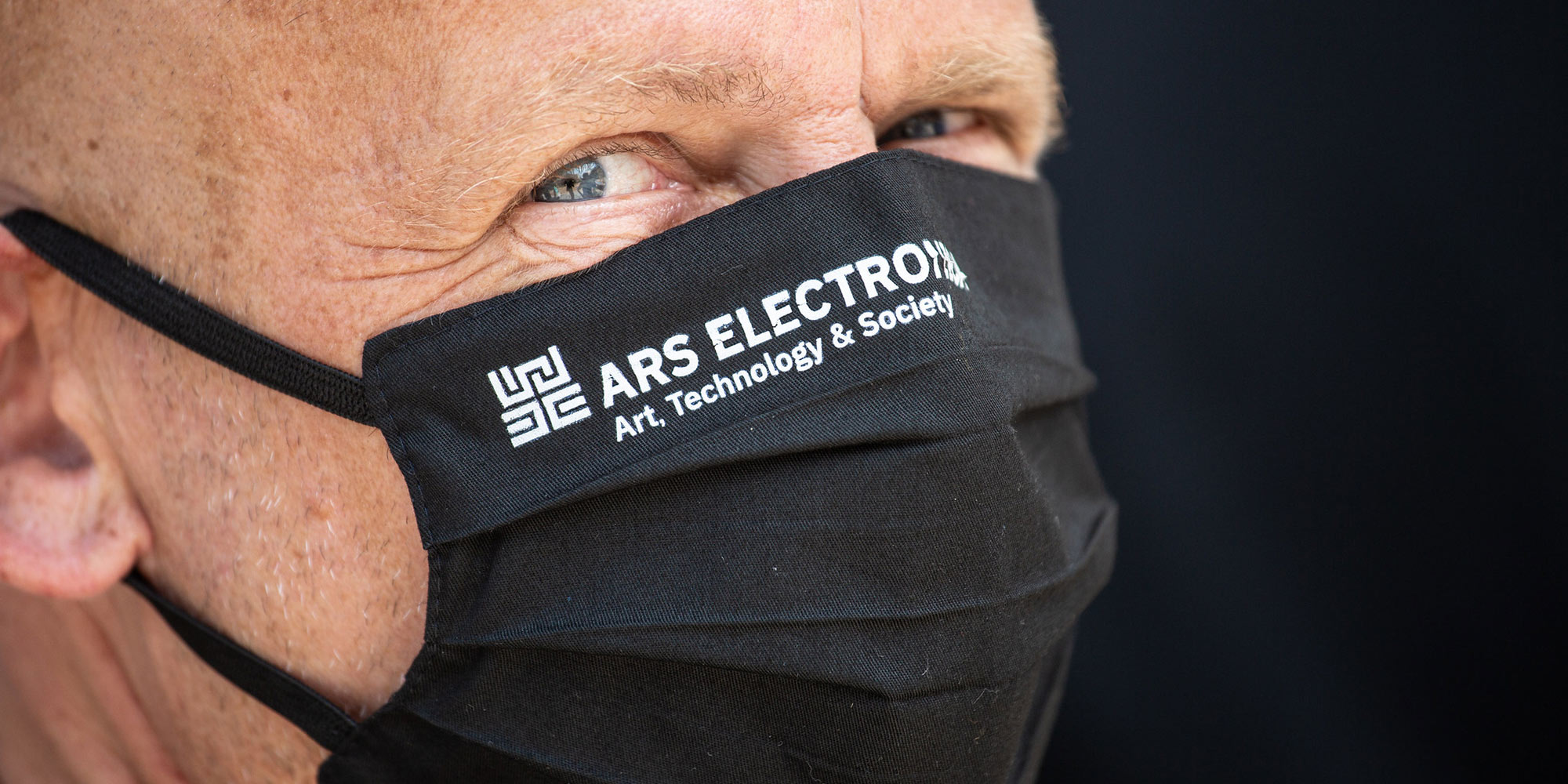 September 2020
The weather couldn't be better, the number of cases of Covid-19 in Austria is still in the relatively low range, and the table is set: the Ars Electronica Festival 2020, Kepler's Gardens, sets out on a journey around the world from September 9 to 13. On the program is nothing less than a survey of the "new" world, revolving around social, ecological, technological and political visions for our lives after – or with – Corona.
https://www.youtube.com/watch?v=iX3X55jL3S8
Normally, a few days before the Ars Electronica Festival, you notice that Linz, the UNESCO City of Media Arts, is really filling up with international guests. Unfortunately, due to the worldwide pandemic and drastically limited travel options, that's not the case this time. However, we have borrowed 120 baroque chairs from St. Florian Abbey to symbolically thank the more than 120 worldwide partners and guests who unfortunately can't be with us this year, but are there nonetheless!
"We deliberately oriented ourselves not to the maximum possible, but to the minimum possible."
With numerous hygienic precautions, mandatory ticket reservations to enable contact tracing for the authorities in case of need, strictly limited access and events largely taking place outdoors, we did manage to attract, if not the international, but above all the local audience to the Ars Electronica Festival-especially to Kepler's Garden on the JKU campus. The security concept works, and the associated requirements meet with understanding and acceptance on the part of the audience.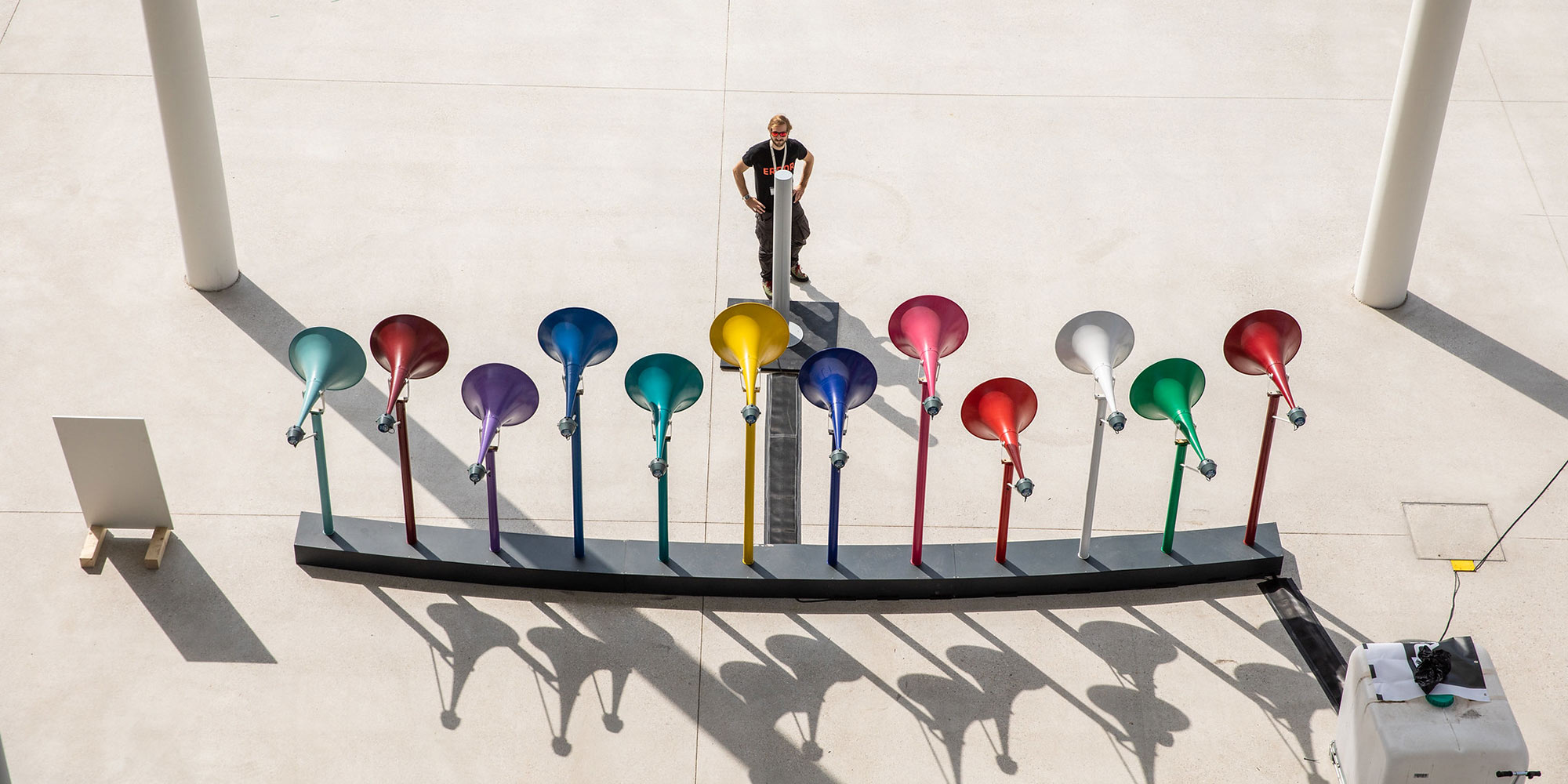 "The very move of the festival from the Post City to the campus is an experiment. Corona has made it a gamble that makes enormous demands on all the players. The alternative would have been to capitulate to the virus. Even more so at a time when technology has taken on an almost overboarding significance, society is wounded and unsettled, and art is existentially shaken. Right now it is the order of the day to survey the new world. Let's set out to find the polymaths of our time. The Kepler Gardens should become magnets for this!"
The green "Kepler's Garden" on the JKU campus in Linz is a real invitation to stroll around in pleasant late summer temperatures. No matter where you turn here, the paths are lined with artistic works and scientific research projects. In the middle of it all, among old oaks, birches and beeches, is the "Garden of Talents" of "create your world," where everything revolves around young visions for our future.
The recently completed Kepler Hall is home to the "STARTS Exhibition", the "Garden Exhibition" is presented around the large pond, and the projects of the Linz Institute of Technology (LIT) are presented in the modern buildings next door.
"Ars Electronica was able to accompany the development of the projects. Projects in which it was perhaps not yet common practice to collaborate across disciplines. The development process was an approach with diverse, fantastic results."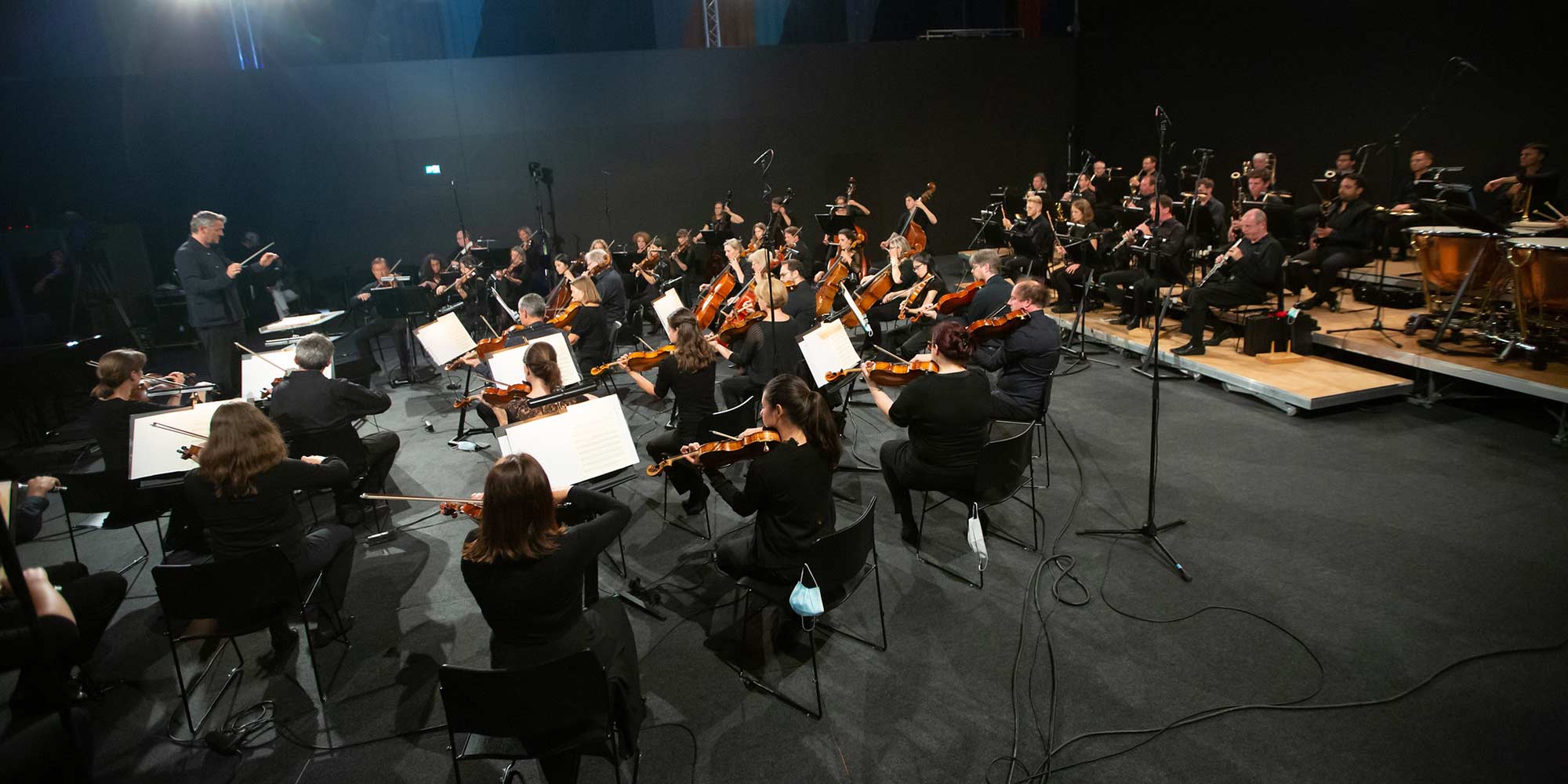 At the new location and in a different form due to Corona, familiar formats of the Ars Electronica Festival can be found again: The Big Concert Night with Markus Poschner and his Bruckner Orchestra will be performed here as well as piano concerts by Maki Namekawa and Dennis Russell Davies, accompanied by visualizations by the artist Cori O'Lan.
They are joined by new ensembles, such as Yishu Jiang, Daniela Mülleder and Ali Nikrang, who juxtapose music composed by artificial intelligence with music created by humans – a focus of the AIxMusic festival, also taking place here at the same time.
This year, despite difficult circumstances, the OK in the OÖ Kulturquartier is once again taking part – in the CyberArts exhibition it is showing 27 award-winning projects from the Prix Ars Electronica, which is regarded as an international showcase for digital media art.
We had to do without a joint celebration at the opening and a nightline this time, but at least OK Night 2020 brings the right beat into your own living room this time.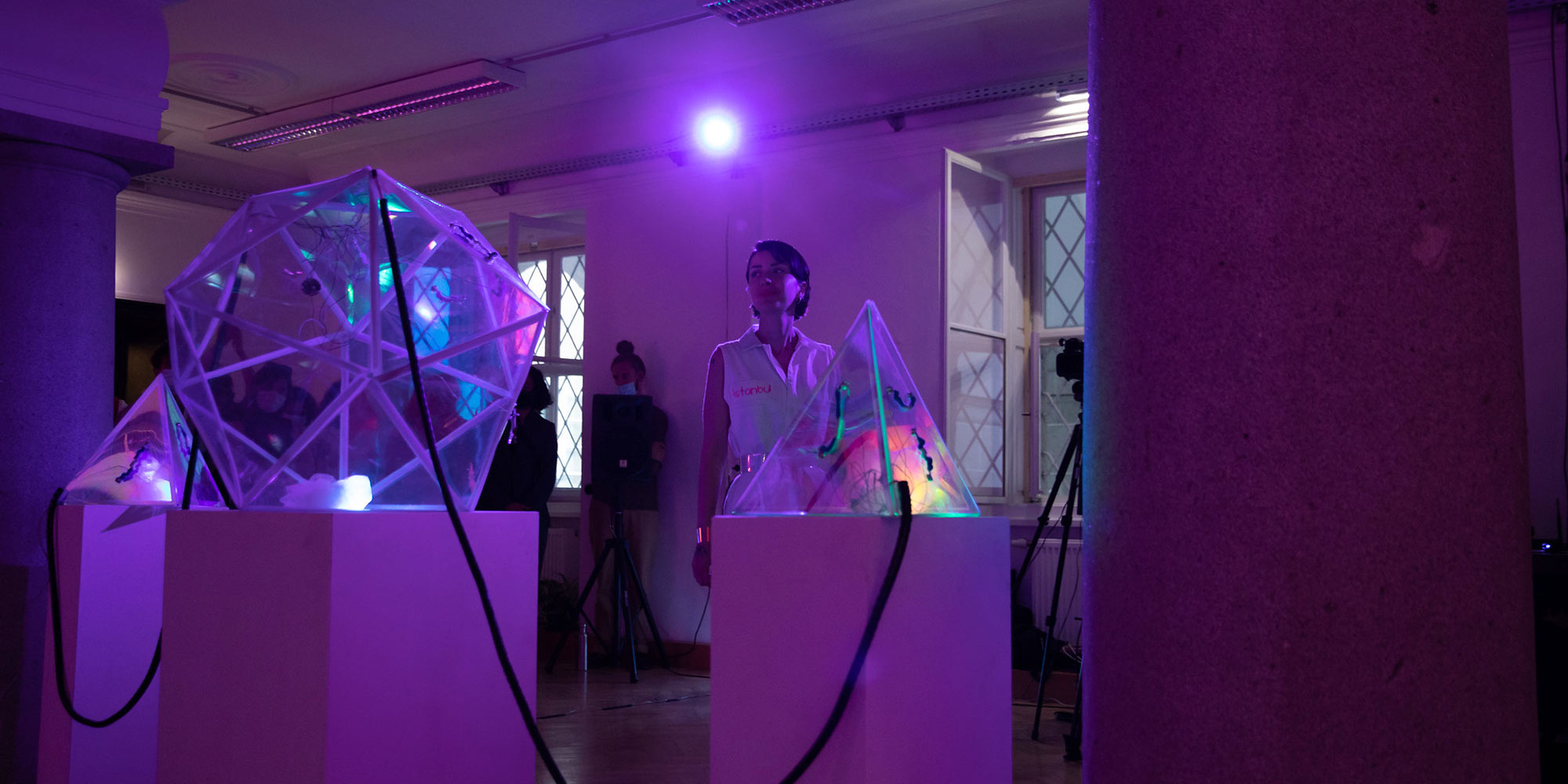 With a so-called "Wilde State", the Linz University of the Arts is launching a forum that is as open and experimental as possible, with a mixture of planned and unplanned events. It is an attempt at wild growth, an attempt to make a festival happen and to create a festival feeling.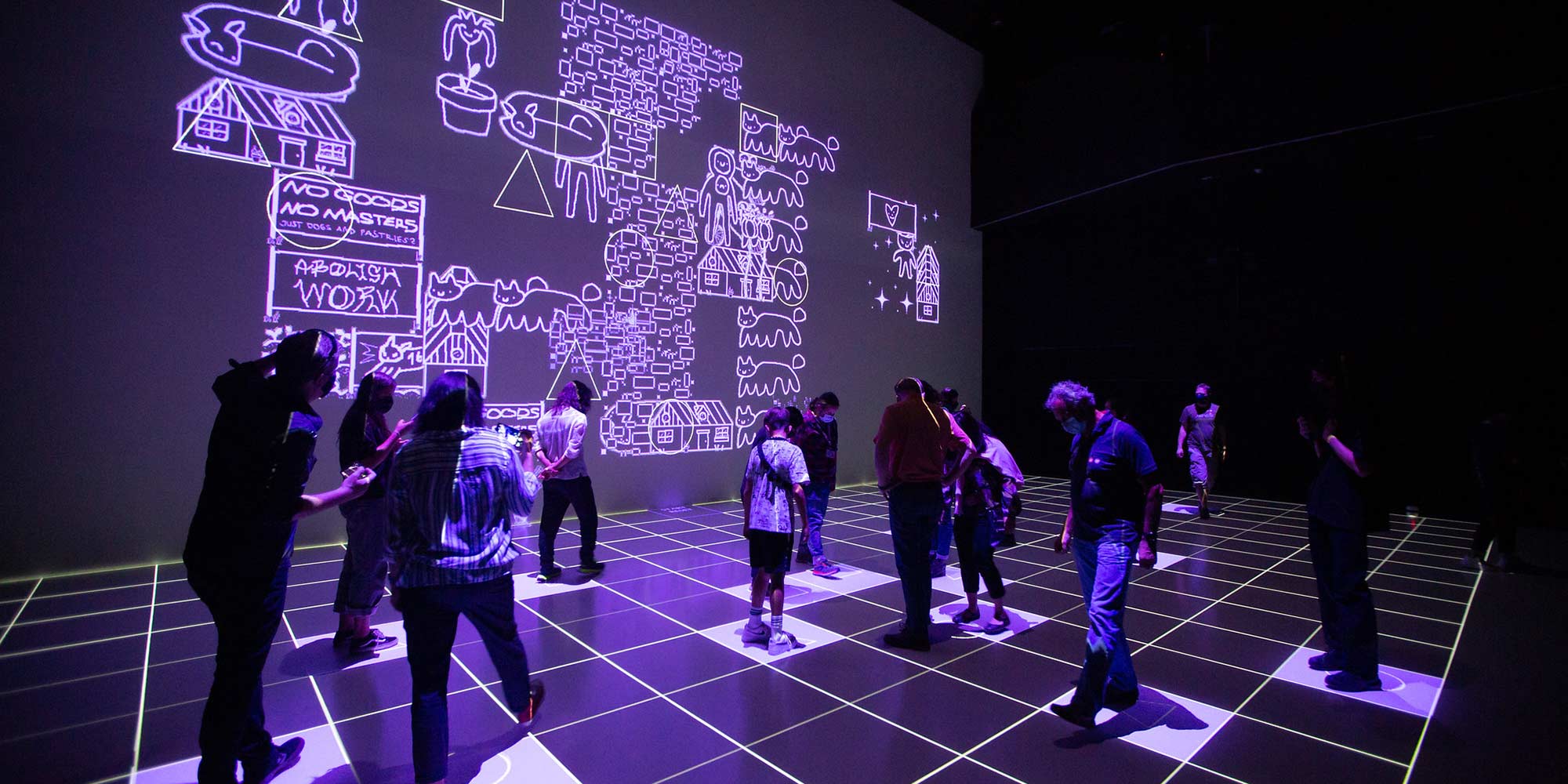 The Ars Electronica Center is another central venue for the festival. With razor-sharp glimpses of Klimt's work via the Ars Electronica Animation Festival to visualized concerts the Deep Space 8K program is truly something to behold.
The Ars Electronica Futurelab is using the attention of festival visitors to show its latest production in Deep Space 8K-a virtual interactive 3D tour of Vienna's St. Stephen's Cathedral composed of 21 billion laser dots. In addition, the "Open Futurelab" invites visitors to tour the otherwise closed research lab.
This is where drone technology meets creative genius: a discussion with Nobutaka Ide, CEO of pen and tablet manufacturer Wacom Co., and Horst Hörtner, director of the Ars Electroncia Futurelab, will feature the "Future Ink" project.
But that is by far not all. These were just excerpts from the Ars Electronica Festival in Linz. For the first time since 1979, the media art festival is taking place not only in Linz – international artists, scientists, developers and activists are inviting visitors to explore our future. From Silicon Valley to Auckland, from Bergen to Johannesburg, in metropolises like L.A., London, Berlin, Moscow, Hong Kong, Seoul and Tokyo, on a research ship in Antarctica or at the bottom of the Adriatic Sea – in the midst of the Corona pandemic, the festival presents itself as internationally as never before. Hundreds of exhibitions, lectures, performances, concerts, talks, journeys and workshops are on offer and are aimed first and foremost at the respective local audience – "Stay Home, Stay Safe" is a central concern of this year's Ars Electronica. (see also travel tips 1 und travel tips 2, sowie Australia & Newseeland, Asia, Europe 1 und Europe 2, Africa & Middle East, North America, South America und Gallery Spaces Garden.
Via streams, chats, blogs, social media and Mozilla Hubs, we'll finally link all of this into an online festival that can be visited worldwide for five days and beyond. Included will be live entrances and videos designed specifically for the online audience – on four channels running in parallel. But many of the local activities at the individual Ars Electronica Gardens will also be streamed simultaneously to the Web-without a technical glitch worth mentioning. If you wanted to consume all the offerings on these five days in a row, you'd have to sit in front of the screen for 82 days without sleep.
With its numerous talks and lectures, the online festival brings with it a great deal to talk about. The Prix Forums are devoted to the categories "Computer Animation", "Digital Communities" and "Interactive Art +". Unfortunately, and this is particularly unfortunate, many winners of the Prix Ars Electronica, as well as the STARTS Prize, will not be able to receive their trophies in person this time. The awards ceremony will also take place online – and for the first time in the history of the Media Art Prize, there won't be a large group photo together.
https://www.youtube.com/watch?v=tlDHfH9RhSA
Creative Question Challenge: Anouk Wipprecht
https://www.youtube.com/watch?v=eMgiw-eUU3g
Creative Question Challenge: Autonomy – Democracy
Since the Future Innovators Summit cannot be held this year either, we are trying out a new discussion format together with Hakuhodo – the "Creative Question Challenge": two speakers, a moderator and a graphic designer go in search of a creative question within 30 minutes.
https://www.youtube.com/watch?v=BpK-oWUzlxE
Even a festival film documentary and its own festival review on the Ars Electronica Blog can't grasp the dimension of this event. The best thing to do is to click through the website https://ars.electronica.art/keplersgardens, search for topics you find interesting yourself, or browse the YouTube channel https://www.youtube.com/arselectronica. The festival is absolutely exceptional in every way and has left enormous international buzz.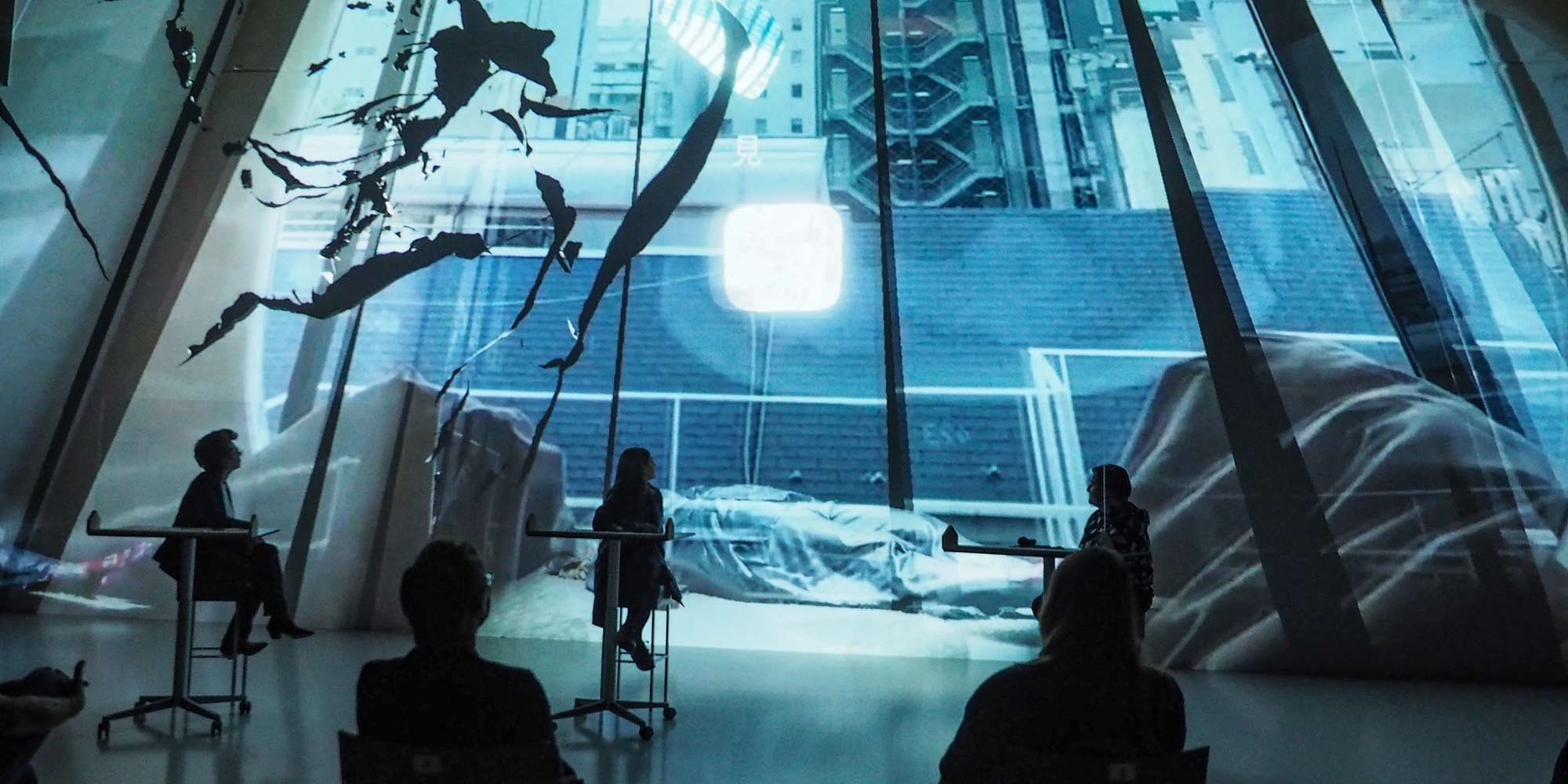 October 2020
"Normality" has us back, or at least there's talk of it for a short while. On weekends, the Ars Electronica Center can once again be visited without pre-registration; mouth-nose protection is mandatory. We don't yet know anything about the rising Corona numbers in Austria and the Lockdown 2.0 that will take effect at the beginning of November.
The Viennese artist Rebecca Merlic is being honored with the "Marianne.von.Willemer Prize for Digital Media" by the city of Linz for her work "TheCityAsAHouse". During her two-month stay in Tokyo, she collected a wide variety of data, scans and images, and bound them together to create a "visual novel".
"The playing field of art-science-technology allows us to question assumptions, ask questions, and think about possibilities."
Many partner institutions are launching their Open Calls for residencies. The European ARTificial Intelligence Lab, for example, is looking for artists who are concerned with artificial intelligence and would like to collaborate with the Ars Electronica Futurelab and the SETI Institute (Search for Extraterrestrial Intelligence). The ArtCollection Deutsche Telekom offers interested parties a three-year Artists-in-Residency program. ESERO Austria, the education office of the European Space Agency ESA, is once again inviting children and young people to take part in international and local competitions such as Mission X or CanSat. With the new school year, students in Austria once again have the opportunity to submit entries in the "u19 – create your world" category of the Prix Ars Electronica.
In the meantime, things are getting spectacular around the Ars Electronica Center. With clouds of fog, blue lights, spotlights, camera drones, live streams from the cockpits and a pulsating LED façade, Ars Electronica Solutions is staging the launch event of a new fire engine on behalf of Rosenbauer.
In addition, Ars Electronica Solutions realized an anniversary exhibition in Vienna with interactive installations for the 100th anniversary of the service provider Austrian Standards.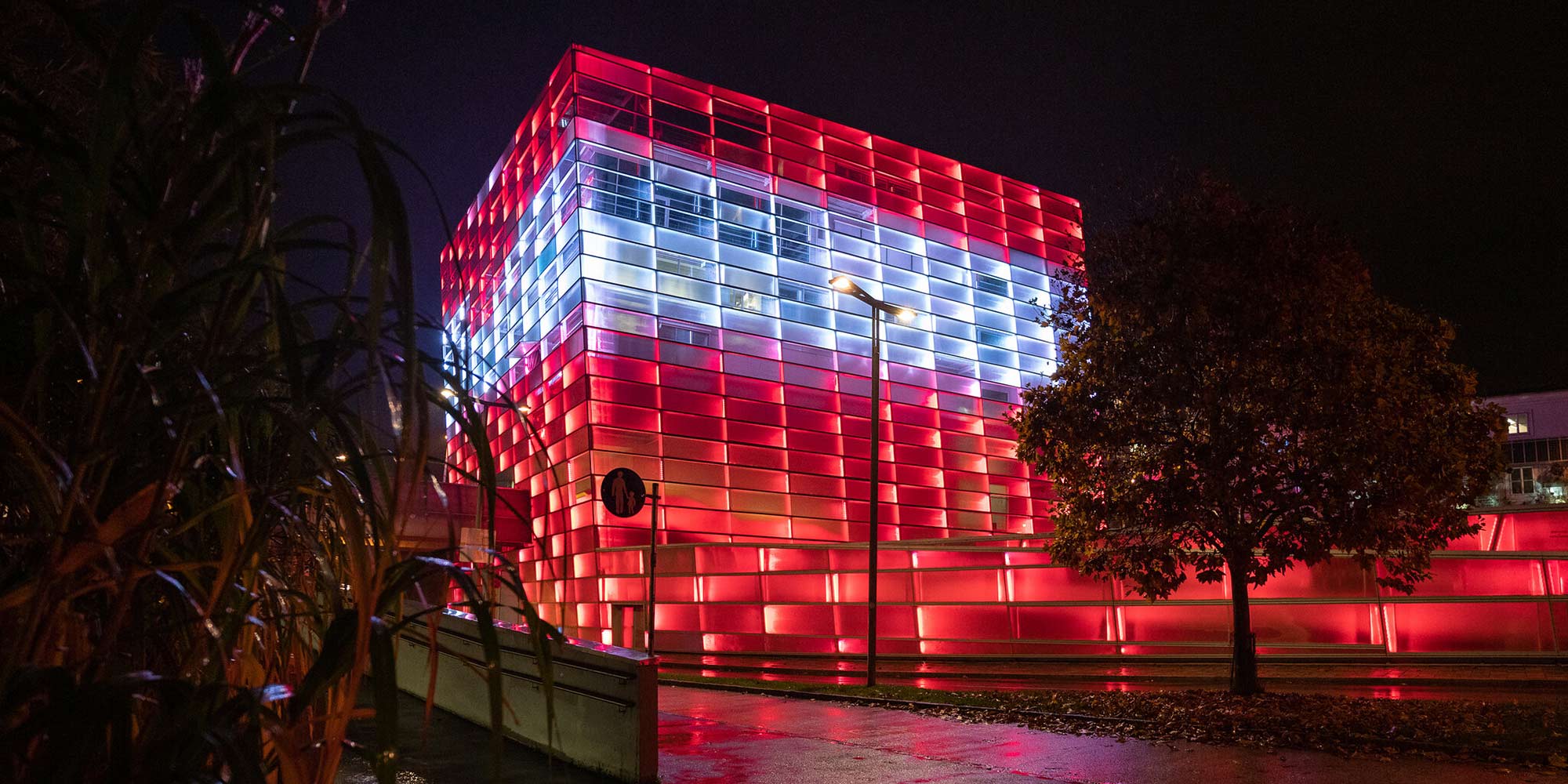 November 2020
A terrorist attack in the middle of Vienna, shortly before the next pandemic lockdown, in one of the darkest and coldest seasons of the year, shocks the entire country. State mourning and minutes of silence, educational and cultural institutions close – once again, society goes silent. Once again it is necessary to press the pause button.
Ars Electronica Home Delivery continues to deliver to your home. We devote ourselves to artists from another era and look at their works of art in detail: from the altar of the "Master of Lake Mondsee" to the "Tower of Babel" by Pieter Bruegel the Elder and Gustav Klimt's "The Kiss.
Music is also something that moves us these days. Pianist Suyang Kim and cellist Barbara Körber perform "4 Cities" by Turkish composer Fazil Say. Ars Electronica Futurelab artist and key researcher Ali Nikrang, on the other hand, is exploring artificial intelligence and music and presenting Ricercar, an AI-based music composition system.
"The future of AI-based music composition lies in collaboration with humans, because there can be no art without human participation."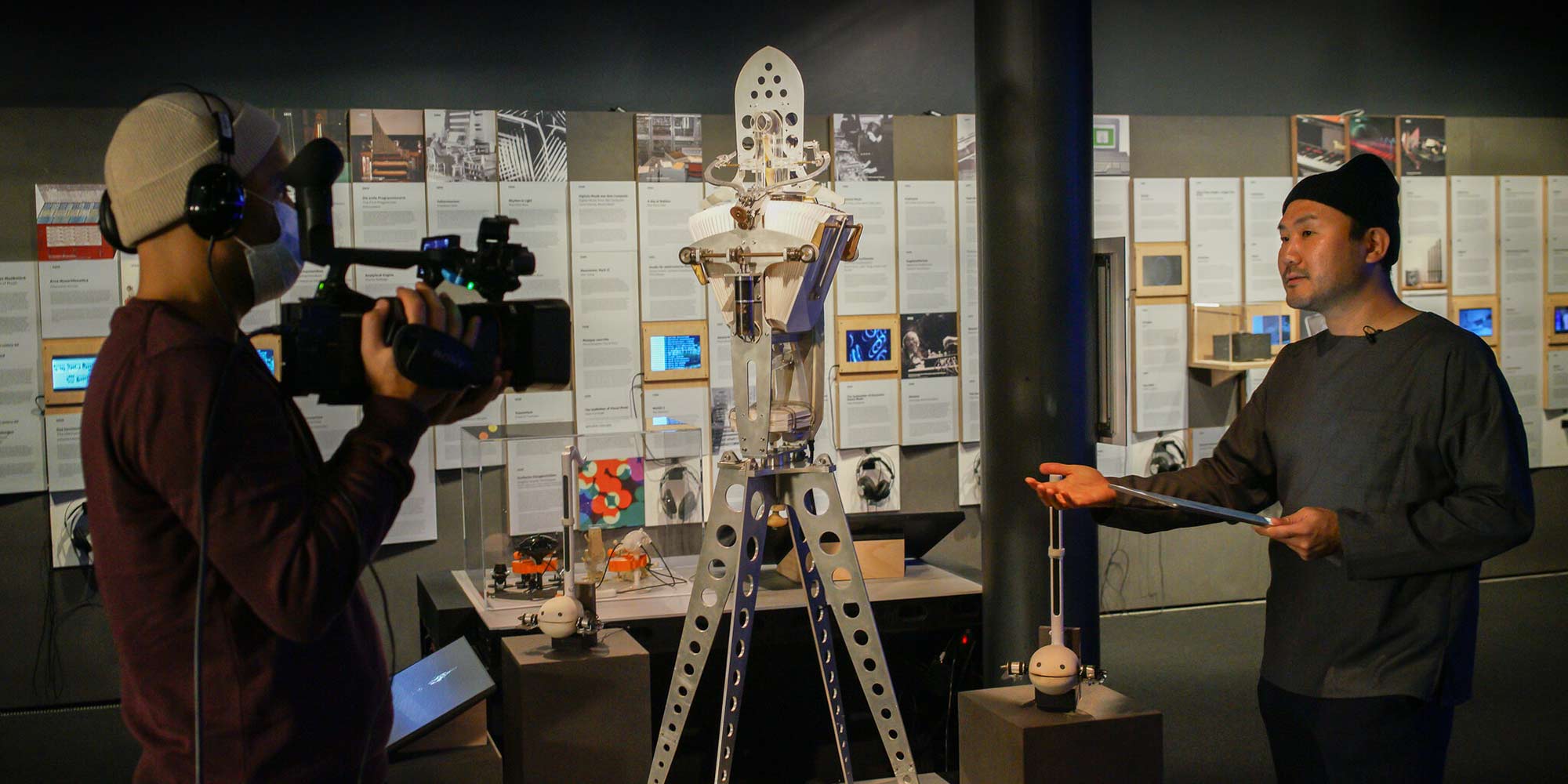 Hideaki Ogawa of the Ars Electronica Futurelab, on the other hand, invites students from Keio University SFC Japan in particular to attend a multi-part lecture from the Ars Electronica Center. The topic: "Artistic Journalism" – artistic perspectives and approaches that can help journalists deal with complex subject matter.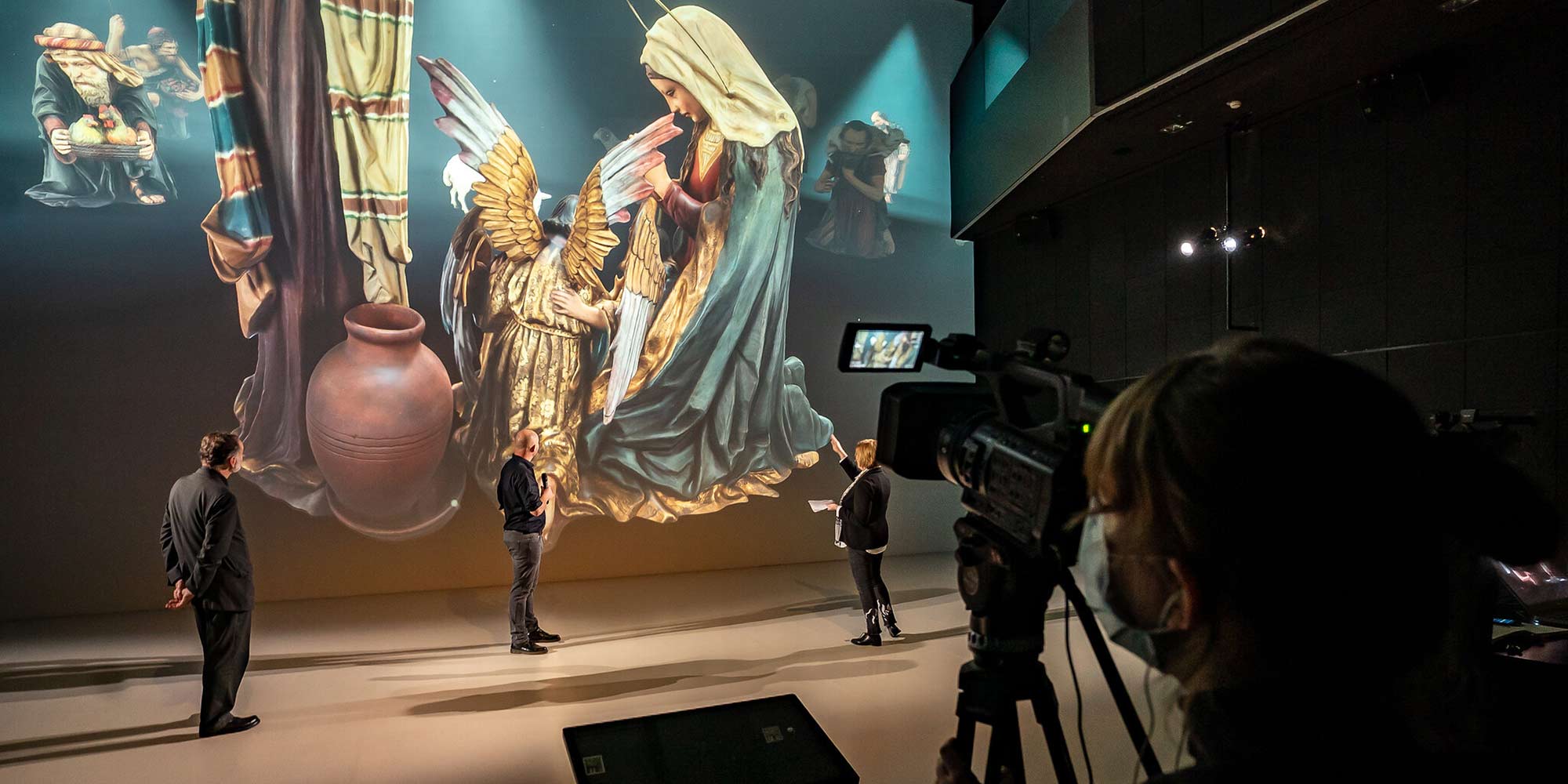 December 2020
The Ars Electronica Center is still closed – after the second and shortly before the third lockdown in Austria, it opens for two days. Plannability looks very different in times of a pandemic.
During this time, visitors will only be granted access to Deep Space 8K on a few occasions, including individual presentations of the virtual Nativity scene from Linz's St. Mary's Cathedral. The Ars Electronica Futurelab has scanned the historic and carefully restored nativity figures by Munich sculptor Sebastian Osterrieder and restaged them as an interactive and audiovisual experience.
Ars Electronica Home Delivery continues its program and introduces local artists and committed people in the series "At Home with…". One of them is photographer Florian Voggenender, who, in the course of the AMADEE-18 Mars simulation, was able to experience self-isolation and a life of seclusion as a crew member in the desert for a month before Covid-19.
Music and visuals accompany the audience through Lockdown 2. Wolfgang Fadi Dorninger makes people sit up and take notice with "Node.Linz" in Deep Space 8K. The pianists Maki Namekawa and Dennis Russell Davies skillfully take over the closing of a very turbulent year in Lockdown 3.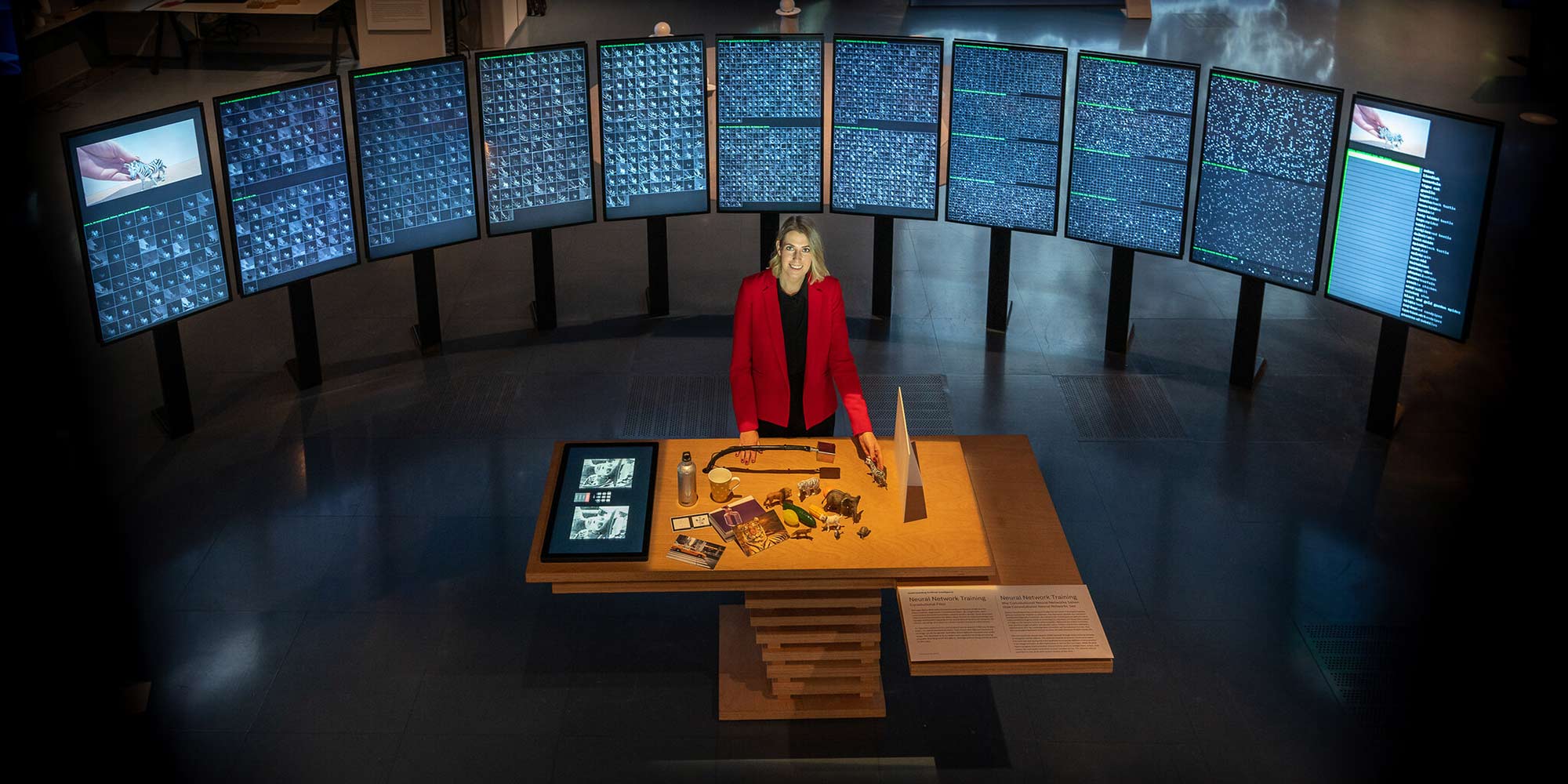 The future we want, we have to invent. That's not just a reference to the saying by German artist Joseph Beuys; it's also the motto of the newly created Ars Electronica Future Thinking School-a workshop offered by Ars Electronica and its experts to employees of companies that who want to gain a feel for change, recognize connections, develop new strategies and set a course in times of increasing digitization.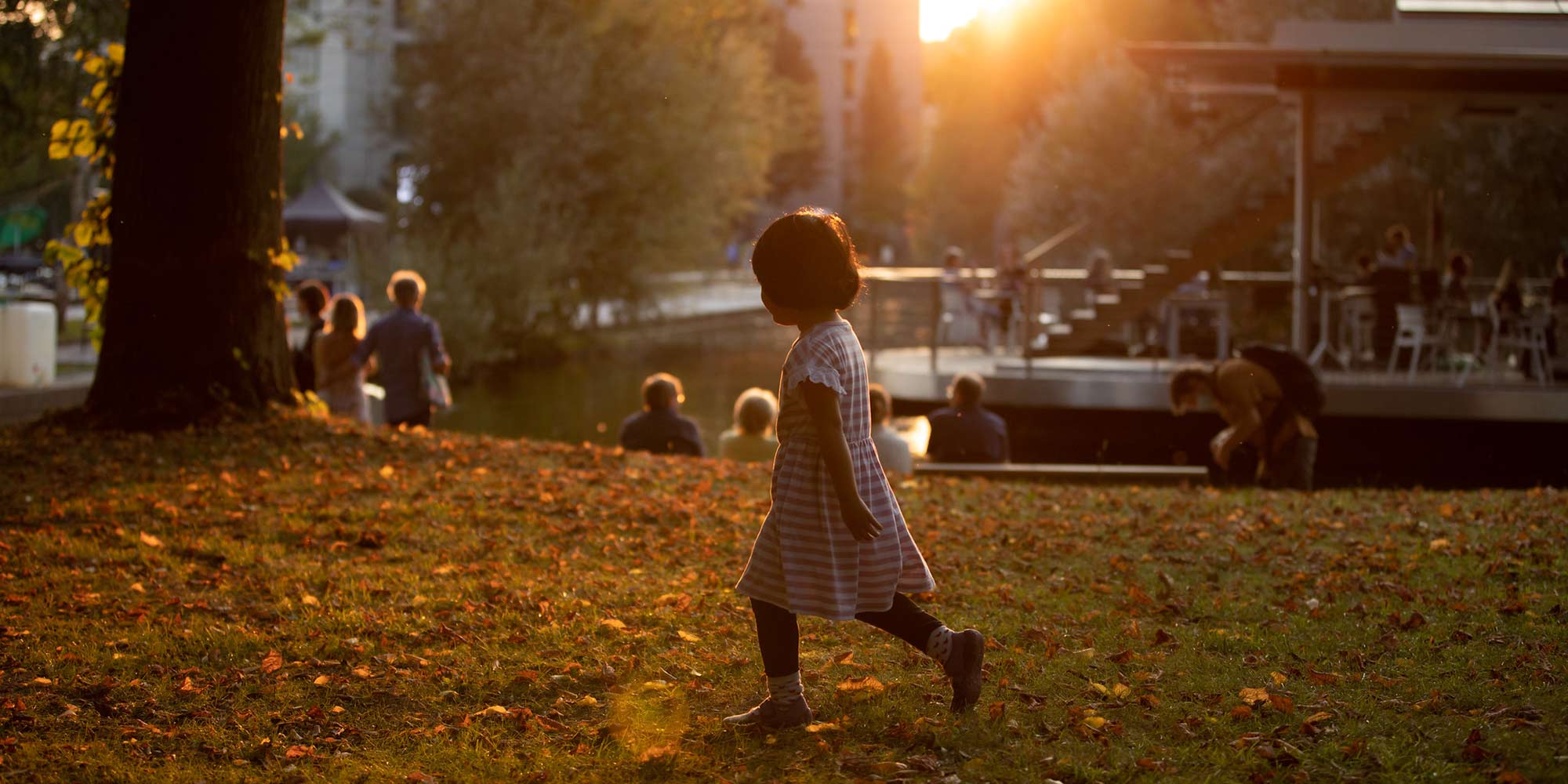 Outlook 2021
The crisis is far from over, and the New Year will not be a reset that miraculously catapults us back to a time before this pandemic. Ars Electronica is in the midst of a profound transformation. Ars Electronica is becoming hybrid.
"Ars Electronica Home Delivery", the "Ars Electronica Future Thinking School", the "Creative Question Challenge", the "Ars Electronica Gardens" – all of these are initial, promising results of this development, for which we're receiving great feedback from the respective communities and numerous inquiries from potential partners and supporters.
We won't let that stop us from approaching new and unknown things with every ounce of enthusiasm and inventiveness. We're launching new projects with the creativity and passion typical of Ars Electronica, projects that are intended to help make our future better than the present.
Mark your calendars now! In mid-January 2021, we'll once again be launching the Open Calls for the Prix Ars Electronica and the STARTS Prize – and we'll be bringing along some new special prizes. Come well into the New Year and, like us, look optimistically ahead!