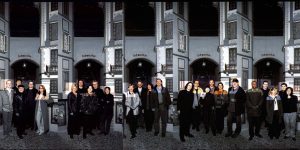 .NET
Brian Blau (US)
recently joined Silicon Graphics as the Graphics API Evangelist for Fahrenheit and OpenGL API's. Before joining SGI Brian was co-founder and Vice President at Intervista Software, an Internet startup building VRML and 3D web technologies and products. There he served in many roles, including software developer and manager of day-today engineering operations. Brian also worked at Autodesk Multimedia and the Institute for Simulation and Training, where he worked on desktop visual simulation systems and networked virtual realities. Brian also actively volunteers for SIGGRAPH. ln 1996 he co-produced the acclaimed Digital Bayou interactive exhibition and produced the 1999 Computer Animation Festival and Electronic Theater.
Claudia Giannetti (ES)
Claudia Gian netti (ES) studied art history, specializing in media art. Since 1993 cofounder and director of the L'Angelot Association for Contemporary Culture in Barcelona, the first space in Spain specialized in Electronic Art, and since 1998 Director of MECAD-Media Centre of Art and Design and Director of Electronic Art and Digital Design at ESDI-Escuela Superior de Disefio, Sabadell-Barcelona, Spain. Writer and curator of several cultural events and media art exhibitions in different countries. She edited, among others, the books Media Culture (1995), Art in the Electronic Age – Perspectives of a New Aesthetic (1997), ARS TELEMATICA – Telecommunication, Internet and Cyberspace (1998), Arte Facta & Ciencia (1999). She is director of the editorial board of the online magazine about art, science and technology "MECAD e-journal" (http://www.mecad.org/e-journal).
Lisa Goldman (US)
is a consultant who works at the intersections of cutting-edge technology, media, and culture. From 1995-2000, she was President and CEO of Construct, www.construct.net. an internet design company known for experimental web development. Lynn Hershman and Construct were awarded a Golden Nica in Interactive Art in 1999 for The Difference Engine. Prior to cofounding Construct, Lisa was the Director of the Interactive Media Festival in Los Angeles. This international competition and exhibition reflected the range of creative accomplishment going on in the emerging digital society in 1994 and 1995. Lisa serves on the boards of the Russian American Foundation and the Art Technology Foundation. She holds a degree in Fine Arts from Rice University, and also studied at the Universite de Paris IV, Sorbonne.
John Markoff (US)
is based in San Francisco as West Coast Correspondent for the New York Times where he covers Silicon Valley, computers and information technologies. Before coming to the Times in 1988 he covered Silicon Valley for the San Francisco Examiner beginning in 1985. He has also been a writer at Infoworld and in 1984 he was West Coast Technical editor for Byte Magazine. He is the coauthor with Katie Hafner of Cyberpunk: Outlaws and Hackers on the Computer Frontier (1991) and with Lenny Siegel of the The High Cost of High Tech (1985). In January of 1996 Hyperion published Takedown: The Pursuit and Capture of America's Most Wanted Computer Outlaw, which he co-authored with Tsutomu Shimomura. He was named as one of Upside Magazine's Digital Elite 100 in both 1996 and 1997.
Joichi Ito (JP/US)
developer and producer in the areas of virtual reality and multimedia. Japan correspondent for Mondo 200, Wired and others. Numerous publications, particularly on networks.
INTERACTIVE ART
Masaki Fujihata (JP)
Masaki Fujihata, born 1956; BA in 1979 and MA in 1981 at Tokyo University of Arts / design course; 1982-1990 business career, board member of Japan Animation Film Association, since 1987 member of ASIFA, since 1990 Associate Professor, Faculty of Environmental Information at Keio University. Since 1999 Pro­fessor at National University of Fine Art and Music, Inter Media Art course. Masaki Fujihata was awarded among others a Golden Nica by the Prix Ars Electronica jury for his entry Global lnterior Project in the category of Interactive Art (1996).
Peter Higgins (GB)
trained at the Architectural Association, and worked as a scenographic designer in West End theatre and for BBC TV. In 1992 he was co-founder of Land Design Studio who are interpretive designers working with lottery based projects and museums throughout the UK. Most recently they have been responsible for The Playzone at The Millennium Dome London, which publicly demonstrates the extraordinary potential of Interactive digital art.
Joachim Sauter (DE)
born 1959, MA in communication design at the University of the Arts, Berlin, further studies at the German Academy for Film and Television, Berlin. He has been using computers from the early stages of his work as a designer and filmmaker. Fueled by his interest, he founded Art+Com, an independent design and research group in 1988 together with other designers, scientists and technicians. Today he is head of Art+Com eV. He has been awarded a Distinction in the Prix Ars Electronica 92 and 97 (Interactive Art), as well as the Los Angeles Interactive Media Festival Impact Award in 1995 and the Prix Pixel INA in 1997.
Yukiko Shikata (JP)
Self-educated in art, media and theory, working as independent curator and critic of media and contemporary art since late 80s. Since 1990, as co-curator of Canon ARTLAB, she has produced many media art works, which were shown also in Europe and the U.S. Other works include the curator of Shiseido CyGnet, Sound Garden (Christian Möller, Spiral, Tokyo 1997), Power of Codes (Mischa Kubali, Tokyo National Museum, 1999), etc.
Jon Snoddy (US)
is the S.V.P. of Design for GameWorks and CEO of MyTelescope.­com. In 1993, Snoddy founded the Walt Disney Virtual Reality Studio. He also led the conceptual development and design of the ride system for the Indiana Jones attraction. Prior to joining Disney, Snoddy was with Lucasfilm's THX division where he was instrumental in transitioning the THX sound system from an industry studio mix product to a worldwide consumer product. He began his carrier as a technical director working for Mational Public Radio in Washington with the program "All Things Considered." Snoddy has degrees in journalism and electronics from the University of South Carolina and holds several design patents.
COMPUTER ANIMATION / VISUAL EFFECTS
Mark Dippé (US)
has worked in feature film for many years, specializing in digital filmmaking. He was a visual effects director on several films such as Abyss, Terminator 2, and Jurassie Park and was the director of Spawn. He was the recipient of the Prix Ars Electronica for Terminator 2 and Jurassie Park and was a past member of the Ars Electronica Jury in 1991.
James Duesing (US)
is an Associate Professor at Carnegie Mellon University. His concentration is in computer animation. His work has been exhibited widely, in hundreds of international festivals and exhibitions and nationally televised in the United States, through out Europe, Asia and Australia. His work has received much recognition including: Grants from the National Endowment for the Arts, an American Film Institute Fellowship, an Emmy Award, the Deutscher Videokunstpreis, and a CINE Golden Eagle. His work is held in numerous public collections including: the Museum of Modern Art, New York; the Goethe Memorial Museum, Tokyo; the UCLA Film Archive, and the Israel Museum.
Ines Hardtke (CA)
is Head of Digital Imaging in the ACI east and Animation/Jeunesse Studios at the National Film Board of Canada in Montreal. She obtained a M.Math (Computer Science – Computer Graphics Lab) from the University o fWaterloo in Waterloo, Ontario. She has been Computer Animation Festival Chair at SIGGRAPH 98.
Yukiko Shikata (JP)
Self-educated in art, media and theory, working as independent curator and critic of media and contemporary art since late 80s. Since 1990, as co-curator of Canon ARTLAB, she has produced many media art works, which were shown also in Europe and the U.S. Other works include the curator of Shiseido CyGnet, Sound Garden (Christian Möller, Spiral, Tokyo 1997), Power of Codes (Mischa Kubali, Tokyo National Museum, 1999), etc.
Barbara Robertson (US)
has been the West Coast Senior Editor for Computer Graphics World since 1985 and in that capacity has written many award-winning articles on computer animation, visual effects, and graphics technology as she watched the evolution of computer graphics art and technology. Prior to this work, she was the Editor and Researcher for the Whole Earth Software Catalog, West Coast Bureau Chief for Popular Computing, and West Coast Editor for Byte Magazine.
DIGITAL MUSICS
Kodwo Eshun (GB)
At 17, Kodwo Eshun won an Open Scholarship to read Law at University College, Oxford. After 8 days he switched to Literary Theory, magazine journalism and running clubs. He is not a cultural critic or cultural commentator so much as a concept engineer, an imaginist at the millennium's end writing on electronic music, science fiction, technoculture, architecture, design, post war movies and post war art for I-D, The Wire, The Face, Arena, Süddeutsche Zeitung, Die Zeit, Melody Maker, The Times and The Guardian. He has published in The Celluloid Jukebox, the British Film Institute's critical anthology on the soundtrack and is the youngest writer in Jon Savage and Hanif Kureishi's The Faber Book of Pop. </dd
Naut Humon (US)
conducts, curates and performs his and outside works for Sound Traffic Control, an omniphonic orchestral "dub dashboard" network which remorphs sonic spatial objects from live instrumentalists, audio sculptures, and multiple DJ/VJ configurations for the RECOMBINANT diffusion jockey summits. He also operates as producer and creative director of the Asphodel/Sombient labels from San Francisco to New York.
Zeena Parkins (US)
studied dance, classical piano and harp, graduating from Bard College with a degree in Fine Arts. Arriving in New York City in 1984, she worked with and recorded in John Zorn's "Cobra" and Butch Morris' "Conduction ensemble". She joined "Skeleton Crew" with Tom Cora and Fred Frith with whom she made the record The Country of Blinds and toured extensively in Europe, the States, Iceland, and Japan. The duo OWT with David Linton and the quintet NO SAFETY with Chris Cochrane were both projects that she co-founded, toured and recorded with. From 1986 to the present, Zeena Parkins has written numerous scores for dance, theater, film and video, receiving commissions from Jennifer Monson, Neil Greenberg, Cydney Wilkes, Ana Maria Simo, The Kitchen, Performance Space 122, and Roulette.
Robin Rimbaud (GB)
With his work as Scanner, Robin Rimbaud implicates himself in processes of surveillance, engendering access to both technology and language and the power games of voyeurism. Dubbed a "telephone terrorist", Rimbaud is a techno-data pirate whose scavenging of the electronic communications highways provides the raw materials for his aural collages of electronic music and 'found' conversations. Musician, writer, media critic, cultural engineer, and host of the month ly digital club the Electronic Lounge at the ICA since 1994, he is currently at work on a variety of projects. Scanner – A fearless exponent of ambient electronic soundscapes, Scanner is widely recognised as one of the most exciting artist-producers working in instrumental music. His compositions are absorbing, multilayered soundscapes that twist state-of-the-art technology in gloriously unconventional ways. He has collaborated and spoken at conferences with Brian LasweIl, Brian Eno, Peter Gabriel, Björk, Derek Jarman and Neville Brot.
Peter Rehberg aka Pita (AT)
DJing at various locations in Viennese underground for almost a decade. Started the use of Pita moniker in early nineties as DJ playing ambient/experimental sounds in so called chill out rooms. Although vastly interested in DJ culture prefers to bring in the non dance elements he learned at school (if the sound fits the hole let it live). His period of social activity bore the fruits which led to the setting up of the Mego label, and the serious start to recording own music.
U19 / CYBERGENERATION
Sirikit M. Amann (AT)
studied political science, theater arts and economics in Austria, Germany and the USA. Since 1987 she has worked for the ÖKS-Austrian Culture Service-where she is responsible for the concept development and implementation of multimedia projects in schools. Austrian Culture Service school projects: 1994 "Computer and Games" and 1995 "Speed" (both at the Ars Electronica Festival).
Norman Filz (AT)
has worked for seven years for Austria's biggest youth and music magazine, the RENNBAHN EXPRESS, as a film journalist and is also head of the counseling section for young people there. In addition, Filz works as a musician and freelance writer; his most recent publication was a book of advice about love for young people.
Florian Hecker (AT)
is an independent composer in the fields of computer music and digital production. Involved in various sonic projects simultaneously, such as recording for labels like Mego and Or, his current activities also include audio publishing and interconnection in new formats, e.g. mp3 via the fals.ch web project, cd_slopper, and visual abstraction with SKOT.
Horst Hörtner (AT)
studied telematics at the technical University of Graz and worked as a freelance developer of realtime control systems as well as working for art projects. Co-founder of the group "x-space". He has worked for EXPO Sevilla, documenta IX, austromir, etc. Since 1995 he is technical director of the Ars Electronica Center in Linz and director of the AEC Futurelab.
Hans Wu (AT)
born 1969 in Vienna. ORF employee and freelance journalist since 1991. Writes about computer games, new media, youth culture, cyber culture etc. Responsible for electronic music and new media at FM4 since 1994·