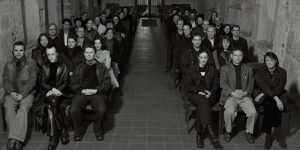 U19
Sirikit M. Amann (AT)
studied political science, theater arts and economics in Austria, Germany and the USA. Since 1987 she has worked for the ÖKS – Austrian Culture Service – where she is responsible for the concept development and implementation of multimedia projects in schools. Austrian Culture Service school projects: 1994 "Computer and Games" and 1995 "Speed" (both at the Ars Electronica Festival).
etoy.TAKI
President and founding member of the etoy.CORPORATION. Lives in Zurich and Monza. Since 1995 in the etoy.CORPORATION has initiated and cultivated award winning incubationslike "the digital hijack" and "TOY-WAR.com" and controls subsidary companies liek the etoy.HOLDING. Venture capitalists, leading art collections (the Robert Shiffler Foundation and others), institutional investors and many etoy.FANS have invested in this sophisticated corporate structure that generates and increases cultural value by infecting business, entertainment and the art world.
Florian Hecker (AT)
is an independent composer in the fields of computer music and digital production. Involved in various sonic projects simultaneously, such as recording for labels like Mego and Or, his current activities also include audio publishing and interconnection in new formats, e.g. mp3 via the fals.ch web project, cd_slopper, and visual abstraction with SKOT.
Horst Hörtner (AT)
studied telematics at the technical University of Graz and worked as a freelance developer of realtime control systems as well as working for art projects. Co-founder of the group "x-space". He has worked for EXPO Sevilla, documenta IX, austromir, etc. Since 1995 he is technical director of the Ars Electronica Center in Linz and director of the AEC Futurelab.
Robert Pöcksteiner (AT)
born 1971 in Linz. Studied art history in Innsbruck (did not finish). Started working in the event branche (supervising events in Upper Austria). Has worked for ORF since 1994, ORF Upper Austria events, ORF Upper Austria radio productions (teasers and promotion until 1999). Since 1999 with ORF Vienna TV – "Willkommen Österreich" (audiovisual design, teasers and promotion). In addition, various projects (advertisement award presentation EFFIE 2000).
DIGITAL MUSICS
Ned Bouhalassa (CA)
is a studio composer specializing in acousmatic works. His teachers included Kevin Austin and Francis Dhomont. Attracted by cinema, contemporary visual art and science fiction, he tries in his work to balance form and content, while leaving room for emotion and poetry. Presented in concert and on radio in many countries, his works have won him several national and international prizes. Active in the poromotion of electroacoustic music in Montréal since 1987, he participates in concerts as a composer and host (ÉuCuE, ACREQ), on radio as a host and performer (CKUT-FM, Radio-Canada), in community work (president and editor for the CEC), and in academic duties (teacher at Concordia University, 1991-96). Recently, he has composed music for a varitey of media (cinema, television, internet)
Reinhold Friedl (DE)
Studied piano with Renate Werner, Allan Marks, Alexander von Schlippenbach and others. In Stuttgart and Berlin he studied mathematics and musicology (with C. Dahlhaus, Helga de le Mottè, and others). As an interpreter / performer / composer he has received various scholarhips, including from eurocréation Paris France, the Rome Scholarship (Villa Serpentara) of the Academy of Arts Berlin, a working scholarship for STEIM Amsterdam, and also various composition commissions. Reinhold Friedl also heads a seminar together with Prof. Behrends on "Music and Mathematics" in the specialization field of mathematics at the Free University Berlin. He founded and leads the ensembles Piano-Inside-Out and zeitkratzer. In addition, Friedl works regularly as a curator for the Podewil Berlin and directed the Off-ICMC in Berlin in 2000.
Tony Herrington (UK)
is the Publisher & Editor-in-Chief of the British magazine The Wire, described by the US Forced Exposure organisation as "the most essential music magazine of the contemporary era". He joined the magazine's staff in 1992 as Deputy Editor in 1994, Editor & Publisher in 1996, and Publisher & Editor-in-Chief in 2000. He lives in South London with his partner and daughter.
Naut Humon (US)
is the director of RECOMBINANT MEDIA LABS which incubates or expands international sonic cinematic projects for mobile performance exhibitions. He conducts, curates and artistically contributes to the facility's orchestral "dub dashboard" AV system: Surround Traffic Control. This spatialized media network recombines sound driven optic image configurations for realtime multichannel audio/video arrays. A number of these operations have been produced for his other San Francisco activity on Asphodel Records during the recent years.
Kaffe Matthew (GB)
has been making and performing new musics via all kinds of digital gadgetry all over the world for the past ten years. She is most known for her live sampling performances of events and places in real time: processing in installation, on stage, in galleries, clubs, concert halls, tents, curches, the outback, warehouses, or ambient tea rooms. In her works she is sampling sonic snatches from the venue and around, reprocessing in lines and pulsing slo-tones, playing inside a circle of speakers with the audience. She just released her 4th solo work, "cd dd".
COMPUTER ANIMATION / VISUAL EFFECTS
Paddy Eason (GB)
is Digital Effects Supervisor. The films, for which he has been responsible for visual effects, include Chicken Run , Sleepy Hollow, The Legend of Ocean Pianist, Mission Impossible II and Little Buddha. For the digital effects in the ad Guinness Surfer, he received an Honorary Mention from the Prix Ars Electronica 1999.
Christophe Héry (FR/US)
joined Industrial Light & Magic in 1993 as a senior technical director on The Flintstones. Christophe majored in architecture and electricity at École Supérieure des Travaux Publics, where he received his degree in 1989. While a student in Paris he freelanced as a technical director at BUF, a special effects house, as well as Thomson Digital Images, where he worked on 3D software development in his spare time. After graduation, Christophe took a job as director of research and development at Label 35, a Parisian cartoon studio. Christophe recently completed working as a computer graphics supervisor on Mission to Mars.
Barbara Robertson (US)
has been the West Coast Senior Editor for Computer Graphics World since 1985 and in that capacity has written many award-winning articles on computer animation, visual effects, and graphics technology as she watched the evolution of computer graphics art and technology. Prior to this work, she was the Editor and Researcher for the Whole Earth Software Catalog, West Coast Bureau Chief for Popular Computing, and West Coast Editor for Byte Magazine.
Rick Sayre (US)
joined Pixar Animation Studios in 1987. He developed warping, painting, image processing and shading tools, and served as Technical Director and production software developer as the studio began commercial production. His feature credits include Toy Story, Toy Story 2 and A Bug's Life, for which he was nominated for a British Academy Award. Rick has also been involved extensively in theater and interactive art, and drew from this experience to develop an innovative animation input device, for which he received a SciTech Academy Award. He is currently Supervising Technical Director on Monster's Inc., in production for release in 2001.
Christian Volckman (FR)
is a filmmaker and graduate of the École Supérieure d'Arts Graphiques. He has made two short films and several animation clips, which refect his experience as a painter, graphics artist and photographer. At Prix Ars Electronica 2000 he has been awarded a Golden Nica in the category "Visual Effects" for his film Maaz.
INTERACTIVE ART
Masaki Fujihata (JP)
born 1956; Board member of Japan Animation Film Association, since 1987 Member of ASIFA, since 1990 Associate Professor, Faculty of Environmental Information at Keio University. Since 1998 Professor at Keio University, Faculty of Environmental Information; since 1999 Professor at National University of Fine Art and Music, Inter Media Art course. Masaki Fujihata's awards include a Golden Nica by the Prix Ars Electronica jury for his entry Global lnterior Project in the category Interactive Art (1996).
Ulrike Gabriel (DE)
media artist, has been developing her own software for interactive installations since the early nineties. She has studied and worked at the Institute for New Media in Frankfurt a. M. and at the Art College for Media, Cologne, and others. With her own media lab, Codelab Berlin, she cooperates with the College of Arts , Berlin, the Technical University Eindhoven, and will take part in the artist in residence program of Podewil, Center for Current Arts, Berlin, in 2001. Ulrike Gabriel has taken part in exhibitions in Europe, North America , Australia and East Asia.
Peter Higgins (UK)
trained at the Architectural Association and worked as a scenographic designer in West End theatre and for BBC TV. In 1992 he was co-founder of Land Design Studio, who are interpretive designers working with lottery based projects and museums throughout the UK. Most recently they have been responsible for The Playzone at The Millennium Dome London, which publicly demonstrates the extraordinary potential of interactive digital art.
Hiroshi Ishii (JP)
His focus is on media design to augment interactions between humans, computers, and the physical environment. He has done extensive research on Computer-Supported Cooperative Work [CSCW] and Human-Com puter Interaction [HCIL] His team at NTT Human Interface Laboratories invented TeamWorkStation and ClearBoard . He has been active in the ACM SIGCHI community. At the MIT Media Lab, he directs the Tangible Media Group.
Joachim Sauter (DE)
born 1959, MA in communication design at the University of the Arts, Berlin, further studies at the German Academy for Film and Television, Berlin. He has been using computers from the early stages of his work as a designer and filmmaker. Fueled by his interest, he founded Art+Com, an independent design and research group in 1988 together with other designers, scientists and technicians. Today he is head of Art+Com e.V. He has been awarded a Distinction in the Prix Ars Electronica 92 and 97 (Interactive Art), as well as the Los Angeles Interactive Media Festival Impact Award in 1995 and the Prix Pixel INA in 1997.
NET VISION / NET EXCELLENCE
Peter Barr-Watson (UK)
is co-founder of the cutting edge new media agency www.kerb.co.uk, a design-led company creating funky websites in html, Shockwave Director and Flash. Kerb are known especially for their expertise in youth marketing, and viral campaigns. In September 2000 Kerb scooped the prestigious web agency of the year prize at the Future UK Internet Awards.
Tanja Diezmann (DE)
is professor for interface design at the Anhalt College in Dessau. She is a specialist for generic interfaces, modular systems, navigation systems and digital CI. She defined "Navigable Structures" as an interface principle.
Solveig Godeluck (FR)
journalist for Point, L'Usine nouvelle, L'Express, Le Nouvel Observateur, Le Monde, Le Journal de L'Atelier, Capital, Biba, Impact Médecin and others. Author of a book on net economy Le boom de la netéconomie (Editions La Découverte, Paris 2000) . Editor for Transfert, responsible for the field of net economy.
Machiko Kusahara (JP)
has been active as curator of media art and in promoting media art while also doing research on the relationships between art and such liminal regions in science and technology as telecommunications and artificial life. Her major concern is what digital technology offers the human imagination . Her publications include CG Anthology, CG Access, and the Hyper Image Museum on CD-ROM. Formerly an assistant professor in the Tokyo Institute of Polytechnics' Faculty of Art, she is now an assistant professor in the Graduate School of Science and Technology, Kobe University.
TNC Network
is a Paris-based new-media label dedicated to digital culture & lifestyle. Founded in 1995 by Tina Cassani and Bruno Beusch, TNC Network has developed ground-breaking concepts and events for the Internet, TV/radio, museums, and festivals in Europe, Japan, and the US. It specializes in the design of new-style conferences & shows for the digital generation, such as the Electrolobby showroom for digital culture & lifestyle at Ars Electronica. In 2001 TNC was commissioned to redesign the Internet category of the Prix Ars Electronica, where Beusch/Cassani acted also a Jury members.