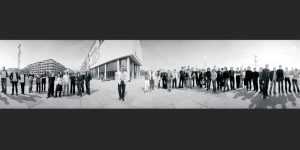 COMPUTER ANIMATION / VISUAL EFFECTS
Ellen Poon (UK)
Ellen Poon obtained her undergraduate degree in computer science from the University of Essex in England and then went on to study for her Ph.D. at the University of London. She joined the Moving Picture Company and Rushed Post Praduction Ud. in London and produced work that won numerous major international awards. Poon has worked on groundbreaking projects such as Jurassic Park, The Mask, Disclosure, Jumanji, and Perrier's Toy Soldier spot.
Barbara Robertson (US)
Barbara Robertson has been following the evolution of computer graphics, art and technology since 1985. She is senior editor for Computer Graphics World, one of the leading magazines writing on innovative graphics technology and applications that explores how leading-edge graphics techniques, including 3D modeling, animation and visualization are used in architecture, scientific visualization, special effects, film and interactive entertainment. Barbara Robertson mainly covers the field of special effects in films, and her articles on computer animation, visual effects, and computer graphics art and technology have won numerous awards. She has been a member of the Prix Ars Electronica Jury in the category Computer Animation/Visual Effects since 1998.
Shuzo John Shiota (JP)
Shuzo John Shiota was working as an independent business consultant when he met Toshifumi Kawahara, founder of Polygon Pictures. At Toshi's behest, Shuzo took initiative in starting up Dream Pictures Studio (DPS), a joint venture between Namco, Sony Computer Entertainment, and Polygon Pictures. After the closure of DPS, Shuzo joined Polygon Pictures in 1999, and spearheaded the company's transition from a boutique studio to a full-capacity animation services studio. Shuzo's credits as a producer include award winning short subjects such as Crocotires: traction AAA, Polygon Family Episode 2 and the TV series Mr.Digital Tokoro, which was nominated for an Annie Award in 2001. Shuzo was appointed president and CEO of Polygon in June 2003. He is also a jury member for SIGGRAPH 2004.
Virgil Widrich (AT)
Virgil Widrich began his film career at the age of twelve by making Super 8 films. In 1998, he collaborated with Martin Reinhart on the short film txtransform. Since 1996 he has been working in multimedia and is now CEO of checkpointmedia AG, which he cofounded. In 1999 he co-scripted (with Enrico Jakob), praduced and directed the movie Heller als der Mond ("Brighter than the Moon"). In 2000 he scripted, directed, produced and edited the short film Copy Shop. The film won a total of 33 international awards and was nominated for an Oscar. In 2001 he co-founded Amour Fou Film GmbH. in Vienna. In 2003 he scripted and directed the short film Fast Film.
Lance Williams (US)
Lance Williams studied computer graphics and animation. He worked in the Computer Graphics Lab at the New York Institute of Technology (from 1976 to 1986) on research and commercial animation, and the development of shadow mapping and "mip" texture mapping. Subsequently Williams consulted for Jim Henson Associates, independently developed facial tracking for computer animation, worked for six years in Apple Computer's Advanced Technology Group and for three years at DreamWorks SKG. He received SIGGRAPH's Steven Anson Coons Award in 2001. In 2002 he received an honorary doctorate of fine arts from Columbus College of Art and Design, and a motion picture Technical Academy Award. He is currently chief scientist at Walt Disney Feature Animation.
DIGITAL MUSICS
Naut Humon (US)
Naut Humon is the director of operations for the RECOMBINANT MEDIA LABS in San Francisco. This network of A/V based actions houses the Surround Traffic Contral Cinesonic system for performance exhibitions and international residencies. He is also producer and curator for the Asphodel label along with his own projects for speaker-screen installations.
Masahiro Miwa (JP)
Masahiro Miwa has been living in Germany since 1979. He studied composition under Isang Yun at the Academy of the Arts in Berlin and under Günther Becker at the Robert Schumann Conservatory in Düsseldorf, where he has been teaching computer and electronic music since 1988. In 1985 he was a visiting composer at STEIM Studios in Amsterdam and received the Hambacher Prize. In 1989 he won first place at the 10th International Irino Awards, in 1991 second place at the International Music Today Composition Contest in Tokyo, and in 1992 first place at the 14th Concorso Internazionale "Luigi Rossolo" in Varese.
Gordon Monahan (CA)
Gordon Monahan, born 1956, is a former pupil of John Cage. He attended the University of Ottawa and Mount Allison University, where he engaged in piano and compositional studies. Since 1978, Monahan has designed multimedia sound installations and performances, predominantly with loudspeakers, videos, self-designed kinetic machine sculptures and piano. His sound installations and performances include Earworks (1983), Springworks (1990), Music from Nowhere (1992) and Sound and the Machines that make them (1994). Monahan lives and works in Berlin.
Tujiko Noriko (JP)
Tujiko Noriko started singing around 1978-79. She bought her first synthesizer and sampler in 1999. Her first album was Keshou To Heitai ("Makeup and Soldiers") recorded in January 2000. But due to problems (being so drunk that she passed out right after midnight), it ended in failure. In the summer of 2000, she started vigorously making music again for Shojo Toshi. In December 2000, at Buro 30 in Tokyo, she met Pita (Peter Rehberg / MEGO) and handed over her tape. During the same month she joined SlideLab (Yoshihito, Marumaru, Noriko); recently she has become involved in launching a new magazine, OK FRED.
David Toop (UK)
David Toop is a musician , writer and sound curator. He has published three books: Rap Attack, Ocean of Sound, and Exotica. His first album, New and Rediscovered Musical Instruments, was released on Brian Eno's Obscure label in 1975; since 1995 he has released six solo albums and curated five acclaimed CD compilations for Virgin Records. In 1998 he composed the soundtrack for Acqua Matrix, the Lisbon Expo. He has also recorded shamanistic ceremonies in Amazonas, appeared on Top of the Pops with the Flying Lizards, worked with musicians including Brian Eno, John Zorn (among others). He has curated Sonic Boom. In 2001 -02 he was sound curator for Radical Fashion.
INTERACTIVE ART
Scott deLahunta (NL/UK)
Scott deLahunta is a writer and researcher (with Writing Research Associates and Dartington College of Arts) who has explored the overlap existing between the fields of live performance and emerging technologies.
Peter Higgins (UK)
Peter Higgins trained at the Architectural Association and worked as a scenographic designer in West End theaters and for BBC TV. In 1992 he was co-founder of Land Design Studio, a group of interpretive designers working with lottery-funded projects and museums throughout the UK. Most recently they have been responsible for the Playzone at London's Millennium Dome, which publicly demonstrates the extraordinary potential of interactive digital art.
Hiroshi Ishii (US)
Hiroshi Ishii primarily researches the design of seamless interfaces between humans, digital information, and the physical environment. At the MIT Media Lab, he founded and directs the Tangible Media Group which pursues a new vision of Human Computer Interaction (HCI). Tangible Media Group created and presented a variety of TUI (Tangible User Interfaces) in scientific communities such as ACM SIGCHI, SIGGRAPH as well as in industrial design and media arts communities.
Tomoe Moriyama (JP)
Tomoe Moriyama studied art history and received her M.A. at the University of Tsukuba. Since 1989, as curator of the Tokyo Metropolitan Museum of Photography, she has organized over 30 exhibitions on media art and precinema history including "Re-Imagination", "3D-beyond the stereography" and "UK98: electronically yours" (with J. Reichardt). She is a visiting researcher at the University of Tokyo, as well as a lecturer of media art at Waseda University in Tokyo for its postgraduate course and at several other colleges of art. She is a jury member of the Digital Contents Grand-Prix of the Ministry of International Trade & Industry, and councilor of/counselor for the Virtual Reality Society Japan.
Elaine W. Ng (US/HK)
Elaine W. Ng is an independent critic and curator based in Hong Kong and New York. From 2001 to 2002 she was the general manager of the Videotage. Her most recent projects include: "Gary Hill: selected works from 1 976-2003" (Museum of Contemporary Art, Taipei) and "Star City" for the MOOV Fest 03 (NY). She is a jury member and president of the UNESCO Digital Arts Award 2003 at IAMAS, Gifu, Japan; and editor of the monograph Dye-a-di-a-logue with Ellen Pau (Monographs in Contemporary Art Books and Hong Kong Arts Development Council 2004). She is also a contributing editor for Leonardo Electronic Almanac and copublisher of Art Asia Pacific.
NET VISION
Ed Burton (UK)
Ed Burton grew up playing with computer programming, with his first software title being published at the age of seventeen. Following a degree in architecture at the University of Liverpool, he studied for an M.A. in digital arts at the Middlesex University Center for Electronic Arts. His M.A. work on computer models of young children's drawing behavior subsequently became part of an ongoing Ph.D. research project on artificial intelligence, dynamic systems and developmental psychology. After three years of research and teaching at the Center for Electronic Arts, Ed joined Soda in 1998 and authored the Java toy sodaconstructor.
Casey Reas (US)
Casey Reas recently obtained his M.Sc. in media arts and sciences at the MIT Media Laboratory. His research at the MIT Media Lab's Aesthetics and Computation Group concentrated on interface design, information design, and computational kinetic sculpture. The common thread in his work is the study of dynamic reactive systems that receive and process input as a means of gene rating and altering visual compositions. Before joining MIT, he worked as a design director at leading web design companies in New York. He studied design at the University of Cincinnati, USA.
Steve Rogers (UK)
Steve Rogers started his career in 1983 by designing spectacles for Norville Optical Company. In 1986 he left England to work for Philips Electronics in Holland as a product designer. He spent a total of 15 years with Philips Design as design director. Before joining the BBC, Rogers was VP of Physical Design at Razorfish, a digital consultancy in San Francisco. In his first position at BBCi, starting in August 2001 as head of design and navigation, Rogers was responsible for the team defining users' experience of BBCi on the web, interactive TV and emerging platforms. In September 2002 he was appointed head of production at BBCi. Rogers has a degree in transportation design from Coventry University.
Cornelia Sollfrank (DE)
Cornelia Sollfrank is an artist whose conceptual and performative "mixed media" works address the relationship between art and politics, the subversive potential of new media art, the advent of a new image of the artist in the information age, gender-specific handling of technology, as well as networking and communication as art. She was a member of the collectives frauen-und-technik and -Innen, and initiated the cyberfeminist alliance known as Old Boys Network. She published the readers' first cyberfeminist international (1988) and next cyberfeminist international (1999). In 1999/2000 Sollfrank produced a body of work on the subject of "women hackers".
Yumi Yamaguchi (JP)
Yumi Yamaguchi is an art producer and art journalist. Her website "Tokyo Trash" is the oldest art website in Japan. She has been dubbed "the cheerleader of the Japanese contemporary arts". She is an Electronic Art Talent Kanazawa (eAT Kanazawa99), the general producer / director of NPO Citizens league for the Arts and an art adviser for KIDI Persons. Her books include: Tokyo Trash Web-The Book, The Introduetory Introduetion to Contemporary Arts, Cool Japan-The Exploding Japanese Contemporary Arts.
DIGITAL COMMUNITIES
Denise Carter (UK)
Denise Carter is a doctoral student in the Department of Sociology and Anthropology at the University of Hull, UK. Her Ph.D. thesis "Living in Virtual Communities: An Ethnography of Human Relationships in Cyberspace" combines original ethnographic research in Cybertown (http://www.cybertown.com), a virtual community, with face-to-face meetings to illustrate how, for many people, cyberspace is just another place to meet.
Ama Dadson (GH)
Ama Dadson worked for UNEP DTIE from 2001 to 2004 where she coordinated the work program of the Global e-Sustainability Initiative (GeSI), an ICT industry initiative. She also acted as adviser on matters related to ICT and e-sustainability and assisted with UNEP industry outreach activities, in particular those related to the World Summit for the Information Society (WSIS). Prior to joining UNEP, Ama worked in the West African Internet industry sector for over 19 years. She is now establishing an online digital audio library service to provide African publications to the blind and visually impaired in Ghana. Ama holds a computer science degree from Kwame Nkrumah University of Science and Technology in Kumasi, Ghana.
Cory Doctorow (CA/UK)
Cory Doctorow is a staffer at the Electronic Frontier Foundation (www.eff.org), a non-profit organization working to uphold civil liberties interests in technology law, standards, policy and treaties. He is the author of Down and Out in the Magie Kingdom, A Plaee So Foreign and Eight More and Eastern Standard Tribe. He is the co-editor of the popular weblog Boing Boing (boingboing.net) and is a frequent columnist and journalist, contributing to Wired, Business 2.0, The New York Times, The Boston Globe and others. He is eurrently at work on two more novels and an anthology. http://craphound.com/
Andreas Hirsch (AT)
Andreas Hirsch is a specialist in conceiving and engineering cultural systems. Two decades of work for leading cultural organizations in the arts, theater, music, film, literature and the media include conceptualizing and curating as well as developing and managing projects. He has created numerous media environments and online projects, among them the first Internet café in Vienna. His written contributions to print and online media – including service as editor-in-chief of Supervisor Magazine – deal with the social and cultural impact of digital technology and various aspects of cultural systems. http://andreas-hirsch.net/
Joichi Ito (JP)
Joichi Ito is the founder and CEO of Neoteny, a venture capital firm focusing on personal communications and enabling technologies. He has created numerous Internet companies including PSI Net Japan, Digital Garage and Infoseek Japan. In 2001 the World Economic Forum chose him as one of the 100 "Global Leaders of Tomorrow" for 2002. He recently joined the board of Creative Commons, a non-profit organization devoted to expanding the range of creative work available for others to build upon and share.
Mike Jensen (ZA)
Mike Jensen is a South African independent consultant with experience in over 30 countries in Africa in assisting to establish information and communications systems over the last 15 years. He works with international development agencies, the private sector, NGOs and governments, and assists them in formulating, managing and evaluating their Internet projects. Jensen is a trustee of the African IT Education Trust, a board member of the South African Internet service provider for NGOs – SangoNet – and was a member of the African Conference of Ministers' High Level Working Group, which developed the African Information Society Initiative (AISI) in 1996. He manages a popular website on the status of Internet in Africa – http://www3.sn.apc.org/africa
Shanthi Kalathil (US)
Shanthi Kalathil is a specialist on the political impact of information and communication technology (ICT). She has worked in Hong Kong as a journalist. Her research focuses on the implications of ICT on authoritarian regimes, the global digital divide, and security issues in the information age.
Jane Metcalfe (US)
Jane Metcalfe is the former president and co-founder of Wired Ventures Inc. With her partner Louis Rossetto, she created and and managed this diversified media company whose businesses included Wired Magazine (US, UK, and Japanese editions), the online company Wired Digital Inc. (including the HotBot search engine, the HotWired Network of websites, and Wired News), Wired TV, and Wired Books Inc. She is currently a partner in Força da Imaginaçao, an independent investment concern with interests in technology, media and real estate.
Dorothy Kabagaju Okello (UG)
Dorothy Kabagaju Okello studied electrical engineering at McGill University in Montreal, Canada, and her current research field is broadband satellite networking. She has participated in career guidance missions for Women Engineers, Technicians and Scientists in Uganda (WETSU) and the Uganda Institute of Professional Engineers (UIPE). She is the Africa Representative for the Gender and ICT Awards Project Team as well as for the APC Women's Networking Support Program (APC-WNSP) Coordination Team. Since May 2000 she is the coordinator for the Women of Uganda Network (WOUGNET) and therefore responsible for strategic planning and development of WOUGNET programs.
Howard Rheingold (US)
Howard Rheingold is one of the world's foremost authorities on the social implications of technology. He is one of the creators and former founding executive editor of HotWired, and has served as the editor of The Whole Earth Review, editor-in-chief of The Millennium Whole Earth Catalog and online host for The Well. He is author of several books, including The Virtual Community (1993), Virtual Reality (1992), Tools for Thought (2000) and Smart Mobs: The Next Social Revolution (2003).
Oliviero Toscani (IT)
Oliviero Toscani is a photographer and art director. From 1982 to 2000 he transformed Benetton into one of the world's best known brands. He was cofounder and art director of Colors, the first global magazine; as well as founder of "Fabrica", international school for communication and arts. He also served as creative director of Talk magazine.
U19 – FREESTYLE COMPUTING
Sirikit Amann (AT)
Sirikit Amann, born 1961, studied political science, theater arts and economics in Vienna, Munich and Boston. Si nce 1 987 she has been working at the ÖKS (Austrian Cultural Service) where she mainly specializes in applications of new media and ICT. At the beginning of 2004 the ÖKS was integrated into the organizational structure of KulturKontakt Austria. Since her daughter's birth, she has participated in selected national and international projects centering on "new media in art / culture with a special emphasis on elearning" and with a particular focus on young people.
Tina Auer (AT)
Tina Auer has worked as a freelance artist since 1994. Until 1996 she was active as a member of the collective Contained. Since 1996 she has been actively engaged as a founding member of the cultural association Time's Up. In 2002 she completed her studies in experimental and visual design in Linz. Her fields of interest range from the functions and behaviors of people in artificially established interactive situations taken fram everyday life, to the general and specific use and abuse of all forms of visual media.
Martin Nürnberger (AT)
Martin Nürnberger is a partner of Hieberler / Nürnberger GmbH, a consulting firm for interactive cross media formats. He is a pionieer in the development and implementation of interactive media projects (among others Chello, Primacom, Alcatel) and has co-founded ActiveAgent, one of the biggest internet advertising firms in Europe. Together with Christian Eigner, he has written Matching.net, a standard work on New Media economy.
Martin Pieper (AT)
Martin Pieper is currently chief editor and radio announcer at FM4. For this man from Tulln, it was only a small step from being a passionate radio listener to becoming a radio maker. In his first letter to the Austrian Broadcasting Corporation (ORF), he had pretentiously formulated his desire for better music. With FM4, a station broadcasting 24 hours a day, more than he wished for has come true. Martin Pieper went from Ö3's Zick Zack and Musicbox to join FM4's founding team in 1995. Meanwhile he has aged years.
Joachim Schnaitter (AT)
Joachim Schnaitter, born 1971, studied socio-economics and specialized in society, media and politics. In 1996 he joined the staff of the Ars Electronica Center; from 1997 to 2000 he was at the Ars Electronica Futurelab and co-responsible for Interactive Media (now Digital Surface). ln 1997 he formed the media band JOMASOUNDS with Markus Decker. He is a freelance media designer, and teaches graphics and communication design at a technical secondary school in Linz; he is on a project team at the University of Art and Industrial Design in Linz.
[THE NEXT IDEA]
Wilhelm Burger (AT)
Wilhelm Burger is the director of Media Technology and Design at Hagenberg Polytechnic University. He studied computer science at the Johannes Kepler University in Linz, the University of Utah and the University of California at Riverside. Before his appointment, he worked as a developer of visualization software for ultrasound equipment, a researcher and developer of vision-based navigation for autonomous land vehicles, and as a university assistant in the field of image processing.
Horst Hörtner (AT)
Horst Hörtner studied telematics at the Technical University in Graz. He has worked on developing real-time control systems and on art projects. He is the co-founder of the group Xplatz and has worked for the Seville EXPO, documenta IX, austromir and others. Since 1995 he is the technical director of the Ars Electronica Center in Linz.
Michael Kräftner (AT)
Michael Kräftner is the executive managing partner of werk3at. In 1999, inspired by the idea of bringing more quality into what was then a booming Internet industry, he co-founded (with Thomas Marban) a firm in which he was responsible for the sectors of key account management, strategic consulting and operative/strategic management.
Gustav Pomberger (AT)
Gustav Pomberger is a professor for computer science at the Johannes Kepler University in Linz and is head of the Institute for Business Informatics and of the Software Engineering Group. He is a correspondent and the editor of several scientific engineering journals as well as the author of numerous scientific publications. He studied at and graduated from the Johannes Kepler University in Linz. He has taught at the University of Zurich, the ETH Zurich, the University of Regensburg and the Technical University in Vienna.
Christa Sommerer (AT)
Christa Sommerer is an internationally renowned media artist working in the field of interactive computer installation. She works as a researcher and the artistic director at the ATR Media Integration and Communications Research Lab in Kyoto, Japan, and as an associate professor at the IAMAS International Academy of Media Arts and Sciences in Gifu, Japan. She also holds a position as visiting research fellow at the MIT Center for Advanced Visual Studies in Cambridge, USA. She has collaborated with Laurent Mignonneau since 1992, specializing in the use of natural interfaces to create a new language of interactivity based on artificial life and evolutionary image processes.