Pioneering Aerospace, the largest international aerospace exhibition in Europe, Berlin 2022.

ILA Berlin presented a unique space exhibition at the end of June with ESA as one of the partner organizations. The ILA Space Pavilion illustrated how space travel can improve life on Earth and presented the top issues in space travel. On the theme of "Sustainability and Climate Change," there was again a collaboration with Ars Electronica Solutions. The impressive exhibit from ESRIN's Φ-Experience in Frascati, the "Half Dome Globe," was replicated as a modified mobile version, providing the latest data and insights on climate, weather and meteorology.
The interaction with topics from climate research and the corresponding data takes place via a mobile device. ESA employees used this device to present current visualizations of data from Earth observation that were individually tailored to the visitors.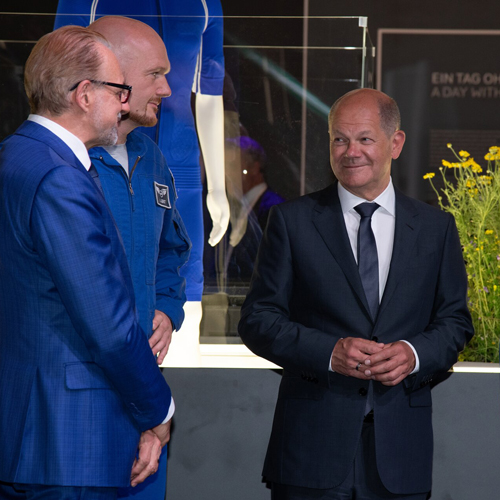 The German government was very present at the ILA.
In the picture Chancellor of the Federal Republic of Germany Olaf Scholz.
Foto Credits:
ESA, Ars Electronica Solutions
Here it goes to the ILA Webseite!/p>