On October 5, numerous museums and galleries throughout Austria will open their doors to night owls interested in culture under the title "Lange Nacht der Museen" (Long Night of the Museums). The Ars Electronica Center will be focusing on the new exhibitions. Guided tours are offered every hour until 1 a.m., Deep Space 8K presentations take place on an ongoing basis, and there is a lot to discover for young and old musicians as well as for technology freaks and the playful. To help you find your way around, we have put together some tips for the Lange Nacht der Museen at the Ars Electronica Center to suit all interests.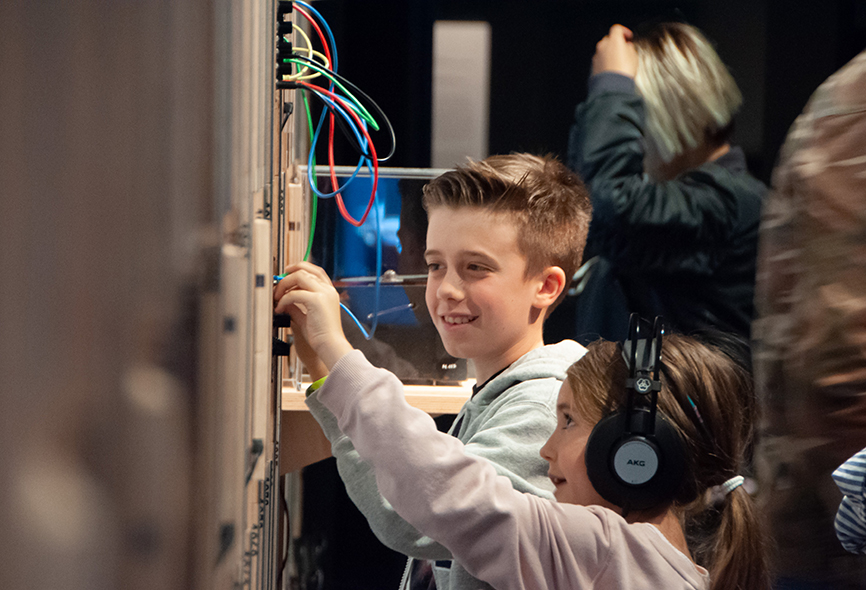 For little and grown-up musicians
AIxMusic
AI x Music is an exhibition about the encounter between artificial intelligence and music as well as about the intersection of human creativity and technical perfection. Music is not only perhaps the most emotional of all art forms, but has also always had deep connections to mathematics as well as to the physics of sound generation and to the craftsmanship of instrument makers. Thus the history of music from its beginnings is also the history of the instruments, tools and apparatus that were necessary for their performance, recording and reproduction…
Open Soundstudio
Testing it yourself is the best way to get to know new creative tools. The Open Soundstudio is well equipped for this. In addition to workshops and courses where you learn how to compose with the computer, produce music or create new sound worlds, there is always the opportunity to gain initial experience with the many devices and programs. The world of music visualization can also be discovered here and tried out with simple tools. A highlight within this testing room is to be revealed in advance and can also be used from home: The Adult Swim Choir von David Li (UK).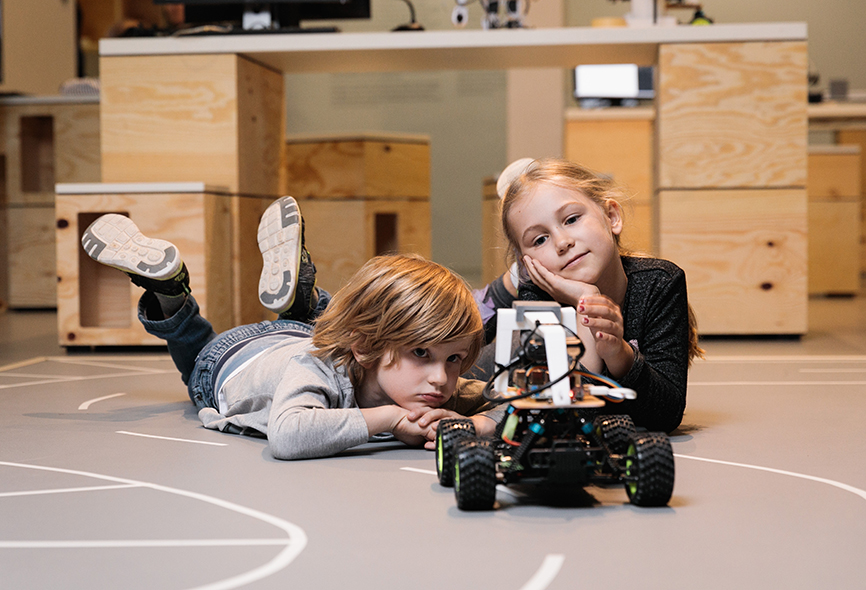 For little and grown-up techies
Machine Learning Studio
In the Machine Learning Studio, visitors use computer vision and machine learning applications to explore how machines learn and perceive the environment. Together with techtrainers, they build and train self-propelled model cars, program robots with face recognition and gain an insight into how they can teach these devices various activities. Step by step, not only is it possible to experience how this technology works, but also that all knowledge of the machines is determined by ourselves.
Understanding AI
Artificial intelligence versus natural intelligence – where are the differences, where are the similarities. How do machines "think", how do they learn and what distinguishes us humans from machines? Artificial intelligence in all its complexity is the focus of the new Ars Electronica Center, for this technology is currently initiating a revolution whose significance for our lives cannot be overestimated. With the exhibition "Understanding Artificial Intelligence," we want to make our visitors "AI-fit", giving them a basic idea of what artificial intelligence is, what applications already exist, and what they can already do.
SecondBodyLab
The Ars Electronica Labs are a place of interaction between different cultures of knowledge. The focus is on the desire to explore and shape the world. In the SecondBodyLab there are various prostheses to discover (for example, a system from the classic toy LEGO), each of which offers its own view of this theme. The Alternative Limb Project, for example, explores the aesthetic dimension of prosthetics and shows what possibilities are available for designing your own prosthesis.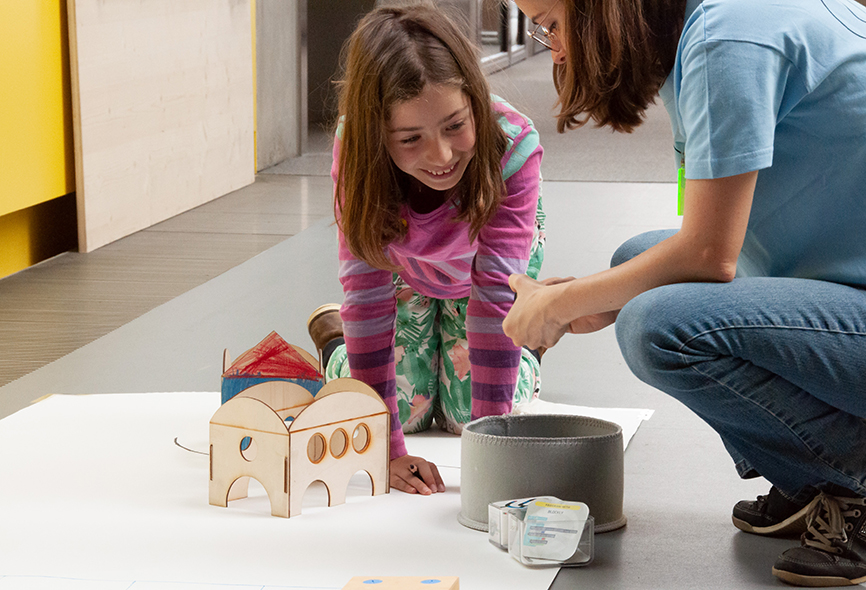 For the Playful
Kids' Research Laboratory
How can children be introduced to new technologies? To answer this question, we have developed our own research laboratory for children only. With the Ars Electronica Kids' Research Laboratory, a versatile playing field has been created that gives children time and space to play and discover our world, the digital as well as the analogue, the natural as well as the artificial world. The installations Animaker, which brings analogue animals to life, the Robo playground, where you can immerse yourself in the world of programming, and the Augmented Reality Sandbox, in which mountains, valleys and lakes are created through mere sand play, are particularly attractive and playful.
Understanding AI: Animals and Properties
Here a network can be trained to categorize animals as dangerous or not dangerous from the point of view of a mouse. In the process, the network learns from various predefined, highly simplified features (How heavy is the animal? Does it have teeth or claws?) which combinations of characteristics make an animal dangerous to a mouse. At the end, the output layer shows how dangerous the network deems the animal to be.
Pix2Pix: GANgadse / Ars Electronica Futurelab (AT)
With the pix2pix procedure, users can draw free sketches which are then turned into cat pictures by a conditional generative adversarial network (cGAN). The program was "fed" with numerous examples of cat images beforehand and tries to recognize typical cat features…
Pinocchio
Two industrial robots play the role of two marionettes. The motions of a human puppeteer were recorded and are copied by the two robot arms. What happens when we are able to digitalize and therefore replicate highly complicated human abilities such as puppetry?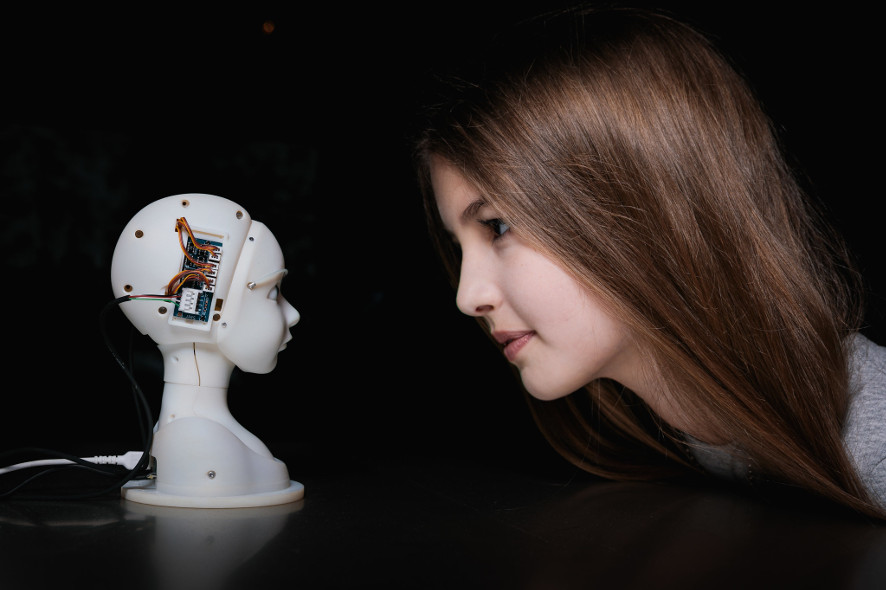 SEER: Simulative Emotional Expression Robot /Takayuki Todo (JP)
SEER is a compact humanoid robot developed through intensive research into the gaze and facial expressions of human beings. The robot is able to imitate the facial expression of the human "communicating" with it.
ObOrO / Ryo Kishi (JP)
Illuminated balls hover in the space with no support from strings or wires—they are "guided" only by an airstream. The fragility of the balls is charming; they continually turn and vibrate in the airstream like living organisms – forming a fascinating playground especially for kids.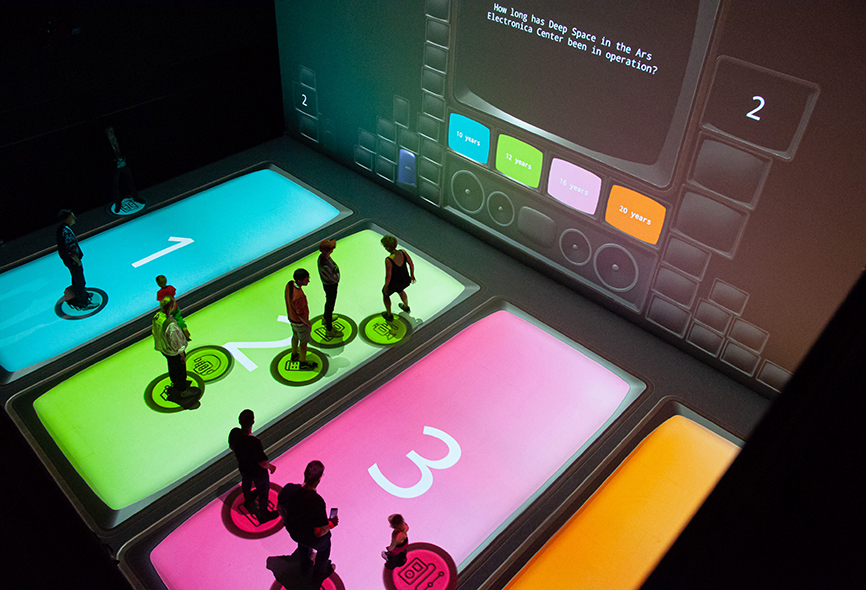 For little and grown-up art lovers
Mirages & miracles / Adrien M & Claire B
Mirages & Miracles is an augmented reality exhibition where the focus is not on the technology but on the experience. Mirages & miracles is a series of installations in which one is immersed in a very poetic way in virtual, three-dimensional worlds. Augmented drawings, holographic illusions, virtual reality headset are part of this exhibition.
Deep Space 8K
The Ars Electronica Center offers its visitors something that can not be found anywhere else in the world: 16 x 9 meters of wall and another 16 x 9 meters of floor projection, laser tracking and 3D animations make the Deep Space 8K something very special indeed. Here, image worlds are projected in 8K resolution and raised to a completely new, unprecedented level. A visit to the Deep Space 8K is unique, mesmerizing, impressive and overwhelming!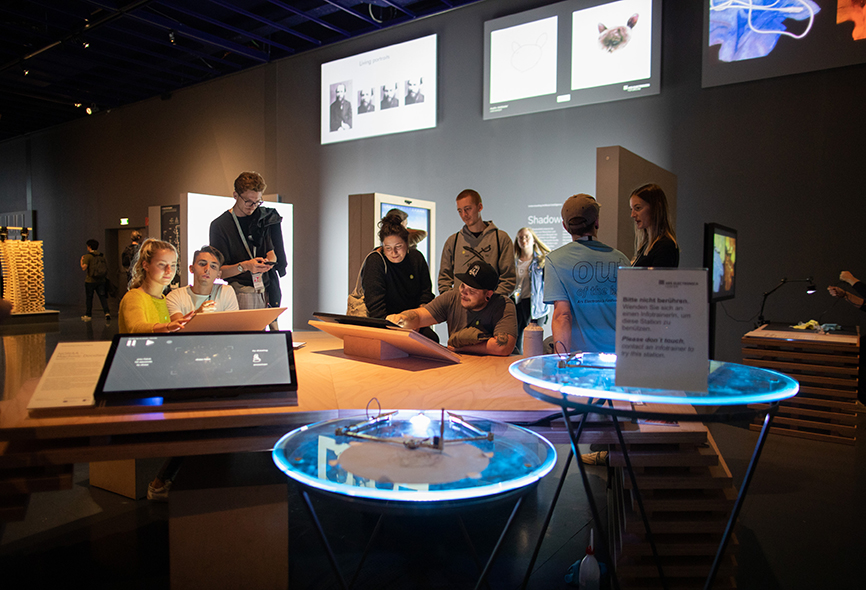 For little and grown-up scientists
Famo[u]os Creatures
All kinds of small creatures are cavorting in the moss and only become visible with the help of a microscope. This is where rotifers, eyelashes and threadworms really feel at home. The tardigrade Tardi, that has already had so many enlightening adventures in the Ars Electronica Center, is also scurrying happily through the moss.
BioLab
Our thirst for knowledge has not only made it possible to visualise the smallest biological structures and processes, for example in a cell, in order to investigate them further and further – we can now intervene in and modify these processes even at the smallest level. Recently, the CRISPR/Cas9 gene scissors, which can be used to insert, remove or remove genes in a targeted manner, have been the subject of discussion, as their potential has both positive and negative sides. These and other methods from different areas of biology can be researched in the BioLab.
Global Shift
Today, technological progress not only extends to the entire earth, but also extends into space with satellite and space technology. The effects of technology on our society are often discussed controversially and passionately. This makes it all the more important to form one's own informed opinion. From the new digital infrastructure to earth observation by satellites to the data that we collect every day, Global Shift shows an excerpt of the current state of our world.
The Long Night of Museums takes place on October 5th throughout Austria. Guided tours and Deep Space 8K presentations will take place at the Ars Electronica Center from 6:00 p.m. to 1:00 a.m. Find out more here.