Honorary Mention
Phénoclim is a participatory science programme on phenology and climatology in mountain areas created in 2004. It is a project that enables research to progress (6 scientific articles published so far), mobilises a highly involved community of observers (2200 registered participants, numerous physical meetings), and informs decision-makers and managers of protected areas (creation of indicators of the effect of climate change on biodiversity). Since the COVID-19 crisis, we have noted a very strong attraction to the programme, with many participants getting involved from their own backyard. What if Phénoclim allowed everyone to reconnect with nature by observing the ordinary nature that surrounds us?
Jury Statement

Phénoclim is tackling a very relevant and urgent issue, that of climate change, in one of the habitats most exposed to its effects: the mountainous areas. It empowers local communities (those most affected by the negative effects of climate change) with tools, field kits and training opportunities to better understand the details of the phenomenon and inform decision-makers to identify possible local solutions. The creation of indicators of the effect of climate change on biodiversity is made with the same methodology across the whole range of the project (mostly Western Alps and Pyrenees), in a truly transborder collaboration effort. An outstanding example of community effort that actively provides first-hand data on a topic of paramount importance.

European Union Prize for Citizen Science Jury 2023 (Kat Austen, Lewis Hou, Pedro Russo, Andrea Sforzi, Stefanie Wuschitz). View full Statement here.
Credits
Phénoclim has received support from the French Ministry of Ecology, French Ministry of Education, Auvergne-Rhône-Alpes Region, Pyrenean Climate Change Observatory, ORANGE for (maintenance of the temperature stations as a sponsorship of skills) and Revolve by Devoteam (for IT development in the form of skills sponsorship).
Biographies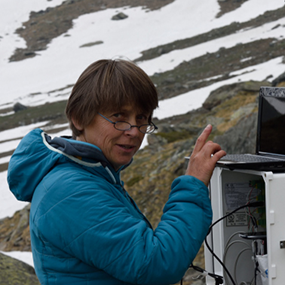 Anne Delestrade
Anne Delestrade (FR) is an ecology researcher with an atypical background. As part of her thesis on the yellow-billed duck, she moved to the foot of Mont Blanc to better study this emblematic bird of the Alps. In 1996, Delestrade created an independent research center on the wider question of the ecology of the of mountain ecology. Within the CREA Mont-Blanc, Delestrade satisfies her curiosity about the functioning of mountain ecosystems and disseminate scientific knowledge, with the objective of opening the world of science and nature to the general public. Delestrade is also a ski instructor because the mountain is full of facets to explore.
Founder and director of the Centre de Recherches sur les Ecosystèmes d'Altitude – CREA Mont-Blanc – a scientific NGO expert in alpine ecology, which has put participatory science at the heart of its approach by associating researchers, decision-makers and the general public to its observatory of mountain biodiversity and climate change.