Honorary Mention
#SOPHYGRAY is a feminist audio bot app that answers questions in surprising, philosophical, and humorous ways informed by intersectional feminist perspectives. Presented as an immersive installation in the exhibition context or an app for mobile devices, she/he/it questions assumptions about virtual assistants (Alexa, Siri) and their typically feminine-sounding submissive voices, which often reinforce stereotypes, gender roles, and power hierarchies and reflect the culture that developed them, as well as the impact in everyday life: the distorted representation of women in the media and the objectification that comes with the use of gendered technologies.
Conceived during the EMAP residency at Onassis Stegi in Athens 2022-2023, the app is now available for mobile devices in the iOS App Store and Google Play Store and can be found online as demo at sophygray.com. It can be shown in an immersive installation – along with a performance event featuring two dancers and the artist – or independently, as well as be accompanied by a workshop with local participants who become feminist bot developers themselves by writing entries and contributing to the bot's library, which is constantly growing. Its prototype app was developed for and premiered at Kunstverein Ruhr in 2021, the performance in 2022, the app in 2023.
When you talk to #SOPHYGRAY, you train her, you shape her, and teach her new knowledge. #SOPHYGRAY's creators are committed to creating counter-narratives to overturn gender biases in today's technologies, and the stereotypes enforced by common language use. A moderated knowledge base and learning features are put in place to capture and disseminate intersectional feminist thinking globally. In 2023, the app will be presented as part of the Platform Glitch Aesthetics at the Digitalvilla Potsdam, and the performance and installation will be shown at the WRO Art Center's Fungible Content – 20th Media Art Biennale. Afterwards, the project embarks on an international exhibition tour
Jury Statement

It's long been known that our technologies are not neutral. The fact that they encode their developer's world views, politics and prejudices is nowhere more apparent than with AI. With the #SOPHYGRAY audiobot, artist Nadja Verena Marcin forefronts the impact of human values by inviting participants to contribute to the bot's development based on their interaction with its intersectional feminist canon.

European Union Prize for Citizen Science Jury 2023 (Kat Austen, Lewis Hou, Pedro Russo, Andrea Sforzi, Stefanie Wuschitz). View full Statement here.
Credits
#SOPHYGRAY is an installation, performance, mobile app and research project by Nadja Verena Marcin. During each part, a growing pool of creators contributed:
Android App
Developer: Novatec; Consultant & Adviser: Jason Basset; Sculpture Production: BetonIdee; Videographer: Adèle Perrin; Choreography: Lena Strützke; Concept, Art Director & Video-Performance: Nadja Verena Marcin
Web-based App
Developer: Alex Stachowiak; Support & Feedback: Novatec, Daphne Dragona, Katerina Varda, Heracles Papatheodorou; Audio-Bot Writers: Sonja Borstner, Leon Meschede, Anthony Huffman, Monique Machicao, Shuang Cai, Anastasia Diavasti, Naomi Frisso, Andromache Kokkinou, Elektra Tsakalia, Vivi Papanikola, Olga Vereli, Irene Stenioti, Translation: Nari Kutlubasis & Maryna Didenko of WRO Biennale; Concept, Art Director & Editor: Nadja Verena Marcin
Performance
Dancers: Maja Kowalik & Viola Cantù (Essen); Penny Eleftheriadou & Anna Apergi (Athens), Dasha Bogdan & Sofiia Onishchenko (Wroclaw); Costumes: Le Costume/ Uljana Richter; Music: Performance Soundtrack Metropolis; Concept, Art Director & Lecture: Nadja Verena Marcin
#SOPHYGRAY is made possible by EMAP/EMARE residency at Onassis Stegi as part of the European Media Art Platform (EMAP) residency program, which is co-funded by the European Union as well as the New York State Council on the Arts with the support of the Office of the Governor and the New York State Legislature, fiscally sponsored by the New York Foundation for the Arts. It is sponsored by Novatec and supported by the Ministry of Culture North Rhine-Westphalia, NEUSTART KULTUR by the BBK Bundesverband and the BKM – German Federal Culture Commissioner and Stiftung Kunstfonds in Bonn.
Biographies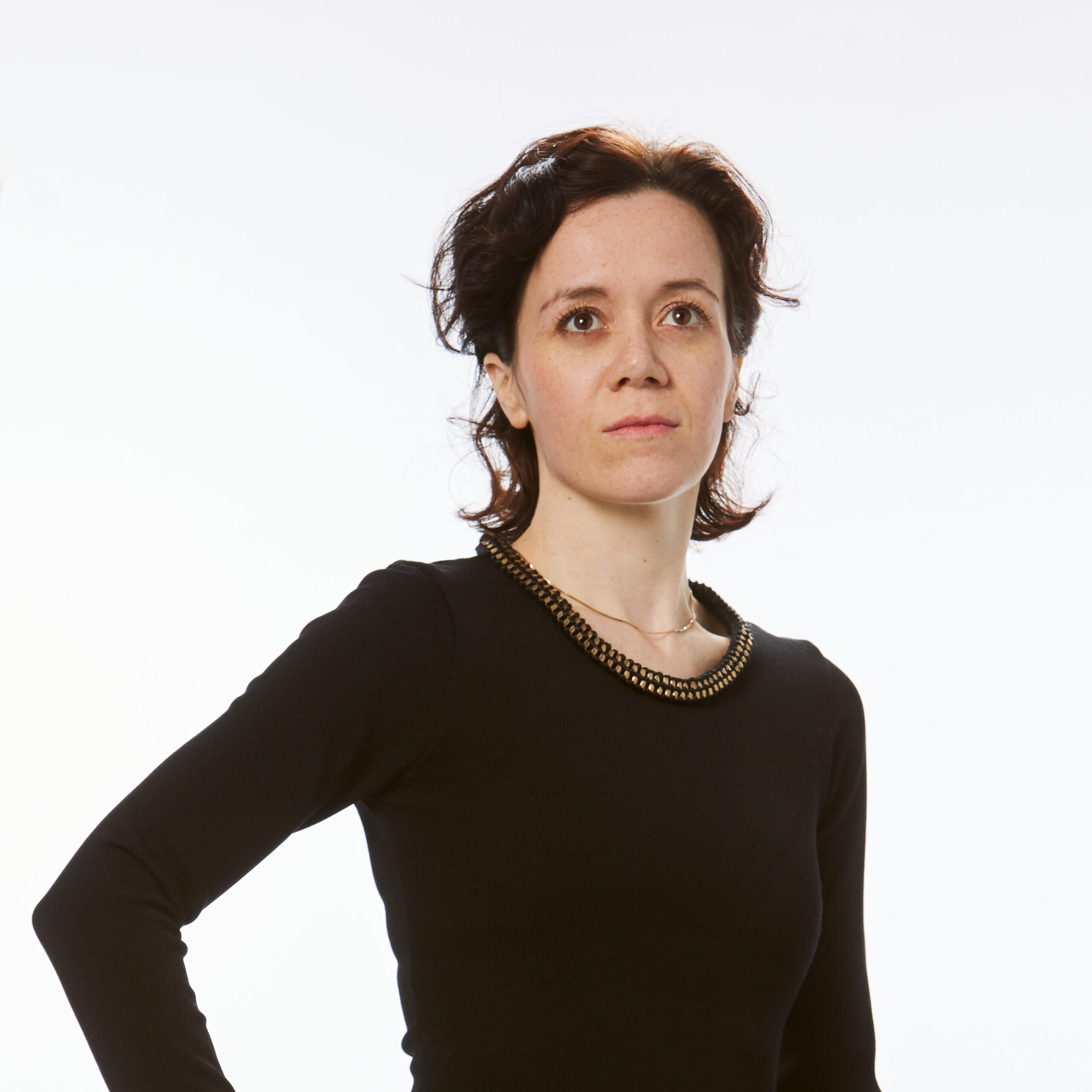 Nadja Verena Marcin
Nadja Verena Marcin (DE) is a visual artist who explores psychology and human behavior through an interdisciplinary analysis of feminism and emotional architecture in a theatrical and cinematic context. Her work subverts representations of women found in current and historical contexts to magnify ideological systems of power and psychological effects within her creation. It has been shown worldwide at SCHAUWERK (Sindelfingen, Germany), Fridman Gallery (New York), Onassis Stegi (Athens), and ZKM Museum (Karlsruhe, Germany), Shanghai Himalayas Museum (Zendai MoMA) and received grants from the New York State Council for the Arts and the German Federal Government for Culture and Media (BKM) and has been reviewed in Artnet News and Hyperallergic. She is a DAAD and Fulbright Scholar, holds an MFA from Columbia University, and has been a lecturer and critic at Wellesley College and the Int. Center for Photography.