Dieses Projekt zielt darauf ab, den Nanomaßstab eines beeindruckenden biologischen Phänomens, nämlich die Beziehung zwischen dem SARS-CoV-2-Coronavirus und menschlichen Molekülen, in eine interaktive audiovisuelle Simulation zu übertragen. In dieser Arbeit werden die Interaktionsdaten zwischen dem Spike-Protein von SARS-CoV-2 und menschlichen Zellproteinen mit Hilfe der Rasterkraftmikroskopie gemessen, die ein einzelnes Molekül berühren und abbilden kann. Aus den Interaktionsdaten erstellen wir eine interaktive audiovisuelle Installation und Performance. Das Publikum wird in einen immersiven Raum eingeladen, in dem es das Verhalten der Biomoleküle steuern kann, so dass es die biologischen Merkmale intuitiv erkennen kann. Dieses Projekt ist nicht nur eine Demonstration wissenschaftlicher Daten, sondern versucht auch, die Beziehung zwischen den Arten im Parasitismus zu untersuchen. Dieses Projekt befasst sich insbesondere mit unserem aktuellen und zukünftigen Leben mit dem Coronavirus und zeigt, wie wir unsere Koexistenz im virtuellen Raum kontrollieren könnten.
Biographies
Yoojin Oh (Project leader) is a biophysicist who focuses on nano-metric properties of biomaterials, especially pathogens that benefit from the application of microscopic techniques.
Sabina Hyoju Ahn is an artist interested in finding imperceptible data in natural elements and translating them into different perceptual experiences.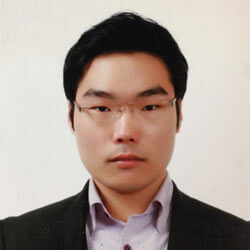 Myungin Lee is a researcher designing multimodal instruments based on scientific theory, composition, signal processing and machine learning, and gestural interface.
Credits
We acknowledge support from LIT-ARS-2022-005.
We appreciate data from H.Seferovic, R.Zhu, L.Hain (Institute of Biophysics, JKU), G.Kada(10-9), C.Rankl(RECENDT), and advice from J.Kuchera-Morin, A.Cabrera (UCSB), H.S.Lee(KR).