Die menschliche Vorstellungskraft ist gewaltig. Welche Art von Realität können wir mit dieser Fähigkeit erschaffen? Kann sie zum Guten oder zum Schlechten eingesetzt werden? Was kann die Mode angesichts von Klimakrise, Pandemien und Krieg tun? Das FASHION FRONTIER PROGRAM wurde 2021 von dem Modedesigner Yuima Nakazato (JP) in der Überzeugung gegründet, dass die Suche nach Ruhm und die Ausbildung zukünftiger Modedesigner*innen, die den Mut und den Ehrgeiz haben, diese Situationen zu überwinden, uns zu einer besseren Gesellschaft führen wird. Alter, Geschlecht, Race… Jeder kann sich für dieses Programm bewerben. Das FASHION FRONTIER PROGRAM ist eine Gelegenheit nicht nur für die Teilnehmer*innen, sondern für uns alle, über Kleidung zu lernen und nachzudenken, unser soziales Bewusstsein zu schärfen und uns zu ermutigen, eine neue Ära einzuleiten.
Biographies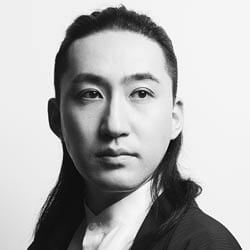 Yuima Nakazato (JP) ist ein Modedesigner. Er ist 1985 in Tokio geboren. Yuima gründete sein gleichnamiges Modelabel im Jahr 2009 und präsentiert seine Kollektion seit 2016 als Gastdesigner auf der Pariser Haute Couture Fashion Week. Er hat einen Master-Abschluss der Königlichen Akademie der Schönen Künste Antwerpen, wo seine Abschlusskollektion in Europa mehrfach ausgezeichnet wurde.
Ryua Honda is a high school student who learned how to make clothes by himself. His inspiration came from when he went abroad and felt that he was a minority among them.
Takahito Iguchi used to work at a textile inspection agency. He finds beauty in the lint that is no longer needed and creates clothes that make use of them.
Yukari Wada is a graphic designer. She has created with free ideas that are not bound by fashion, based on various activities centered on paper and printing.
Credits
Presented with support from The Agency for Cultural Affairs, Government of Japan / Bunka-cho Art Platform Japan.