Ouroboros verweist auf die zyklische Natur der Materie und der menschlichen Beziehungen zur Umwelt. Der Ouroboros ist ein Symbol für Erneuerung und Wiedergeburt, das Sinnbild des Chaos in einer Welt der aufgezwungenen Ordnung. Während die industrialisierte Wirtschaft dem Planeten eine Ordnung aufzwingt, wird der Impuls des sich verändernden Klimas ein globales, übermenschliches Chaos über die Existenz der Menschen bringen. Mit der Entwicklung eines aus Algen gezüchteten Biokunststoffs, der nicht nur das zirkuläre Ziel erfüllt, keine Spuren zu hinterlassen, sondern durch seine Herstellung auch die Üppigkeit der Pflanzenwelt zu fördern, ist Ouroboros ein Sinnbild für den Prozess der Erneuerung und Wiedergeburt. Ouroboros stellt das neue Material den Körpern von Menschen und Algen gegenüber, die in eine Landschaft eingebettet sind, die aus dem Abbau hervorgeht.
Die Skulptur zeigt die im Rahmen des Projekts Circular Records entwickelten Materialeigenschaften zusammen mit dem Prototyp einer LP-Schallplatte aus Biokunststoff. Circular Records und Ouroboros werden im Rahmen der STARTS Repairing the Present Residency bei Ars Electronica realisiert.
Biographies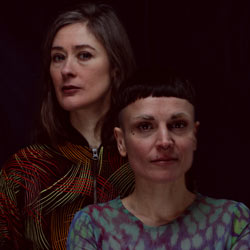 Kat Austen (UK/DE) is a person. She creates new media installations, music and performances underpinned by extensive research and theory that elaborate a more socially and environmentally just relationship with others across more-than-human timeframes.
Fara Peluso (IT/DE) is an artist and designer who seeks to deepen the relationship between human beings, living organisms and biological processes. Through a speculative practice, Peluso proposes alternative solutions aimed at rebuilding our coexistence with nature.
Credits
This artwork is realized by Kat Austen and Fara Peluso and co-commissioned by Ars Electronica within the framework of STARTS Residency Repairing the Present with the support of Johannes Kepler University Linz and the Institute of Polymeric Materials and Testing, Innovationshauptplatz of the City of Linz, Greiner Innoventures GmbH, co-funded by the STARTS initiative of the European Union. Videography by Falko Seidel, metalwork Keep Away From Fire.
Funded through the Repairing the Present project. Repairing the Present is a European project which has received funding from the European Commission's Directorate-General for Communications Networks, Content and Technology under grant agreement LC01641664.