The teletext exhibition "Teletext is Art" will be shown in a presentation at Deep Space 8K. Five of the participating artists present their artworks, provide insights into the technical implementation of teletext artworks and the aspect of immortalization as NFTs in the blockchain.
Teletext was launched by the BBC in 1974, ORF and ARD started their teletext offers in 1980; technically there have been hardly any changes since then. A teletext page is based on a grid of 24 rows and 40 columns. Each grid part can be used for a letter, number, special character, control character or up to six graphic pixels. And there are only six colours, black and white.
The works presented are characterized by their conscious handling of medium and context. Because of its technical limitations, teletext awakens very specific, reduced aesthetic expectations. Some works play with this ironically by producing even lower levels of detail, sometimes at great expense. Normally teletext users expect teletext, as a platform, to provide them with service information and news. Some of the participating artists also address current socially and politically relevant topics and do so – as expected and demanded of art – in a thoroughly critical manner.
For the first time for ORF TELETEXT and ARD Text, the topic of NFT is highlighted. The 15 artists involved are very familiar with NFT technology and were both the first to store teletext art as NFT on a blockchain and the first to show blockchain-based art on teletext. Several works in "Teletext is Art" therefore also thematically address the relationship between the crypto world and the classical financial world. All works shown are also intended for sale as NFT.
Apart from the Ars Electronica Festival Teletext is Art can also be explored on your television (ORF Teletext starting from page 560 or ARD Text starting from page 830) or on www.teletextart.com.
Biographies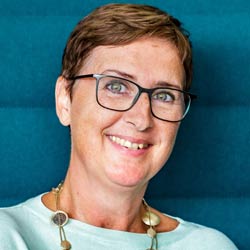 Julia Gessl (AT) has been working for ORF TELETEXT since 1996 and has been head of the ORF TELETEXT Service department for several years. Among other things, she is responsible for cooperations and special projects and organized the exhibition "Teletext is Art". She loves the medium of teletext above all because of its brief, up-to-date information and is an outspoken fan of teletext art.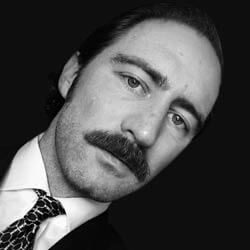 Max Haarich (DE) is a conceptual artist and artistic researcher on the topics of Artificial Intelligence, NFT, and the metaverse. As Munich's ambassador of the artist republic Užupis, he creates artworks and installations to build bridges between arts and tech. Max Haarich is the initiator of cryptoart projects like "TeleNFT", "GIF-Studies", and "7bit movements" and curated the "Teletext is Art" exhibition.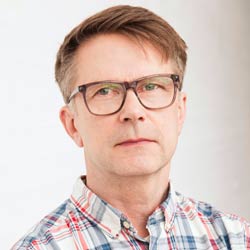 Juha van Ingen (FI) is a visual artist working across different media including, objects, installation, video and Internet. Van Ingen's AS Long As Possible, ASLAP, a 1000-year GIF loop (2015) is one of the key artworks defining our digital era for future generations: www.aslongaspossible.com
Van Ingen is also the founding member of FixC cooperative which started the Teletext art fever of the Internet age by launching the "International Teletext Art Festival" in 2012.
Jarkko Räsänen (FI) is a multi media artist oscillating between Berlin and Finland. His works deal with relationship between technology and human psyche. His music will be heard at the presentations of "Teletext ist Kunst" at Deep Space.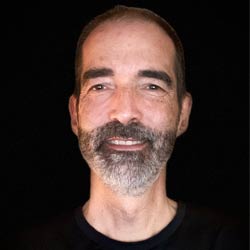 tius (DE) grew up with punch tape readers, large floppy disk drives and soldering irons. For more than four decades, he and his companies have been developing and operating highly available systems for a wide range of clients in the media industry. In his own artistic work, Tius deals with various elementary philosophical and social questions. In doing so, he often consciously uses the limited possibilities of historical systems as a form of expression. Most of the teletext artworks of "Teletext is Art" were created with his software.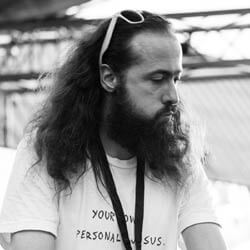 Gleb Divov ( LT/RU) is an inventor, creative technologist, NFT & Creative AI pioneer and OG CryptoArtist. He is a trans-disciplinary immersive artist with the Artistic Creator of Lithuania status granted by the Ministry of Culture, with selected works in permanent collections of European modern art museums.