The project Echinoidea Future — Adriatic Sensing addresses the current biogeological and morphological conditions in the sea urchin environment, which is aqua-formed by anthropogenic liquid waste, resulting in low oxygen levels in the water. Exploring the stressors of the local/global human footprint, the project demonstrates the resilience of the aquatic species.
Echinoidea Future — Adriatic Sensing acts as an activation of (sy)(e)mpathia. The main research was carried out within The Zero Pollution Adriatic residency initiated by the UR Institute as part of STARTS4Water and took place in the coastal region of the southern Adriatic. The project includes the art installation Echinoidea Future — Adriatic Sensing by Robertina Šebjanič, workshops, technological innovation S.M.A.R.T Urchin by Marjan Žitnik and a ZPA Social Innovation initiative.
Biography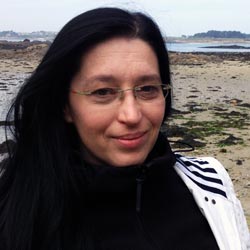 Artist/researcher Robertina Šebjanič explores the biological, geopolitical, and cultural characteristics of aquatic environments and the impact of humans on other organisms. Her projects call for the development of empathetic strategies aimed at recognizing the other (non-human) species. She received numerous awards for her work, including Prix Ars Electronica, Starts Prize and Falling Walls.
Credits
Artist (concept, sound & video editing, execution): Robertina Šebjanič
Video support A.I.: Tanja Minarik
Scientific advisory: Dr. Alenka Malej, Dr. Matjaž Ličer; UR Institute: Gjino Šutić, Filip Grgurević; Institute for Marine and Coastal Research University of Dubrovnik: Dr. Marijana Hure, Dr. Valter Kozul
Production: UR Institute
Production support: Zavod Sektor, PiNA, Miha Godec, Ivanka Pasalic (Glassblowing)
David Drolc (Metal construction)
Special thanks to: Martina Gluhan, Marjan Žitnik
The Zero Pollution Adriatic was commissioned by UR Institute within the framework of STARTS4Water, funded by S+T+ARTS, an initiative of the European Commission, launched under the Horizon 2020 research and innovation program.