I Hear Future Voices is here to question the power and influence of AI-based voice assistant systems (VAs) on human life, both in the present and in the near future. Backed by scientific research in the field, the installation proposes an artistic insight into the everyday use of voice assistants. Coupled with a distinctive intimate, play-like aesthetic, the three constitutive parts of this visual project catapult viewers into disparate realities located between utopia and dystopia. During the Ars Electronica Festival, I Hear Future Voices will be presented on three contiguous screens and accompanied by an informative, research-based installation. The aim is to view voice assistant technologies through a critical lens, reflect on what human-centered AI means, and highlight challenges, problems, and consequences coming with the usage of VAs. I Hear Future Voices is part of the LIT Special Call and arose out of the cooperation between Nives Meloni, the JKU Psychology student (MA) and Julian Schmiederer, the film director.
Biographies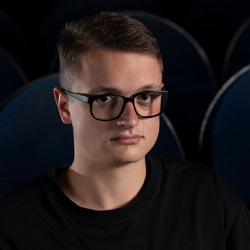 Julian Pixel Schmiederer is an artist and film director. In 2016 Julian moved to Graz to attend the Ortweinschule Graz for Film and MultimediaArt. Since then, he has produced four short films which have gained international recognition at several festivals.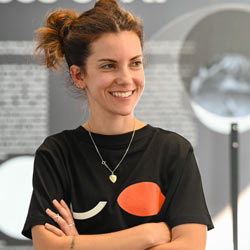 Nives Meloni loves combining art and science to address the societal and individual impacts of AI. She studies psychology (MSc) with specification in technology where her main interests are gender equity and diversity in smart technologies.
I Hear Future Voices Exhibition:
Concept & Idea: Nives Meloni, Julian Pixel Schmiederer
Graphics: Laurenz Hintermayer
Texts: Nives Meloni
Hosting Institute: LIT Robopsychology Lab
I Hear Future Voices Film:
Werner Biermeier
Mieke Schymura
Michael Edlinger
Ines Maria Winklhofer
Directed by
Julian Pixel Schmiederer
Producer
Nives Meloni
Director of Photography
Thomas Guggenberger
Written by
Thomas Barthelmeus
Mariana Jukica
Julian Pixel Schmiederer
ROLLER Credits
MiShi
Jona Moro
Josie
Emelie Oppelt
House
Lion Binder
Edward´s wife
Miriam Tsion Helminger
Assistant Directress
Bianca Amberger
1st Assistant Camera
Nick Unger
2nd Assistant Camera
Leo Breid
Production Sound Mixer
Lennard Fuchs
Matei Balasoiu
Christi Iorga
Set Design
Viktoria Schindler
Set Design
Leonie Wimmer
Gabriela Hutter
Hair and Make-up
Marietta Dang
Costume
Nives Meloni
Full Look Future Helena: Christina Seewald
Lighting Technician
Sina Lang
Anna Fachbach
Anne Hasenhüttel
Editor
Johannes Rass
VFX
Simon Eberl
Color Grading
Michael Seidl
Music Composer
Alexander Grumeth
Gabriel Vitel
Sound Design and Mix
Julian Pixel Schmiederer
Mixed at
Stress Studio Graz
Graphics
Laurenz Hintermayer
Catering
Blatt & Blüte
In cooperation with
JKU Linz
LIT Robopsychology Lab and Prof. Martina Mara
Ars Electronica Festival
Supported by:
Land Oberösterreich
Installation Sources
1. Voice Assistants use voice recognition, speech synthesis, and natural language processing (NLP) [1]
2. Voice Assistants like Siri, Alexa, Google Home, and Cortana use AI (Artificial Intelligence) to recognize and respond to voice commands [1]
3. Worldwide there were 205 million installed smart speakers in 2019 [2]
4. It is to be expected that Voice Assistants will soon become digital assistants that can read emotions [3]
5. Most Voice Assistants have female names and voices [3]
6. The number of Voice Assistants will increase to approximately 8.4 billion units globally by 2024. A number larger than the world's population [5]
7. The submissiveness and passivity of feminized Voice Assistants raise concerns about the enhanced association between "woman" and "assistant" [3, 4]
8. It is a small, mostly male segment of society that is developing Voice Assistants – and bringing in their preferences, humor, and ultimately potentially stereotypical ideas [3]
9. Due to the data that Voice Assistants are fed with, not every dialect or accent is understood equally good by the devices [6]
10. The media equation theory states that humans interact with computers in the same way they interact with each other [7]
11. Therefore, there could be a behavioral transfer from human-machine interaction to human-human interaction [7]
12. An alternative to female voices is a voice that speaks between 145Hz and 175Hz and thus cannot be assigned to gender [3]
1. Dev, A., Agrawal, S. S., & Sharma, A. (Eds.). (2022). Artificial intelligence and speech technology: Third International Conference, AIST 2021, Delhi, India, November 12–13, 2021, revised selected papers. Springer.
2. Smart speakers global market report 2022. (2022, März 23). ReportLinker. https://www.globenewswire.com/news-release/2022/03/23/2408568/0/en/Smart-Speakers-Global-Market-Report-2022.html
3. West, Kraut, Ei Chew, M., Rebecca, Han. (2019). I'd blush if I could: Closing gender divides in digital skills through education. UNESCO. https://unesdoc.unesco.org/ark:/48223/pf0000367416.page=1
4. Moradbakhti, L., Schreibelmayr, S., & Mara, M. (2022). Do Men Have No Need for "Feminist" Artificial Intelligence? Agentic and Gendered Voice Assistants in the Light of Basic Psychological Needs. Frontiers in Psychology, 13, 855091. https://doi.org/10.3389/fpsyg.2022.855091
5. Smart speakers global market report 2022. (2022, März 23). ReportLinker
https://www.globenewswire.com/news-release/2022/03/23/2408568/0/en/Smart-Speakers-Global-Market-Report-2022.html
6. Ike, C., Polsley, S., & Hammond, T. (2022). Inequity in Popular Speech Recognition Systems for Accented English Speech. 27th International Conference on Intelligent User Interfaces, 66–68. https://doi.org/10.1145/3490100.351645
7. Reeves, B., & Nass, C. I. (1996). The media equation: How people treat computers, television, and new media like real people and places. Center for the Study of Language and Information; Cambridge University Press.