COMMUNITY AT A TIME OF CRISIS
Jury Statement by Thomas Gegenhuber, Chiaki Hayashi, Dietmar Offenhuber, Irini Papadimitriou, Farah Salka
Community is about shared experience, even when the defining experience is one of separation. Coming together online as a jury from multiple continents and overcoming inhospitable time zone differences, the question of what makes a meaningful connection is no longer an academic one. The global experience of the lockdown during the coronavirus crisis necessarily affected our perspective on the submitted projects, even though the vast majority were created and submitted before the onset of the pandemic.
In this situation—beyond the usual discussion of novel ideas, formats, and causes worthy of support—we found ourselves coming back to appreciating the many different ways in which the submitted projects created meaningful experiences by sharing presence, purpose, and values. As Jean-Luc Nancy puts it, "meaning is itself the sharing of Being."
As stated on the Ars Electronica website, the Digital Communities category focuses on projects which "deliver social benefits, create and support communities, and foster an open and inclusive civil society." The submitted projects address a broad range of purposes that reflect the big topics of our time beyond the pandemic: organizing collective action to address inequality, document and combat violence, explore new modes of learning, defend transparency and free speech, confront global warming and ecological crises. But many projects were meaningful not through their problem-solving ambitions, but through their humor, playful relief, and the imagination of possible futures.
Notably, the question of technology and its various roles in fostering communities did not come up much during the jury discussions. Most of the submitted projects did not emphasize this point either, as digital media has become an everyday part of life. Projects that focused on technologies often addressed their embedded politics—the regimes of algorithmic governance, the platform economy and its social rifts, or the invisible power structures of surveillance capitalism. In many cases, the conspicuous absence of technology in a project was a political statement about technology in itself.
Turning to our selection process then, we felt it was important to consider actions and impact, but also reflect on what and who drives the communities behind these projects, how they position themselves, how they value or invest in their activities and goals, but also their impact, not necessarily at a global level, but the significance of their role even at a smaller, local level. What is the meaning of a digital community in challenging times? how it can relate to current events or issues? and what actions it can inspire? To an equally significant degree, and with a large range of projects submitted from across the globe, the jury deemed it crucial to present initiatives, collaborations or collective projects from culturally diverse groups and from diverse geographical areas.
Community can be a force of social change and the submitted projects here —often initiated by art and/or activist groups or communities—not only address a whole range of social, humanitarian, political, environmental, and cultural issues, but also inspire collective action and change, helping us see the world through a different lens and understand the importance and power of public participation, collaboration, human connection, and shared vision. It can enable the imagination and potential of different society models, as well as economic and social systems based on solidarity and equality.
The artistic, creative, and interdisciplinary approach that we found present in many of the projects has been quite important too. Art can have a transformative role for our society, creating powerful ways for people to engage with challenging, dramatic, but also overwhelming ideas and issues. At the same time, and as we often encountered during the jury process, art can inspire and enable participation, open conversation, and critical thinking. It can create safe and fair spaces for all to come together, explore, and respond to important ideas. At times of disruption and suffering, art can inspire, empower, and enable systems of repair and care that could eventually also help build more open, democratic, and ethical systems, and a more humane and caring world.
Golden Nica
Be Water by Hong Kongers
Dedicated to the Hong Kong protesters by Eric Siu & Joel Kwong
"Be Water" is a famous saying of martial arts star Bruce Lee: to be shapeless, formless, and able to adapt to any situation. This philosophy has recently been embraced by the protest movement in Hong Kong. The latest wave of protests began in 2019 in response to an extradition bill that threatened the territory's judicial independence. The protests have now become a case study in the use of digital activism to safeguard democratic freedoms.
Hong Kong, a former British colony, was returned to mainland China in 1997. Since then, Hong Kong has been governed by the constitutional principle of "One Country, Two Systems." Under this principle, Hong Kong continued to have its own governmental systems and legal, economic, and financial affairs, including trade relations with other countries, all of which are independent from those of mainland China. However, the interpretation of this principle has occasionally caused tensions to erupt.
In the summer of 2019, 22 years after the handover, a tremendous political movement emerged to protest an extradition bill that would allow criminal suspects to be extradited to mainland China under certain circumstances. Dissenting voices claimed this would risk exposing citizens to unfair trials and treatment, further eroding political freedoms in Hong Kong. Hundreds of thousands of Hong Kongers (as they now refer to themselves) took to the streets, and weeks of protests and civil disobedience followed, which helped to bring the movement to global attention. While the controversial bill was withdrawn in September 2019, the movement doesn't stop but continues with a broader set of demands, including a full inquiry into alleged police brutality.
Digital technology plays a key role in the whole movement, and the use of technology is creative, innovative, and pervasive. Digital community functions range from front-line support and crowdsourcing campaigns to protest art, social media (fact-checking and reporting), online petitions, political education, and so on. Protesters use multiple platforms including live-streaming, forums and apps, e-commerce, websites, music, and whatever else seems appropriate in the moment, a perfect expression of the "Be Water" philosophy. The protest movement is leaderless, and this decentralization results in massive online and organic tactics using platforms like LIHKG—a local, lo-fi version of Reddit where users can communicate and vote on posts—or AirDrop to share campaign messages. The protests have unleashed a wave of digital activism in which everything is new and creative.
We submit this project not as artists but as messengers. Our agenda is to collect examples of digital excellence from within the protest movement and generalize them into one discourse of "digital community." Hong Kongers have set new standards of digital activism, the lessons of which must be shared. "Be Water" is their guiding philosophy, just as in the Chinese classical text *Tao Te Ching* by Lao Tzu, the highest good is like water. As messengers and Hong Kong citizens ourselves, we document the past and present, credit the Hong Kong protesters, and hope to bring Hong Kongers to the center of art, technology, and society and provoke a much-needed dialogue about how digital culture shapes our practice of civic responsibility now and in the future.
Credits:
All Hong Kong protesters involved in the struggle to safeguard democracy
Foto: Photo lok1126, Designed by Eric Siu
Jury Statement:
This year, the Golden Nica went for the first time to an anonymous group: the citizens of Hong Kong who organized the pro-democracy protests of 2019. Their decentralized, leaderless, and technologically sophisticated organization continues the line of recent protest movements, from the Arab Spring to the Spanish anti-austerity movement, from anonymous to Occupy Wall Street. Through the exchange of knowledge, tactics, and tools, each collective has learned from past experiences and documented its lessons for the future. The modes of collective action in Hong Kong are, in many ways, exemplary for the notion of a digital community, but with important qualifications. The demonstrators did not organize around a particular technology but used digital media as one of many means to organize, communicate, document, and evade surveillance. The title of the submission refers to Bruce Lee's famous maxim—"to be shapeless, formless and able to adapt to any situation," as the submitters note. This shape-shifting tactic holds a vital insight for digital communities: the socio-technical infrastructures are ephemeral and interchangeable; the only constant elements are human relationships and a shared purpose.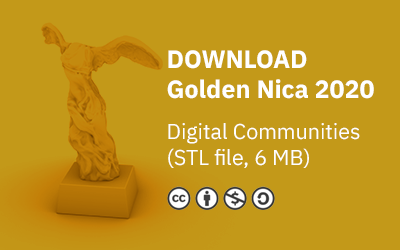 Award of Distinction
Algorithmic Justice League (AJL)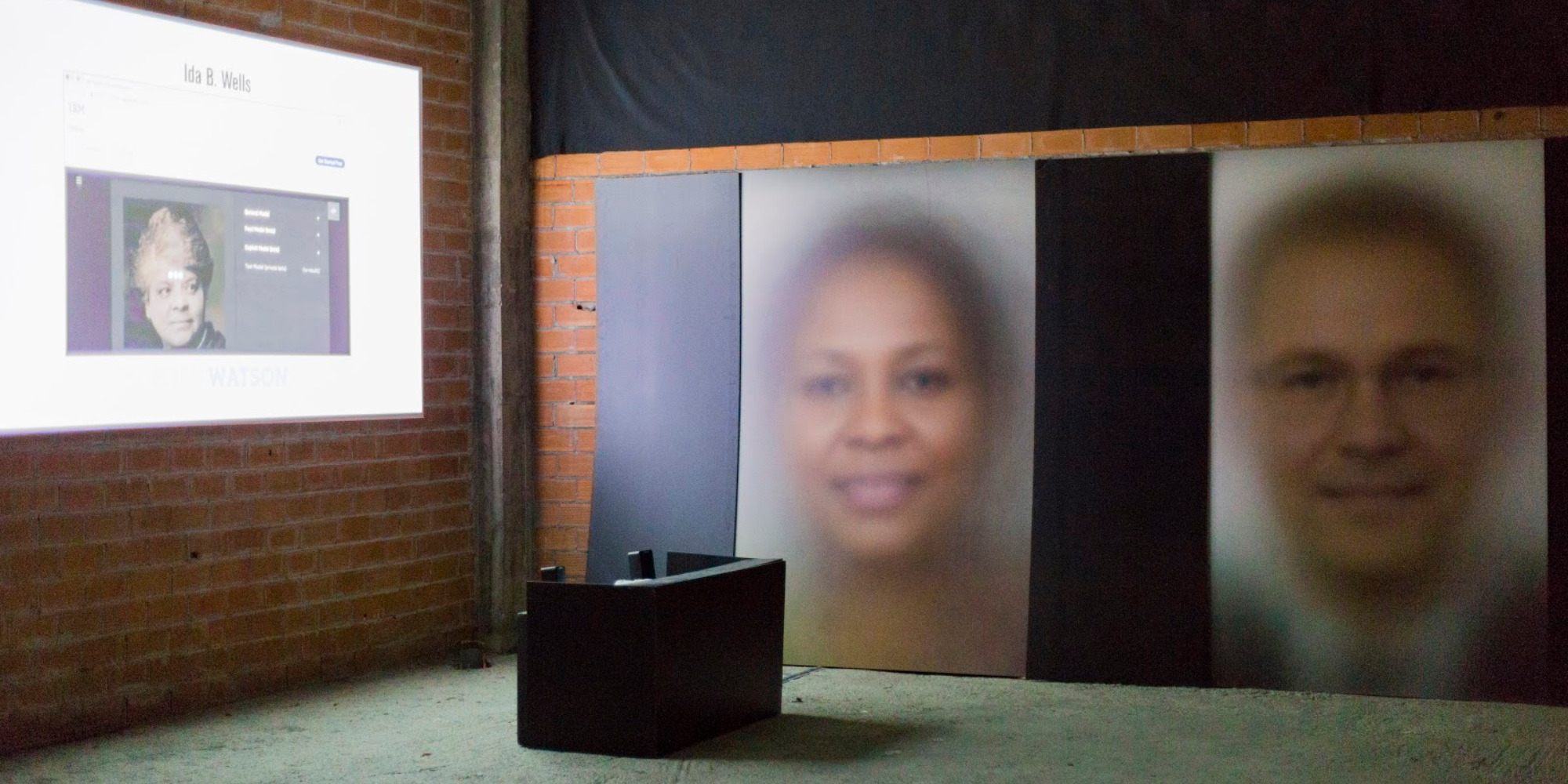 The Algorithmic Justice League (AJL) is an organization that combines art and research to illuminate the social implications and harms of Artificial Intelligence. AJL's mission is to raise public awareness about the impacts of AI, equip advocates with empirical research to bolster campaigns, build the voice and choice of the most impacted communities, and galvanize researchers, policymakers, and industry practitioners to mitigate AI bias and harms.
The Algorithmic Justice League takes a threefold approach to address harmful impacts and shift the AI ecosystem toward equitable and accountable AI:
– Increasing public awareness about the risks and harms of artificial intelligence through art, writing, and creative science communication projects; for example, AJL's founder Joy Buolamwini's TED talk has been seen over 1.2 million times; in 2019 she placed Op-Eds in the New York Times and Time magazine; and in 2020 the film Coded Bias, premiered at Sundance Film Festival. – Conducting research on algorithmic bias, AI harms, and discriminatory technology that propagates racism, sexism, ableism, and/or other harmful intersecting forms of inequality; for example, AJL's research study 'Gender Shades and Actionable Auditing' reveals gender and racial accuracy disparities in commercially sold facial analysis systems from IBM, Microsoft, and Amazon. – Advising regulatory and industry decision makers on AI standards and development processes with research-backed recommendations to address algorithmic discrimination and mitigate bias; for example, in 2019 Joy testified before the US House Committee on Oversight and Government Reform, AJL participated in the ACLU of Massachusetts' "Press Pause on Face Surveillance" campaign for a statewide moratorium on government use of the technology, and wrote an Amicus Support Letter in solidarity with Brooklyn tenants' successful fight against a facial recognition entry system.
Credits:
Algorithmic Justice League Art Team: Founder Joy Buolamwini, Creative Communications Lead Nicole Hughes
Supporters of the Algorithmic Justice League include: the Ford Foundation, MacArthur Foundation, Sloan Foundation, Rockefeller Foundation, and individual donors.
Foto: Algorithmic Justice League
Jury Statement:
Algorithms have become essential elements in our everyday life, being deployed in almost every aspect of our society; from online searches, navigation, and recommendations to smart devices, bots, but also in banking, speech/facial recognition, health, policing and so on. As more of these systems are being embraced and widely used though, the more important it is that we address their social implications. In a world where inequality, racism, discrimination, and unfairness are often present, we can't ignore the fact that the systems we design can be homogenous and not neutral, and therefore algorithms can be biased and discriminatory.
The Algorithmic Justice League (AJL) stood out in this year's selection as an organization that carries out urgent research and action in this area, investigating algorithmic bias, injustice, and the non-neutrality of Artificial Intelligence systems. But more importantly, it goes a step further by translating its findings into actions, principles, and recommendations for building awareness, educating people and advocating for alternative infrastructures and moral frameworks that we should be applying in order to create a more equitable AI.
Award of Distinction
Habaq Movement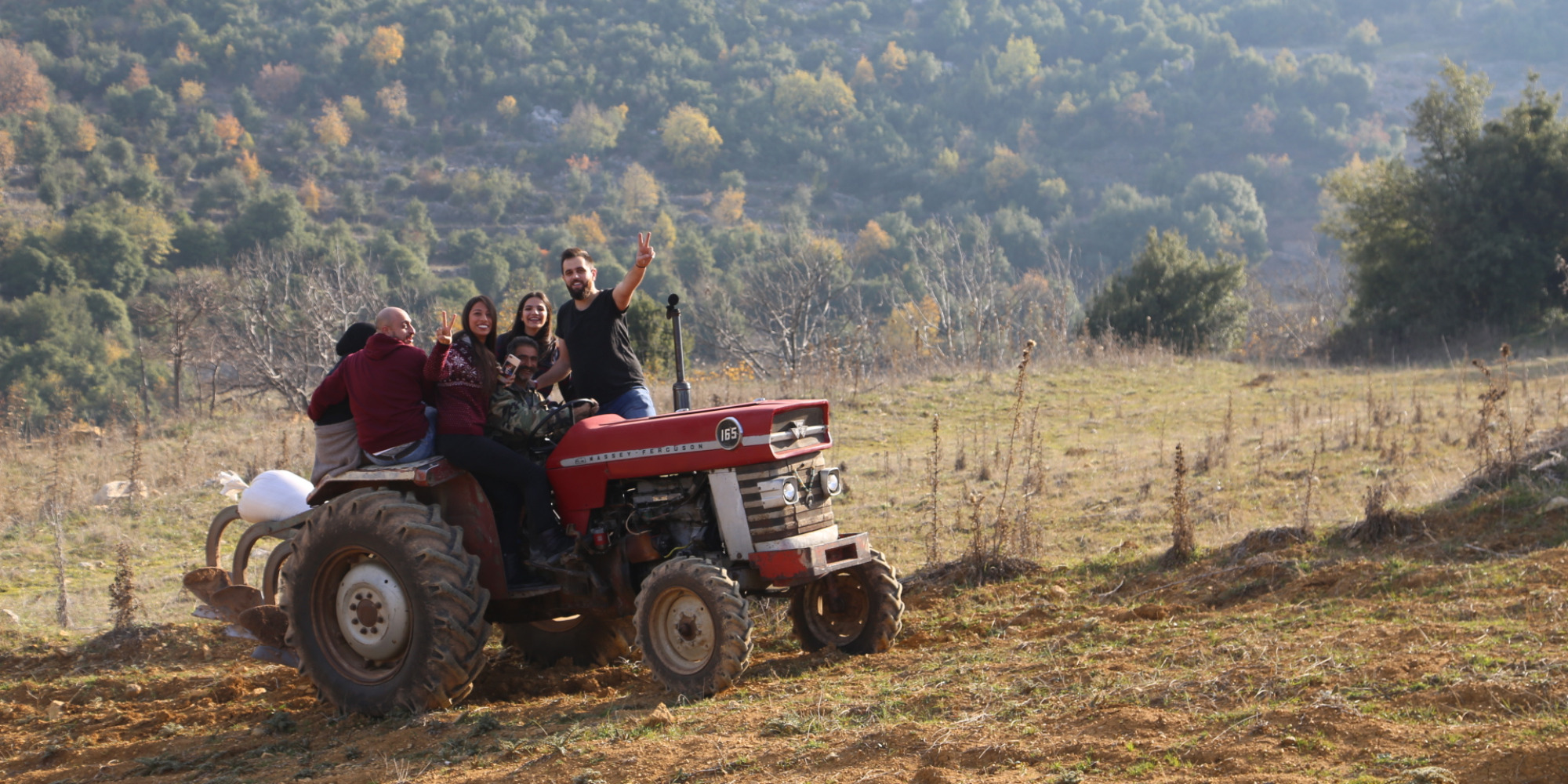 The current economic and social crisis in Lebanon highlights the importance of youth initiatives with a futuristic and targeted vision for solutions. Young people have become increasingly aware of the important role they can play in the development and improvement of society. With their energy and experience, young people from all different social groups—regardless of their nationality, race or religion—are joining together to manage this crisis and to help build a better society.
In Lebanon, the rentier economy is near collapse, and the absence of the state since the Lebanese Civil War period has created huge economic and social challenges. The rentier economy is unable to provide enough jobs to meet people's needs.
Habaq Movement promotes collective initiatives and activities—such as encouraging food crops in public spaces—making them open and available to the whole community. It believes in a social economy based on solidarity and partnership, creating new interactions and social roles while trying to build a sustainable local economy. Habaq Movement is an agricultural reclamation cooperative aiming to recuperate abandoned agricultural land around the country, set up working teams, and provide alternative solutions for local communities. Habaq believes in the right to food, taking a food sovereignty approach to its activities, especially in support of local markets, and advocates sustainable agricultural practices and rural development at state and local government level. Habaq is currently providing training on ecological agricultural practices and food sovereignty issues, with the aim of contributing to the establishment of a food sovereignty movement in Lebanon. It has already conducted workshops in 10 locations around the country. One of Habaq's main achievements to date is to link agricultural initiatives between Lebanese and refugee populations. Habaq's mobilization and advocacy are based on social media to link various farmers with young social initiatives that could enable the development of agriculture in the country and relink the youth with agriculture and rural areas. Based on this process and in collaboration with partners, Habaq is creating a digital database of land available for community initiatives, which will be later linked to an agricultural almanac.
Credits:
Foto: Habaq Movement
Jury Statement:
Habaq Movement wins our vote through its aligned combo of politics and action, all geared towards survival alternatives for local communities. They are an agricultural reclamation cooperative that is run by militants from the north of Lebanon and that is all about getting back to one's land by having the people revitalize the agricultural sector. The young people behind this understand the agricultural sector has been abandoned by the state for far too long and imagine a different state/ society model and a very different new economic and social system, all about interaction and sharing. The people of Habaq believe in the right to food, taking a food sovereignty approach to its activities, in support of local markets, building an exchange network between farmers with the aim of freeing them from the dominance of seed production and distribution companies, promoting an economy based on solidarity and participation.
Honorary Mentions
Code of Conscience
Code of Conscience is a discursive technology that allows producers of agricultural and construction machinery to commit to the goal of fighting deforestation and protecting indigenous land. Developed in partnership with Brazilian indigenous groups, the geo-fencing technology is designed to stop the vehicles when they are steered into protected areas and habitats. The jury did not read this project as a technological solution to a political and economic problem, but as an important commitment by commercial manufacturers to accept responsibility for how their products are used. As Langdon Winner notes, technologies are ways of building order in the world, and therefore allow for different possibilities of re-imagining this order. (Jury Statement)
Ghana ThinkTank is Developing the First World
Ghana ThinkTank flips the assumptions and stereotypes behind the idea of international development on its head. The collective gathers "experts" in the "third world" to solve "first-world problems" in a series of international workshops. Beyond the ironic reversal and critique of the paternalistic reality of international development that often merely preserves existing power relationships, the jury was impressed by the throughout practical, innovative, and inspiring outcomes of the workshops. From a Moroccan team developing affordable housing and civic infrastructure for Detroit to a Sudanese team mediating between African asylum seekers and local Israelis, *Ghana ThinkTank* presents a humane and empathic vision for international collaboration beyond design-thinking workshops and bureaucratic constraints. (Jury Statement)
Indigemoji
Indigemoji is an ambitious idea and at the same time an important and timely project, since it raises much needed questions about digital colonialism and the lack of diversity in technology and online spaces. At a time of increasing need for people to get access to the web, having diverse voices, languages, and perspectives is an important requirement in order to have online spaces that are safe and accessible to as many people as possible. And language is important for building human connections online, rather than building virtual monocultures.
Empowering Indigenous communities to shape the web, Indigemogi has created a platform enabling hundreds of people to co-design emoji 'stickers' that represent life, culture, and language in Arrernte Country in Central Australia. Emojis have names in Arrernte, the critically endangered traditional language of Mparntwe/Alice Springs, but also represent endangered or extinct species promoting and preserving their memory. Having already achieved a great outcome, Indigemoji is an important project for addressing the absence of diverse cultures and languages online, exploring ideas of power and control, and making a case for digital inclusion and then of widening access to technology. (Jury Statement)
Listening at Pungwe
A sonic cartography and alternative listening and un-listening project, Listening at Pungwe enables critical engagement through performative installations, recordings, and radio performances, challenging ideas about archives and colonial praxis. A Shona term for "political vigil," Pungwe here alludes to public liberatory and spiritual acts of challenging the ways one sees, thinks, or hears the surrounding world in the context of power and powerlessness, mediated through sound. Through collective action, Listening to Pungwe invites us to deconstruct and rethink colonial archival practices and provenance, considering alternative practices, ideas, and methodologies of knowledge towards the restoration of the archive. (Jury Statement)
Participedia
How can we innovate our democratic institutions and create more sustainable communities? One line of answer to this question calls for governments to include citizens into decision-making beyond the act of voting every few years. But top-down bureaucracies meeting bottom-up citizen engagement can cause frictions. Against this backdrop, it would be great to have a publicly available archive at our disposal documenting various examples of public participation so that actors starting such initiatives can get useful inspiration and learn from someone else's experiences. Participedia does exactly that. The jury honors this initiative collecting cases dedicated to public participation and democratic innovation from around the globe. (Jury Statement)
PULANG PERGI
PULANG PERGI is an online platform merging communication and education and focusing on supporting future migrants, working migrants, and ex-migrants from Indonesia. The jury particularly admires the concepts adhered to by this platform, namely knowledge sharing by means of a bottom-up approach, working on various projects with migrants on different levels of the migration cycle, and having the affected community be at the core of active engagement as opposed to passive participants. The value of this project is that its wealth lies in its reliance on knowledge sharing from the migrant workers themselves, from their daily lived labor experiences, and we hope more projects follow this track. (Jury Statement)
School of Machines, Making & Make-Believe
Tech is still a male-dominated field. This is further fueled by a masculine Silicon Valley model of doing digital entrepreneurship. Clearly, we need to grow tech ecosystems favoring diversity and equal opportunities. Indeed, there are many initiatives, ranging from top-down public programs to encourage women to engage with STEM subjects to a bottom-up movement, such as female coding communities creating a social learning environment attracting women. The jury sees The School of Machines, Making & Make-Believe as a worthy representative of this bottom-up movement seeking to make technology more diverse—particularly by embracing an artistic approach in the exploration of technologies. This honorary mention also serves the purpose to call for policy makers and the private sector to support various initiatives of this bottom-up movement and aid them in scaling-up. (Jury Statement)
Smart Coop
Freelancers are a new normal in today's knowledge economy. However, the institutional infrastructure (e.g. welfare systems) are still tailored around "regular" employment and put solo-entrepreneurs at a disadvantage. *Smart Coop* seeks to offer freelancers to maintain their freedom and autonomy while also offering protection within a collective. Originating in Belgium in 1998, the network has expanded in 9 countries across Europe with more than 100,000 members. Smart.coop members, who include freelance creative and cultural workers, get access to secure simplified invoicing tools and various other services that allow them access to social security benefits as regular employees. The jury thought this as a great example of support network and space addressing needs that freelancers and cultural workers have. While the coronavirus pandemic is affecting the world, projects such as Smart.coop are needed even more. (Jury Statement)
STEAM physical education program
The STEAM physical education program reminds us that using a combination of triggering curiosity through playfulness and providing the means to experiment with 3D printing can have a huge impact. While many such projects take place in major cities, the STEAM project takes place in the countryside. A village with a small population of 5,000, which is further decreasing every year. The artist aimed to teach 3D modeling and 3D printing to elementary school students by using flying discs, helping the young people to reconnect with the real world and active play through creativity and making. By enabling the students to learn and play with 3D modeling, this project gave them confidence and something to be proud of. The jury was touched by the children's genuine response and joy, reminding all how important learning through play can be. (Jury Statement)
Syrian Archive
The Syrian Archive is a most important and inspiring form of attaining justice to the ongoing Syrian people's struggle for rights, liberty, and freedom. They work on archiving content around the Syrian revolution and conflict methodically before it is removed from the online platforms it was originally found on, which is a pattern Syrians are faced with all the time: the need to constantly find means to not only survive the systematic layers of violence and attacks, but to also bear the burden of finding means of proving these horrors and atrocities happened in the first place to a questioning world with a short attention span. The work of the *Syrian Archive* is a race against time and is essential and core to the future of Syria, to any path of justice and accountability, and for informing future generations about what actually happened in Syria since the people took to the streets in 2011. This is a reliable source of information revolving around visual documentation of human rights violations and shaping evidence in a quest to bring people and their movement to freedom and life some form of justice. (Jury Statement)
Vis. [un]necessary force_3
Vis. [un]necessary force_3 started as an artistic project, with a grass-roots approach involving a collaborative and participatory audio-visual cartography. The project exposes the shocking fact that over 60,000 people were the victims of forced disappearance in Mexico in 2019, often with the complicity of police or military forces. Although the project size remains small, the artist has created a powerful tool that encourages citizens who self-organize to perform investigations to co-create a document of these human rights violations, to expose and share with the world the wrongdoing and violations of power, and to build a digital memory for affected communities. (Jury Statement)
#WirVsVirus Hackathon
The coronavirus crisis hits us hard. When the day-to-day life and the institutions we take for granted break down, communities can step in. The #WirVsVirus Hackathon was an event that successfully brought together government, civil society, and the private sector. The jury applauds the hackathon organizers for carefully orchestrating the process and fostering collaboration among 26,581 participants—making it one of the largest online hackathons to date. This hackathon demonstrates that governments opening up to its citizens can result in innovative solutions that can help tackle the crisis. Beyond generating viable ideas, this hackathon also has great symbolic value. Joining forces, being united in a common cause, inspires hope and empowers people, softening the blow of the social crisis. (Jury Statement)
The Golden Nicas of "Digital Communities" since 2004