Während des Festivals wird die Installation Metabolo durch die Performance von Valerie Tameu zum Leben erweckt: ein techno-spirituelles Ritual, das die Möglichkeit hinterfragt, Technologie zu nutzen, um andere Formen von Intelligenz und Kultur zu fördern. Dabei entsteht ein Ökosystem der gegenseitigen Beeinflussung zwischen dem menschlichen Körper, KI, Meeresökosystemen und der spirituellen Welt West-/Äquatorialafrikas. Die Performance findet mit der Ausstellung Metabolo / Isotta: AI im selben Raum als kreativem und problematischen Partner statt.
Credits
Metabolo, by Valerie Tameu, is curated and produced by Sineglossa in collaboration with Play with Food and Free University of Bolzano, with Lavanderia a Vapore as residency partner. Metabolo is part of Food Data Digestion, a project supported by Fondazione Compagnia di San Paolo within the fund call "ART-WAVES. For creativity, from the idea to the stage.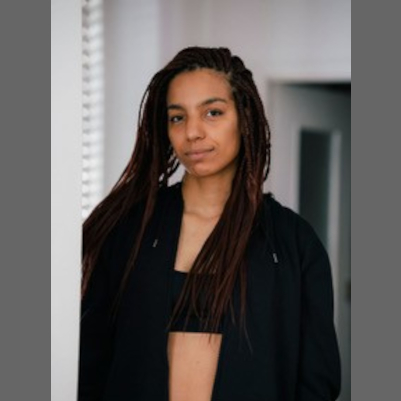 Valerie Tameu (IT)
Valérie Tameu ist Autorin und Bühnenkünstlerin. Sie absolvierte an der Fakultät für Film, Darstellende Kunst, Musik und Medien in Turin ein Studium der Tanzwissenschaften und trainierte mit verschiedenen Mentor*innen aus der italienischen und internationalen Theaterszene. Parallel dazu führt sie Kreativ- und Forschungsprojekte in verschiedenen Kontexten durch. Ihre künstlerischen Interessen umfassen hybride Körperlichkeiten, Erinnerung und Imagination, DIY-Identitäten und Hacking-Strategien.