Join us for an engaging and enlightening workshop led by Angie Abdilla, a palawa~trawlwoolway woman, esteemed founder, and Director of Old Ways, New. With a deep focus on Indigenous knowledge and systems, Angie bridges the realms of technology and indigenous protocols for AI. Immerse yourself in a dynamic 30-minute yarning circle, a traditional method of conversation and connection. Three individuals, well-versed in the techniques, will facilitate the group discussions while maintaining a craft-based focus. This circle encourages uninterrupted dialogue, allowing participants to delve into topics such as cultural practice in technology, the significance of protocols and the concept of cultural-centered design. Dive into conversations about indigenous knowledge, non-European cultural perspectives and the concept of land and community-based design. Experience a thought-provoking exploration of the intersection of technology and culture, prompting reflection on the future of tech and the need for socially-grounded environments. Uncover governance principles and practices that empower communities while embracing the concept of a cultural form of AI. Delve into the role of research, knowledge and strategy in shaping the development of technological tools. Angie will underscore the importance of country-centered design, emphasizing the connection between healthy communities and technological development. Discover how ancient traditional technologies inform modern engineering, design and government structures. The workshop will challenge conventional power dynamics and question who holds the authority to shape technological advancements.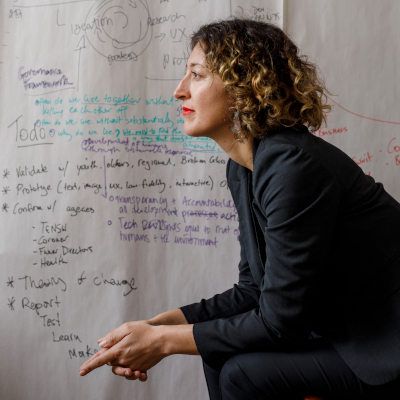 Angie Abdilla (AU)
"Old Ways, New" Founder & Director
Professor Angie Abdilla is a palawa woman. She is the founder and director of Old Ways, New and works with Indigenous Knowledges and systems in the creation of technology. Angie is a Professor at the Australian National University's School of Cybernetics and co-founded the Indigenous Protocols and Artificial Intelligence working group (IP//AI). She is a member of the Scientific Council of the Association of AI Ethicists (AAIE), CSIRO Data61 Advisory Group, the National AI Centre Think Tank, and was a member of the Global Futures Council on Artificial Intelligence for Humanity as part of the World Economic Forum in 2022.