Ars Electronica Festival, Linz, Austria, September 6 – 10, 2023
Join our Events, Concerts and Performances!
Experience the Ars Electronica in extraordinary concerts and performances at unusual venues: from classical music or experimental Nightline-programs in POSTCITY's abandoned train hall to heated game show-battles against other visitors using text-to-image software.
This year's return of the festival to POSTCITY also marks the comeback of the Nightline: Following the classical sounds of the Bruckner Orchestra, the Gleishalle will become a musical playground for electronic audio-visual artists and their sound experiments like Jessiquoi, Noémi Büchi, Soraya Lutangu aka Bonaventure, Myriam Bleau and Kenji Araki.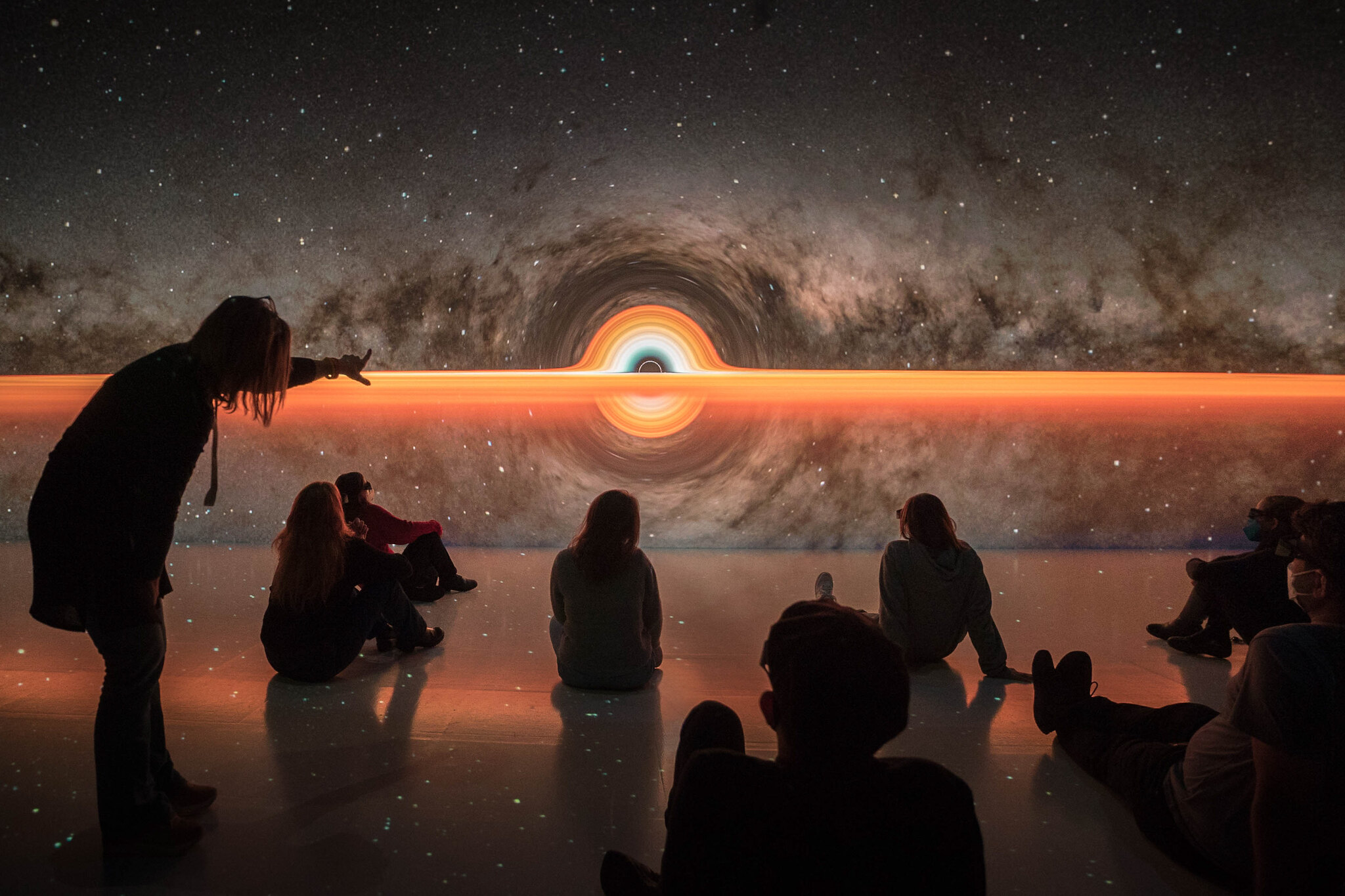 Immerse yourself in the Deep Space 8K!
Stunning visuals, exciting stories and immersive experiences, combined with impressive image quality, color brilliance and 3D stereo: The Ars Electronica Center's interactive playground is packed with media art, performances and action!
Hyundai Motor Group

Established in 2016 by Hyundai Motor Group, the VH AWARD is Asia's premier award platform, committed to identifying and nurturing emerging artists in Asia who actively explore the intricacies of Asia and its future.

Marc-André Cossette (CA), Alexandre Saunier (FR), Carlotta Borcherding (DE), Gerald Peter (AT)

A carefully curated evening program full of inspiring and stunning audio-visuals by international artists.

Erick Aguirre (MX), Kevin Blackistone (US), Jiaji Cheng (CN), Danica Golić (RS), Kathrine Hardman (US), Eunji Ji (KR), Polina Kliuchnikova (RU), Kateryna Pomeichuk (UA), Yuma Yanagisawa (JP), Razieh Kooshki (IR), Vahid Qaderi (IR)

A carefully curated evening program full of inspiring and stunning audio-visuals by international artists.

Susanne Kiesenhofer (AT), Anna Oelsch (DE/AT), Daniel Rammer (AT)

Deep Sync creates an interactive playground for sound and visuals in the immersive Deep Space 8K environment, inviting visitors to experiment with the correlation between psychological and physiological processes.

Ars Electronica Futurelab (AT)

On Saturday Night, the Ars Electronica Center's Deep Space 8K will once again be filled with an electrifying atmosphere created by the Futurelab Night Performances. Visitors can enjoy a wide range of experiences circling around visualized sound, sonified biodata, and experimental live visualizations.

Miwa Matreyek (Golden Nica for Computer Animation 2020) will be presenting a shortened documentation video of her 2020 performance work, Infinitely Yours. She creates live performances integrating her kaleidoscopic animations with her body in shadow from behind the screen.

Project Humanity (JP)

Project Humanity is an R&D project that explores human's own potential from undiscovered perspectives. In this program we will present our new project that aims to restore physical freedom to people with ALS in a completely new approach. Immerse yourself in a new mixed reality musical performance.

Florian Bruggisser (CH), Chris Elvis Leisi (CH), Chris Salter (US/CH), Martin Fröhlich (CH), Pascal Lund-Jensen (CH)

reconFIGURE allows you to experience directly how your body and soul are captured and reimagined by AI systems. Both humorous and at the same time, unsettling, reconFIGURE fulfils the promise made in the title: It takes the image of your body and reconfigures it the way a machine might see and understand you.
Experience Extended Reality…
How can we distinguish what is fake and what is a reality? And if there is a digital reality, is there also a digital truth? Immerse yourself in the countless XR projects featured at this year's Campus exhibition and ponder on your own definitions of reality and truth.
National University of Theatre and Film "I. L. Caragiale", Master of Interactive Technologies for Performing and Media Arts (RO)

If there is a digital reality, is there also a digital truth? The digital world grows daily extending our interactions and worlds. Digital Orbuculum dives into digital reality looking for magical truth in its chaos.

Korea National University of Art | K-ARTS (KR), Pohang University of Science and Technology (KR)

FRAMELESS: A unique convergence of art and technology in the metaverse, where virtual reality performances and artworks meet immersive multisensory experiences.
…or take the Wheel in one of our XR Workshops!
Choose your own adventure, reclaim the metaverse and help write a manifesto: In these workshops you can get active and extend your own reality.
Boris Debackere (BE), Aurelie Delater (FR), Vanessa Hannesschläger (AT), Alisa Verbina (RU)

The Critical XR Manifesto workshop sets out to reimagine and expand on the current notions of XR while following a critical, reflective line of thought and envisioning a common, open, sustainable XR as promoted by the Realities in Transition project. The interactive workshop addresses XR artists and professionals from Europe and beyond, inviting them to…

Vanessa Chang (US), Lindsey Felt (US)

Who owns the metaverse? XR is celebrated as a space of profound possibility where a user can transcend their physical limitations. Yet the reality is that the metaverse remains inaccessible to many. What would a metaverse, collaboratively built and governed, look and feel like? Using speculative storytelling and worldbuilding protocols, this design lab invites participants…

Paula Strunden (AT)

Discover the world of embodied virtual world creation in this interactive workshop. You'll learn how to create your own virtual avatar wearing VR headsets and using 3D modelling software Gravity Sketch and auto-rigging software Adobe Mixamo. Step beyond the conventional perception of virtual reality as an escape from reality and explore new forms of hybrid…
Meet the Prix Ars Electronica Winners!
Every year, the Prix Ars Electronica spotlights media artworks from all over the world and serves as a trend barometer offering inspiring, current and forward-looking insights. Experience this year's winning projects in the category 'Digital Musics and Sound Art' and listen to the artist's perspectives at the Prix Ars Electronica Forum.