SH4D0W is the first performing arts production starring an artificial intelligence creation as the protagonist. The play is performed in the 4D Box, a theatre stage capable of creating mixed-reality illusions of virtual 3D objects interacting with live performers. The AI character is represented as a shape-shifting neural network, which gradually takes control of the universe.
In the play SH4D0W, director Mikael Fock associates the relationship between man and machine with the clever scholar and his shadow in the H.C. Anderson fairytale of the same title. The focus is on the human encounter with its virtual shadow, which is represented by the data-driven artificial intelligences surrounding us.
The play is a journey into the heart of an artificial intelligence creation, where emotions and data are the unacknowledged trade between us and the machines.
The performance is an immersive 3D experience, driven by a live AI creation, creating a 3D universe of sound, lighting and a visual representation of an artificial intelligence machine that interacts with the surroundings and the live actor.
Biography
A competent and innovative team of technology artists are behind this unique technological theatrical performance.
MIKAEL FOCK (DK): is the producer, director, conceptualist and scriptwriter behind the idea of creating a performance in interaction with an artificial intelligence machine, inspired by HC Andersen's fairytale "The Shadow". For three years the team has had to discard at least 20 scripts versions to create a performance without a classic script dramaturgy, but with an artificial intelligence machine's new ability to create unfamiliar narratives through the live improvisations with actor and audience.
With a background as theater director and media artist, Mikael Fock has been directing and developing many theater performances, especially in the field of art, technology and immersive theater, nationally and internationally.
Mikael Fock has been the CEO and artistic director of the Cultureyard since 2010. Over this period, he has created the international Art and Tech Festival Click, and started to make international performance productions in this field.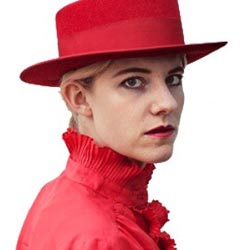 CECILIE WAAGNER FALKENSTRØM (DK): is an award-winning artist employing artificial intelligence and machine learning to create interactive artworks. Cecilie's artworks have been exhibited internationally, for example at the Victoria and Albert Museum in London. Two of her artworks have been awarded the global digital art prize "The Lumen Prize" and she received the British "TECHNE Award". Cecilie studied Fine Art at University of the Arts London and Royal College of Art in London.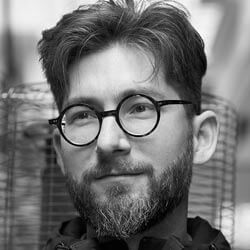 CARL EMIL CARLSEN (DK): is an artist and designer exploring computation as a means of creating audiovisual, interactive experiences. His works investigate sensory mixed-reality illusions, simulated natural phenomena, and visual music, often combined.
Carl Emil Carlsen has worked with the 4D box (the performance format) visual design for the last 6 years, where he has created an immersive 3D universe, in which the artificial intelligence interacts with the visual representation.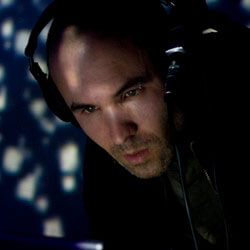 YANN COPPIER (DK): As performer, composer and sound artist, Yann was head of the Sound training at The Danish National School of Performing Arts between 2014 and 2020, where he conducted a 3-year artistic research project on "absurd sounds", funded by the Danish Ministry of Culture.
He has released a dozen records, solo and through various collaborations, and has performed and produced all over Europe with projects ranging from sound installations, theatre plays, choreographies or music bands, both in the real and the virtual world.
Half-Danish, he has lived in Copenhagen since 2006.
Coppier has created a multichannel generative music and sound design for SH4DOW, which evolves live and in 3D following artificial intelligence generated movements, in particular their graphical and emotional evolution. Coppier has a long artistic track record working with film, theater and experimental music.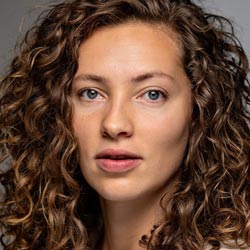 EMILIE RASMUSSEN (DK): In addition to artificial intelligence, the show also features the newly graduated actress, Emilie Rasmussen, from Danish National School of Performing Arts. She takes us through the anthropological experiment and improvises with the AI during approximately 70% of the performance while the unacknowledged trade between her seek for love and the ai ´s harvesting of data and emotions are going on.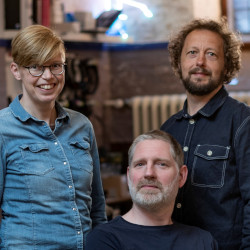 Vertigo (DK): VERTIGO is an audiovisual artist collective also from Copenhagen, founded in 2011. They create interactive light installations and atmospheric experiences for exhibitions, concerts and other cultural events. Among other projects, Vertigo has been internationally recognized for The Wave – an interactive 3.6 meters high and 80 meters long audible light installation, which has been on display in Copenhagen, London, Liverpool and most recently, in Athens.
Credits
The Danish Artscounsil, Eu Ai-Lab, The Culturyard, Bikuben Foundation
Director: Mikael Fock
Visual artist: Carl Emil Carlsen / Sixth Sensor
Performer and Ai improviser: Emilie Rasmussen
AI artist: Cecilie Waagner Falkenstrøm / Artificial Mind
Soud artist: Yann Coppier
Concept & Manuscript: Mikael Fock
Light design and technology: Vertigo
Production: Mikael Fock Productions