An exhibition on new paradigms of violence
Während der Realisierung dieser Ausstellung im September 2021 wurden im Konflikt zwischen dem Gazastreifen und Israel 230 Menschen getötet, 2 Menschen starben bei einem Unfall mit einem autonomen Tesla-Auto und fast 11.000 Menschen wurden in Spanien delogiert. Gewalt war schon immer ein fixer Teil der menschlichen Geschichte, aber heute zeigt sie sich in einer Weise, die wir uns nie hätten vorstellen können. Technologie, Kapitalismus, neue urbane Lebensstile und die Kommodifizierung von Sicherheit haben eine solide Grundlage geschaffen, auf der Gewalt sich entfalten kann. Sie entwickelt sich zusammen mit uns und nimmt mit uns immer neue Räume ein. Wenn wir die mit diesen neuen Gewalthandlungen verbundenen Herausforderungen angehen wollen, müssen wir zunächst verstehen, wie sie zur Normalität geworden sind. 730 hours of Violence will diese komplexen Realitäten untersuchen und gleichzeitig eine kritische öffentlichen Diskussion darüber anstoßen, wie wir gemeinsam mit neue Gewaltparadigmen umgehen.
Biography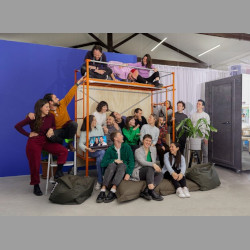 Domestic Data Streamers is a creative studio based in Barcelona. We are a team of 20 multidisciplinary professionals (designers, journalists, creative technologists, data scientists, architects and psychologists) focusing on creating meaningful connections between information and people. By wielding design, research, new data languages, creativity and technology, we work outside the media noise and help people understand, connect and engage with complex topics.
Our curiosity for contemporary challenges has taken us to develop pieces around various topics, ranging from feminism and its importance nowadays (You Had to Be a Feminist Exhibition) to the Internet and how to navigate it democratically (The Internet Nation Exhibition). We have also worked on self-commissioned projects such as our recent visual essay on Infoxication (Data Heartbreak) or our first Exhibition Lab focused on Violence (730 hours of violence).
Credits
730 Hours of Violence is the first of a series of experimental projects by Domestic Data Streamers
730 Hours of Violence is part of the MediaFutures project.
This project received funding for research and innovation from the European Union's framework Horizon 2020, under grant agreement No 951962.
The information reflects the author's views. The European Commission is not liable for any use that may be made of the information contained therein.
Conceptual Advisors: Sara Torres, Maria Fabuel, David Fernández
Collaborators:
Productions: Marta Velasco y Oscar Pérez
Architecture: Jennifer Méndez
Translations and Corrections: Alex Johnstone, Anna Mas Llopart
Special Thanks: Ricardo Camilleri, Leva Jakuša, Alex Johnstone, Iasa Monique, Ben Olsen, Pau Horta