An exhibition on new paradigms of violence
While creating this exhibition, in September 2021, 230 people were killed in the conflict between Gaza and Israel, 2 people died in a driverless Tesla car crash and almost 11.000 people were evicted in Spain. Violence has always been a part of human history, but today it presents itself in ways we never could have imagined. Technology, capitalism, new urban lifestyles and the commodification of security have provided violence with a solid ground from which to flourish. It evolves with us, taking up new spaces wherever we go. If we want to tackle the challenges these new violences present we first need to understand how they have come to be normalised. 730 hours of Violence aims to shed light on such complex realities whilst building critical discussions with citizens about how we collectively see and relate to new paradigms of violence.
Biography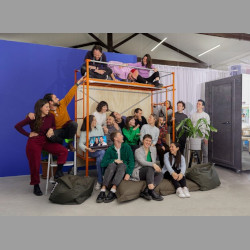 Domestic Data Streamers is a creative studio based in Barcelona. We are a team of 20 multidisciplinary professionals (designers, journalists, creative technologists, data scientists, architects and psychologists) focusing on creating meaningful connections between information and people. By wielding design, research, new data languages, creativity and technology, we work outside the media noise and help people understand, connect and engage with complex topics.
Our curiosity for contemporary challenges has taken us to develop pieces around various topics, ranging from feminism and its importance nowadays (You Had to Be a Feminist Exhibition) to the Internet and how to navigate it democratically (The Internet Nation Exhibition). We have also worked on self-commissioned projects such as our recent visual essay on Infoxication (Data Heartbreak) or our first Exhibition Lab focused on Violence (730 hours of violence).
Credits
730 Hours of Violence is the first of a series of experimental projects by Domestic Data Streamers
730 Hours of Violence is part of the MediaFutures project.
This project received funding for research and innovation from the European Union's framework Horizon 2020, under grant agreement No 951962.
The information reflects the author's views. The European Commission is not liable for any use that may be made of the information contained therein.
Conceptual Advisors: Sara Torres, Maria Fabuel, David Fernández
Collaborators:
Productions: Marta Velasco y Oscar Pérez
Architecture: Jennifer Méndez
Translations and Corrections: Alex Johnstone, Anna Mas Llopart
Special Thanks: Ricardo Camilleri, Leva Jakuša, Alex Johnstone, Iasa Monique, Ben Olsen, Pau Horta