Cenizas del Paraná ist eine taktische und spekulative Untersuchung des Paraná-Feuchtgebiets in Argentinien. Mit dem Wissen aus Umweltwissenschaften, Datenwissenschaft, Photogrammetrietechniken sowie Luft- und mikroskopischen Bildern will dieses Projekt Böden und einheimische Pflanzenarten identifizieren, die durch lokale Waldbrände und den globalen Klimawandel beschädigt und gefährdet sind.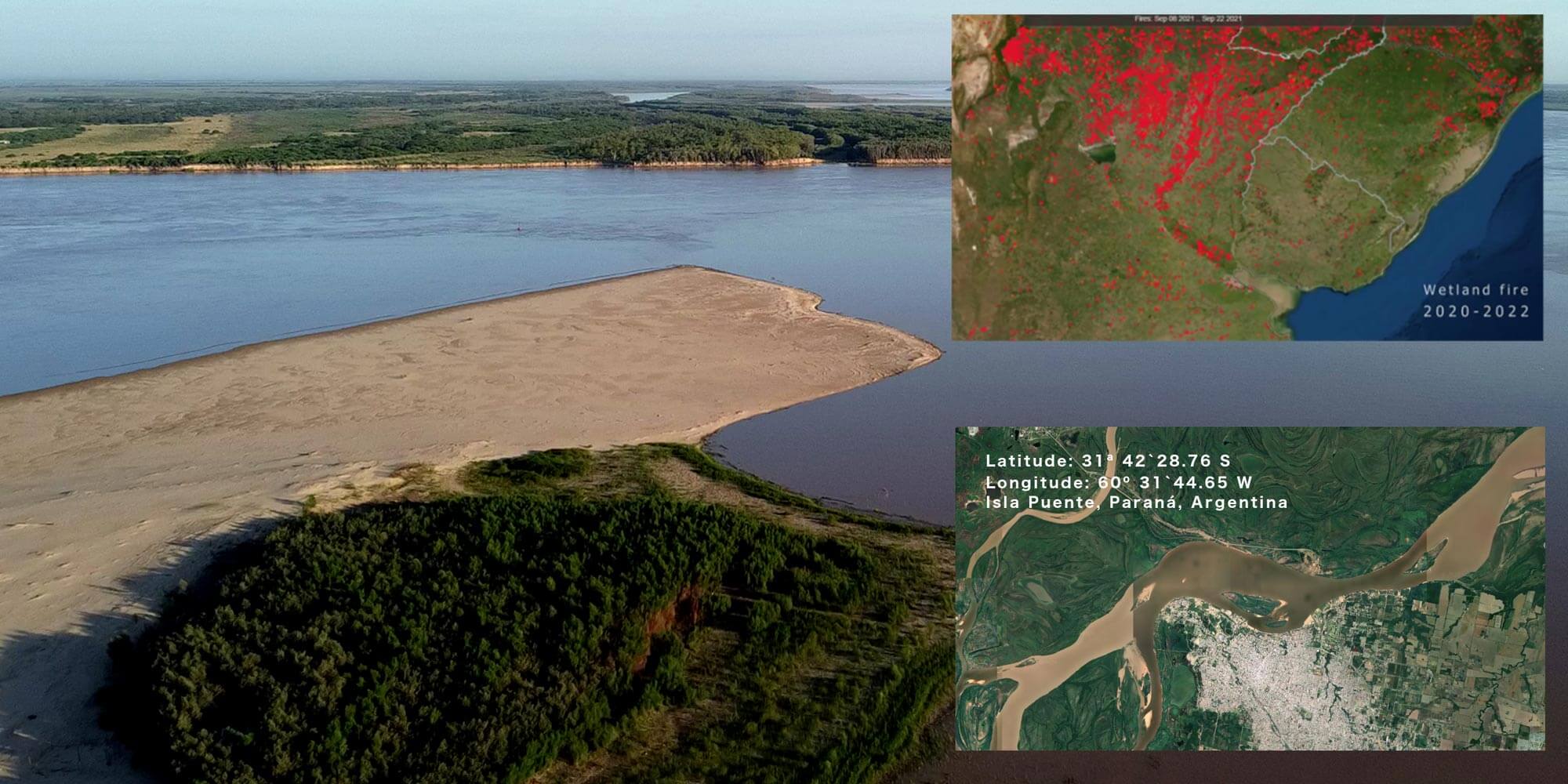 Das Projekt ist im Format einer transmedialen mechanisch-akustischen Installation angelegt, die die Widerstandskraft gefährdeter Pflanzen- und Rhizosphärengemeinschaften aufgreift. Ihre Materialität und Biologie kann uns dabei helfen, uns eine lebenswertere Gegenwart und Zukunft vorzustellen und aufzubauen, die mit alternativen Kosmovisionen geschmiedet ist und eine andere Ethik der Fürsorge sowie eine mögliche Zuneigung zwischen Menschen, Böden und Gemeingütern einschließen. Mit diesem Projekt werfen wir die Frage auf, wie wir neue Riten des Übergangs konstruieren können, die es uns erlauben, diese zusammengebrochene Biodiversität und diese rhizosphärischen Widerstände zu ehren. Der Tod gibt uns allen dieselbe Farbe.
Biographies
BioMultispecies artistic collective founded by Mexican transmedia artists Gabriela Munguía and Guadalupe Chávez. They explore interspecies gestures and soil ecologies of rhizospheric territories through art, science and open-source technologies. They coordinate the Rhizosphere Laboratory, an experimental educational art project. Their work has been exhibited in international festivals and exhibitions in the Americas, Europe, Iran and Egypt. Recently they received the CIFO-Ars Electronica Award.
Credits
Electrobiota – idea and realization.
Franc Paredes – Executive producer.
Pablo A. Varela – Audiovisual producer.
Juan Agustín Carpinello – Photogrammetry and 3D modeling.
Paula Guersenzvaig- Sound Design
Germán Pérez – Programming.
Fernando Pérez, Marlin Velasco and Alexander Boyman Mora – Technical assistance
Ukaivbera Gladys Do Nascimento, representative of the community I'Tu of the Charrua Nation – traditional medicine indigenous knowledge facilitator.
Acknowledgments:
La Paternal Espacio Proyecto
Fundación Eco Urbano.
Islote Curupí – Asociación Civil Ñangarecó Nderejhé
Centro de Estudios y Cultura de Río.
Multisectorial por los Humedales, Paraná.
La Porota Espacio Rural para la Agroecología.
Community I'Tu of the Charrua Nation de Entre Ríos, Paraná.
Special thanks to the environmental associations, local activists, artists, biologists and communities that fight for the conservation, protection and sustainable use of the Paraná wetlands.