Cenizas del Paraná is a tactical and speculative research into the Paraná wetlands in Argentina. Exploring environmental humanities, data science, photogrammetry techniques and aerial and microscopic images, this project looks forward to identifying soils and native plant species that have been damaged and endangered by local wildfires and global climate change. This project takes the form of a transmedia mechano-acoustic installation that embraces the resilient forces of endangered vegetal and rhizospheric communities. Its materialities and biologies can help us imagine and build a more livable present and future forged with alternative cosmovisions that entangle other ethics of care and possible affection between humans, soils and the commons.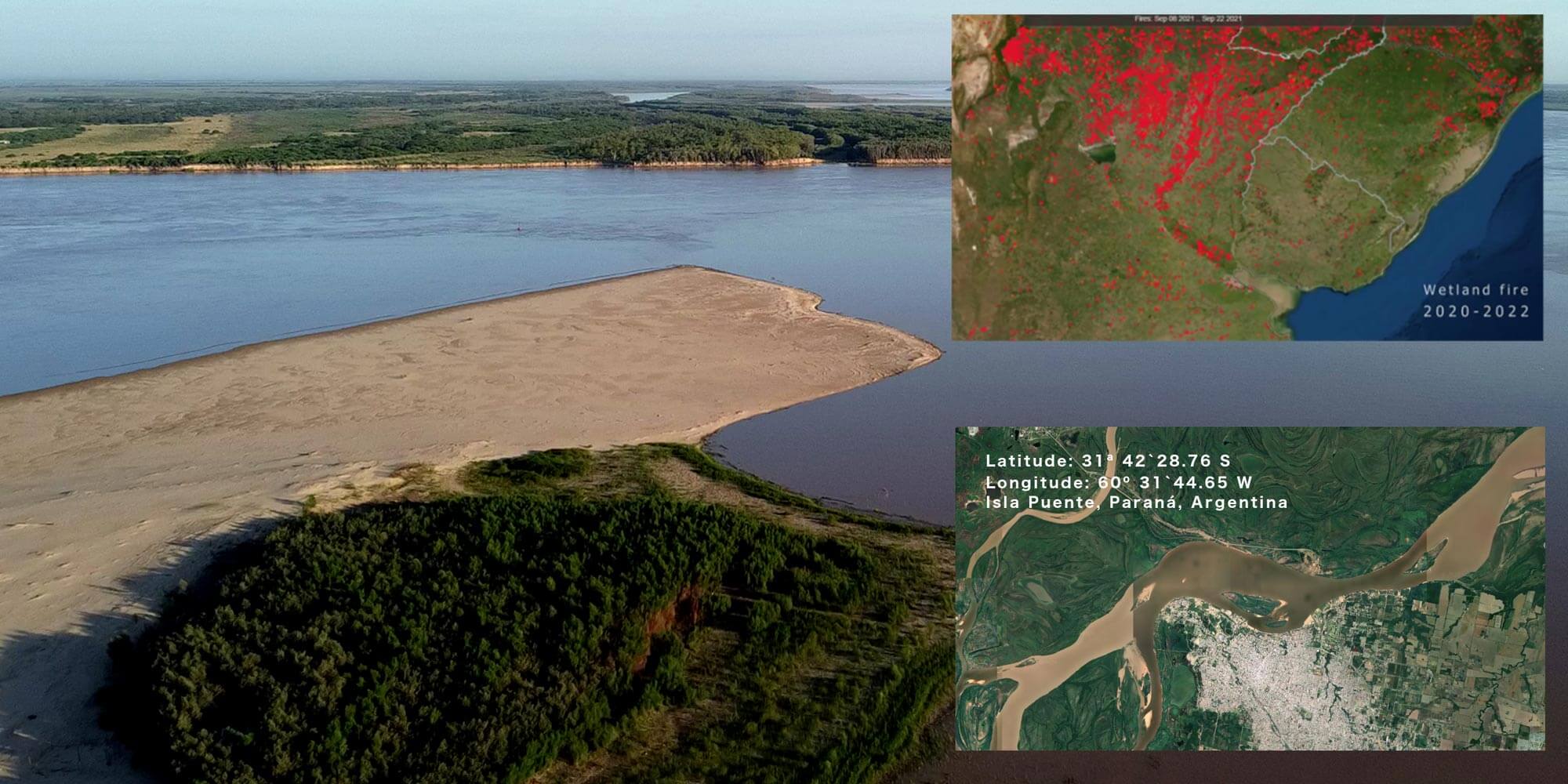 With this project we raise the question of how we can construct new rites of passage that allow us to honor this collapsed biodiversity and these rhizospheric resistances. Death turns us all the same color.
Biographies
BioMultispecies artistic collective founded by Mexican transmedia artists Gabriela Munguía and Guadalupe Chávez. They explore interspecies gestures and soil ecologies of rhizospheric territories through art, science and open-source technologies. They coordinate the Rhizosphere Laboratory, an experimental educational art project. Their work has been exhibited in international festivals and exhibitions in the Americas, Europe, Iran and Egypt. Recently they received the CIFO-Ars Electronica Award.
Credits
Electrobiota – idea and realization.
Franc Paredes – Executive producer.
Pablo A. Varela – Audiovisual producer.
Juan Agustín Carpinello – Photogrammetry and 3D modeling.
Paula Guersenzvaig- Sound Design
Germán Pérez – Programming.
Fernando Pérez, Marlin Velasco and Alexander Boyman Mora – Technical assistance
Ukaivbera Gladys Do Nascimento, representative of the community I'Tu of the Charrua Nation – traditional medicine indigenous knowledge facilitator.
Acknowledgments:
La Paternal Espacio Proyecto
Fundación Eco Urbano.
Islote Curupí – Asociación Civil Ñangarecó Nderejhé
Centro de Estudios y Cultura de Río.
Multisectorial por los Humedales, Paraná.
La Porota Espacio Rural para la Agroecología.
Community I'Tu of the Charrua Nation de Entre Ríos, Paraná.
Special thanks to the environmental associations, local activists, artists, biologists and communities that fight for the conservation, protection and sustainable use of the Paraná wetlands.